 News
Eminem / The Real Slim Shady LP / expanded reissue due in December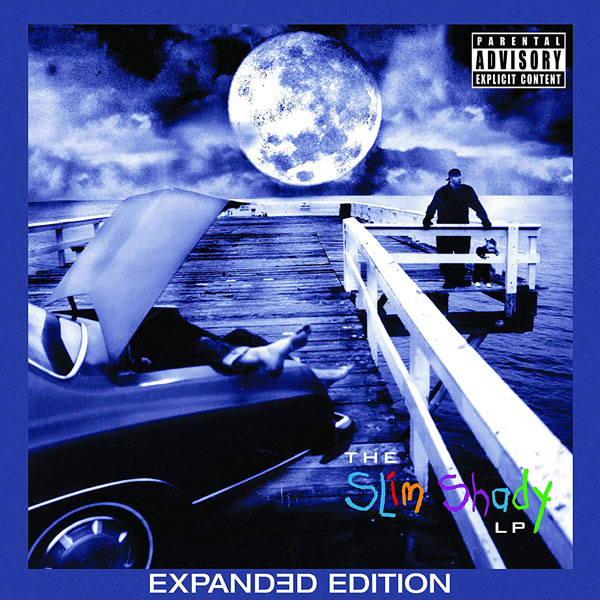 An expanded 20th anniversary edition of Eminem's The Slim Shady LP will be issued on CD and vinyl in December.

The album was originally issued in February 1999 and went on sell 18m copies worldwide, making Eminem a star at the same time.
The new expanded edition is available as a 3LP vinyl set or a 2CD deluxe edition. Bonus content on the bonus discs includes rarities, acapellas, freestyles, and instrumentals. These are added to the bonus discs.
The Slim Shady will be reissued on 13 December 2019.
Compare prices and pre-order
Eminem
The Real Slim Shady - 3LP vinyl
Compare prices and pre-order
Eminem
The Real Slim Shady - 2CD edition
The Slim Shady LP triple vinyl expanded edition
LP 1
Side A
1 Public Service Announcement
2 My Name Is
3 Guilty Conscience
4 Brain Damage
5 Paul
6 If I Had
Side B
1 '97 Bonnie & Clyde
2 Bitch
3 Role Model
4 Lounge
5 My Fault
LP 2
Side C
1 Ken Kaniff
2 Cum On Everybody
3 Rock Bottom
4 Just Don't Give A Fuck
Side D
1 Soap
2 As The World Turns
3 I'm Shady
4 Bad Meets Evil
5 Still Don't Give A Fuck
LP 3
Side E
1 Hazardous Youth (A Cappella Version)
2 Get You Mad
3 Greg (A Cappella Version)
4 Bad Guys Always Die (From The Wild Wild West Soundtrack)
5 Guilty Conscience (Radio Version)
6 Guilty Conscience (Instrumental)
Side F
1 Guilty Conscience (A Cappella, Edited)
2 My Name Is (Instrumental)
3 Just Don't Give A Fuck (A Cappella)
4 Just Don't Give A Fuck (Instrumental)

The Slim Shady LP 2CD expanded edition
CD 1
1. Public Service Announcement
2. My Name Is
3. Guilty Conscience
4. Brain Damage
5. Paul
6. If I Had
7. '97 Bonnie & Clyde
8. Bitch
9. Role Model
10. Lounge
11. My Fault
12. Ken Kaniff
13. Cum On Everybody
14. Rock Bottom
15. Just Don't Give A
16. Soap
17. As The World Turns
18. I'm Shady
19. Bad Meets Evil
20. Still Don't Give A Fuck
Disc: 2
1. Hazardous Youth (A Cappella Version)
2. Get You Mad
3. Greg (A Cappella Version)
4. Bad Guys Always Die (From The Wild Wild West Soundtrack)
5. Guilty Conscience (Radio Version)
6. Guilty Conscience (Instrumental)
7. Guilty Conscience (A Cappella, Edited)
8. My Name Is (Instrumental)
9. Just Don't Give A Fuck (A Cappella)
10. Just Don't Give A Fuck (Instrumental)