 News
Fleetwood Mac / 25 Years: The Chain / 4CD reissue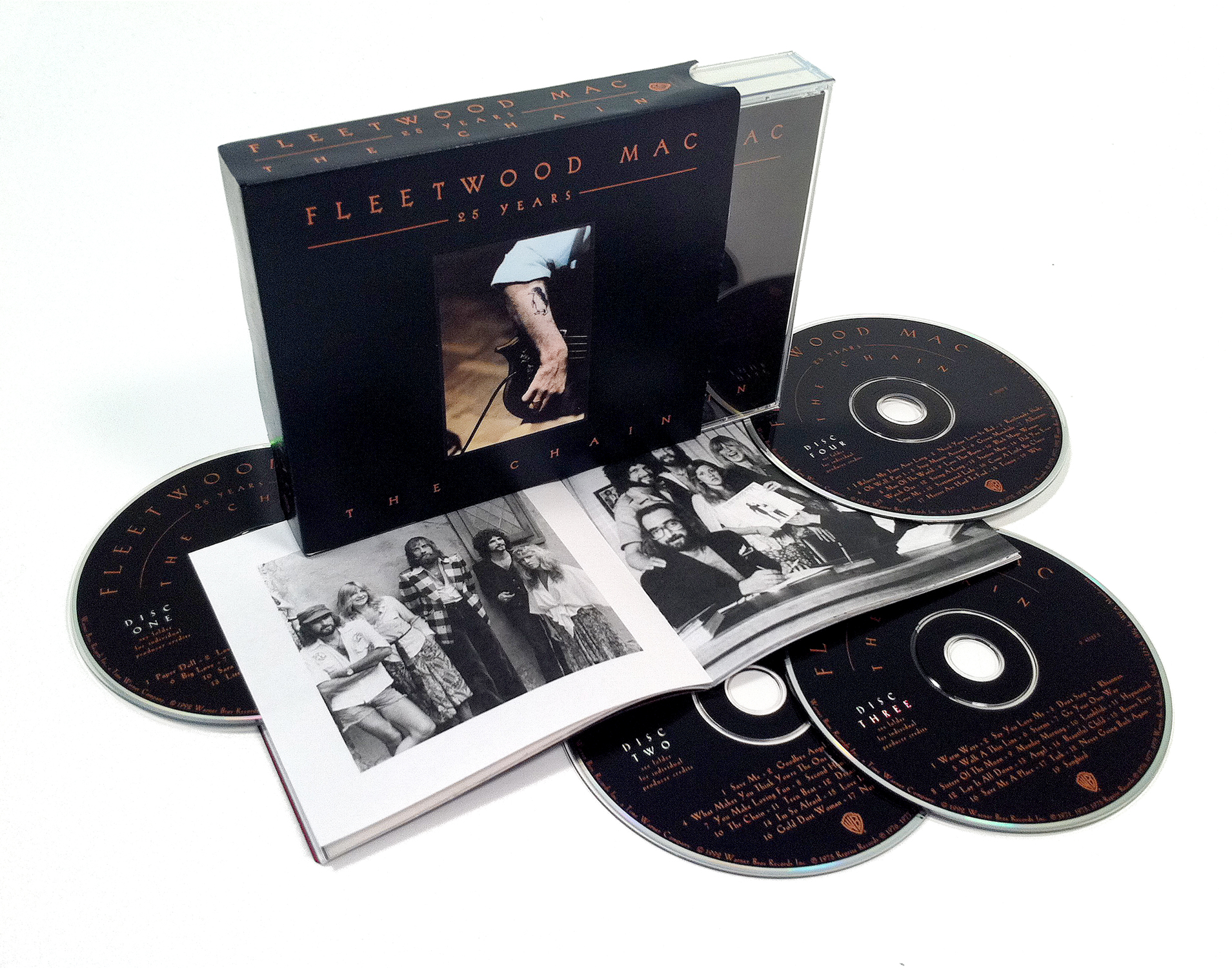 Fleetwood Mac will re-release the four CD box set 25 Years – The Chain on June 11th on Reprise.
25 Years – The Chain was originally released in 20 years ago and compiles seventy-two tracks spanning the band's history from their formation in 1967 to 1992. In addition to a number of their defining songs – Go Your Own Way, The Chain, Tusk, Little Lies, Rhiannon, Don't Stop and Everywhere – the release also compiles a number of alternate mixes, outtakes and live performances.
Like the Rod Stewart Storyteller reissue from late last year, 25 Years – The Chain will be available at a bargain price (less than £12 on amazon) and comes in new packaging – a double 'fat box' CD with a sixty-eight page booklet and outer slip-case.
Pre-order here.
Full track listing below:

CD1
1. Paper Doll
2. Love Shines
3. Stand Back (live)
4. Crystal
5. Isn't It Midnight
6. Big Love
7. Everywhere
8. Affairs of the Heart
9. Heart Of Stone
10. Sara
11. That's All For Everyone
12. Over My Head
13. Little Lies
14. Eyes of the World
15. Oh Diana
16. In The Back Of My Mind
17. Make Me A Mask
CD2
1. Save Me
2. Goodbye Angel
3. Silver Springs
4. What Makes You Think You're The One
5. Think About Me
6. Gypsy
7. You Make Loving Fun
8. Second Hand News
9. Love In Store
10. The Chain
11. Teen Beat
12. Dreams
13. Only Over You
14. I'm So Afraid
15. Love Is Dangerous
16. Gold Dust Woman
17. Not That Funny
CD3
1. Warm Ways
2. Say You Love Me
3. Don't Stop
4. Rhiannon
5. Walk a Thin Line
6. Storms
7. Go Your Own Way
8. Sisters of the Moon
9. Monday Morning
10. Landslide
11. Hypnotized
12. Lay It All Down
13. Angel
14. Beautiful Child
15. Brown Eyes
16. Save Me a Place
17. Tusk
18. Never Going Back Again
19. Songbird
CD4
1. I Believe My Time Ain't Long
2. Need Your Love So Bad
3. Rattlesnake Shake
4. Oh Well, Pt. 1
5. Stop Messin' Round
6. The Green Manalishi
7. Albatross
8. Man Of The World
9. Love That Burns
10. Black Magic Woman
11. Watch Out
12. String-A-Long
13. Station Man
14. Did You Ever Love Me
15. Sentimental Lady
16. Come A Little Bit Closer
17. Heroes Are Hard To Find
18. Trinity
19. Why