 News
Fleetwood Mac / Before The Beginning 1968-1970: Rare Live & Demo Sessions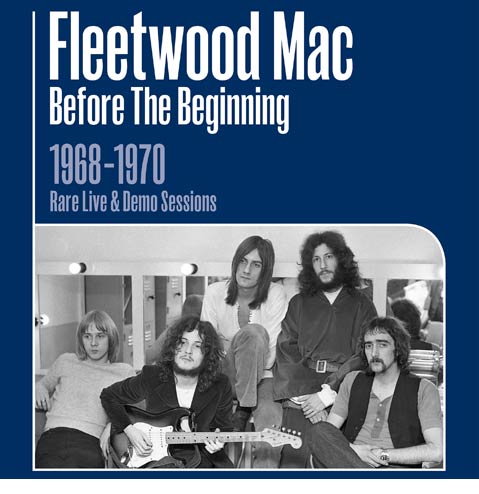 Two live recordings featuring Peter Green's Fleetwood Mac have been found and are being released officially on CD and vinyl as Before The Beginning 1968-1970. 

The recently discovered recordings date from 1968 and 1970 and were discovered unlabelled in the US, so not much is known about them other than they have been authenticated by experts and approved for release by Fleetwood Mac.
These live performances almost bookend Peter Green's tenure with the band as the 1968 recording represents the band in their early stages while the 1970 recording will, in contrast, be one of their final shows before Peter left the band. The earlier set contains early incarnations of 'Madison Blues' and 'I Need Your Love So Bad' from the blues era and the likes of 'Long Tall Sally' and 'Willie And The Hand Jive'. The 1970 performance includes 'Oh Well', 'Green Manalishi' and the UK number one 'Albatros'.
Before The Beginning 1968-1970 is being issued as a three-CD set containing all the live recordings and four previously unreleased demos. The images suggest that this comes packaged in what looks like a seven-inch book format.
In terms of vinyl, this content is being split into two volumes. 'Volume One' is a 3LP set that features the 1968 live recording and will be issued in June with the triple CD package. A second volume with the 1970 live recording (and the demos) will be released at a later date.
Before The Beginning 1968-1970: Rare Live and Demo Sessions will be released on 18 October 2019 (previously 7 June 2019) via Sony CMG.
Compare prices and pre-order
Fleetwood Mac
Before the Beginning - 3CD set
Compare prices and pre-order
Fleetwood Mac
Before the Beginning Vol 1 - 3LP vinyl
CD1
1. Madison Blues  (Version 1) (Live) (Remastered) 1968 recording
2. Something Inside of Me (Live) (Remastered) 1968 recording
3. The Woman That I Love (Live) (Remastered) 1968 recording
4. Worried Dream (Live) (Remastered) 1968 recording
5. Dust My Blues (Live) (Remastered) 1968 recording
6. Got To Move (Live) (Remastered) 1968 recording
7. Trying So Hard To Forget (Live) (Remastered) 1968 recording
8. Instrumental (Live) (Remastered) 1968 recording
9. Have You Ever Loved A Woman (Live) (Remastered) 1968 recording
10. Lazy Poker Blues (Live) (Remastered) 1968 recording
11. Stop Messing Around (Live) (Remastered) 1968 recording
12. I Loved Another Woman (Live) (Remastered) 1968 recording
13. I Believe My Time Ain't Long (Version 1) (Live)  (Remastered) 1968 recording
14. Sun Is Shining (Live)  (Remastered) 1968 recording
CD2
1. Long Tall Sally (Live)  (Remastered) 1968 recording
2. Willie and the Hand Jive (Live)  (Remastered) 1968 recording
3. I Need Your Love So Bad (Live)  (Remastered) 1968 recording
4. I Believe My Time Ain't Long (Version 2) (Live)  (Remastered) 1968 recording
5. Shake Your Money Maker (Live)  (Remastered) 1968 recording
6. Before the Beginning (Live)  (Remastered) 1970 recording
7. Only You (Live)  (Remastered) 1970 recording
8. Madison Blues (Version 2) (Live)  (Remastered) 1970 recording
9. Can't Stop Lovin' (Live)  (Remastered) 1970 recording
10. The Green Manalishi (With The Two Prong Crown) (Live)  (Remastered) 1970 recording
11. Albatross (Live)  (Remastered) 1970 recording
12. World In Harmony (Version 1) (Live)  (Remastered) 1970 recording
13. Sandy Mary (Live)  (Remastered) 1970 recording
14. Only You (Live)  (Remastered) 1970 recording
15. World In Harmony (Version 2) (Live)  (Remastered) 1970 recording
CD 3
1. I Can't Hold Out (Live)  (Remastered) 1970 recording
2. Oh Well (Part 1) (Live)  (Remastered) 1970 recording
3. Rattlesnake Shake (Live)  (Remastered) 1970 recording
4. Underway (Live)  (Remastered) 1970 recording
5. Coming Your Way (Live)  (Remastered) 1970 recording
6. Homework  (Live) (Remastered) 1970 recording
7. My Baby's Sweet (Live)  (Remastered) 1970 recording
8. My Baby's Gone (Live)  (Remastered) 1970 recording
9. You Need Love (Demo) (Remastered)
10. Talk With (Demo) (Remastered)
11. If It Ain't Me (GK Edit) (Demo) (Remastered)
12. Mean Old World (Demo) (Remastered)
VOLUME ONE 3LP vinyl set
LP 1
Side A
1. Madison Blues  (Version 1) (Live) (Remastered)
2.Something Inside of Me (Live) (Remastered)
3.The Woman That I Love (Live) (Remastered)
Side B
1. Worried Dream (Live) (Remastered)
2. Dust My Blues (Live) (Remastered)
3. Got To Move (Live) (Remastered)
LP 2
Side A
1. Trying So Hard To Forget (Live) (Remastered)
2. Instrumental (Live) (Remastered)
3. Have You Ever Loved A Woman (Live) (Remastered)
Side B
1. Lazy Poker Blues (Live) (Remastered)
2. Stop Messing 'Round (Live) (Remastered)
3. I Loved Another Woman (Live) (Remastered)
4. I Believe My Time Ain't Long (Version 1) (Live)  (Remastered)
LP 3
Side A
1. Sun Is Shining (Live)  (Remastered)
2. Long Tall Sally (Live)  (Remastered)
3. Willie and the Hand Jive (Live)  (Remastered)
4. I Need Your Love So Bad (Live)  (Remastered)
Side B
1. I Believe My Time Ain't Long (Version 2) (Live)  (Remastered)
2. Shake Your Money Maker (Live)  (Remastered)