 News
Garbage / Version 2.0 reissue
Remastered • ten B-sides added • Ludicrous box set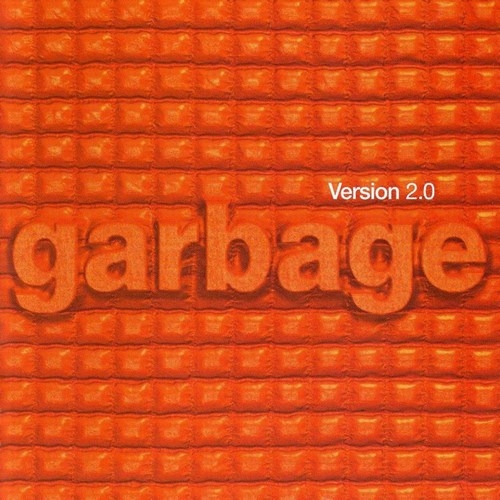 Garbage will reissue a 20th anniversary edition of their second album Version 2.0 in June.

The album has been remastered and will be available as a two-CD deluxe edition, with a bonus disc of ten B-sides and a 2LP orange vinyl package (which is album only).
A box set edition contains three (black) vinyl records and does include those B-sides on vinyl. Unfortunately, that's it for audio (or video) content and rest of it sounds very gimmicky with other 'stuff' including a movie-style poster, four sticker inserts and a condom in a "matchbook style card cover"! The box will cost in the region of £65-£70 and will only be available from 'indie' stores.
Version 2.o was issued in May 1998 and was extremely successful in the UK. It reached number one in the album charts and all five singles all going top 20 (Push It, I Think I'm Paranoid and When I Grow Up all hit the top 10).
Unfortunately for fans, Garbage have, for the second time of asking, managed to make a hash of an album reissue. A three or four CD set featuring album, B-sides, selected remixes/rarities is probably the minimum requirement, but there's no sign of any remixes or demos at all on the physical products, which means we may well have to endure the dreaded 'digital' super deluxe edition again.
Also, for better or for worse, coloured vinyl is normally regarded as premium/limited edition fare, but box set purchasers don't get the coloured edition. It was the same situation with the 2015 reissue of their debut album.
Version 2.0 will be reissued on 22 June 2018.
Compare prices and pre-order
Garbage
Version 2.0 - 3LP Collectors box set
Compare prices and pre-order
Garbage
Version 2.0 - 2LP orange vinyl
Compare prices and pre-order
Garbage
Version 2.0 - two-CD deluxe
Album Tracklist:
Temptation Waits
I Think I'm Paranoid
When I Grow Up
Medication
Special
Hammering in My Head
Push It
The Trick Is to Keep Breathing
Dumb
Sleep Together
Wicked Ways
You Look So Fine
B-sides (deluxe formats only):
Can't Seem To Make You Mine
13x Forever
Deadwood
Get Busy With The Fizzy
Soldier Through This
Thirteen
Lick The Pavement
Medication (Acoustic)
Tornado
Afterglow