 News
Gary Crowley's Punk & New Wave Vol. 2
4CD and 6LP sets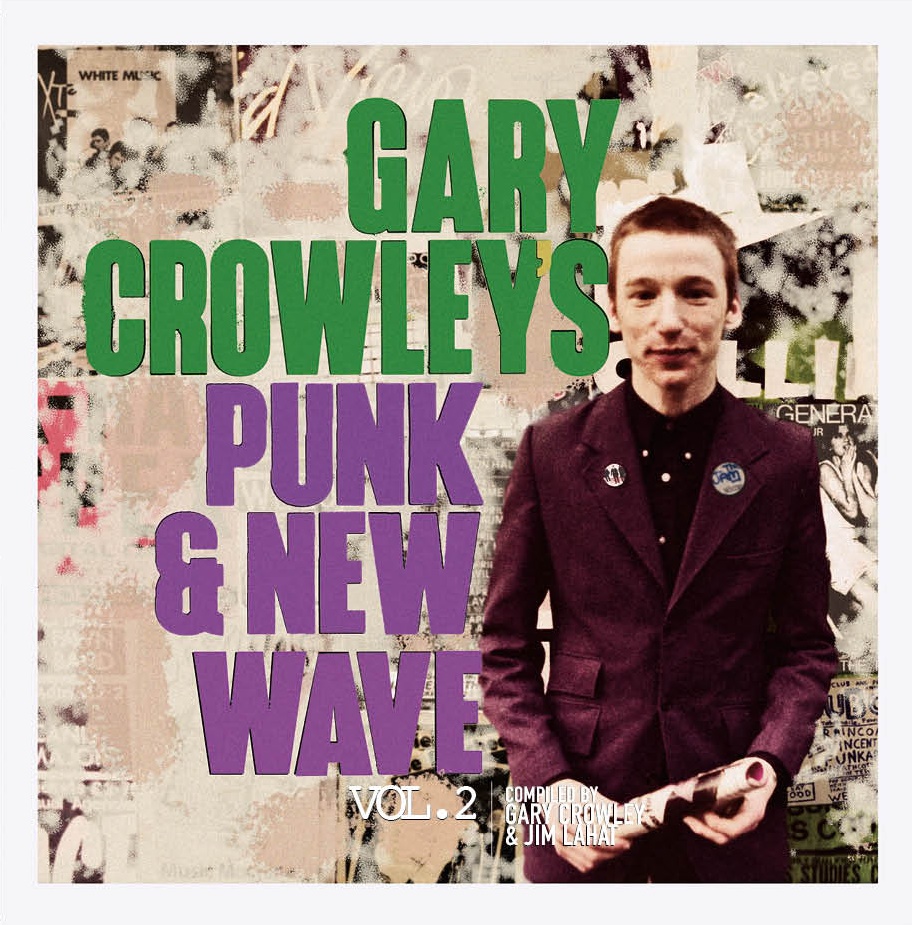 Gary Crowley returns to curate a second volume of Punk & New Wave, his well-received 2017 various artists collection.
Co-compiled with Jim Lahat, the pair have once again mined their respective record collections for more gems from the likes of big names such as The Clash, Ramones, The Jam, The Cure and The Slits and lesser known bands such as Limit, Gary Valentine, The Wardens, Basement 5 and The Limps. Many of these incredibly rare tracks appearing here for the very first time on CD. Full tracklisting for all formats is below.
These songs are collected together in a 4CD media book (limited Amazon-exclusive signed edition available) and a massive 6LP lift-off-lid box set (all of these include a signed print). Both of of these formats contain 77 tracks and come with a 32-page booklet, including extensive and track-by- track sleevenotes by Crowley and Lahat alongside anecdotes from the likes of Viv Albertine (The Slits), Damian O'Neill (The Undertones), Glen Matlock, Gary Valentine, Mike Sweeney (Salford Jets) and more. A 28-track 2LP vinyl package is also available. The audio has been newly mastered by Phil Kinrade at Alchemy Mastering.
Gary Crowley's Punk and New Wave Vol. 2 is released on 19 May 2023 (was 26 May) via Edsel/Demon Records.
Compare prices and pre-order
Various Artists
Gary Crowleys Punk and New Wave Vol 2 - 4CD set signed edition
Compare prices and pre-order
Various Artists
Gary Crowleys Punk and New Wave Vol 2 - 6LP vinyl box set with signed print
Compare prices and pre-order
Various Artists
Gary Crowleys Punk and New Wave Vol 2 - 4CD standard edition
Compare prices and pre-order
Various Artists
Gary Crowleys Punk and New Wave Vol 2 - 2LP vinyl
Tracklisting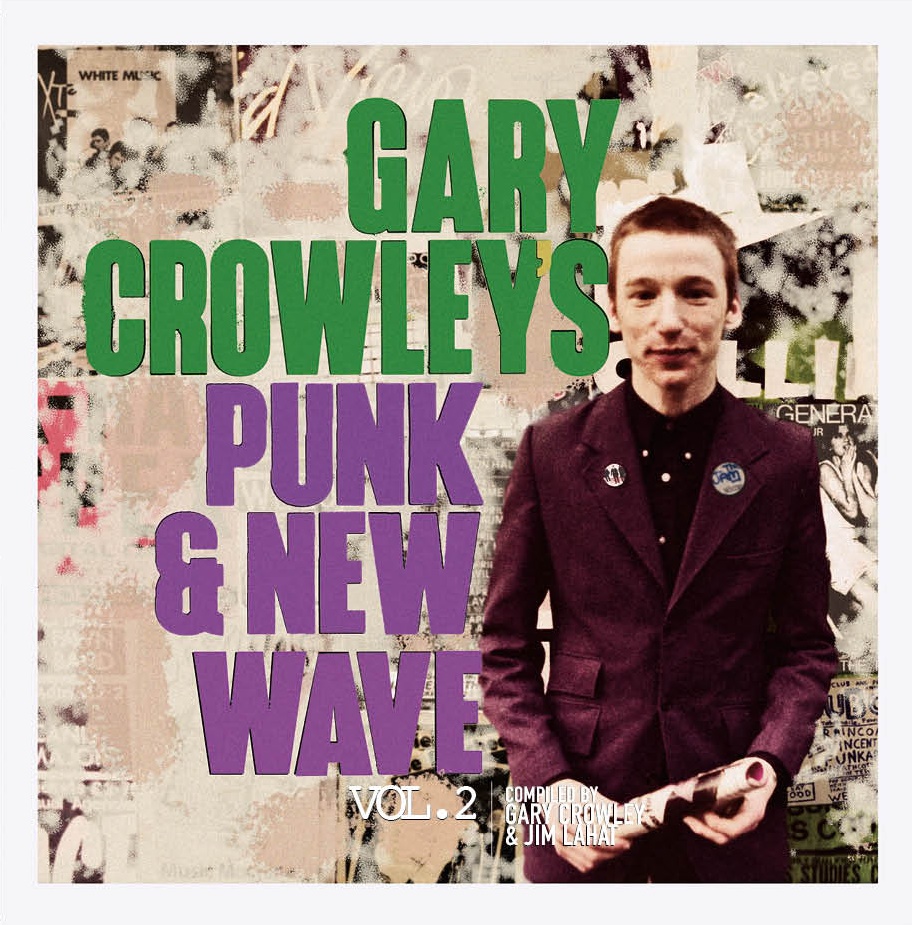 Gary Crowley's Punk & New Wave Vol. 2 Various Artists
/
CD 1

The Clash – 1-2 Crush On You
Ramones – Suzy Is A Headbanger
The Slits – So Tough
The Undertones – There Goes Norman
The Users – Sick Of You
X-Ray Spex – Warrior In Woolworths
Leyton Buzzards – I'm Hanging Around
The Dole – New Wave Love
The Heartbreakers – One Track Mind
The Limit – My World At Night
The Art Attacks – I Am A Dalek
Devo – Uncontrollable Urge
Penetration – Future Daze
Magazine – I Love You, You Big Dummy
Rich Kids – Hung On You
The Flys – Love And A Molotov Cocktail
The Rezillos – Somebody's Gonna Get Their Head Kicked In Tonight
The Members – Phone In Show
Poet And The Roots – Dread Beat An' Blood

CD 2

The Jam – Away From The Numbers
Siouxsie And The Banshees – Desert Kisses
Golinski Brothers – Bloody
The Piranhas – Tension
Liquid Stone – Here Comes The Weekend (Mono)
The Trend – Teenage Crush
Mo-Dettes – Paint It Black
The Pleasers – The Kids Are Alright
Zounds – Demystification
Stiff Little Fingers – Barbed Wire Love
Athletico Spizz 80 – No Room
The Chefs – 24 Hours
Shake – Dream On
Altered Images – Love And Kisses
The Only Ones – Out There In The Night
Killing Joke – Tension
The Disco Zombies – Drums Over London
The Times – Red with Purple Flashes
The Limps – Someone I Can Talk To

CD 3

The Cure – Play For Today
Nervebreakers – My Girlfriend Is A Rock
Newtown Neurotics – Hypocrite
Dolly Mixture – Side Street Walker
The Cigarettes – They're Back Again, Here They Come
Gary Valentine – The First Ones
Generation X – Trying For Kicks (Winstanley Mix)
The Boys – Jimmy Brown
The Boyfriends – I'm In Love Today
The Dils – Sound of the Rain
Silent Noise – I've Been Hurt (So Many Times Before)
The Skunks – Earthquake Shake
Rachel Sweet – New Rose
The Distractions – It Doesn't Bother Me
The Wardens – Do So Well
Joe Public – Hotel Rooms
Clive Pig And The Hopeful Chinamen – Happy Birthday Sweet 16
Basement 5 – Silicon Chip
Pearl Harbor and the Explosions – Drivin'

CD 4

The Psychedelic Furs – We Love You
XTC – Radios In Motion
Suicide – Ghost Rider
The Stranglers – Tank
The Raincoats – No Side To Fall In
The City Limits – Morse Code Messages
Department S – Monte Carlo or Bust (early version)
The Chords – Something's Missing
Dislocation Dance – Rosemary
The Barracudas – I Want My Woody Back
The Cosmopolitans – Party Boy
Wah! Heat – Better Scream
The Oral Exciters – It's Tonight
The Subterraneans – My Flamingo
The Salford Jets – Gina
The Photos – All I Want
The Professionals – Just Another Dream
The Farmers Boys – I Think I Need Help
Moving England – Moving Back
Bow Wow Wow – Golly! Golly! Go Buddy!

LP 1

Side A

The Clash – 1-2 Crush On You
The Slits – So Tough
The Undertones – There Goes Norman
The Users – Sick Of You
Leyton Buzzards – I'm Hanging Around
The Dole – New Wave Love

Side B

Ramones – Suzy Is A Headbanger
The Heartbreakers – One Track Mind
The Limit – My World At Night
The Art Attacks – I Am A Dalek
Penetration – Future Daze
Rich Kids – Hung On You

LP 2

Side C

Magazine- I Love You, You Big Dummy
The Flys – Love And A Molotov Cocktail
X-Ray Spex – Warrior In Woolworth
The Members – Phone In Show
The Piranhas – Tension
Mo-Dettes – Paint It Black
Poet And The Roots – Dread Beat An' Blood

Side D

The Jam – Away From The Numbers
Siouxsie And The Banshees – Desert Kisses
Golinski Brothers – Bloody
Zounds – Demystification
Liquid Stone – Here Comes The Weekend (Mono)
The Trend – Teenage Crush
The Pleasers – The Kids Are Alright

LP 3

Side E

Stiff Little Fingers – Barbed Wire Love
Athletico Spizz 80 – No Room
The Chefs – 24 Hours
Shake – Dream On
Altered Images – Love And Kisses
The Only Ones – Out There In The Night

Side F

The Cure     – Play For Today
The Disco Zombies – Drums Over London
The Times – Red with Purple Flashes
The Limps – Someone I Can Talk To
The Nervebreakers – My Girlfriend Is A Rock
The Newtown Neurotics – Hypocrite
Dolly Mixture – Side Street Walker

LP 4

Side G

XTC – Radios In Motion
The Cigarettes – They're Back Again,  Here They Come
Gary Valentine  – The First Ones
Generation X – Trying For Kicks (Winstanley Mix)
The Boys – Jimmy Brown
The Boyfriends – I'm In Love Today
The Dils – Sound of the Rain

Side H

The Rezillos` – Somebody's Gonna Get Their Head Kicked In Tonight
Silent Noise – I've Been Hurt (So Many Times Before)
The Skunks – Earthquake Shake
Rachel Sweet – New Rose
The Distractions – It Doesn't Bother Me
The Wardens – Do So Well
Clive Pig And The Hopeful Chinamen – Happy Birthday Sweet 16

LP 5

Side I

The Stranglers – Tank
Pearl Harbor and the Explosions – Drivin'
Suicide – Ghost Rider
The Raincoats – No Side To Fall In
The City Limits  – Morse Code Messages
Department S – Monte Carlo or Bust (early version)

Side J

The Psychedelic Furs – We Love You
The Chords – Something's Missing
Dislocation Dance – Rosemary
The Cosmopolitans – Party Boy
The Barracudas – I Want My Woody Back
The Oral Exciters – It's Tonight

LP 6

Side K

Killing Joke – Tension
The Subterraneans – My Flamingo
The Salford Jets – Gina
The Photos – All I Want
Wah! Heat – Better Scream
The Professionals – Just Another Dream

Side L

Devo – Uncontrollable Urge
Joe Public – Hotel Rooms
Moving England – Moving Back
Bow Wow Wow  – Golly! Golly! Go Buddy!
The Farmers Boys – I Think I Need Help
Basement 5 – Silicone Chip

LP 1

Side A

The Clash – 1-2 Crush On You
The Undertones – There Goes Norman
The Limit – My World At Night
X-Ray Spex – Warrior In Woolworths
The Wardens – Do So Well
Penetration – Future Daze
Magazine – I Love You, You Big Dummy

Side B

Ramones – Suzy Is A Headbanger
The Flys – Love And A Molotov Cocktail
Golinski Brothers – Bloody
Liquid Stone – Here Comes The Weekend (Mono)
Dolly Mixture – Side Street Walker
Basement 5 – Silicone Chip
The Subterraneans – My Flamingo

LP 2

Side C

The Jam – Away From The Numbers
Siouxsie And The Banshees – Desert Kisses
Zounds – Demystification
Stiff Little Fingers – Barbed Wire Love
Shake – Dream On
The Times – Red with Purple Flashes
The Limps – Someone I Can Talk To

Side D

The Cure – Play For Today
Newtown Neurotics – Hypocrite
The Slits – So Tough
The City Limits – Morse Code Messages
Gary Valentine – The First One
The Barracudas – I Want My Woody Back
Moving England – Moving Back