 News
Gary Numan / I, Assassin green vinyl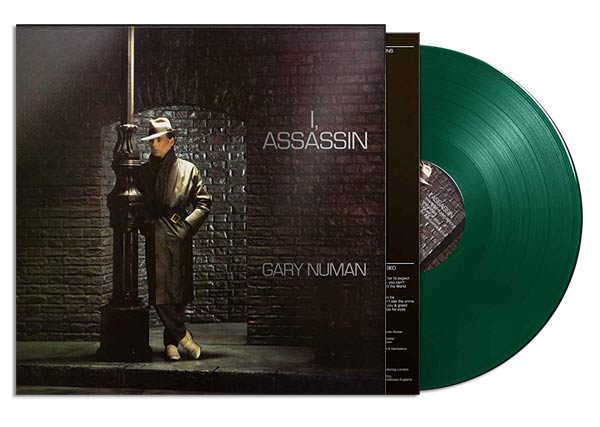 Remastered • Green vinyl • CD edition with bonus tracks
Gary Numan's fourth solo studio album I, Assassin will be reissued on green vinyl in March.

Originally issued in 1982 I, Assassin featured the singles  'Music for Chameleons', 'We Take Mystery (To Bed)' and 'White Boys and Heroes'. By this time, Numan had largely moved on from his synth-heavy sound and was embracing more experimental bass-heavy rhythmic electro-dance style!
The album was recorded in early '82, following Numan's near-death experience while co-piloting his light aircraft. He said "the round-the-world flight, the plane crash, these were big things that helped me shape a new opinion of myself. Those experiences gave me a self-confidence, a genuine strength that I hadn't had before."
Audio has been restored from the original analogue tapes and this is presented on dark green vinyl. A new CD edition isn't being issued, contrary to what was posted here earlier (apologies).
The vinyl is released on 1 March 2019. Good price for it in the UK.
Compare prices and pre-order
Numan,Gary
I, Assassin (GREEN VINYL) [VINYL]
I, Assassin green vinyl LP
1. White Boys and Heroes
2. War Songs
3. A Dream Of Siam
4. Music For Chameleons
5. This Is My House
6. I, Assassin
7. The 1930s Rust
8. We Take Mystery (To Bed)