 News
Genesis / Seconds Out half-speed mastered 2LP vinyl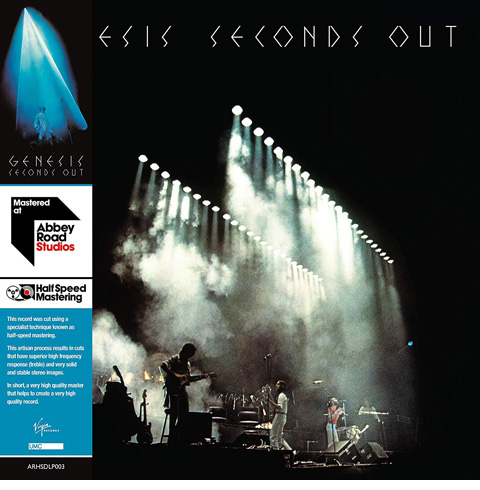 Band's most famous live album set for reissue.
Genesis' live album Seconds Out is set for a new vinyl reissue.
Originally released in October 1977, the bulk of Seconds Out was formed from recordings from their four dates at the Palais des Sports in Paris in June 1977 as part of the Wind & Wuthering tour. It also includes a recording of 'The Cinema Show' recorded in 1976 at the Pavillon de Paris during their A Trick of the Tail tour, which also featured Bill Bruford on drums.

The album was significant for coinciding with the departure of Steve Hackett during the album's mixing, and thus Genesis becoming the trio of Phil, Mike and Tony. With Tony joking that Hackett's guitar was mixed out of the recordings, although in truth you can actually hear it albeit quite low down.
Seconds Out will be the first time the album has been fully mastered for vinyl* and has been half-speed mastered by Miles Showell at Abbey Road Studios, and as with all the Universal half speeds, it comes with an Japanese style 'OBI'-strip and accompanying certificate.
Seconds Out is released 7 June 2019.
* A quick update on the mastering, since it has been discussed in the comments. I reached out to Miles who told me that this new version has been remastered with vinyl in mind, whereas the 2012 cut was "a byproduct of the digital versions done for SACD in Europe & DVD-A in the US". He confirmed that his new cut has less compression and "absolutely no digital peak limiting." Also this is a new remaster of the Nick Davis mix. Hope that helps everyone.
Compare prices and pre-order
Genesis
Seconds Out - 2LP half speed vinyl
Seconds Out half-speed mastered 2LP
LP 1
Side A
Squonk
The Carpet Crawl
Robbery, Assault and Battery
Afterglow
Side B
Firth of Fifth
I Know What I Like (In Your Wardrobe)
The Lamb Lies Down on Broadway
The Musical Box (Closing Section)
LP 2
Side A
Supper's Ready
Side B
The Cinema Show (Pavillon de Paris – 23 June 1976)
Dance on a Volcano
Los Endos