 News
Grateful Dead / Europe 72
50th anniversary edition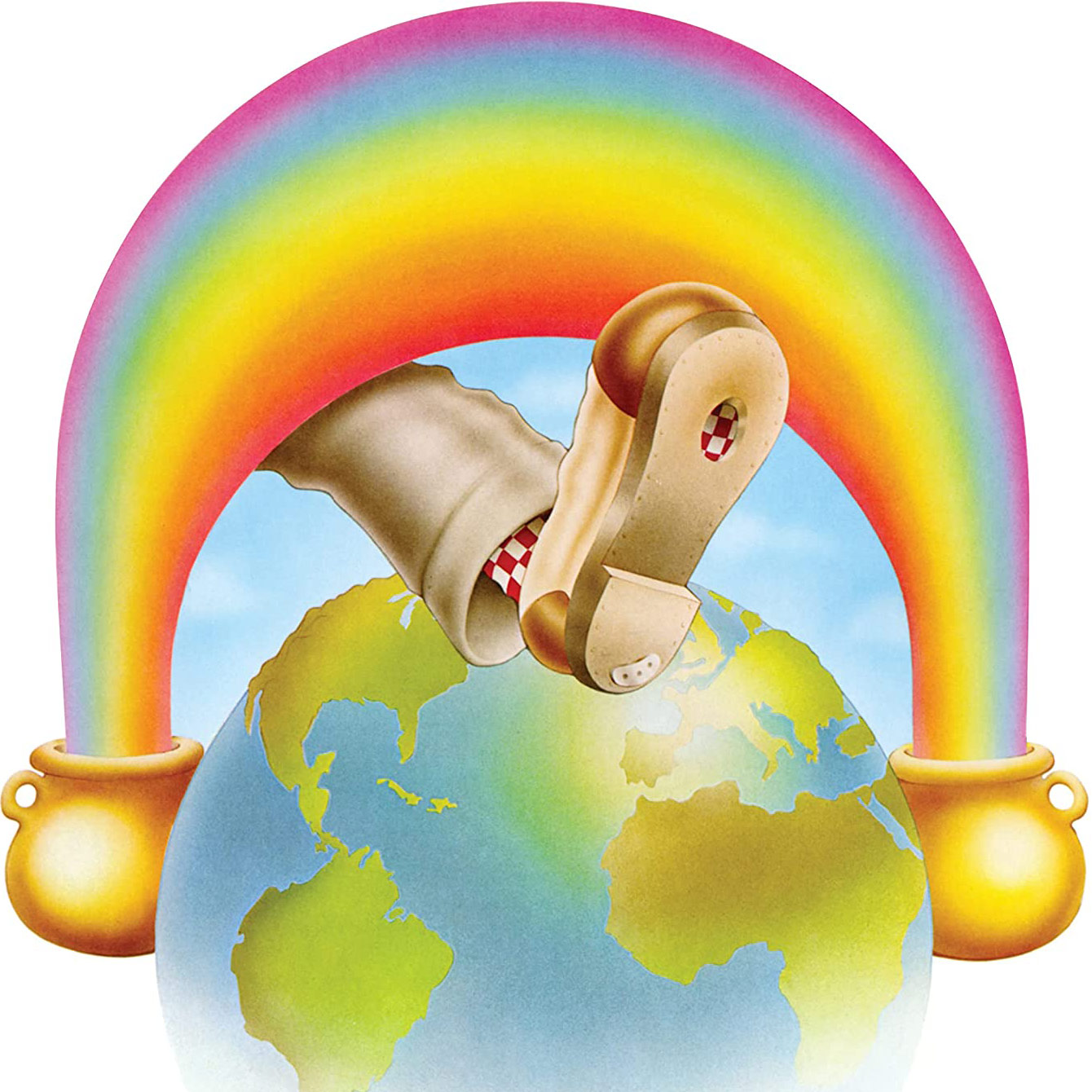 Original album reissued plus full Lyceum Theatre gig on CD
The Grateful Dead's first tour outside of North America was captured on Europe '72, a triple live album that distilled peak moments from the 22 shows the band played in Europe. This record is now being reissued for its 50th anniversary as a 2CD set or 3LP vinyl.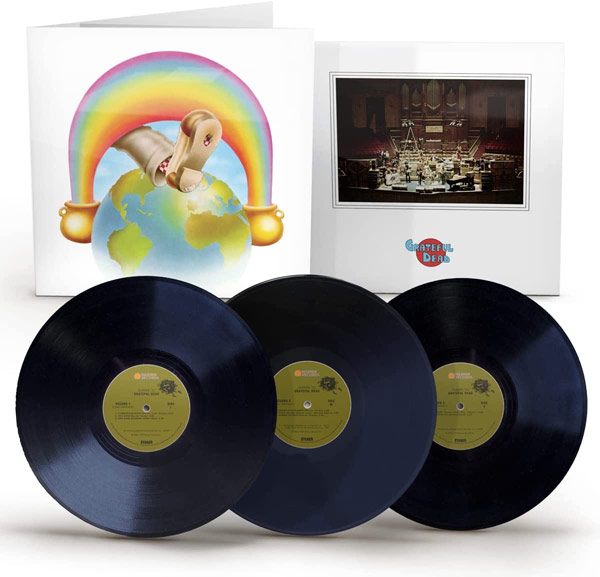 Venues and locations include the Empire Pool in Wembley, London; the Concertgebouw in Amsterdam; the Olympia Theatre in Paris, France; the Tivoli Concert Hall, Copenhagen and London's Lyceum Theatre.
In fact, the Lyceum gig, from 26 May 1972, was the last show of this tour and was the group's penultimate performance with founding member, Ron 'Pigpen' McKernan, who died in March the following year. This is being released in full as a special 4CD set on the same date as the Europe 72 reissues (the Wembley show was issued on 5LP for the first of 2022's Record Store 'drop days').
All audio is remastered by engineer David Glasser, with restored audio by Plangent Processes. Both Europe 72 and the Lyceum Theatre are released on 29 July 2022.
Compare prices and pre-order
Grateful Dead
Europe 72 - 2CD deluxe
Compare prices and pre-order
Grateful Dead
Europe 72 - 3LP vinyl
Compare prices and pre-order
Grateful Dead
Lyceum Theatre London England - 4CD deluxe
Tracklisting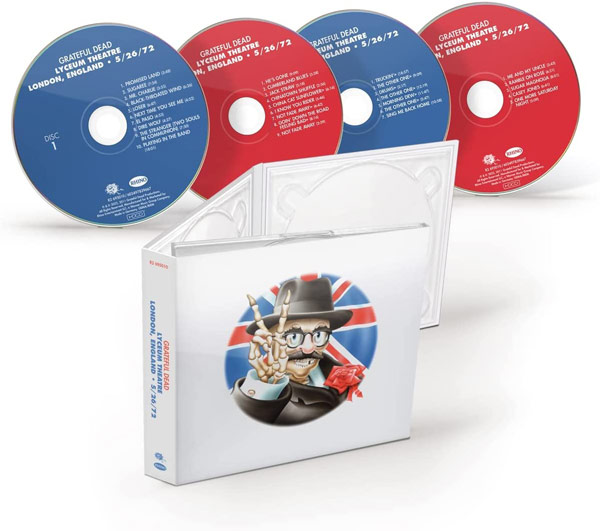 Lyceum Theatre, London, England 26/5/72 Grateful Dead
/
50th annivesary
CD 1

Promised Land (Live at the Lyceum Theatre, London, England 5/26/72) [2022 Remaster]
Sugaree (Live at the Lyceum Theatre, London, England 5/26/72) [2022 Remaster]
Mr. Charlie (Live at the Lyceum Theatre, London, England 5/26/72) [2022 Remaster]
Black-Throated Wind (Live at the Lyceum Theatre, London, England 5/26/72) [2022 Remaster]
Loser (Live at the Lyceum Theatre, London, England 5/26/72) [2022 Remaster]
Next Time You See Me (Live at the Lyceum Theatre, London, England 5/26/72) [2022 Remaster]
El Paso (Live at the Lyceum Theatre, London, England 5/26/72) [2022 Remaster]
Dire Wolf (Live at the Lyceum Theatre, London, England 5/26/72) [2022 Remaster]
The Stranger (Live at the Lyceum Theatre, London, England 5/26/72) [2022 Remaster]
Playing in the Band (Live at the Lyceum Theatre, London, England 5/26/72) [2022 Remaster]

CD 2

He's Gone (Live at the Lyceum Theatre, London, England 5/26/72) [2022 Remaster]
Cumberland Blues (Live at the Lyceum Theatre, London, England 5/26/72) [2022 Remaster]
Jack Straw (Live at the Lyceum Theatre, London, England 5/26/72) [2022 Remaster]
Chinatown Shuffle (Live at the Lyceum Theatre, London, England 5/26/72) [2022 Remaster]
China Cat Sunflower (Live at the Lyceum Theatre, London, England 5/26/72) [2022 Remaster]
I Know You Rider (Live at the Lyceum Theatre, London, England 5/26/72) [2022 Remaster]
Not Fade Away, Pt. 1 (Live at the Lyceum Theatre, London, England 5/26/72) [2022 Remaster]
Goin' Down the Road Feeling Bad (Live at the Lyceum Theatre, London, England 5/26/72) [2022 Remaster]
Not Fade Away, Pt. 2 (Live at the Lyceum Theatre, London, England 5/26/72) [2022 Remaster]

CD 3

Truckin' (Live at the Lyceum Theatre, London, England 5/26/72) [2022 Remaster]
The Other One, Pt. 1 (Live at the Lyceum Theatre, London, England 5/26/72) [2022 Remaster]
Drums (Live at the Lyceum Theatre, London, England 5/26/72) [2022 Remaster]
The Other One, Pt. 2 (Live at the Lyceum Theatre, London, England 5/26/72) [2022 Remaster]
Morning Dew (Live at the Lyceum Theatre, London, England 5/26/72) [2022 Remaster]
The Other One, Pt. 3 (Live at the Lyceum Theatre, London, England 5/26/72) [2022 Remaster]
Sing Me Back Home (Live at the Lyceum Theatre, London, England 5/26/72) [2022 Remaster]

CD 4

Me and My Uncle (Live at the Lyceum Theatre, London, England 5/26/72) [2022 Remaster]
Ramble on Rose (Live at the Lyceum Theatre, London, England 5/26/72) [2022 Remaster]
Sugar Magnolia (Live at the Lyceum Theatre, London, England 5/26/72) [2022 Remaster]
Casey Jones (Live at the Lyceum Theatre, London, England 5/26/72) [2022 Remaster]
One More Saturday Night (Live at the Lyceum Theatre, London, England 5/26/72) [2022 Remaster]