 News
Guns N' Roses / Use Your Illusion box sets
Massive reissue campaign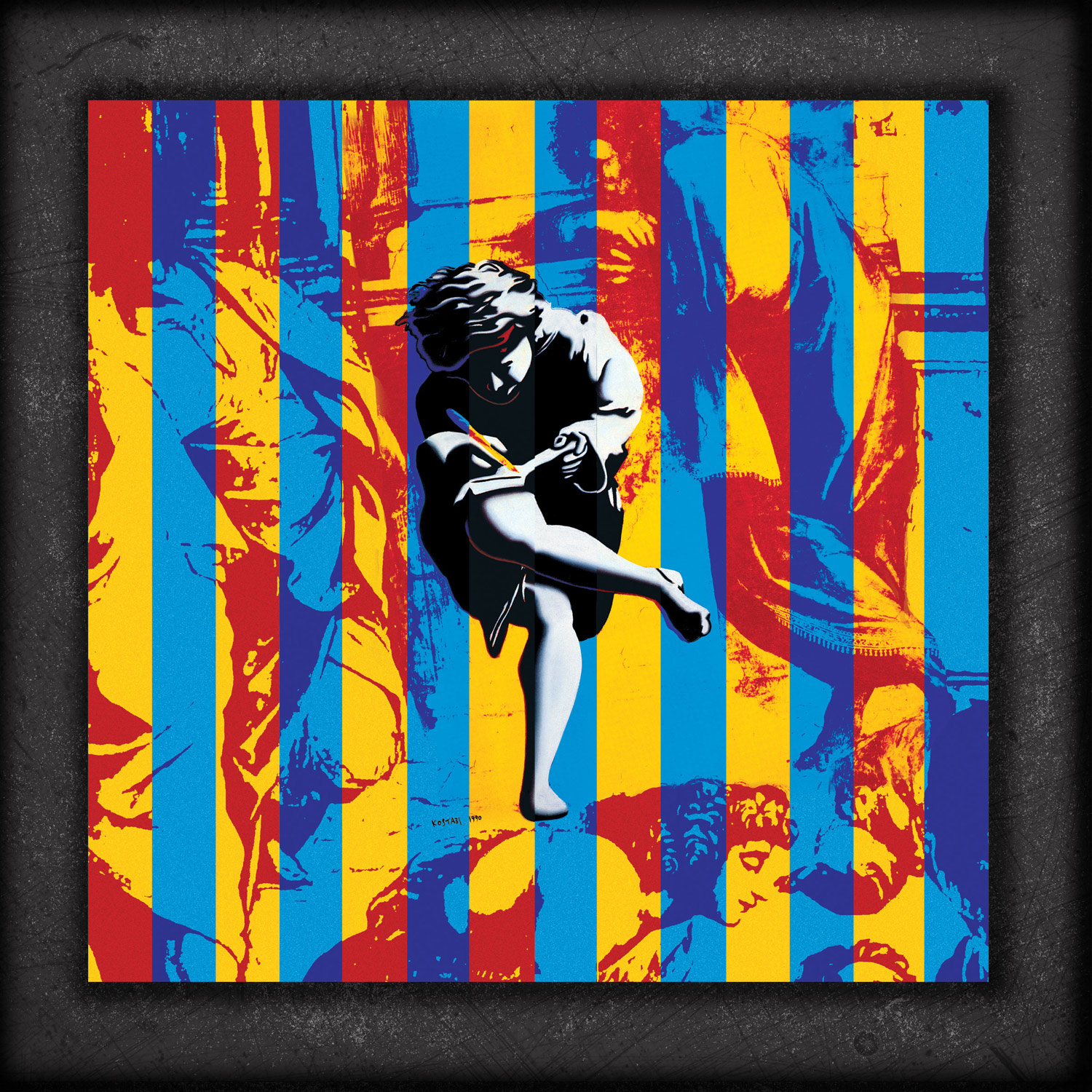 Expensive box sets • No Atmos Mixes of the studio albums • Live concerts remixed • Lots of 'stuff' in the boxes • 2CD sets with exclusive audio
Guns N' Roses are to reissue their 1991 albums Use Your Illusion I & Use Your Illusion II across nine different physical formats in November, including 7CD+blu-ray and 12LP vinyl+blu-ray super deluxe editions.
Both albums have been "fully remastered for the first-time ever", from hi-res 96/24 transfers from the original stereo 1/2-inch analog masters. Use Your Illusion I includes an updated version of the single 'November Rain' which features a newly recorded 50-piece orchestra (this has been mixed by Steven Wilson, incidentally).
The 7CD+blu-ray super deluxe features both remastered albums, Live in New York (from the Ritz Theatre in May '91) across two CDs, Live in Las Vegas (from the Thomas & Mack Center in January '92) across three CDs. Both have been newly mixed from the multi-track tapes.
The bonus blu-ray video disc features the complete Live In New York concert film, "newly transferred from 35mm film prints to 4K UHD". Boasting of a 4K transfer and then putting it on a standard 1080p HD blu-ray (which is effectively a 2K medium) is confusing and disappointing. A 4K UHD blu-ray and this standard blu-ray should have been included for the price being asked – after all this happens all the time in £25 retail 4K film blu-ray releases and this CD box costs ten times that. The concert soundtrack offers Dolby Atmos, 5.1, and 48/24 stereo.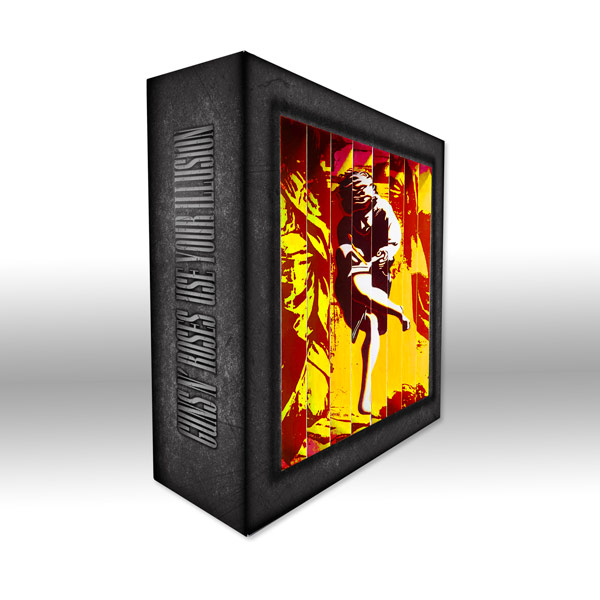 Talking of Atmos, notable by omission are any spatial audio mixes of the studio albums themselves. No Atmos, 5.1 or even hi-res stereo versions are included on the blu-ray. Also, there is no studio outtakes, demos on any of the formats.
The 12LP black vinyl box set features exactly the same audio content as the 7CD+blu-ray. Both studio albums are 2LP sets and Live in New York and Live in Las Vegas are both 4LP sets. The blu-ray is included with this vinyl package and is identical to the one in the CD box set.
The super deluxe editions are housed with a 100-page hardcover book and are designed with fancy red & blue 'reveal sleeves'. These sets come with lots of 'stuff' like Conspiracy Inc. replica fan club folder (with membership card!), four Conspiracy Inc. 1991/1992 Use Your Illusion era replica fan club newsletters, 10 double-design lithos that reveals one of two unique images when inserted into the red & blue 'reveal sleeves', 8" x 10" photo prints (x7), four Use Your Illusion tour replica cloth sticky backstage passes (x4), a Ritz Theatre 5/16/1991 replica concert ticket (with the original misprinted date of 5/15/1991) and a 24"x36" band poster.
Despite the 12LP vinyl and 7CD sets costing over £400 and £250 respectively, the much cheaper 2CD editions of each album feature exclusive live audio not included in the bigger boxes. This is in the form of bonus discs with live highlights from the Use Your Illusion 1991 / 1992 tour including dates in Paris, London and Rio de Janeiro. So for example, if you are a CD collector and want 'everything' (in terms of audio) you have to buy three products: the 7CD+blu-ray super deluxe and both 2CD deluxe editions! That situation is unlikely to impress fans. The 2CD sets come with 24-page booklets.
Other formats are both albums remastered on 2LP black vinyl, a 4LP vinyl box set (D2C-only) and single CD remasters of Use Your Illusion I & II.
Use Your Illusion I & II will be reissued on 11 November 2022, via UMe/Geffen.
Compare prices and pre-order
Guns N' Roses
Use Your Illusion - 7CD + blu-ray super deluxe
Compare prices and pre-order
Guns N' Roses
Use Your Illusion - 12LP vinyl + blu-ray super deluxe
Compare prices and pre-order
Guns N' Roses
Use Your Illusion I - 2LP black vinyl
Compare prices and pre-order
Guns N' Roses
Use Your Illusion I - 2CD deluxe
Compare prices and pre-order
Guns N' Roses
Use Your Illusion I - single CD remaster
Compare prices and pre-order
Guns N' Roses
Use Your Illusion II - 2LP black vinyl
Compare prices and pre-order
Guns N' Roses
Use Your Illusion II - 2CD deluxe
Compare prices and pre-order
Guns N' Roses
Use Your Illusion II - single CD remaster
Tracklisting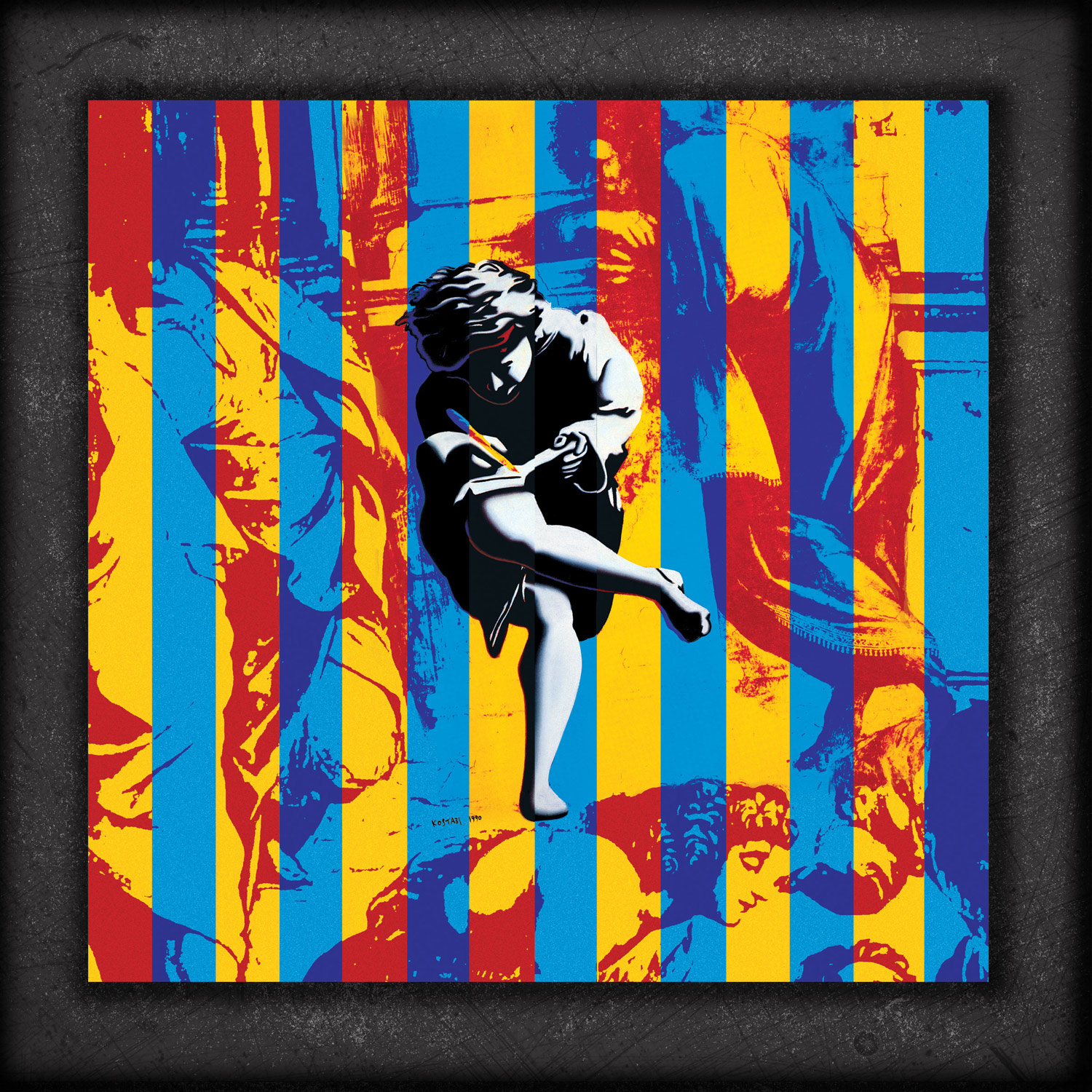 Use Your Illusion reissue Guns N' Roses
/
CD 1 or LPs 1 & 2: Use Your Illusion I (remastered)

RIGHT NEXT DOOR TO HELL
DUST N' BONES
LIVE AND LET DIE
DON'T CRY (ORIGINAL)
PERFECT CRIME
YOU AIN'T THE FIRST
BAD OBSESSION
BACK OFF BITCH
DOUBLE TALKIN' JIVE
NOVEMBER RAIN*
THE GARDEN
GARDEN OF EDEN
DON'T DAMN ME
BAD APPLES
DEAD HORSE
COMA

* Previously unreleased

CD 2 or LPs 3&4: Use Your Illusion II (remastered)

CIVIL WAR
14 YEARS
YESTERDAYS
KNOCKIN' ON HEAVEN'S DOOR
GET IN THE RING
SHOTGUN BLUES
BREAKDOWN
PRETTY TIED UP
LOCOMOTIVE
SO FINE
ESTRANGED
YOU COULD BE MINE
DON'T CRY (ALT. LYRICS)
MY WORLD

* Previously unreleased

CD 3 / LPs 5&6: Live in New York (Ritz Theatre 16 May '91)

PRETTY TIED UP*
BAD OBSESSION*
RIGHT NEXT DOOR TO HELL*
BROWNSTONE*
DUST N' BONES
LIVE AND LET DIE*
PARADISE CITY*
VOODOO CHILD (SLIGHT RETURN) / CIVIL WAR*
DRUM SOLO*
SLASH SOLO*
YOU COULD BE MINE*

* Previously unreleased

CD 4 / LPs 7&8: Live in New York (continued))

I WAS ONLY JOKING / PATIENCE*
ONLY WOMEN BLEED / KNOCKIN' ON HEAVEN'S DOOR*
DON'T CRY (ORIGINAL)* [features Shannon Hoon on vocals]
YOU AIN'T THE FIRST* [features Shannon Hoon on vocals]
MY MICHELLE*
ESTRANGED*
DOUBLE TALKIN' JIVE*
SWEET CHILD O' MINE*
WELCOME TO THE JUNGLE*

* Previously unreleased

CD 5 / LPs 9&10: Live in Las Vegas (Thomas & Mack Center 25 Jan '92)

NIGHTRAIN
BROWNSTONE*
LIVE AND LET DIE*
ATTITUDE*
IT'S SO EASY*
BAD OBSESSION*
WELCOME TO THE JUNGLE*
DOUBLE TALKIN' JIVE*
VOODOO CHILD (SLIGHT RETURN) / CIVIL WAR / VOODOO CHILD (SLIGHT RETURN)*

* Previously unreleased

CD 6 / LP 11: Live in Las Vegas (continued)

DON'T CRY (ORIGINAL)*
WILD HORSES*
PATIENCE*
YOU COULD BE MINE*
SO FINE*
NOVEMBER RAIN*
INTROS / DRUM SOLO*
SLASH SOLO*
SPEAK SOFTLY, LOVE (LOVE THEME FROMTHE GODFATHER)*

* Previously unreleased

CD 7 / LP 12: Live in Las Vegas (continued)

SAIL AWAY SWEET SISTER*
SWEET CHILD O' MINE*
MOVE TO THE CITY*
HOTEL CALIFORNIA / ONLY WOMEN BLEED / KNOCKIN' ON HEAVEN'S DOOR*
YESTERDAYS
MY MICHELLE*
ESTRANGED*
MOTHER* / PARADISE CITY

* Previously unreleased

Blu-ray Video: Live in New York (Ritz Theatre 16 May '91)

PRETTY TIED UP*
BAD OBSESSION*
RIGHT NEXT DOOR TO HELL*
BROWNSTONE*
DUST N' BONES*
LIVE AND LET DIE*
PARADISE CITY*
VOODOO CHILD (SLIGHT RETURN) / CIVIL WAR*
DRUM SOLO*
SLASH SOLO*
YOU COULD BE MINE*
I WAS ONLY JOKING / PATIENCE*
ONLY WOMEN BLEED / KNOCKIN' ON HEAVEN'S DOOR*
DON'T CRY (ORIGINAL)* [features Shannon Hoon on vocals]
YOU AIN'T THE FIRST* [features Shannon Hoon on vocals]
MY MICHELLE*
ESTRANGED*
DOUBLE TALKIN' JIVE*
SWEET CHILD O' MINE*
WELCOME TO THE JUNGLE*

* Previously unreleased

Audio: Dolby Atmos 48kHz 24-bit / Dolby TrueHD 5.1 96kHz 24-bit / PCM Stereo 48kHz 24-bit

Regions: All

Run Time: 2hr 6min

CD 1: Original Album Remastered

RIGHT NEXT DOOR TO HELL
DUST N' BONES
LIVE AND LET DIE
DON'T CRY (ORIGINAL)
PERFECT CRIME
YOU AIN'T THE FIRST
BAD OBSESSION
BACK OFF BITCH
DOUBLE TALKIN' JIVE
NOVEMBER RAIN*
THE GARDEN
GARDEN OF EDEN
DON'T DAMN ME
BAD APPLES
DEAD HORSE
COMA

* Previously unreleased

CD 2: Use Your Illusion Tour 1991/2

PERFECT CRIME (Live in London – 8/31/91)*
BAD OBSESSION (Live in Las Vegas – 1/25/92)*
RIGHT NEXT DOOR TO HELL (Live in New York – 5/16/91)*
ALWAYS ON THE RUN (with Lenny Kravitz) (Live in Paris – 6/6/92)*
DUST N' BONES (Live in London – 8/31/91)*
LIVE AND LET DIE (Live in New York – 5/16/91)*
ATTITUDE (Live in Paris – 6/6/92)*
DOUBLE TALKIN' JIVE (Live in London – 8/31/91)*
DON'T CRY (ORIGINAL) (Live in New York – 5/16/91)*
YOU AIN'T THE FIRST (Live in New York – 5/16/91)*
IT'S ALRIGHT / NOVEMBER RAIN (Live in Paris – 6/6/92)*
BAD APPLES (Live in Rio de Janeiro – 1/23/91)*
WILD HORSES (Live in Paris – 6/6/92)*

* Previously unreleased

CD1: Original Album Remastered

CIVIL WAR
14 YEARS
YESTERDAYS
KNOCKIN' ON HEAVEN'S DOOR
GET IN THE RING
SHOTGUN BLUES
BREAKDOWN
PRETTY TIED UP
LOCOMOTIVE
SO FINE
ESTRANGED
YOU COULD BE MINE
DON'T CRY (ALT. LYRICS)
MY WORLD

CD 2: Use Your Illusion Tour 1991/2

PRETTY TIED UP (Live in New York – 5/16/91)*
14 YEARS (Live in London – 8/31/91)*
VOODOO CHILD (SLIGHT RETURN) / CIVIL WAR / VOODOO CHILD (SLIGHT RETURN) (Live in Las Vegas – 1/25/92)*
YOU COULD BE MINE (Live in New York – 5/16/91)*
DRUM SOLO (Live in Paris – 6/6/92)*
SLASH SOLO (Live in Paris – 6/6/92)*
SPEAK SOFTLY, LOVE (LOVE THEME FROM THE GODFATHER) (Live in Paris – 6/6/92)*
SAIL AWAY SWEET SISTER (Live in Paris – 6/6/92)*
SO FINE (Live in Las Vegas – 1/25/92)*
ONLY WOMEN BLEED / KNOCKIN' ON HEAVEN'S DOOR (Live in Rio de Janeiro – 1/20/91)*
MAMA KIN (featuring Steven Tyler & Joe Perry) (Live in Paris – 6/6/92)*
TRAIN KEPT A ROLLIN' (featuring Steven Tyler & Joe Perry) (Live in Paris – 6/6/92)*
ESTRANGED (Live in Las Vegas – 1/25/92)*

* Previously unreleased

Side 1

RIGHT NEXT DOOR TO HELL
DUST N' BONES
LIVE AND LET DIE
DON'T CRY (ORIGINAL)
PERFECT CRIME

Side 2

YOU AIN'T THE FIRST
BAD OBSESSION
BACK OFF BITCH
DOUBLE TALKIN' JIVE

Side 3

NOVEMBER RAIN*
THE GARDEN
GARDEN OF EDEN
DON'T DAMN ME

*previously unreleased

Side 4

BAD APPLES
DEAD HORSE
COMA

Side 1

CIVIL WAR
14 YEARS
YESTERDAYS
KNOCKIN' ON HEAVEN'S DOOR

Side 2

GET IN THE RING
SHOTGUN BLUES
BREAKDOWN

Side 3

PRETTY TIED UP
LOCOMOTIVE
SO FINE

Side 4

ESTRANGED
YOU COULD BE MINE
DON'T CRY (ALT. LYRICS)
MY WORLD