 News
INXS / Live Baby Live: Wembley Stadium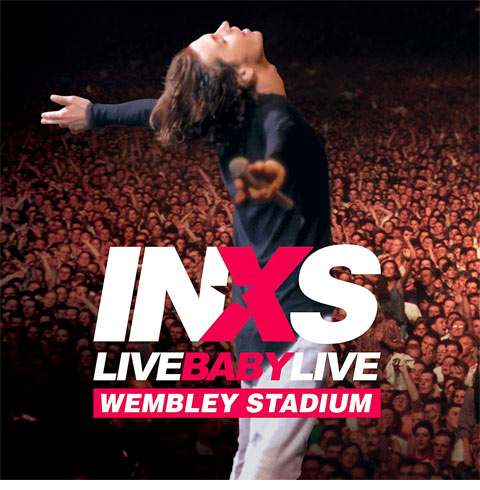 Wembley show's audio remixed for new 2CD or 3LP sets • Concert film restored to Ultra HD 4K for theatrical run with Dolby Atmos soundtrack
The soundtrack to INXS' Live Baby Live Wembley Stadium show, on 13 July 1991, has been newly remixed and will be issued on 3LP vinyl and 2CD in November.

Live Baby Live: Wembley Stadium captures the memorable performance and features the hits 'Need You Tonight', 'New Sensation', 'Devil Inside' – a previously thought 'lost' track 'Lately' from the album 'X' – and many more.
Speaking about this show, INXS' Garry Gary Beers remembers "The whole band was on fire that night but especially at our 'pointy end' – Michael was so good as he sang his heart out and gave every person in the crowd a night to remember for all time. He truly had that amazing ability to make the biggest shows as intimate as the pubs we grew up in musically".
Unlike the original Live Baby Live album (from 1991), which took its audio from various shows from that tour, this new release is the soundtrack to this one performance at Wembley, with the audio newly remixed by Giles Martin & Sam Okell at Abbey Road Studios.
Both vinyl and CD formats feature unseen imagery from the show, new essays from the band and sleeve notes by broadcaster and uber INXS fan Jamie East, who was in the crowd that day.
These physical audio releases coincide with a new theatrical presentation of the original Live Baby Live concert film. The film has been restored from the original 35mm negative to Ultra HD 4K. I was lucky enough to get a preview of this earlier in the year and can confirm that it's stunningly good. They've actually converted 4:3 to 16:9 with careful shot-by-shot reframing, for the full cinematic experience. The audio for the film will be in Dolby Atmos (again by Giles Martin and Sam Okell).
The Live Baby Live concert film will be in cinemas in Australia and New Zealand from November 14, North and South America from December 9, and in the UK on November 27. Check INXScinema.com for local listings. The Live Baby Live: Wembley Stadium vinyl and CD sets will be issued on 15 November 2019.
Compare prices and pre-order
INXS
Live Baby Live - 3LP vinyl
Compare prices and pre-order
INXS
Live Baby Live - 2CD set
Live Baby Live: Wembley Stadium 3LP black vinyl
SIDE A
Guns in the Sky
New Sensation
I Send a Message
The Stairs
SIDE B
Know the Difference
Disappear
By My Side
Hear That Sound
SIDE C
Lately
The Loved One
Wild Life
SIDE D
Mystify
Bitter Tears
Suicide Blonde
What You Need
SIDE E
Kick
Need You Tonight
Mediate
SIDE F
Never Tear Us Apart
Who Pays the Price
Devil Inside
Live Baby Live: Wembley Stadium 2CD set
CD1
Guns in the Sky
New Sensation
I Send a Message
The Stairs
Know the Difference
Disappear
By My Side
Hear That Sound
Lately
The Loved One
Wild Life
CD2
Mystify
Bitter Tears
Suicide Blonde
What You Need
Kick
Need You Tonight
Mediate
Never Tear Us Apart
Who Pays the Price
Devil Inside