 News
Trevor Horn / Echoes: Ancient & Modern
Trevor Horn produces various artists • #14 in the SDE Surround Series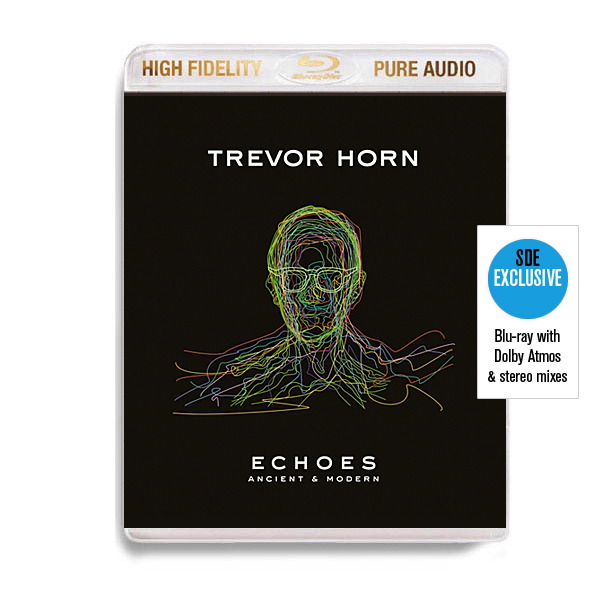 80s super producer • Classic songs • Various artists • SDE-exclusive blu-ray with Atmos Mix (quick pre-order)
"The man who invented the 80s", legendary producer Trevor Horn, presents Echoes: Ancient & Modern, a new album which sees him collaborate with some of his favourite singers to create newly-minted versions of songs he loves.
The album features 11 tracks, performed by Tori Amos, Seal, Iggy Pop, Marc Almond, Rick Astley, Andrea Corr, Steve Hogarth (from Marillion), Lady Blackbird, Jack Lukeman, Toyah Wilcox & Robert Fripp and Trevor himself.
The songs are iconic hits from the likes of Depeche Mode ('Personal Jesus'), Pat Benatar ('Love Is A Battlefield'), The Cars ('Drive'), Billy Idol ('White Wedding') including a few signature tracks that Trevor was involved in the first time around such as Frankie Goes To Hollywood's 'Relax', Grace Jones' 'Slave to the Rhythm' and Yes' 'Owner of a Lonely Heart'.
This is very much a Trevor Horn album with guest vocalists, since as well as producing, Horn sings backing vocals, plays keyboards, bass and/or guitar. Fellow instrumentalists include his old friend, Lol Creme.
Building a feeling into a song is a tricky, intangible thing to do. There are lots of technical and psychological short cuts to recording a song, but none to actually make it feel real. That remains a studio secret.

Trevor Horn
One of the highlights of Echoes: Ancient & Modern is the opening number which sees Tori Amos singing rap star Kendrick Lamar's much admired 'Swimming Pool (Drank)' (from 2012) which on paper sounds like it shouldn't work at all but really does thanks to the introduction of a few simple chords and Amos' stunning vocals. It's a cinematic rendition which, as the producer notes, "sets everything up like it's the beginning of a song cycle".
I'm delighted to announce that Echoes: Ancient & Modern has been mixed in Dolby Atmos and that this spatial audio version will be released physically as an SDE-exclusive blu-ray audio, #14 in the ongoing SDE Surround Series. The Atmos Mix will be accompanied by a 5.1 mix, a hi-res stereo version and more. The contents are as follows:
Dolby Atmos MIx
5.1 Surround Mix
Hi-Res Stereo Mix
Trevor Horn 'track-by-track' exploration on video (22 mins)
SDE makes no apologies for repeating why these limited edition blu-ray products are highly recommended
It's the only way to enjoy the Dolby Atmos mix of the album as a PHYSICAL PRODUCT
You don't need to sign-up to a streaming service such as Tidal or Apple Music to hear the spatial audio mix
The Atmos Mix on the Blu-ray is NOT COMPRESSED due to streaming bandwidth restrictions
YOU OWN THE MUSIC, you are not renting it from a digital service provider
The Blu-ray audio is an excellent format for music and you don't want to see it die off
SUPPORTING SDE with these initiatives is leading to similar collaborations with labels/artists and we are keen to bring your more in the near future!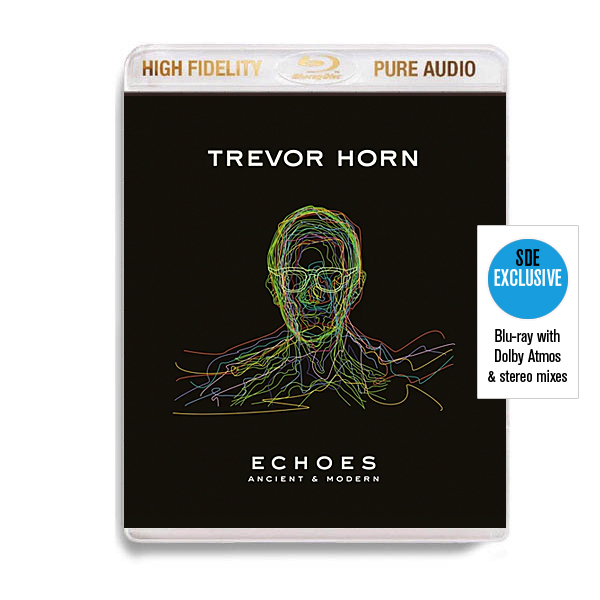 Echoes: Ancient & Modern will also be available on CD and vinyl and all formats will be released via Deutsche Grammophon on 1 December 2023.
The pre-order window for the SDE-exclusive blu-ray edition of this album closes in 7 days. It's only available via the SDE shop so use this link or the button below ('pre-order'). It will ship with a FREE and collectible SDE Surround Series slipcase. Note: There are no longer any extra charges for shipping to the EU.
TECHNICAL NOTES: This blu-ray audio requires a blu-ray player. Decoding the Dolby Atmos mix requires a Dolby Atmos-certified soundbar or a Dolby Atmos-compatible AV Receiver/Amp. The Dolby Atmos mix will 'fold down' to 5.1 or stereo if a Dolby Atmos decoder is not detected.
Compare prices and pre-order
Trevor Horn
Echoes Ancient and Modern - vinyl LP
Compare prices and pre-order
Trevor Horn
Echoes Ancient and Modern - CD edition
Tracklisting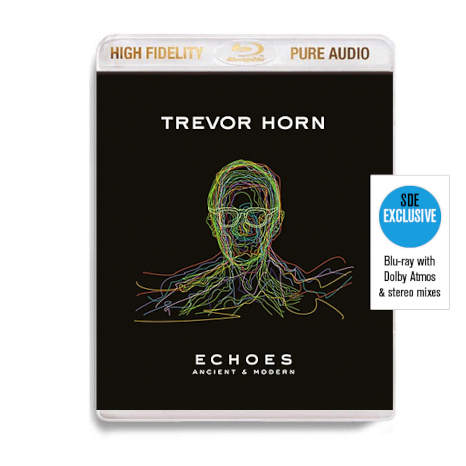 Echoes: Ancient & Modern Trevor Horn
/
Dolby Atmos Mix and Hi-Res Stereo Mix

Swimming Pools (Drank) feat. Tori Amos (Kendrick Lamar)
Steppin' Out feat. Seal (Joe Jackson)
Owner Of A Lonely Heart feat. Rick Astley (Yes)
Slave To The Rhythm feat. Lady Blackbird (Grace Jones)
Love Is A Battlefield feat. Marc Almond (Pat Benatar)
Personal Jesus feat. Iggy Pop
Drive feat. Steve Hogarth (The Cars)
Relax feat. Toyah Wilcox & Robert Fripp (Frankie Goes To Hollywood)
White Wedding feat. Andrea Corr with Jack Lukeman (Billy Idol)
Smells Like Teen Spirit feat. Jack Lukeman (Nirvana)
Avalon (Roxy Music)

Side A

Swimming Pools (Drank) feat. Tori Amos (Kendrick Lamar)
Steppin' Out feat. Seal (Joe Jackson)
Owner Of A Lonely Heart feat. Rick Astley (Yes)
Slave To The Rhythm feat. Lady Blackbird (Grace Jones)
Love Is A Battlefield feat. Marc Almond (Pat Benetar)
Personal Jesus feat. Iggy Pop (Depeche Mode)

Side B

Drive feat. Steve Hogarth (The Cars)
Relax feat. Toyah Wilcox & Robert Fripp (Frankie Goes To Hollywood)
White Wedding feat. Andrea Corr with Jack Lukeman (Billy Idol)
Smells Like Teen Spirit feat. Jack Lukeman (Nirvana)
Avalon (Roxy Music)

Swimming Pools (Drank) feat. Tori Amos
Steppin' Out feat. Seal
Owner Of A Lonely Heart feat. Rick Astley
Slave To The Rhythm feat. Lady Blackbird
Love Is A Battlefield feat. Marc Almond
Personal Jesus feat. Iggy Pop
Drive feat. Steve Hogarth
Relax feat. Toyah Wilcox & Robert Fripp
White Wedding Feat Andrea Corr with Jack Lukeman
Smells Like Teen Spirit feat. Jack Lukeman
Avalon