 News
Jean Michel Jarre / Planet Jarre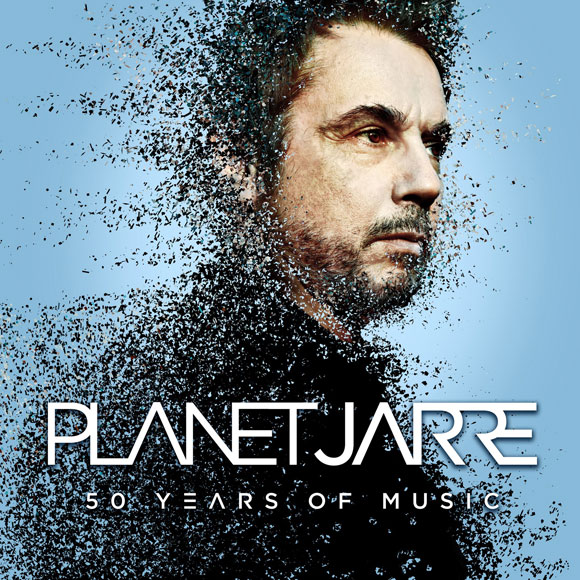 41-track anthology • 'themed' and remastered • 5.1 mixes download-only!
Sony will release Planet Jarre in September, a 50th anniversary Jean Michel Jarre anthology that will be available in three physical formats, including a super deluxe edition box set.

This new set features 41 works "hand-picked" by Jarre himself and re-mastered to deliver what the label describes as "a new and sparkling freshness to the sound of the package".The super deluxe (or 'Ultimate' box set) is a new one for me – it comprises two CDs and two MCs (yes, cassette tapes). The vinyl box is packaged as a 'book' and has all the audio across four vinyl records, and there is a two-CD set also.
Jarre has divided the audio offering into four different sections and he explains the methodology: "Going through the body of my existing work for this project, I realised that I have four quite different styles of composition. There is this common idea that people are focusing on shorter and shorter moments of music by zapping constantly. This is not necessarily true. We are also spending more and more time in our day-to-day life listening to playlists. Wherever we are and whatever we do. This is the reason why I decided to divide this project into four different parts, four different worlds that make up my own world…my own planet. And I hope that you will enjoy the journey."
The four parts are: Soundscapes, Themes, Sequences, Explorations & Early Works. Sequences features two new tracks: Coachella Opening and Herbalizer. The last disc features the previously unreleased demo recording of Music For Supermarkets, Jarre's 1983 project which saw him press one copy of the album for auction before ordering the master tapes to be destroyed. Erosmachine from the same disc dates from 1969.
The 4LP vinyl and 2CD+2MC box sets come with a download card to, and I quote, "enter the world of Jean-Michel Jarre in 5.1.". The press release says that Jarre has "mastered some tracks" in 5.1. for a "unique listening experience". They presumably mean 'mixed' some tracks in 5.1. It is not clear how the average Jarre fan is supposed to enjoy 'the world' of 5.1 surround sound via a download onto their computer. Very disappointing that a blu-ray audio was not included to cater for the 5.1 mixes, especially since they've included two tapes!!
Planet Jarre will be issued on 14 September 2018.
Compare prices and pre-order
Jarre, Jean-Michel
Planet Jarre - four disc box set: 2CD+2MC
Compare prices and pre-order
Jarre, Jean-Michel
Planet Jarre - 4LP vinyl box
Compare prices and pre-order
Jarre, Jean-Michel
Planet Jarre (Deluxe-Version)
CD 1
Soundscapes 
Oxygene 1
Oxygene 19
Rendez-Vous 1
Millions of Stars
Chronology 1
Oxygene 20
Equinoxe 2
Waiting for Cousteau
The Heart of Noise (Origin)
Themes
Industrial Revolution Part 2
Oxygene 4
Equinoxe 5
Oxygene 2
Zoolookologie
Bells
Equinoxe 4
Magnetic Field 2
Rendez-Vous 2 (Laser Harp)
Rendez-Vous 4
Chronology 4 
CD 2
Sequences
Coachella Opening
Arpeggiator
Automatic Part 1 with Vince Clarke
Exit with Edward Snowden
Equinoxe 7
Oxygene 8
Stardust with Armin van Buuren
Herbalizer
Revolutions
Explorations & Early Works
Ethnicolor
Souvenir of China
Blah Blah Café
Music for Supermarkets (Demo Excerpt)
Roseland / Le Pays de Rose
La Cage
Erosmachine
Hypnose
The Song of the Burnt Barns / La Chanson des Granges Brulees
Happiness is a Sad Song
Aor Bleu
Last Rendez-Vous
Planet Jarre – 4LP vinyl set
Side 1
1. Oxygene, Pt. 1
2. Oxygene, Pt. 19
3. First Rendez Vous
4. Millions of Stars
Disc: 2
1. Chronology, Pt. 1
2. Oxygene, Pt. 20
3. Equinoxe, Pt. 2
4. Waiting for Cousteau
5. The Heart of Noise (The Origin)
Side 3
1. Industrial Revolution, Pt. 2
2. Oxygene, Pt. 4
3. Equinoxe, Pt. 5
4. Oxygene, Pt. 2
5. Zoolookologie
6. Bells
Disc: 4
1. Equinoxe, Pt. 4
  2. Magnetic Fields, Pt. 2
  3. Rendez-Vous II, Pt. 4
  4. Fourth Rendez-Vous
  5. Chronology, Pt. 4
Side 5
1. Coachella Opening
  2. Arpegiateur
  3. Automatic, Pt. 1 – Jean-Michel Jarre & Vince Clarke
  4. Exit – Jean-Michel Jarre & Edward Snowden
Side 6
1. Equinoxe, Pt. 7
2. Oxygene, Pt. 8
3. Stardust – Jean-Michel Jarre & Armin van Buuren
4. Herbalizer
5. Revolutions
Side 7
1. Ethnicolor
2. Souvenir de Chine
3. Blah Blah Cafe
4. Music for Supermarkets
5. Roseland (Le pays de rose)
6. La cage
7. Erosmachine
Side 8
1. Hypnose
2. La chanson des granges brulées
3. Happiness Is a Sad Song
4. Aor Bleu
5. Last Rendez Vous