 News
Jean Michel Jarre / Equinoxe Infinity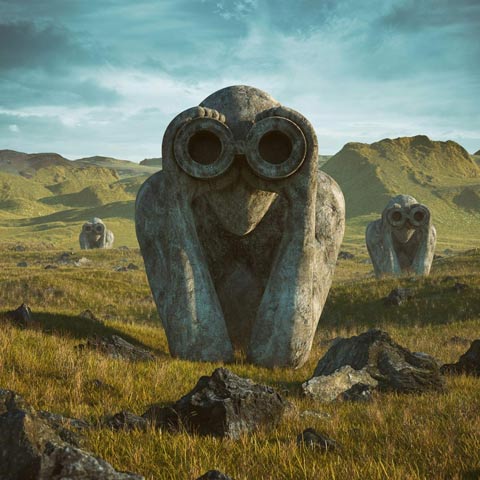 With his Planet Jarre best of/box set only just released, Jean Michel Jarre has surprised fans with the announcement of a new album, Equinoxe Infinity, for November.

This is a sequel to his fourth studio album, Equinoxe, which was released 40 years ago and the artwork (created by Filip Hodas) references the original cover. Best let JMJ explain his thinking behind the music and the artwork:
 "In days where vinyl is coming back big time, artwork deserves more attention. The cover of Equinoxe has always been one of my favourites. Are these strange creatures watching us? Watching space? Watching machines? Watching a natural phenomenon? We don't really know. They're not scary, but odd and mysterious. So, I took the original 'Watchmen' of the Equinoxe cover to continue the story.
Filip Hodas is a super talented young artist who I asked to create two different pieces in line with my vision. One cover shows mankind at peace with nature and technology, and the other depicts a picture of fear and distortion with machines taking over the world. With these two, I want to bring attention to two scenarios we are facing today with our love for and our dependence on innovation and technology. The music of Equinoxe Ininity is the soundtrack to those two different worlds."

Alternate cover ("fear and distortion") to Equinoxe Infinity
The album cover art is random (at the request of Jean Michel Jarre) so you don't know which one you are getting!
Equinoxe Infinity is issued on CD and vinyl, but a box set called Equinoxe Project brings together the original album and the new one, on CD and vinyl (i.e. it's a four-disc set). The box comes with four posters and a download card. The standard vinyl also includes a download and one poster. You can preview The Watchers (movement 1) below.
Equinoxe Infinity and the Equinoxe Project box set will be issued on 16 November 2018.
Compare prices and pre-order
Jarre, Jean-Michel
Equinoxe Infinity - CD edition
Compare prices and pre-order
Jarre, Jean-Michel
Equinoxe Infinity - vinyl LP
Compare prices and pre-order
Jarre, Jean-Michel
Equinoxe Project box set
EQUINOXE INFINITY
The Watchers (Movement 1)
Flying Totems (Movement 2)
Robots Dont Cry (Movement 3)
All That You Leave Behind (Movement 4)
If The Wind Could Speak (Movement 5)
Infinity (Movement 6)
Machines Are Learning (Movement 7)
The Opening (Movement 8)
Don't Look Back (Movement 9)
Equinoxe Infinity (Movement 10)