 News
Jimi Hendrix / Songs For Groovy Children: The Fillmore East Concerts
5CD or 8LP vinyl boxes •  Full concerts unedited • Many previously unreleased tracks • Newly mixed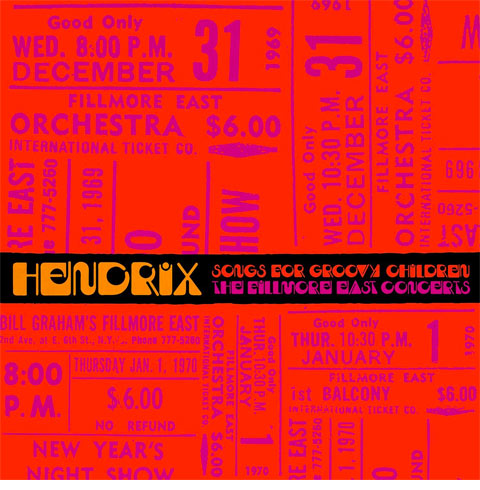 Sony's Legacy Recordings will issue a new live Jimi Hendrix box set on vinyl and CD this winter. Songs For Groovy Children: The Fillmore East Concerts assembles all four historic debut concerts by the legendary guitarist as originally performed.

This is Hendrix with his 'Band of Gypsys' – a trio of himself, Billy Cox on bass and Electric Flag drummer Buddy Miles. They group debuted with four concerts, over two evenings, that literally marked the end of the 1960s and ushered in the 1970s. These shows were at the Fillmore East in Manhattan – two on New Year's Eve 1969 and two on New Year's Day 1970, each of which were professionally recorded.


The live album Band of Gypsys album was issued only four months later, in March 1970 and was edited and sequenced from songs performed during the two Fillmore sets on 1 January 1970. But it only featured six songs. These news sets take things considerably further, as you might expect.

Both 5CD and 8LP vinyl box sets contain the four shows in full. The audio has been newly mixed (by Eddie Kramer) and restored in sequence without edits. In total there is over two dozen tracks that have either never before been released commercially or have been newly pressed and newly remixed. All audio was mastered by Grammy-winning engineer Bernie Grundman.
The package comes with a booklet with unseen photos and remembrances from bassist Billy Cox and sleeve notes courtesy of Nelson George.
Songs For Groovy Children: The Fillmore East Concerts is out as a 5CD set on 22 November, with the 8LP vinyl box following on 13 December 2019.
Compare prices and pre-order
JIMI HENDRIX
Songs For Groovy Children - 5CD box set
Compare prices and pre-order
JIMI HENDRIX
Songs For Groovy Children - 8LP vinyl box
Jimi Hendrix – Songs For Groovy Children: The Fillmore East Concerts 5CD collection
12/31/69 1st Set:
CD 1
1) Power Of Soul
2) Lover Man
3) Hear My Train A Comin'
4) Changes
5) Izabella
6) Machine Gun
7) Stop
8) Ezy Ryder
9) Bleeding Heart
10) Earth Blues
11) Burning Desire
12/31/69 2nd Set:
CD 2
1) Auld Lang Syne%
2) Who Knows%
3) Fire
4) Ezy Ryder*
5) Machine Gun%
6) Stone Free
7) Changes*
8) Message To Love*
9) Stop*
10) Foxey Lady
1/1/70 1st Set:
CD 3
1) Who Knows
2) Machine Gun
3) Changes+
4) Power Of Soul%
5) Stepping Stone%
6) Foxey Lady+
7) Stop%
8) Earth Blues+
9) Burning Desire%
1/1/70 2nd Set:
CD 4
1) Stone Free%
2) Power Of Soul#
3) Changes#
4) Message To Love#
5) Machine Gun%
6) Lover Man*
7) Steal Away*
8) Earth Blues%
CD 5
1) Voodoo Child (Slight Return)%
2) We Gotta Live Together#
3) Wild Thing%
4) Hey Joe*
5) Purple Haze*
*previously unreleased
+ first time on CD/LP/streaming (previously only available as part of concert film)
# longer, unedited versions of previously released material, and newly remixed
% back in print on CD/LP for the first time in a decade, and newly remixed
Jimi Hendrix – Songs For Groovy Children: The Fillmore East Concerts 8LP vinyl collection
12/31/69 1st Set:
LP 1

Side 1
1) Power Of Soul
2) Lover Man
3) Hear My Train A Comin'
Side 2
1) Changes
2) Izabella
3) Machine Gun
LP 2

Side 1
1) Stop
2) Ezy Ryder
3) Bleeding Heart
Side 2
1) Earth Blues
2) Burning Desire
12/31/69 2nd Set:
LP 3

Side 1
1) Auld Lang Syne%
2) Who Knows  %
3) Fire
Side 2
1) Ezy Ryder*
2) Machine Gun%
LP 4

Side 1
1) Stone Free
2) Changes*
Side 2
1) Message To Love*
2) Stop*
3) Foxey Lady
1/1/70 1st Set:
LP 5

Side 1
1) Who Knows  +
2) Machine Gun+
Side 2
1) Changes+
2) Power Of Soul%
3) Stepping Stone%
4) Foxey Lady+
LP 6

Side 1
1) Stop %
2) Earth Blues+
3) Burning Desire%
1/1/70 2nd Set:
Side 2
1) Stone Free%
2) Power Of Soul#
LP 7

Side 1
1) Changes#
2) Message To Love#
Side 2
1) Machine Gun%
2) Lover Man*
3) Steal Away*
LP 8

Side 1
1) Earth Blues%
2) Voodoo Child (Slight Return)%
3) We Gotta Live Together#
Side 2
1) Wild Thing%
2) Hey Joe*
3) Purple Haze*
*previously unreleased
+first time on CD/LP/streaming (previously only available as part of concert film)
#longer, unedited versions of previously released material, and newly remixed
%back in print on CD/LP for the first time in a decade, and newly remixed