 News
John Mayall / The First Generation 1965-1974 deluxe box set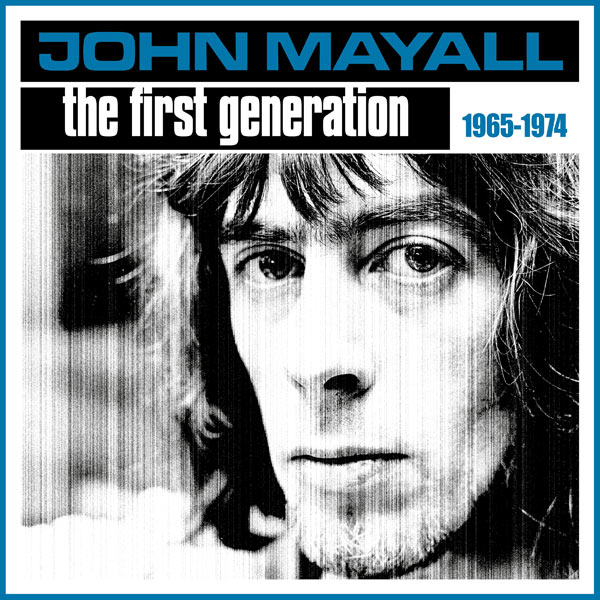 Massive 35-CD box set • Unreleased audio • SIGNED by John Mayall
John Mayall's The First Generation 1965-1974 is an enormous 35CD box set that documents the early career of 'The Godfather of British Blues', with remastered studio albums, unreleased BBC recordings, previously unheard live gigs and more.

Featuring Eric Clapton, Peter Green, Mick Taylor, Harvey Mandel, Blue Mitchell, Jon Mark and many more outstanding musicians, the 35 discs in this mammoth package include three CD singles and eight previously unreleased discs, alongside newly remastered versions of the original Decca & Polydor albums.
For a short but compelling time in the '60s and '70s, John Mayall recognised raw talent, took it in, nurtured it, and everyone thrived and benefitted as a result. Many of the best musicians of the period passed through the ranks of John Mayall's Bluesbreakers. All are on show here in this set with an abundance of musical highlights.
The unreleased concerts include Windsor 1967, Gothenburg 1968, Berlin 1969 and San Francisco 1970 and the 28 unreleased BBC tracks feature none other than Eric Clapton, Peter Green and Mick Taylor!

John Mayall The First Generation 1965-1974 box set (click image to enlarge)
Strictly limited to 5,000 copies worldwide this set comes with a 168-page hardcover book with many rare photos and images of memorabilia and a full gig listing for the era, a fan club book of letters and correspondence, two replica posters (Ten Years Are Gone and 1968 tour poster), a replica press pack for John Mayall Plays John Mayall and a photograph  individually signed by John Mayall himself (who is thankfully still with us at the ripe old age of 86).
The First Generation 1965-1974 is only available to pre-order via two retailers in the UK and the SDE shop is one of them.
It will be released on 29 January 2021 on the Madfish label through Snapper. Madfish are known for producing vast, acclaimed sets like the Gentle Giant Unburied Treasure or Wishbone Ash Vintage Years that often go out of print rather quickly!
Order The First Generation via the SDE shop using this link or the button below.
CD1
JOHN MAYALL PLAYS JOHN MAYALL (1965)
John Mayall vocals, keyboards, harmonica, guitar
Roger Dean guitar
John McVie bass
Hughie Flint drums
1 Crawling Up A Hill (2.15)
2 I Wanna Teach You Everything (3.17)
3 When I`m Gone (3.12)
4 I Need Your Love (4.20)
5 The Hoot Owl (2.41)
6 R&B Time: Night Train/Lucille (2.23)
7 Crocodile Walk (2.32)
8 What`s The Matter With You (2.39)
9 Doreen (3.00) 10 Runaway (2.31)
11 Heartache (3.07)
12 Chicago Line (4.43)
13 Crocodile Walk (Single Version)* (2.14)
* bonus track
CD2
I'M YOUR WITCHDOCTOR / TELEPHONE BLUES (1965)
John Mayall vocals, keyboards, harmonica, guitar
Eric Clapton guitar
John McVie bass
Hughie Flint drums
1 I`m Your Witchdoctor (2.10)
2 Telephone Blues (3.56)
CD3
LONELY YEARS / "BERNARD JENKINS" (1966)
John Mayall vocals, keyboards, harmonica, guitar
Eric Clapton guitar
John McVie bass
Hughie Flint drums
1 Lonely Years (3.17)
2 Bernard Jenkins (3.47)
CD4 (mono) CD 5 (stereo + bonus tracks)
BLUES BREAKERS (1966)
John Mayall vocals, keyboards, harmonica, guitar
Eric Clapton guitar
John McVie bass
Hughie Flint drums
1 All Your Love (3.33)
2 Hideaway (3.14)
3 Little Girl (2.36)
4 Another Man (1.42)
5 Double Crossing Time (3.01)
6 What`d I Say (4.26)
7 Key To Love (2.05)
8 Parchman Farm (2.21)
9 Have You Heard (5.52)
10 Ramblin` On My Mind (3.07)
11 Steppin` Out (2.27)
12 It Ain`t Right (2.41)
13 Intro Into Maudie* (2.25)
14 It Hurts To Be In Love* (3.21)
15 Have You Ever Loved A Woman* (6.42)
16 Bye Bye Bird* (3.49)
17 I`m Your Hoochie Coochie Man* (3.53)
CD6
ALL MY LIFE EP (1967)
John Mayall vocals, keyboards, guitar
Paul Butterfield vocals, harmonica
Peter Green guitar
John McVie bass
Aynsley Dunbar drums
1 All My Life (4.19)
2 Ridin` On The L and N (2.24)
3 Little By Little (2.44)
4 Eagle Eye (2.49)
CD7
A HARD ROAD (1967)
John Mayall vocals, keyboards, harmonica, guitar
Peter Green guitar
John McVie bass
Aynsley Dunbar drums
1 A Hard Road (3.10)
2 It`s Over (2.47)
3 You Don`t Love Me (2.40)
4 The Stumble (2.50)
5 Another Kinda Love (3.06)
6 Hit The Highway (2.10)
7 Leaping Christine (2.18)
8 Dust My Blues (2.43)
9 There`s Always Work (1.38)
10 The Same Way (2.07)
11 The Supernatural (2.57)
12 Top Of The Hill (2.34)
13 Some Day After Awhile (You`ll Be Sorry) (2.57)
14 Living Alone (2.20)
CD8
CRUSADE (1967)
John Mayall vocals, keyboards, harmonica, guitar
Mick Taylor guitar
John McVie bass
Keef Hartley drums
Chris Mercer/Rip Kant saxophones
1. Oh, Pretty Woman (3.34)
2 Stand Back Baby (1.43)
3 My Time After Awhile (5.07)
4 Snowy Wood (3.35)
5 Man Of Stone (2.25)
6 Tears In My Eyes (4.15)
7 Driving Sideways (3.55)
8 The Death Of J.B. Lenoir (4.18)
9 I Can`t Quit You Baby (4.28)
10 Streamline (3.12)
11 Me And My Woman (4.00)
12 Checkin` Up On My Baby (3.55)
13 Rubber Duck* (3.45)
CD9
THE BLUES ALONE (1967)
John Mayall vocals, keyboards, harmonica, guitar
Keef Hartley drums
1. Brand New Start (3.22)
2 Please Don`t Tell (2.26)
3 Down The Line (3.43)
4 Sonny Boy Blow (3.49)
5 Marsha`s Mood (3.13)
6 No More Tears (3.11)
7 Catch That Train (2.17)
8 Cancelling Out (4.19)
9 Harp Man (2.42)
10 Brown Sugar (3.44)
11 Broken Wings (4.16)
12 Don`t Kick Me (3.11)
13 Brand New Start (first version)* (2.58)
14 Marsha`s Mood (first version)* (3.15)
CD10 & CD11
THE DIARY OF A BAND VOLUMES ONE & TWO (1967)
John Mayall vocals, keyboards, harmonica, guitar
Mick Taylor guitar
John McVie/Paul Williams/Keith Tillman bass
Keef Hartley drums
Chris Mercer/Rip Kant saxophones
1 Blood On The Night (9.04)
2 Edmonton – Cooks Ferry Inn (Impromptu) (2.56)
3 I Can`t Quit You Baby (10.03)
4 Medley: Anzio Annie, Snowy Wood, The Lesson, Keef Hartley & John Interviews (9.38)
5 My Own Fault (11.27)
6 God Save The Queen (2.53)
1 Gimme Some Lovin / The Train (13.20)
2 Crying Shame (10.52)
3 Local Boys Makes Good – Speech Only / Impromptu (4.00)
4 Help Me (7.10)
5 Blues In B Flat (4.44)
6 Soul Of A Short Fat Man (6.11)
CD12
BARE WIRES (1968)
John Mayall vocals, keyboards, harmonica, guitar
Mick Taylor guitar
Tony Reeves bass
Jon Hiseman drums
Chris Mercer/Dick Heckstall-Smith saxophones
Henry Lowther cornet & violin
1 Bare Wires Suite (23.07)
2 I`m A Stranger (5.13)
3 No Reply (3.09)
4 Hartley Quits (2.55)
5 Killing Time (4.46)
6 She`s Too Young (2.21)
7 Sandy (3.45)
8 Intro – Look At The Girl* (6.43)
9 Start Walkin`* (8.23)
CD13
BLUES FROM LAUREL CANYON (1968)
John Mayall vocals, keyboards, harmonica, guitar
Mick Taylor guitar
Stephen Thompson bass
Colin Allen drums
1 Vacation (2.47)
2 Walking on Sunset (2.50)
3 Laurel Canyon Home (4.33)
4 2401 (3.42)
5 Ready To Ride (3.32)
6 Medicine Man (2.43)
7 Somebody`s Acting Like A Child (3.27)
8 The Bear (4.40)
9 Miss James (2.30)
10 First Time Alone (5.03)
11 Long Gone Midnight (3.27)
12 Fly Tomorrow (8.59)
13 2401 (single version)* (3.55)
14 Wish You Were Mine (live)* (8.35)
CD14
LOOKING BACK (1969)
John Mayall vocals, keyboards, harmonica, guitar
Eric Clapton/Roger Dean/Peter Green/Mick Taylor guitar
Jack Bruce/John McVie bass
Aynsley Dunbar/Mick Fleetwood/Keef Hartley drums
Dick Heckstall-Smith tenor & soprano sax
1 Mr James (2.51)
2 Blues City Shake Down (2.19)
3 They Call It Stormy Monday (4.33)
4 So Many Roads (4.44)
5 Looking Back (2.34)
6 Sitting In The Rain (2.56)
7 It Hurts Me Too (2.54)
8 Double Trouble (3.18)
9 Suspicions (5.26)
10 Jenny (4.35)
11 Picture On The Wall (3.00)
CD15
THE TURNING POINT (1969)
John Mayall vocals, keyboards, harmonica, guitar
Jon Mark guitar
Stephen Thompson bass
Johnny Almond saxophones, flutes
1 The Laws Must Change (7.22)
2 Saw Mill Gulch Road (4.36)
3 I`m Gonna Fight For You J.B. (5.25)
4 So Hard To Share (7.02)
5 California (9.30)
6 Thoughts About Roxanne (8.20)
7 Room To Move (5.01)
8 Sleeping By Her Side* (5.10)
9 Don`t Waste My Time* (4.54)
10 Can`t Sleep This Night* (6.19)
CD16
EMPTY ROOMS (1969)
John Mayall vocals, keyboards, harmonica, guitar
Jon Mark guitar
Stephen Thompson/Larry Taylor bass
Johnny Almond saxophones, flutes
1 Don`t Waste My Time (3.10)
2 Plan Your Revolution (2.35)
3 Don`t Pick A Flower (3.52)
4. Something New (4.37)
5 People Cling Together (2.52)
6 Waiting For The Right Time (5.33)
7 Thinking Of My Woman (2.27)
8 Counting The Days (5.31)
9 When I Go (4.44)
10 Many Miles Apart (2.55)
11 To A Princess (3.31)
12 Lying In My Bed (4.20)
CD17
USA UNION (1970)
John Mayall vocals, keyboards, harmonica, guitar
Harvey Mandel guitar
Larry Taylor bassSugarcane Harris violin
1 Nature`s Disappearing (5.56)
2 You Must Be Crazy (3.55)
3 Night Flyer (5.35)
4 Off The Road (2.47)
5 Possessive Emotions (5.20)
6 Where Did My Legs Go (3.55)
7 Took The Car (4.05)
8 Crying (6.27)
9 My Pretty Girl (4.27)
10 Deep Blue Sea (5.10)
CD18 & CD19
BACK TO THE ROOTS (1970)
John Mayall vocals, keyboards, harmonica, guitar
Eric Clapton/Harvey Mandel/Jerry McGee/Mick Taylor guitar
Larry Taylor/Stephen Thompson bass
Johnny Almond saxophones
Sugarcane Harris violin
Keef Hartley/Paul Lagos drums
1 Prisons On The Road (4.16)
2 My Children (5.08)
3 Accidental Suicide (6.15)
4 Groupie Girl (3.52)
5 Blue Fox (3.41)
6 Home Again (4.55)
7 Television Eye (7.31)
8 Marriage Madness (3.34)
9 Looking At Tomorrow (6.53)
10 Dream With Me (5.19)
11 Full Speed Ahead (5.20)
12 Mr Censor Man (4.42)
13 Force Of Nature (6.32)
14 Boogie Albert (2.16)
1 Goodbye December (5.23)
2 Unanswered Questions (4.40)
3 Devil`s Tricks (7.45)
4 Travelling (4.38)
5 Accidental Suicide (remix)* (6.22)
6 Force Of Nature  (remix)* (5.27)
7 Boogie Albert (remix)* (2.14)
8 Television Eye (remix)* (6.04)
9 Prisons On The Road (remix)* (4.17)
10 Home Again (remix)* (4.57)
11 Mr Censor Man (remix)* (4.41)
12 Looking At Tomorrow (remix)* (6.54)
CD20
THRU THE YEARS (1971)
John Mayall vocals, keyboards, harmonica, guitar
Eric Clapton/Roger Dean/Peter Green/Mick Taylor/Bernie Watson guitar
John McVie/Tony Reeves/Paul Williams bass
Aynsley Dunbar/Hughie Flint/Martin Hart/Keef Hartley/Jon Hiseman drums
Dick Heckstall-Smith/Chris Mercer saxophones
Henry Lowther trumpet
1 Crocodile Walk (2.32)
2 My Baby Is Sweeter (2.59)
3 Crawling Up A Hill (2.15)
4 Mama, Talk To Your Daughter (2.40)
5 Alabama Blues (2.29)
6 Out Of Reach (4.42)
7 Greeny (3.54)
8 Curly (4.50)
9 Missing You (1.57)
10 Please Don`t Tell (2.26)
11 Your Funeral And My Trial
12 Suspicions
13 Knockers Step Forward
14 Hide And Seek
CD21
MEMORIES (1971)
John Mayall vocals, keyboards, harmonica, guitar
Jerry McGee guitar
Larry Taylor bass
1 Memories (5.01)
2 Wish I Knew A Woman (5.17)
3 The City (4.54)
4 Home In A Tree (3.20)
5 Separate Ways (4.12)
6 The Fighting Line (4.03)
7 Grandad (4.36)
8 Back From Korea (5.09)
9 Nobody Cares (3.56)
10 Play The Harp (5.22)
CD22
JAZZ BLUES FUSIUON (1972)
John Mayall vocals, keyboards, harmonica, guitar
Freddie Robinson guitar
Larry Taylor bass
Ron Selico percussion
Clifford Solomon saxophones, flutes
Blue Mitchell trumpet
1 Country Road (7.17)
2 Mess Around (2.50)
3 Good Times Boogie (9.18)
4 Change Your Ways (3.46)
5 Dry Throat (6.40)
6 Exercise In C (8.33)
7 Got To Be This Way (6.54)
CD23
MOVING ON (1972)
John Mayall vocals, keyboards, harmonica, guitar
Freddie Robinson guitar
Victor Gaskin/Larry Taylor bass
Keef Hartley drums
Freddie Jackson/Charles Owns/Clifford Solomon/Ernie Watts saxophones
Blue Mitchell trumpet
1 Worried Mind (8.40)
2 Keep Our Country Green (3.31)
3 Christmas 71 (4.54)
4 Things Go Wrong (6.30)
5 Do It (8.50)
6 Moving On (4.19)
7 Red Sky (3.50)
8 Reasons (2.55)
9 High Pressure Living (6.20)
CD24 & CD25
TEN YEARS ARE GONE (1973)
John Mayall vocals, keyboards, harmonica, guitar
Freddie Robinson guitar
Victor Gaskin bass
Keef Hartley drums
Red Holloway saxophones
Blue Mitchell trumpet
Sugarcane Harris violin
1 Ten Years Are Gone (4.27)
2 Driving Till The Break Of Day (5.03)
3 Drifting (4.40)
4 Better Pass You By (5.12)
5 California Campground (3.17)
6 Undecided (2.55)
7 Good Looking Stranger (4.25)
8 I Still Care (4.17)
9 Don`t Hang Me Up (4.10)
1 Introduction (2.05)
2 Sitting Here Thinking (7.58)
3 Harmonica Free Form (11.36)
4 Burning Sun (5.10)
5 Dark Of The Night (17.41)
CD26
THE LATEST EDITION (1974)
John Mayall vocals, keyboards, harmonica, guitar
Hightide Harris/Randy Resnick guitar
Larry Taylor bass
Soko Richardson drums
Red Holloway saxophones
1 Gasoline Blues (3.41)
2 Perfect Peace (3.50)
3 Going To Take My Time (2.55)
4 Deepdown Feelings (4.42)
5 Troubled Times (4.11)
6 The Pusher Man (4.05)
7 One Of The Few (2.44)
8 Love Song (5.39)
9 Little Kitten (2.35)
10 A Crazy Game (4.35)
CD27 & CD28
BBC RECORDINGS (1964-1968)
John Mayall vocals, keyboards, harmonica, guitar
Eric Clapton/Peter Green/Geoff Krivit/Mick Taylor guitar
Jack Bruce/ Andy Fraser/John McVie/Stephen Thompson/Keith Tillman bass
Colin Allen/Hughie Flint/Keef Hartley drums
Dick Heckstall-Smith/Chris Mercer saxophones
Henry Lowther trumpet
1 Crawling Up A Hill (2.06)
2 Heartache (2.48)
3 Crocodile Walk (2.22)
4 Bye Bye Bird (2.47)
5 I`m Your Witchdoctor (2.08)
6 Cheatin` Woman (2.01)
7 Big Town Playboy (2.47)
8 Parchman Farm (2.49)
9 Nowhere To Turn (1.40)
10 Little Girl (2.45)
11 Hideaway (3.20)
12 Tears In My Eyes (4.28)
13 Parchman Farm (2.20)
14 Burning My Fingers (2.20)
15 All Your Love (3.20)
16 Stepping Out (3.12)
17 On Top Of The World (2.32)
18 Key To Love (2.01)
19 Leaping Christine (1.55)
20 Sitting In The Rain (2.53)
21 Curly (2.48)
22 Ridin` On The L And N (2.19)
23 Dust My Blues (2.15)
1 No More Tears (2.15)
2 Curly (2.02)
3 The Last Time (2.48)
4 Suspicions (3.55)
5 Worried Love (3.26)
6 Supermarket Day (2.44)
7 Snowy Wood (3.21)
8 Jenny (4.33)
9 Sweet Sixteen (5.16)
10 Interview with Alexis Korner (1.35)
11 Another Man`s Land (4.05)
12 Picture On The Wall (2.58)
13 Knockers Step Forward (3.15)
14 The Last Time (3.22)
15 Rock Me Baby (4.22)
16 Oh, Pretty Woman (2.26)
17 Long Gone Midnight (3.12)
18 It Hurts Me To Leave (3.09)
CD29
BROMLEY TECHNICAL COLLEGE (1967)
John Mayall vocals, keyboards, harmonica, guitar
Peter Green guitar
John McVie bass
Mick Fleetwood drums
1 Brand New Start (4.48)
2 Tears In My Eyes (7.29)
3 Bye Bye Bird (6.02)
4 Mama, Talk To Your Daughter (2.23)
5 Double Trouble (6.24)
6 Your Funeral And My Trial (5.31)
7 Stand Back Baby (2.43)
8 Some Day After Awhile (You`ll Be Sorry) (5.11)
9 Looking Back (2.42)
CD30
LIVE (1967)
John Mayall vocals, keyboards, harmonica, guitar
Peter Green guitar
John McVie bass
Mick Fleetwood drums
1 Chicago Line (unedited) (6.53)
2 Your Funeral And My Trial (5.21)
3 Four Million Knobs (3.12)
4 Mama, Talk To Your Daughter (6.42)
5 Intro/Chicago Line (7.25)
6 Hi Heel Sneakers (3.32)
7 San-Ho-Zay (4.35)
8 Curly (7.33)
9 Mama, Talk To Your Daughter (2.58)
10 Telephone Blues (2.40)
11 Brand New Start (4.14)
12 Your Funeral And My Trial (4.07)
13 Bad Boy (2.31)
14 The Stumble (4.42)
CD31
7TH NATIONAL JAZZ & BLUES FESTIVAL (1967)
John Mayall vocals, keyboards, harmonica, guitar
Mick Taylor guitar
John McVie bass
Keef Hartley drums
Rip Kant/Chris Mercer saxophones
1 Driving Sideways (4.19)
2 I Can`t Quit You Baby (4.51)
3 Sonny Boy Blow (4.34)
4 Stand Back Baby (2.59)
5 Oh, Pretty Woman (3.55)
6 It`s My Own Fault (7.46)
7 Ridin` On The L And N (3.00)
CD32
GOTHENBURG (1968)
John Mayall vocals, keyboards, harmonica, guitar
Mick Taylor guitar
Stephen Thompson bass
Colin Allen drums
1 Oh Baby (4.47)
2 Baby You`re Wrong (7.42)
3 Worried About You (8.52)
4 Somebody`s Acting Like A Child (3.24)
5 Ooh Wee Baby (Don`t Know What To Do) (3.51)
6 It Hurts Me To Leave (5.52)
7 Hey Little Girl (Walking Down The Street) (7.38)
CD33
BERLIN (1969)
John Mayall vocals, keyboards, harmonica, guitar
Mick Taylor guitar
Stephen Thompson bass
Colin Allen drums
1 Intro (0.42)
2 Variation on Somebody`s Acting Like A Child (7.02)
3 Baby Child (6.27)
4 Checkin` Up On My Baby (5.17)
5 When I Lost My Baby Child (9.18)
6 2401 (5.38)
7 Treat Me This Way (4.11)
8 Goin` Down The Road (5.39)
9 Ready To Ride (7.12)
10 Help Me Baby (5.48)
11 When I See My Baby (4.35)
CD34
BREMEN (1969)
John Mayall vocals, keyboards, harmonica, guitar
Mick Taylor guitar
Stephen Thompson bas
Colin Allen drums
1 Got A Pretty Baby (5.53)
2 Checkin` Up On My Baby (5.14)
3 Parchman Farm (14.07)
4 The Time Has Come (6.06)
5 2401 (5.32)
CD35
FILLMORE WEST (1970)
John Mayall vocals, keyboards, harmonica, guitar
Jon Mark guitar
Alex Dmochowski bass
Johnny Almond saxophones, flutes
Duster Bennett drums
1 Everybody Wants To Know (6.23)
2 Band Intros (0.42)
4 What`s The Matter With You (11.10)
5 Travelling Man (10.42)
6 I`ve Got To Be With You Tonight (7.01)
7 Honey Hush (8.48)