 News
Johnny Cash / The Complete Columbia Album Collection / 63CDs!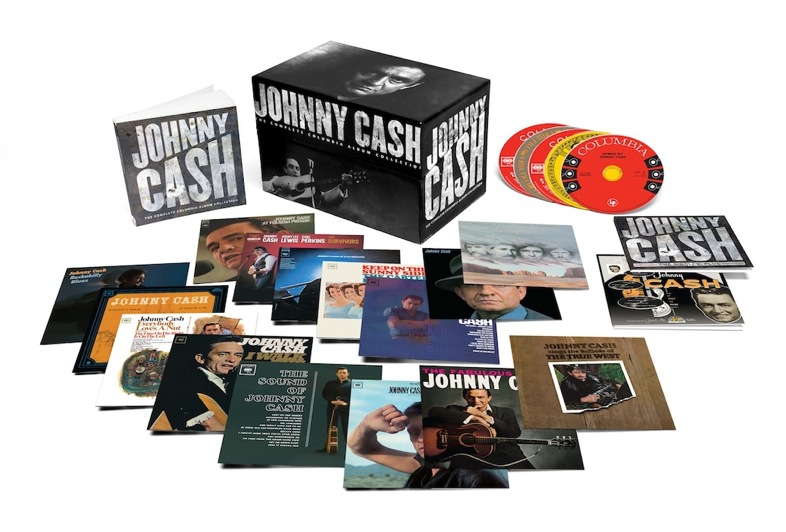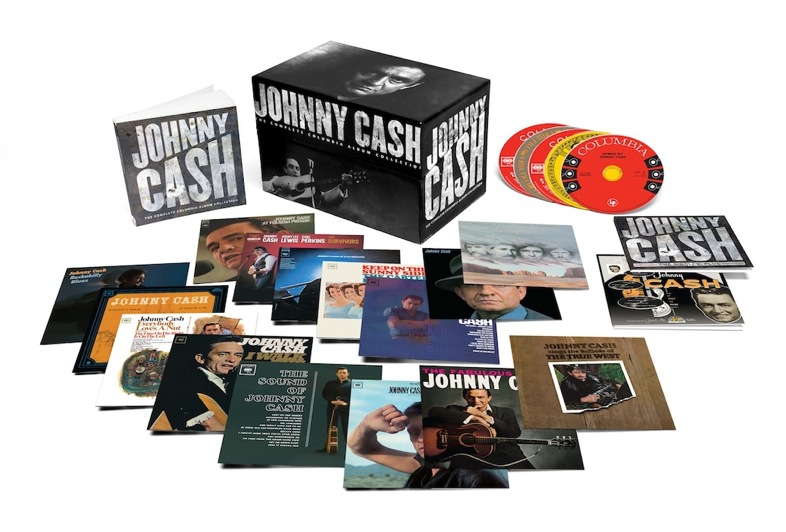 Sony are set to release a huge Johnny Cash box set on 30 October entitled Johnny Cash: The Complete Columbia Album Collection.
Released on the Columbia/Legacy imprint, the box will contain 59 albums across 63 CDs from 1958's The Fabulous Johnny Cash, to 1990's Highwayman 2 recorded with Waylon Jennings, Willie Nelson and Kris Kristofferson.

Amongst all these albums will be many released on Mono for the first time in the US and rarities including live recordings in Prague, Sweden and New York and soundtrack albums.
In addition two brand-new compilations have been devised especially for this box set:
• Johnny Cash With His Hot & Blue Guitar (at Sun Records, 1954-58, 28 songs);
• The Singles, Plus (2 CDs, 55 songs, singles not originally included on albums, 'plus' guest performances on albums by Bob Dylan, The Carter Family, The Earl Scruggs Revue, Marty Robbins, Willie Nelson, Shel Silverstein, and others)
This near lifetime of work in music, film and television will be housed in a box with a lift-off cover resembling the 'lift-off lid' design of The Complete Miles Davis Columbia Album Collection box set issued by Columbia/Legacy in 2009.
Full contents listed below:
THE COMPLETE COLUMBIA ALBUM COLLECTION
[PRE-ORDER – UK]
[PRE-ORDER – US]

(Columbia/Legacy 88697 91047 2)
# Title Rec. Rel. Catalog
01. * The Fabulous Johnny Cash (1958, 1958, CL 1253)
02. * Hymns By Johnny Cash (1958-59, 1959 CL 1284)
03. * Songs Of Our Soil (1959, 1959 CL 1339)
04. * Now There Was A Song! (1960, 1960 CL 1463)
05. * Ride This Train (1959-60, 1960, CL 1464)
06. * Hymns From The Heart (1961, 1962 CL 1722)
07. * The Sound Of Johnny Cash (1961-62, 1962 CL 1802)
08. * Blood, Sweat And Tears (1962, 1962 CL 1930)
09. * Ring Of Fire: The Best Of Johnny Cash (1958-63, 1963 CL 2053)
10. * The Christmas Spirit (1959-63, 1963 CL 2117)
11. * Keep On The Sunny Side – The Carter Family with special guest Johnny Cash (1963, 1963 CL 2152)
12. * I Walk The Line (1963-64, 1964 CL 2190)
13. * Bitter Tears: Johnny Cash Sings Ballads Of The American Indian  (1964, 1964 CL 2248)
14. * Orange Blossom Special (1964, 1965 CL 2309)
15. *# Johnny Cash Sings Ballads Of The True West (1959-65, 1965 C2L 38)
16. * Everybody Loves A Nut (1965-66, 1966 CL 2492)
17. * Happiness Is You (1962-65, 1966 CL 2537)
18. * Carryin' On With Johnny Cash & June Carter (1964-67, 1967 CL 2728)
19. * From Sea To Shining Sea (1967, 1967 CL 2647)
20. Johnny Cash At Folsom Prison (Live) (1968, 1968 CS 9639)
21. The Holy Land (1968, 1968 KCS 9726)
22. Johnny Cash At San Quentin (Live) (1969, 1969 CS 9827)
23. # Hello, I'm Johnny Cash (1969, 1970 KCS 9943)
24. The Johnny Cash Show (Live) (1970, 1970 KC 30100)
25. I Walk The Line o.s. (1970, 1970 S 30397)
26. Little Fauss And Big Halsy o.s. (1970, 1970 S 30385)
27. Man In Black (1971, 1971 C 30550)
28. A Thing Called Love (1971-72, 1972 KC 31332)
29. # Johnny Cash: America – A 200-Year Salute In Story And Song (1970-72, 1972 KC 31645)
30. # Christmas – The Johnny Cash Family (1972, 1972 KC 31754)
31. Any Old Wind That Blows (1972, 1973 KC 32091)
32. # The Gospel Road (2-CD) (1972, 1973 KG 32253)
33. Johnny Cash And His Woman (1973, 1973 C 32443)
34. Johnny Cash pa Osteraker Live at Osteraker Prison, Sweden (1972, 1973 CBS 65308)
35. Ragged Old Flag (1974, 1974 KC 32917)
36. The Junkie And The Juicehead Minus Me (1973-74, 1974 KC 33086)
37. The Johnny Cash Children's Album (1971-73, 1975 C 32898)
38. Johnny Cash Sings Precious Memories (1974, 1975 C 33087)
39. John R. Cash (1974, 1975 KC 33370)
40. Look At Them Beans (1975 1975 KC 33814)
41. Strawberry Cake (Live at the Palladium London, England), (1975, 1976 KC 34088)
42. One Piece At A Time (1975-76, 1976 KC 34193)
43. The Last Gunfighter Ballad (1975-76 1977 KC 34314)
44. The Rambler (1977, 1977 KC 34833)
45. I Would Like To See You Again (1976-77, 1978 KC 35313)
46. Gone Girl (1977-78, 1978 PC 35646)
47. Silver (1979, 1979 JC 36086)
48. Rockabilly Blues (1979-80, 1980 JC 36779)
49. Classic Christmas (1980, 1980 JC 36866)
50. The Baron (1980-81, 1981 FC 37179)
51. The Survivors: Johnny Cash – Jerry Lee Lewis – Carl Perkins (Live) (1981, 1982 FC 37961)
52. The Adventures Of Johnny Cash (1981-82, 1982 FC 38094)
53. Johnny 99 (1983, 1983 FC 38696)
54. Koncert V Praze (In Prague Live) (1978, 1983 Supraphon 1113-3278)
55. Rainbow (1984-85, 1985 FC 39951)
56. Highwayman: Waylon Jennings – Willie Nelson – Johnny Cash – Kris Kristofferson (1984-85, 1985 FC 40056)
57. Heroes (1984-85, 1986 FC 40347)
58. Highwayman 2: Waylon Jennings – Willie Nelson -Johnny Cash – Kris Kristofferson (1989, 1990 CK 45240 )
59. At Madison Square Garden (Live) (1969, 2002 CK 86808)
BONUS DISCS:
60. Johnny Cash With His Hot & Blue Guitar 1955-58 2012
61. # The Singles, Plus (2-CD) 1958-84 2012
* indicates original monaural (mono) recording
# indicates gatefold cover package