 News
Joni Mitchell / Archives, Vol. 3: The Asylum Years 1972-1975
5CD and 4LP vinyl box sets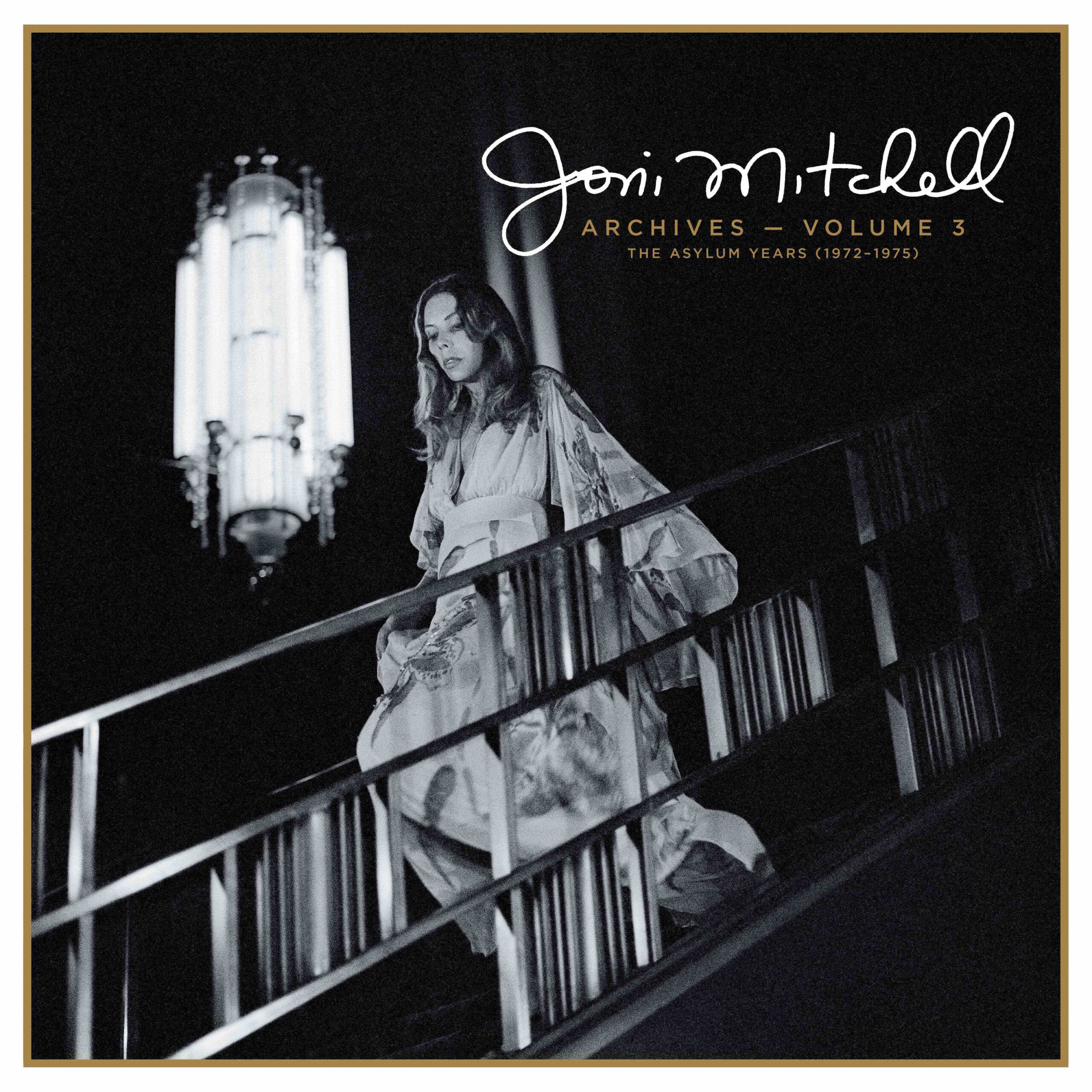 Joni Michell's archive campaign continues in October with Archives, Vol. 3: The Asylum Years 1972-1975 which is available as a 5CD box set or a 4LP vinyl collection.
This latest volume includes early demos and alternate versions from sessions from For The Roses (1972), Court & Spark (1974), and The Hissing Of Summer Lawns (1975); historic live show recordings, including the entirety of Mitchell's 1972 return to Carnegie Hall and a gig with her Court And Spark backing band Tom Scott & the L.A. Express; and tracks from sessions cut alongside James Taylor, Graham Nash, and Neil Young.
The 5CD box set includes a generous 96 tracks in total, while the 4LP vinyl edition offers 'highlights' with 40 tracks across eight sides of vinyl. Full tracklistings are below.
Both boxes come with an accompanying book featuring photos and a conversation about this period between Joni Mitchell and longtime friend Cameron Crowe.
Archives, Vol. 3: The Asylum Years 1972-1975 will be released on 6 October 2023 via Rhino.
Compare prices and pre-order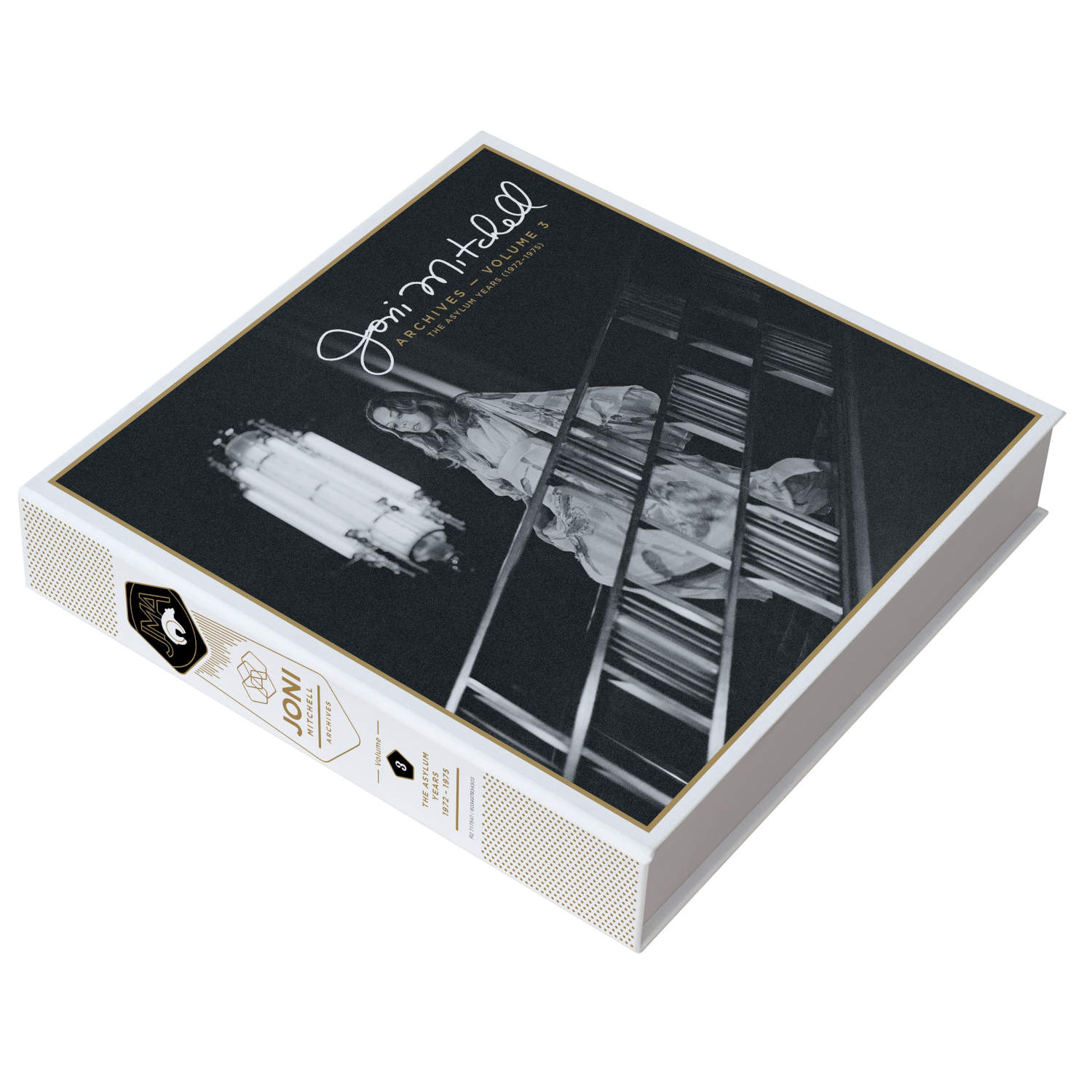 Mitchell,Joni
Archives Vol 3 - 5CD box set
Compare prices and pre-order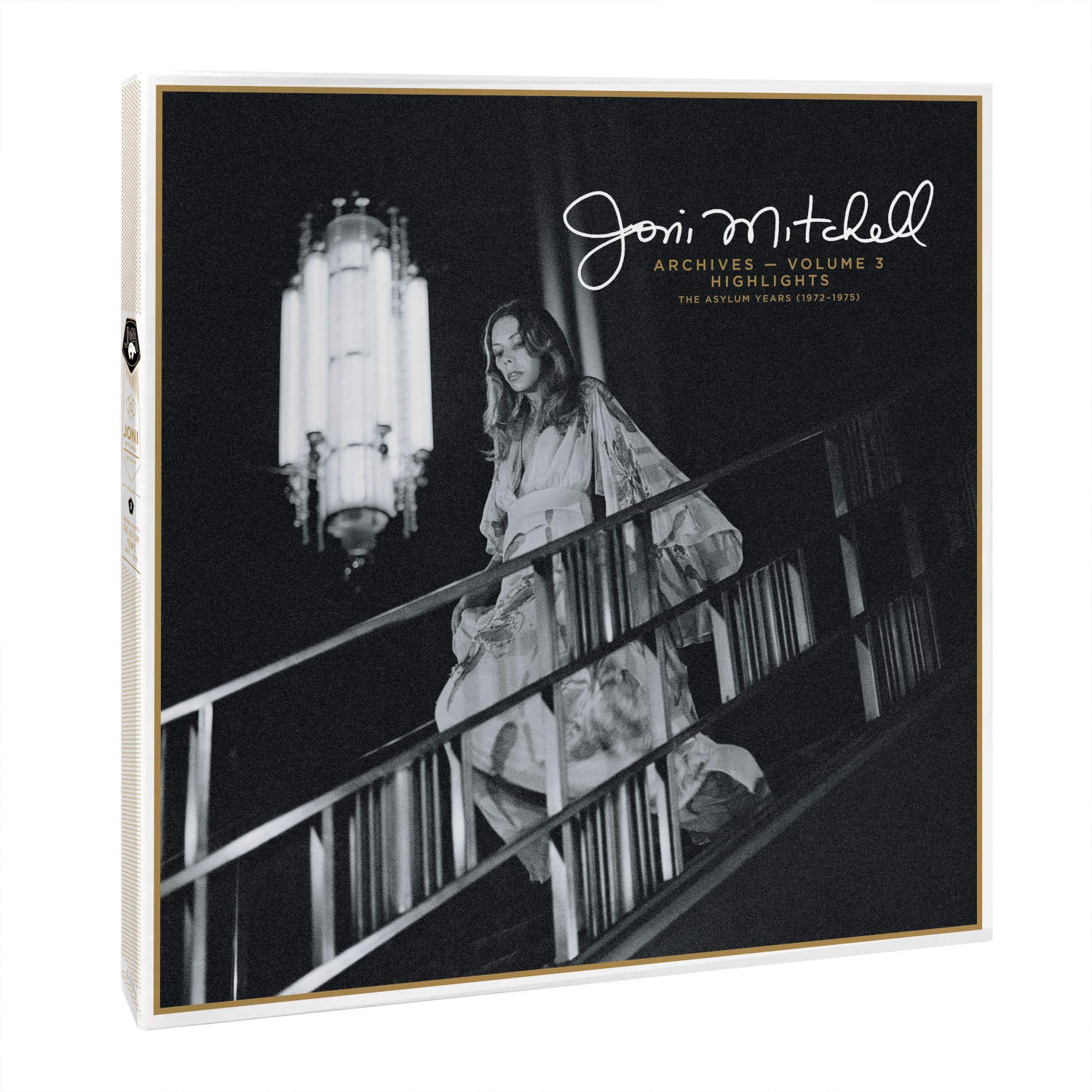 Joni Mitchell
Archives Vol 3 - 4LP vinyl highlights box set
Tracklisting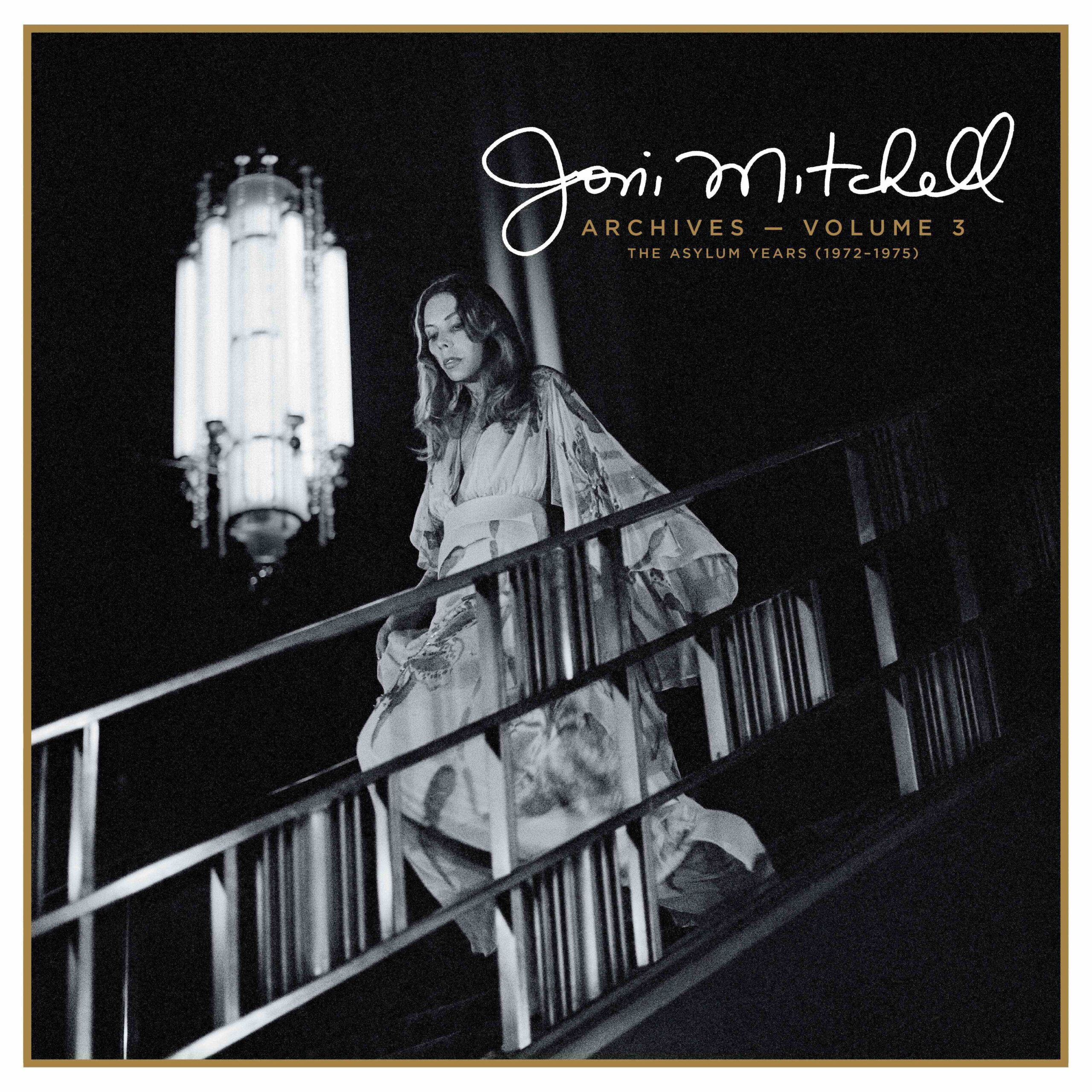 Archives, Vol 3: The Asylum Years 1972-1975 Joni Mitchell
/
CD 1

Graham Nash David Crosby Session
Wally Heider Studios, Hollywood, CA, Dec. 13, 1971

Cold Blue Steel And Sweet Fire
For The Roses

For The Roses Demos
A&M Studios, Hollywood, CA, late 1971 / early 1972

Banquet
Lesson In Survival
Like Veils Said Lorraine
See You Sometime

Live at Carnegie Hall
New York City, NY, Feb. 23, 1972

This Flight Tonight
Electricity
Cold Blue Steel And Sweet Fire
Big Yellow Taxi
Blue
For Free
Banquet
All I Want
Intro to A Case Of You
A Case Of You
Intro to Carey
Carey
Lesson In Survival
Woodstock
Intro to You Turn Me On I'm A Radio
You Turn Me On I'm A Radio
Intro to For The Roses
For The Roses

CD 2

Live at Carnegie Hall [cont.]
New York City, NY, Feb. 23, 1972

Both Sides Now
My Old Man
Intro to The Circle Game
The Circle Game

For The Roses Early Sessions
Wally Heider Studios, Hollywood, CA, Apr. 16-21, 1972

Medley: Bony Moronie/Summertime Blues/You Never Can Tell – with James Taylor
Electricity – with James Taylor
You Turn Me On I'm A Radio – with Neil Young & The Stray Gators
See You Sometime (early version with bass & drums)
You Turn Me On I'm A Radio (early version with bass & drums)

Live at Royal Festival Hall
London, England, May 5, 1972

Intro to Judgement Of The Moon And Stars (Ludwig's Tune)
Judgement Of The Moon And Stars (Ludwig's Tune)

For The Roses Sessions
A&M Studios, Hollywood, CA, Jul-Aug, 1972

Blonde In The Bleachers (alternate guitar mix)
Let The Wind Carry Me (piano/vocal mix)
Barangrill (guitar/vocal mix)
Cold Blue Steel And Sweet Fire (sax guide vocal)
Sunrise Raga
Twisted (early alternate version)

James Bay Benefit Concert
Paul Sauvé Arena, Montreal, Quebec, Canada, Apr. 15, 1973

Intro to Big Yellow Taxi
Big Yellow Taxi

CD 3

Court And Spark Demos
A&M Studios, Hollywood, CA, Summer 1973

Piano Suite: a. Down To You, b. Court And Spark, c. Car On A Hill, d. Down To You
People's Parties
Help Me
Just LIke This Train
Raised On Robbery
Trouble Child

Wild Tales [Graham Nash] Session
Rudy Records Studios, San Francisco, CA, Aug. 25, 1973

Raised On Robbery (early working version)
Raised On Robbery – with Neil Young & The Santa Monica Flyers

Court And Spark Sessions
A&M Studios, Hollywood, CA, Sep.-Oct., 1973

People's Parties (early alternate take)
Trouble Child (early alternate take)
Car On A Hill (early alternate take)
Down To You (alternate version)
The Same Situation (alt vocal/piano mix)
Bonderia

Live at Dorothy Chandler Pavilion
Los Angeles, CA, Mar. 3, 1974

Introduction
This Flight Tonight – with Tom Scott & The L.A. Express
You Turn Me On I'm A Radio – with Tom Scott & The L.A. Express
Free Man In Paris – with Tom Scott & The L.A. Express
The Same Situation – with Tom Scott & The L.A. Express
Just Like This Train – with Tom Scott & The L.A. Express

CD 4

Live at Dorothy Chandler Pavilion [cont.] Los Angeles, CA, Mar. 3, 1974

Rainy Night House – with Tom Scott & The L.A. Express
Woodstock – with Tom Scott & The L.A. Express
Cactus Tree
Big Yellow Taxi
Intro to People's Parties
People's Parties
All I Want
A Case Of You
Intro to For The Roses
For The Roses
Cold Blue Steel And Sweet Fire – with Tom Scott
Blue
For Free – with Tom Scott
Trouble Child – with Tom Scott & The L.A. Express
Help Me – with Tom Scott & The L.A. Express
Car On A Hill – with Tom Scott & The L.A. Express

CD 5

Live at New Victoria Theatre
London, England, Apr. 22, 1974

Intro to Jericho
Jericho

Live at Wembley Stadium
London, England, Sep. 14, 1974

Woman Of Heart And Mind

The Hissing Of Summer Lawns Demos – A&M Studios, Hollywood, CA, 1975

In France They Kiss On Main Street
Edith And The Kingpin
Don't Interrupt The Sorrow
Shades Of Scarlet Conquering
The Boho Dance
Harry's House
Dreamland

The Hissing Of Summer Lawns Sessions – A&M Studios, Hollywood, CA, 1975

In France They Kiss On Main Street (alternate version)
The Jungle Line (guitar/alternate vocal)
Edith And The Kingpin (alternate version)
Don't Interrupt The Sorrow (alternate version)
Shades Of Scarlet Conquering (alternate version)
The Boho Dance (alternate version)
Dreamland (early alternate band version)

LP 1

Side One

Graham Nash David Crosby Session
Wally Heider Studios, Hollywood, CA, Dec. 13, 1971

Cold Blue Steel And Sweet Fire

For The Roses Demos
A&M Studios, Hollywood, CA, late 1971/early 1972

Like Veils Said Lorraine

For The Roses Early Sessions
Wally Heider Studios, Hollywood, CA, Apr. 16-21, 1972

Medley: Bony Moronie/Summertime Blues/You Never Can Tell – with James Taylor
You Turn Me On I'm A Radio – with Neil Young & The Stray Gators
See You Sometime (early version with bass & drums)

Side Two

Live at Carnegie Hall
New York City, NY, Feb. 23, 1972

This Flight Tonight
Electricity
Lesson In Survival
Blue
Banquet
Intro to For The Roses
For The Roses

LP 2

Side Three

Live at Royal Festival Hall
London, England, May 5, 1972

Intro to Judgement Of The Moon And Stars (Ludwig's Tune)
Judgement Of The Moon And Stars (Ludwig's Tune)

For The Roses Sessions
A&M Studios, Hollywood, CA, Jul-Aug, 1972

Blonde In The Bleachers (alternate guitar mix)
Barangrill (guitar/vocal mix)
Sunrise Raga [3:41]
Twisted (early alternate version)

Side Four

Court And Spark Demos
A&M Studios, Hollywood, CA, Summer 1973

Piano Suite: a. Down To You, b. Court And Spark, c. Car On A Hill, d. Down To You
Help Me

LP 3

Side Five

Tonight's The Night [Neil Young] Session S.I.R., Hollywood, CA, Aug. 26, 1973

Raised On Robbery – with Neil Young & The Santa Monica Flyers

Court And Spark Sessions
A&M Studios, Hollywood, CA, Sep.-Oct., 1973

People's Parties (early alternate take)
Trouble child (early alternate take)
Car On A Hill (early alternate take)
Bonderia

Side Six

Live at Dorothy Chandler Pavilion
Los Angeles, CA, Mar. 3, 1974

Introduction
Free Man In Paris – with Tom Scott & The L.A. Express
The Same Situation – with Tom Scott & The L.A. Express
Just Like This Train – with Tom Scott & The L.A. Express

Live at New Victoria Theatre
London, England, Apr. 22, 1974

Intro to Jericho
Jericho

Live at Wembley Stadium
London, England, Sep. 14, 1974

Woman Of Heart And Mind

LP 4

Side Seven

The Hissing Of Summer Lawns Demos A&M Studios, Hollywood, CA, 1975

In France They Kiss On Main Street
Edith And The Kingpin
Don't Interrupt The Sorrow
Harry's House

Side Eight

The Hissing Of Summer Lawns Sessions A&M Studios, Hollywood, CA, 1975

The Jungle Line (guitar/alternate vocal)
Shades Of Scarlet Conquering (alternate version)
The Boho Dance (alternate version)
Dreamland (early alternate band version)