 News
Joni Mitchell / The Reprise Albums 1968-1971
4CD or 4LP box set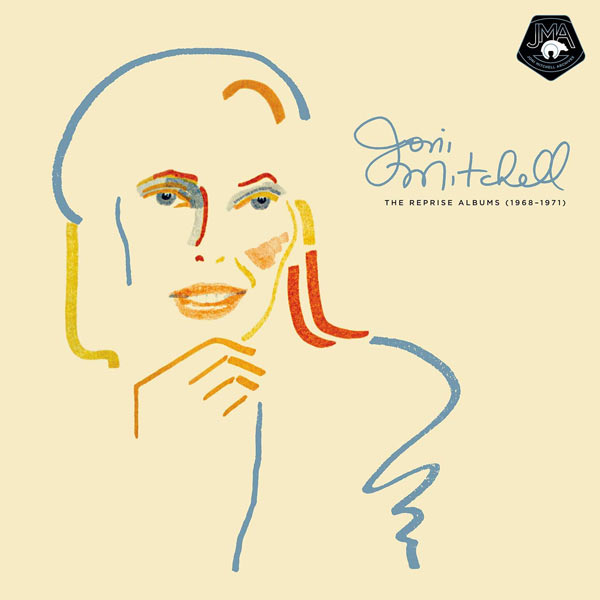 On 22 June this year Joni Mitchell's Blue will be 50 years old. To mark the occasion, Rhino is releasing a four album collection called The Reprise Albums 1968-1971, the next instalment of the Joni Mitchell Archives series.
The box set – available on CD and vinyl – will feature a new mix of Song To A Seagull (1968) and remastered versions of Clouds (1969), Ladies of the Canyon (1970) and Blue (1971).
The reason Song To A Seagull has been remixed is because "The original mix was atrocious," according to Mitchell. "It sounded like it was recorded under a jello bowl, so I fixed it!"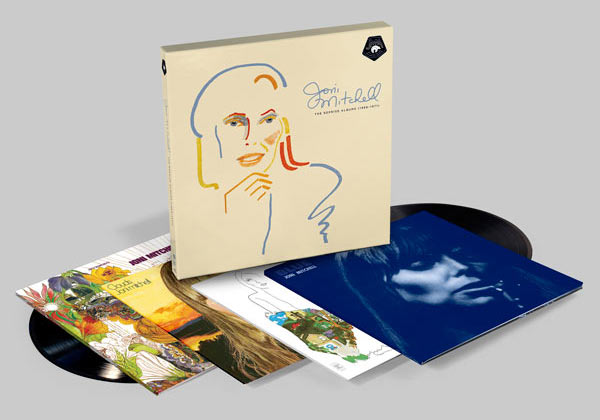 The cover art for the new box features a previously unseen self-portrait Mitchell sketched during the time period.
The notes included with The Reprise Albums 1968-1971 include an essay by singer-songwriter Brandi Carlile. She writes: "In my opinion Blue is the greatest album ever made".
It's a fairly simple product choice, for fans. Either reasonably-priced 4CD edition or a frankly extortionate (at least in the UK) 4LP vinyl box set.
The Reprise Albums 1968-1971 will be released on 2 July 2021 (was 25 June 2021.
Compare prices and pre-order
Joni Mitchell
The Reprise Albums - 4CD box set
Compare prices and pre-order
Joni Mitchell
The Reprise Albums - 4LP box set
Process which involves going back to the original multi-track tape and remixing as well as remastering
Tracklisting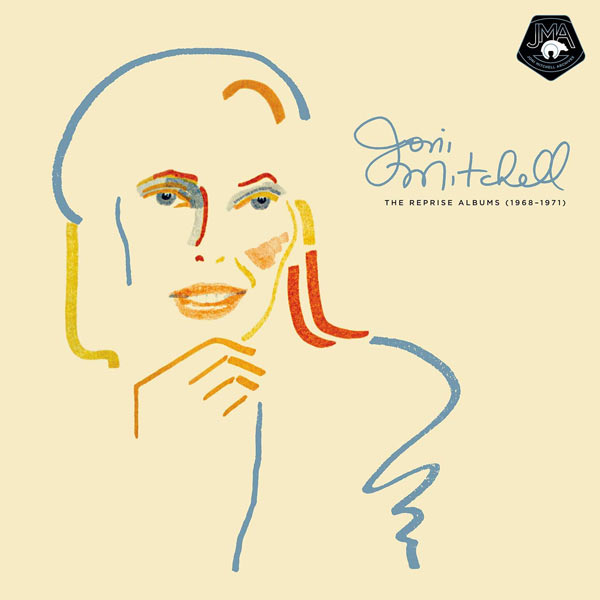 The Reprise Albums 1968-1971 Joni Mitchell
/
4CD box set
CD 1 – Song To A Seagull (1968) – New Mix

"I Had A King"
"Michael From Mountains"
"Night In The City"
"Marcie"
"Nathan La Franeer"
"Sisotowbell Lane"
"The Dawntreader"
"The Pirate Of Penance"
"Song To A Seagull"
"Cactus Tree"

CD 2 – Clouds (1969)

"Tin Angel"
"Chelsea Morning"
"I Don't Know Where I Stand"
"That Song About The Midway"
"Roses Blue"
"The Gallery"
"I Think I Understand"
"Songs To Aging Children Come"
"The Fiddle And The Drum"
"Both Sides, Now"

CD 3 – Ladies of the Canyon (1970)

"Morning Morgantown"
"For Free"
"Conversation"
"Ladies Of The Canyon"
"Willy"
"The Arrangement"
"Rainy Night House"
"The Priest"
"Blue Boy"
"Big Yellow Taxi"
"Woodstock"
"The Circle Game"

CD 4 – Blue (1971)

"All I Want"
"My Old Man"
"Little Green"
"Carey"
"Blue"
"California"
"This Flight Tonight"
"River"
"A Case Of You"
"The Last Time I Saw Richard"

Side A – I Came to the City

"I Had A King"
"Michael From Mountains"
"Night In The City"
"Marcie"
"Nathan La Franeer"

Side B –

"Sisotowbell Lane"
"The Dawntreader"
"The Pirate Of Penance"
"Song To A Seagull"
"Cactus Tree"

Side A

"Tin Angel"
"Chelsea Morning"
"I Don't Know Where I Stand"
"That Song About The Midway"
"Roses Blue"

Side B

"I Think I Understand"
"Songs To Aging Children Come"
"The Fiddle And The Drum"
"Both Sides, Now"

Side A

"Morning Morgantown"
"For Free"
"Conversation"
"Ladies Of The Canyon"
"Willy"
"The Arrangement"

Side B

"Rainy Night House"
"The Priest"
"Blue Boy"
"Big Yellow Taxi"
"Woodstock"
"The Circle Game"

Side A

"All I Want"
"My Old Man"
"Little Green"
"Carey"
"Blue"

Side B

"California"
"This Flight Tonight"
"River"
"A Case Of You"
"The Last Time I Saw Richard"