 News
Joni Mitchell / Love Has Many Faces: A Quartet, A Ballet Waiting To Be Danced
Limited 8LP vinyl box set edition • Curated by Joni Mitchell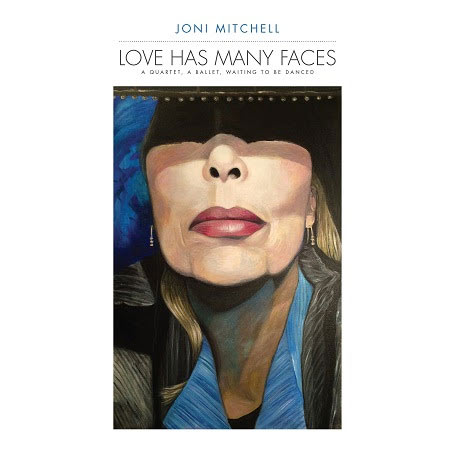 Joni Mitchell's 2014 CD collection Love Has Many Faces comes to vinyl with the news of a luxury limited edition 8LP box set which features the same 53 tracks as the previous package.

Issued a few days prior to Joni's 75th birthday, this set features songs recorded throughout Joni's career and originally came about as a result of a failed attempt to put together single disc collection of songs about love for a potential "ballet about love". In the sleeve notes she wrote:  "I wanted the music to feel like a total work-a new work. No matter what I did, though, at that length, it remained merely a collection of songs."

After two years, she had created a four-act ballet based on the 53 songs that make up this inspiring collection. "I am a painter who writes songs. My songs are very visual. The words create scenes… What I have done here is to gather some of these scenes (like a documentary filmmaker) and by juxtaposition, edit them into a whole new work," she explains.

In the previous set each CD was an 'act' but the vinyl box set features eight records. The music is pressed on 12 out of the 16 sides of vinyl with four sides featuring etchings of Mitchell's artwork – each one signifying the end of an act in the ballet. In other words, each 'act' is three sides of vinyl, followed by the etching and then the next 'act' begins.

If that sounds in any way pretentious, Joni Mitchell took it very seriously: "I had forty years of footage to review. Then, suddenly, scenes began to hook up. Then series began to form. Instead of it being an emotional roller coaster ride as it was before – crammed into one disc – themes began to develop. Moods sustained. I was getting there…When this long editorial process (two years) finally came to rest, I had four ballets or a four-act ballet-a quartet. I also had a box set."

This vinyl box is limited to 5,000 units and comes individually numbered. It is presented in a hard-bound deluxe folio package and will be released on 2 November 2018. Fabulous price right now in the UK for what sounds like a superb set.


Compare prices and pre-order
Joni Mitchell
love has many faces - 8LP vinyl box
You may also like…
Compare prices and pre-order
Joni Mitchell
love has many faces - 4CD box set
Act 1: Birth Of Rock 'n' Roll Days
Side A
"In France They Kiss On Main Street"
"Ray's Dad's Cadillac"
"You Turn Me On I'm A Radio"
"Harlem In Havana"
"Car On A Hill"
Side B
"Dancin' Clown"
"River"
"Chinese Cafe/Unchained Melody"
"Harry's House/Centerpiece"
Side C
"Shades Of Scarlett Conquering"
"Number One"
"The Windfall (Everything For Nothing)"
"Come In From The Cold"
Side D – Joni artwork etching
Act 2: The Light Is Hard To Find
Side A
"Court And Spark"
"Not To Blame"
"Nothing Can Be Done"
"Comes Love"
"Trouble Child"
Side B
"No Apologies"
"Moon At The Window"
"Blue"
"Tax Free"
"The Wolf That Lives In Lindsey"
Side C
"Hana"
"Hejira"
"Stay In Touch"
"Night Ride Home"
Side D – Joni artwork etching
Act 3: Love Has Many Faces
Side A
"You're My Thrill"
"The Crazy Cries Of Love"
"Love Puts On A New Face"
"Borderline"
"A Strange Boy"
Side B
"You Dream Flat Tires"
"Love"
"All I Want"
"Be Cool"
Side C
"Yvette In English"
"Just Like This Train"
"Carey"
"The Only Joy In Town"
Side D – Joni artwork etching
Act 4: If You Want Me I'll Be In The Bar
Side A
"Don Juan's Reckless Daughter"
"Two Grey Rooms"
"God Must Be A Boogie Man"
"Down To You"
"A Case Of You"
Side B
"The Last Time I Saw Richard"
"Raised On Robbery"
"Sweet Sucker Dance"
"Lakota"
Side C
"Cool Water"
"Amelia"
"Both Sides Now"
"My Best To You"
Side D – Joni artwork etching