 News
Kiki Dee / The Rocket Years
5CD set • Bonus tracks • Signed sets sold out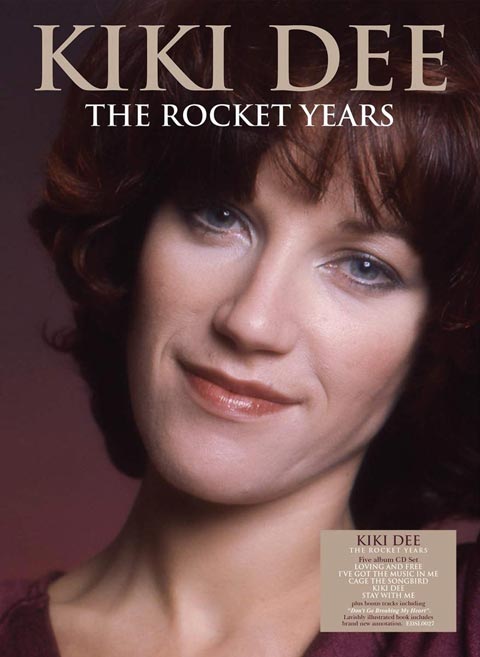 In March, Edsel are issuing The Rocket Years a new Kiki Dee five-CD deluxe set that covers her years with Elton John's Rocket Records label.

After periods with Fontana and Motown Elton signed Kiki Dee her in 1973 and produced her first album on the label, Loving And Free, utilising his own band and a various well known session musicians. Four further albums followed although 1975's Cage The Songbird was shelved at the time and didn't see release until over 30 years later. That album takes its chronological place in this new deluxe set, along with I've Got The Music In Me (1974), Kiki Dee (1977) and Stay With Me (1978).



Of course in the middle of this period her best known song, 'Don't Go Breaking My Heart', (a duet with Elton John), was a massive transatlantic number one single.

This set also features ten bonus tracks, including 'Don't Go Breaking My Heart', and its B-side 'Snow Queen' (on CD for the first time outside Australia, apparently).

The Rocket Years is comes as a 'media book package' and is illustrated with photos and ephemera from Kiki's own collection, and includes notes by Alan Robinson (based on a brand new interview). It is released on 29 March 2019.


Compare prices and pre-order
Kiki Dee
The Rocket Years
Kiki Dee / The Rocket Years
5CD deluxe set
CD 1 – Loving and Free
1. Loving And Free
2. If It Rains
3. Lonnie And Josie
4. Travelling In Style
5. You Put Something Better Inside Of Me
6. Supercool
7. Rest My Head
8. Amoureuse
9. Song For Adam
10. Sugar On The Floor
Bonus Tracks
11. The Last Good Man In My Life
12. Six Days On The Road*
CD 2 – I've Got The Music In Me
1. I've Got The Music In Me
2. Someone To Me
3. Step By Step
4. Water
5. Out Of My Head
6. Do It Right
7. Little Frozen One
8. Heart And Soul
9. You Need Help
Bonus Tracks
10. Hard Luck Story
11. Everyone Should Have Their Way
12. Simple Melody
13. How Glad I Am
14. Peter
CD 3 – Cage The Songbird
1. Cage The Songbird
2. Uphill Peace Of Mind
3. Prince Of Fools
4. Once A Fool
5. Bright Medallion
6. Chicago [original version]
7. Man After My Own Heart
8. Rock 'N' Roll Me Baby
9. First Thing In The Morning [original version]
10. Cry Like A Baby
11. A Change Is Gonna Come
Bonus Tracks
12. Don't Go Breaking My Heart
13. Snow Queen
CD 4 – Kiki Dee
1. How Much Fun
2. Sweet Creation
3. Into Eternity
4. Standing Room Only
5. Bad Day Child
6. Chicago
7. Night Hours
8. Keep Right On
9. In Return
10. Walking
11. First Thing In The Morning
Bonus Track
12. The Man Who Loved To Dance
CD 5 – Stay With Me
1. One Step
2. Talk To Me
3. Don't Stop Loving Me
4. Dark Side Of Your Soul
5. Stay With Me
6. One Jump Ahead Of The Storm
7. You're Holding Me Too Tight
8. Love Is A Crazy Feeling
9. Safe Harbor