 News
Killing Eve / Coloured vinyl soundtracks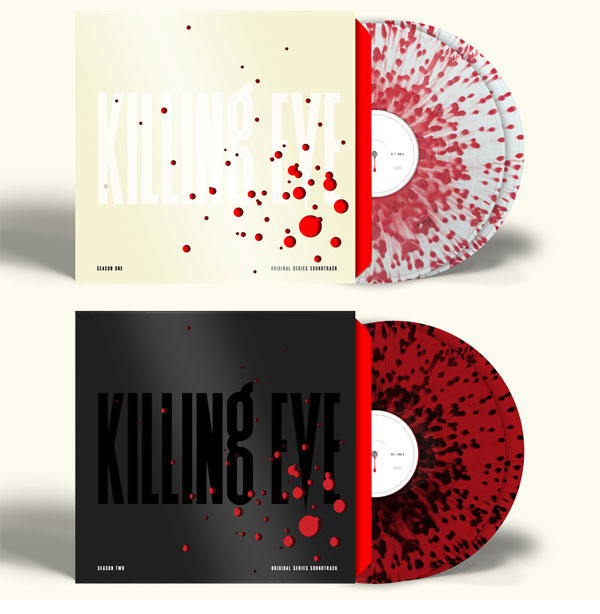 The soundtracks to both seasons of Killing Eve, the acclaimed British spy thriller TV series, will be released as limited edition 'splatter' coloured vinyl in December.

Fresh from her success from Fleabag, Phoebe Waller-Bridge was the lead writer for the first series which introduced us to British intelligence agent Eve Polastri (Sandra Oh) who becomes dangerously obsessed with assassin Villanelle (Jodie Comer).
The music was an important ingredient and DJ turned film composer David Holmes worked with music supervisor Catherine Grieves to develop a mixture of songs from his band Unloved together with a pick 'n' mix selection of suitable pop songs. The approach was explained to BBC 6 Music, below:
Both soundtracks come as limited gatefold vinyl packages with series one pressed on clear vinyl/red splatter and series two on red vinyl with black splatter. These are available on CD with Amazon in the UK offering an exclusive 2CD edition with both series.
CD and vinyl formats are available direct from the PIAS online store as well from the usual channels detailed in the SDE the widget below.
Both Killing Eve soundtracks will be released on 13 December 2019
Series One
1  (Sigh) /  Unloved
2  Roller Girl / Anna Karina
3 After Dinner / Unloved
4 Killer Shangri-Lah / Pshycotic Beats & Pati Amor
5 This Is The Time /  Unloved
6 Devils Angels / Unloved
7 Evil Woman / The Troggs
8 Cry Baby Cry /  Unloved
9 K. / Cigarettes After Sex
10 Bill / Unloved
11 Girl in the Room / Cat's Eyes
12  Fail We May Sail We Must / Unloved
13  Danger / Unloved feat. Barry Woolnough
14  Xpectations / Unloved
15  Sombre (Killing Eve) / Unloved
16  Voodoo Voodoo / Etienne Daho
17  When A Women Is Around / Unloved
18 Contact / Brigitte Bardot
19 Crash Boom Bang / Unloved
20  Unloved 7 / Unloved
21  We Are Unloved / Unloved
22  If / Unloved
Series two
1  It's Not You, It's Me / Unloved
2 I'm Gonna Haunt You / Fabienne Delsol
3  Damned / Unloved
4  Where Evil Grows / The Poppy Family
5  Remember / Unloved
6 She's My Witch (Edit) / The Fireflies
7 Tell Mama (Killing Eve) /  Unloved
8 Born to Lie / Le Volume Courbe
9 I Could Tell You But I'd Have To Kill /  Unloved
10 Her (Killing Eve) / Unloved
11 Lee /  Unloved
12 Modern Kosmology / Jane Weaver
13 Vai Tu Sei Libero / Dalida
14 Dangerous Charms / The Delmonas
15 Screw You / Ramases
16 La Plus Belle Chanson / Jacqueline Taïeb
17 Vlinder Van Een Zomer (Angel Of The Morning) / Willeke Alberti
18 Comment ça se danse / Bertrand Belin
19 Opera House /  Cigarettes After Sex