 News
King Crimson / 1969 box set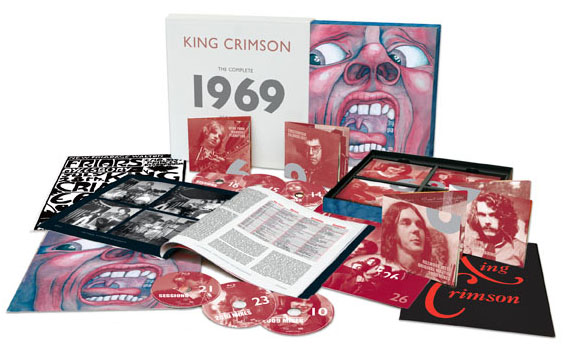 26-disc megabox celebrates 'In The Court of the Crimson King'
King Crimson will release their long awaited '1969' box set in October, which features a forensic examination of their live and studio activities in that year and includes 20 CDs, two DVDs and four blu-ray audio discs!

This complete audio history of the band's debut features a vaguely ridiculous amount of content, including a new Dolby Atmos mix by Steven Wilson, six discs worth of session material on CD & Blu-Ray for the first time (fully mixed by David Singleton) and a further disc of newly compiled studio material.
The box also includes the original studio album, every alternate take known to exist, every mix known to exist, all live recordings known to exist and a selection of pre/Crimson 1968 recordings.
The set – as with the previous boxed seven sets in the series – comes packaged in a vinyl sized box complete with a booklet featuring an introduction by Robert Fripp, notes about the source tapes from David Singleton, sleeve-notes by King Crimson biographer Sid Smith, previously unseen photos from the recordings sessions, additional memorabilia & a protective outer sleeve.
All the blu-rays and DVDs are playable everywhere and the full track listing and other details are below. The Complete 1969 Recordings will be released on 6 November (was 30 October and previously 23 October). It is available to pre-order now from the SDE shop using this link or the button below.
Compare prices and pre-order
KING CRIMSON
The Complete 1969 Recordings (26-Disc Box Set)
Complete disc contents * : Blu-Rays NTSC, Zone ABC, playable on all BD players. DVD playable on all DVD players & drives. DVD-A playable on all DVD players**
CD 1: Live at Hyde Park, July 5th 1969
CD 2: Live at The Marquee, July 6th 1969
CD 3: Plumpton Festival, August 9th 1969
CD 4: Live at Chesterfield, September 9th 1969 (new master) disc 1
CD 5: Live at Chesterfield, September 9th 1969 (new master) disc 2
CD 6: Fillmore East, November 21st/22nd 1969
CD 7: Fillmore West, December 14th/15th 1969
CD 8: Original master edition expanded
CD 9: Alternate album expanded
CD 10: 2009 mix plus additional material
CD 11: 2019 mixes expanded
CD12: Let's Make A Hit Waxing
CDs 13- 18: Complete Recording Sessions
DVD 19: Complete Recording Sessions, Let's Make a Hit Waxing (24/48 stereo) Stormy Selections (16/48)
DVD-A 20: 2019 stereo, 5.1 & instrumental mixes. Original master edition album mix (24/48)
Blu-Ray 21: Complete Recording Sessions (24/96 stereo), Chesterfield, Giles, Giles & Fripp (24/192)
Blu-Ray 22: 2009 mixes in stereo & 5.1, Additional Material & alternate album (2009 stereo mixes) (24/96)
Blu-Ray 23: 2019 mixes in stereo, 5.1, original master edition, alt. album, additional material (24/96)
Blu-Ray 24: 2020 Dolby Atmos Mix by Steven Wilson, I Talk to The Wind (Duo version, Surround mix), Let's Make a Hit Waxing (24/96)
CD 25: Giles, Giles & Fripp (new master)
CD 26: BBC Sessions, Trees
Discs 1-3, 6 & 7 have been audio restored at DGM to remove hiss & other noise from earlier editions but with original DGM mastering to optimise original sound sources. Discs 4 & 5 present the complete concert on disc in a new transfer & master from the original cassette source – at least one generation better than previously presented. All material on Discs 1- 7 originally taken from audience or band recordings.
Discs 12 – 18 are all new to disc & mixed from the original multi-track tapes.
Disc 25 is taken from a new transfer & newly mastered from the original tapes. Material on disc 19 is new to disc.
Material on discs 20 is new to DVD-A.
Material on discs 21,22 & 24 is new to Blu-Ray.
* resolution of material for DVD, DVD-A & Blu-Ray correct as at time of writing, resolution of remaining material to be determined at point of mastering.
**all material playable on DVD players. Lossless audio accessible only on DVD-A compatible players.
Complete Track listing
Discs 1 – 18, 25, 26 CD
Disc 19 DVD, Disc 20 DVD-A,
Discs 21 – 24 Blu-Ray
Disc 1
Live at Hyde Park
1 21st Century Schizoid Man
2 The Court of the Crimson King
3 Get Thy Bearings
4 Announcement (Incomplete)
5 Epitaph
6 Mantra
7 Travel Weary Capricorn
8 Mars
9 Band Reunion Meeting
Disc 2
Live at the Marquee
1 21st Century Schizoid Man
2 Drop In
3 Announcement (Incomplete)
4 I Talk To The Wind
5 Epitaph (Incomplete)
6 Travel Weary Capricorn
7 Improv (inc Nola and Etude No. 7)
8 Mars
Disc 3
Live at Plumpton Festival
1 21st Century Schizoid Man
2 Get Thy Bearings
3 Announcement
4 The Court Of The Crimson King
5 Mantra
6 Travel Weary Capricorn
7 Improv
8 Mars
Disc 4
Live at Chesterfield
1 21st Century Schizoid Man
2 Drop In
3 Announcement
4 Epitaph
5 Get Thy Bearings
6 Announcement
7 I Talk To The Wind
Disc 5
Live at Chesterfield
1 Announcement
2 The Court Of The Crimson King
3 Mantra
4 Travel Weary Capricorn
5 Improv
6 Mars
Disc 6
Live at the Fillmore East
1 The Court Of The Crimson King (Incomplete)
2 Announcement
3 A Man, A City
4 Announcement
5 Epitaph
6 Announcement
7 21st Century Schizoid Man
8 The Court Of The Crimson King (Incomplete)
9 Announcement
10 A Man, A City
11 Announcement
12 Epitaph
13 Announcement
14 21st Century Schizoid Man
Disc 7
Live at the Fillmore West
1 Mantra
2 Travel Weary Capricorn
3 Improv Travel Bleary Capricorn
4 Mars
5 The Court of the Crimson King
6 Announcement
7 Drop In
8 A Man, A City
9 Announcement
10 Epitaph
11 Announcement
12 21st Century Schizoid Man
13 Announcement
14 Mars
Disc 8
Album – Original Master Edition – expanded
1 21st Century Schizoid Man
2 I Talk to the Wind
3 Epitaph
4 Moonchild
5 The Court of the Crimson King
6 21st Century Schizoid Man
7 I Talk to the Wind
8 Epitaph
9 The Court of the Crimson King (Single A Side)
10 The Court of the Crimson King (Single B Side)
Disc 9
Alternate album – expanded
1 Wind Session
2 21st Century Schizoid Man (Morgan Studio Version with Overdubs)
3 I Talk To The Wind (Alt 2019 Mix)
4 I Talk To The Wind (Duo Version 2019 Mix)
5 Epitaph (Isolated Vocal 2019 Mix)
6 Epitaph (Alt Take 2019 Mix)
7 Moonchild (Take One 2019 Mix)
8 The Court of the Crimson King (Take 3 2019 Mix)
9 21st Century Schizoid Man (Trio Version 2019 Mix)
Disc 10
2009 Album Mixes – expanded
1 21st Century Schizoid Man
2 I Talk to the Wind
3 Epitaph
4 Moonchild
5 The Court of the Crimson King
6 Moonchild [Full Version]
7 I Talk to the Wind [Duo Version]
8 I Talk to the Wind [Alternate Mix]
9 Epitaph [Backing Track]
10 Wind Session [21st Century Schizoid Man Intro]
Disc 11
2019 Album Mixes & Instrumental Mixes
1 21st Century Schizoid Man
2 I Talk to the Wind
3 Epitaph
4 Moonchild
5 The Court of the Crimson King
6 21st Century Schizoid Man
7 I Talk to the Wind
8 Epitaph
9 Moonchild (Edit)
10 The Court of the Crimson King
Disc 12
Let's Make a Hit Waxing
1 Let's Make a Hit Waxing
Disc 13
Sessions Disc 1
1 21st Century Schizoid Man (Morgan Studio Instrumental)
2 Epitaph Takes 1 to 3
3 Epitaph Takes 4 to 8
4 I Talk to the Wind Takes 1 to 4
Disc 14
Sessions Disc 2
1 I Talk to the Wind Takes 5 to 8
2 I Talk to the Wind Takes 9 to 12
3 The Court of the Crimson King Stereo Takes
Disc 15
Sessions Disc 3
1 The Court of the Crimson King Take 6
2 The Court of the Crimson King Take 1 and 2
3 The Court of the Crimson King Takes 3 to 7
4 The Court of the Crimson King Takes 8 to 10
5 The Court of the Crimson King Trailer Take 1
Disc 16
Sessions Disc 4
1 The Court of the Crimson King (Stormy Mix)
2 I Talk to the Wind Takes 3 to 6
3 I Talk to the Wind Takes 7 to 9
4 I Talk to the Wind Early Take
5 Drum Check
6 21st Century Schizoid Man Sax Sound Check
7 Ahh (Stormy Mix)
8 I Talk to the Wind (Stormy Mix)
Disc 17
Sessions Disc 5
1 Epitaph Takes 1 to 3
2 Epitaph Takes 5 – 11
3 Epitaph Take 2 (Stormy Mix)
Disc 18
Sessions Disc 6
1 Moonchild Takes 1 to 8
2 Moonchild Take 9 (complete)
3 Trailer Take and Take Overdubbed
4 Pipe Organ Takes
5 Wind Noise Takes
6 The Court of the Crimson King Takes
Disc 19

DVD
24/48 Complete Studio Sessions
24/48 Let's Make a Hit Waxing
16/48 Stormy Selections
Disc 20

DVD-A
24/48 Original Master Edition
24/48 2019 album mixes in hi-res stereo and 5.1 Surround
Hyde Park Film Snippet
Disc 21

Blu-Ray
24/192 Giles, Giles and Fripp – as per CD 25
24/96 Complete Studio Sessions
24/192 Live at Chesterfield Jazz Club
Disc 22

Blu-Ray
24/96 2009 Hi-Res Stereo and 5.1 Surround Mixes
24/96 Additional audio and Alternate album from the 2009 mixes
24/48 Original 1969 vinyl needledrops of UK stereo & US Mono Promo LPs
24/48
Original 1969 Mono UK Single A and B Sides and US Promo Single A
Side
Disc 23
Blu-Ray
24/96 2019 Mixes in Stereo, 5.1 Surround and Instrumental Mixes
24/96 Original Master Edition
24/96 2019 Alternate Album and Additional Material Mixes
Hyde Park Film Snippet (audio mono)
Disc 24
Blu-Ray
Atmos 2020 Dolby Atmos Mix
24/96 I Talk to the Wind (duo version) 5.1 Surround *
* audio through four channels only
24/96 Let's Make a Hit Waxing
Disc 25
Selected Recordings 1968
Giles, Giles and Fripp
1 Tremelo Study in A Major (Spanish Suite)
2 Suite No. 1
3 Scrivens
4 Why Don't You Just Drop In (i)
5 I Talk to the Wind (i)
6 Plastic Pennies
7 Passages of Time
8 Under the Sky (ii)
9 I Talk to the Wind (ii)
10 Erudite Eyes
11 Make it Today (ii)
12 Wonderland
13 Why Don't You Just Drop In (ii)
14 She is Loaded
Disc 26
BBC Sessions and Trees
1 21st Century Schizoid Man
2 Epitaph
3 The Court of the Crimson King
4 I Talk to the Wind
5 Get Thy Bearings
Live at Fairfield Hall, Croydon
6 Trees