 News
King Crimson / Meltdown (Live in Mexico City) / 3CD+blu-ray deluxe set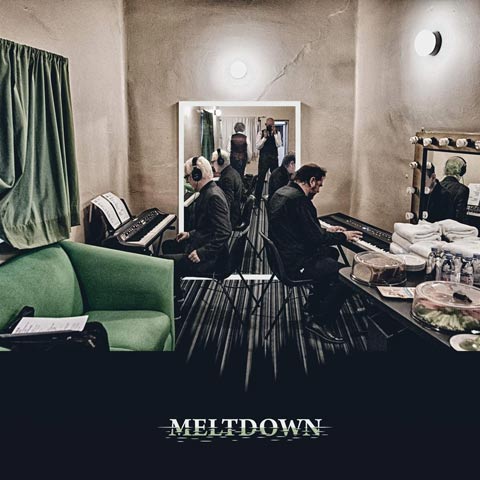 3CD+blu-ray • 5.1 surround • deluxe packaging
King Crimson will next month issue Meltdown (Live in Mexico City), a new four-disc deluxe set next month that features over three and a half hours of material performed during the band's five nights residency at Teatro Metropolitan, Mexico City in July 2017.

The audio is available across the three CDs but the blu-ray element features over two hours of multi-camera HD footage with an 24/48 LPCM hi-res stereo and 5.1 DTS HD-MA surround sound. This disc comes with a 'picture off' mode too, if those pesky visuals get in the way of a real lossless audio experience! The audio has been mixed by King Crimson member Bill Rieflin, from full multi track recordings.
The four discs come in two mini-LP CD vinyl replica-style gatefold wallets which reside in an outer slipcase. A booklet includes photos by Tony Levin and new sleeve notes is included.
Meltdown (Live in Mexico City) will be issued on 5 October 2018. Nice price in the UK.
Compare prices and pre-order
King Crimson
Meltdown Live in Mexico City - 3CD+blu-ray
CD 1
1. Walk On
2. Larks' Tongues in Aspic, Pt. 1
3. Neurotica
4. Cirkus
5. Dawn Song
6. Last Skirmish
7. Prince Rupert'sLament
8. The Hell Hounds of Krim
9. Red
10. Fallen Angel
11. Islands
12. The Talking Drum
13. Larks' Tongues in Aspic, Pt. 2
CD 2
1. Indiscipline
2. The ConstruKction of Light
3. Epitaph
4. Banshee Legs Bell Hassle
5. Easy Money
6. Interlud
7. The Letters
8. Sailor's Tale
9. CatalytiKc No. 9
10. Meltdown
11. Radical Action II
12. Level Five
13. Starless
CD 3
1. Peace – An End
2. Pictures of a City
3. Devil Dogs of Tesselation Row
4. Fracture
5. The Court of the Crimson King
6. Heroes
7. 21st Century Schizoid Man
8. Discipline
9. Moonchild
10. Tony's Cadenza
11. Jeremy's Cadenza
12. Breathless
13. Cool Jam
Blu-Ray (audio/video)
Neurotica
Pictures of a City
Cirkus
Dawn Song
Last Skirmish
Prince Rupert's Lament
Epitaph
Devil Dogs
Fracture
Islands
Indiscipline
Peace – An End
Easy Money
Interlude
The Letters
The Sailors Tale
Catalytic No 9
Fallen Angel
The Talking Drum
Larks' Tongues in Aspic Part 2
Starless
The Hell Hounds of Krim
21st Century Schizoid Man