 News
Kirsty MacColl / See That Girl 1979-2000
8CD box set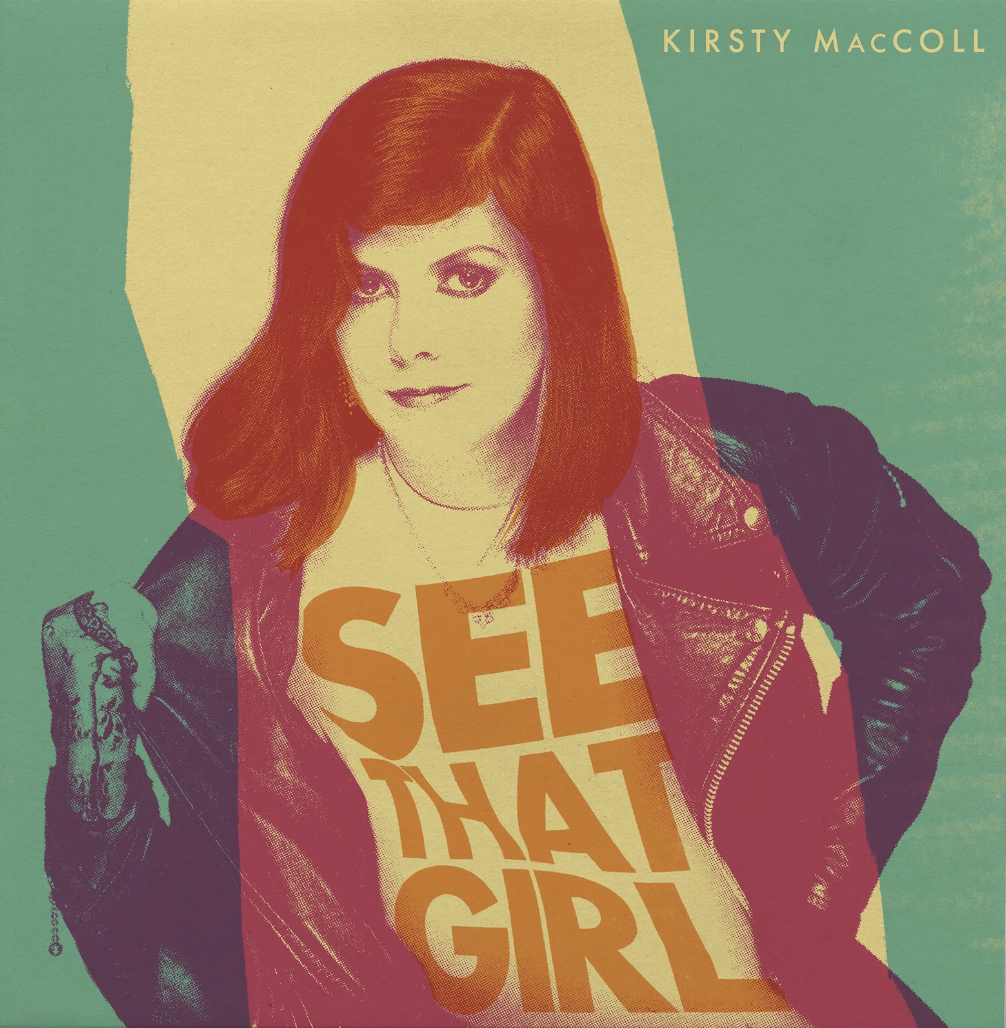 8CD set in 10-inch packaging with hardcover book • Features singles, album favourites, B-sides, remixes, demos and live tracks
See That Girl 1979-2000 is a forthcoming 8CD box set featuring music from the all too short career of Kirsty MacColl.
Kirsty released five albums during her lifetime – Desperate Character (Polydor, 1981), Kite (Virgin, 1989), Electric Landlady (Virgin, 1991), Titanic Days (ZTT, 1993) and Tropical Brainstorm (V2, 2000). See That Girl brings together 161 tracks recorded between 1979 and 2000 and has been compiled in collaboration with Kirsty's estate. The audio includes 47 previously unreleased recordings including her second album 'Real', recorded in 1983 but never released. 'Lullaby For Ezra', which was on this album, can be heard below.
Other highlights include nine tracks from Kirsty's 1992 Glastonbury performance, a Jazz Cafe set from 1999 and live performances originally recorded for BBC radio and television.
The eighth and final CD in this set features a selection of collaborations with other artists, as either singer or songwriter, and illustrates how in-demand and versatile Kirsty's extraordinary talents were.
The eight CDs are packaged in two folio/slipcases and these sit alongside the 60-page hardcover book with new and extensive sleeve notes from Jude Rogers, who speaks with close family, friends and fellow musicians who contribute
See That Girl 1979-2000 will be released on 27 October 2023 via UMR.
Compare prices and pre-order
Kirsty MacColl
See That Girl 1979-2000 8CD Box Set
Tracklisting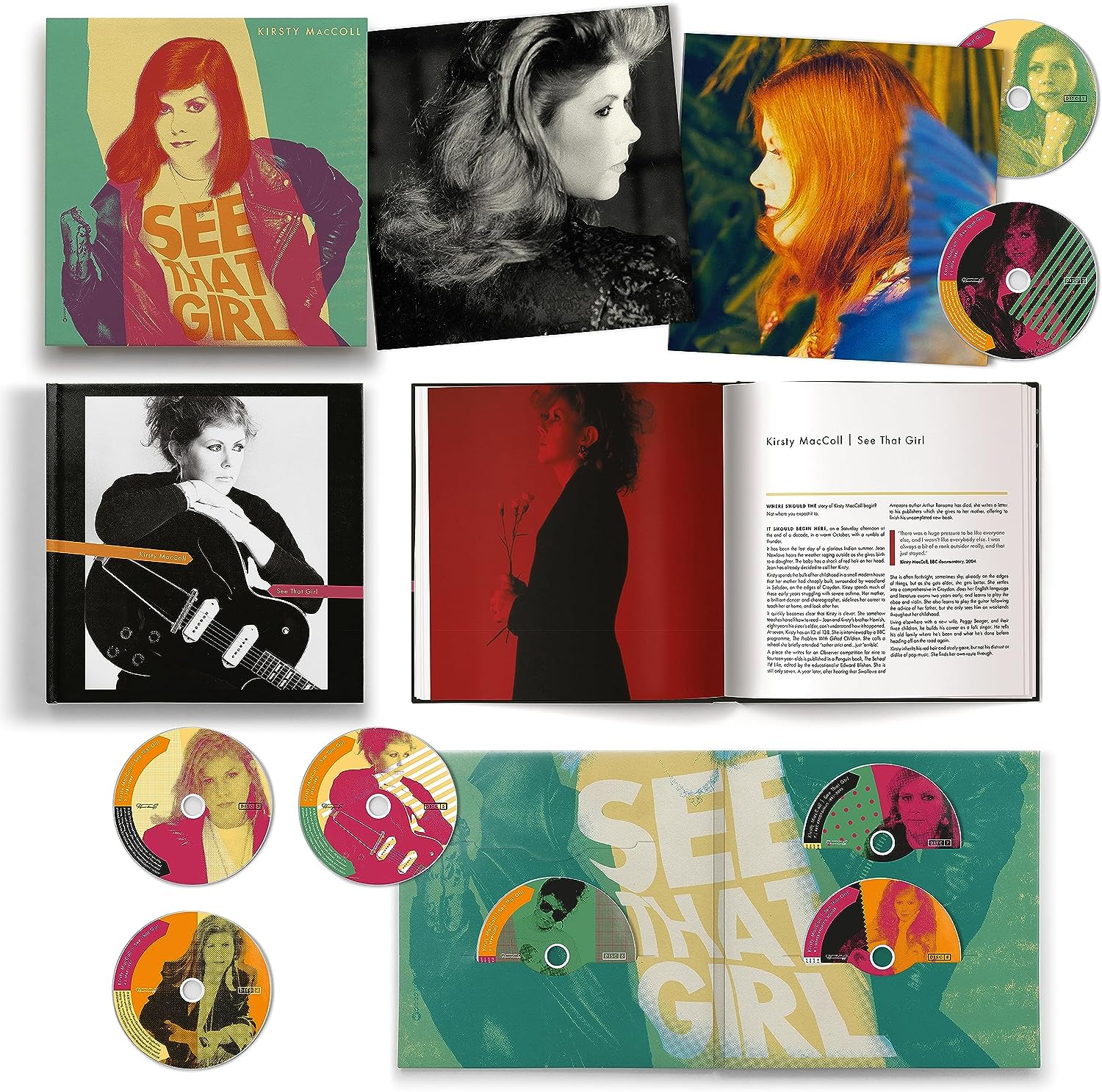 See That Girl 1979-2000 Kirsty MacColl
/
CD 1: The Singles

They Don't Know (03:01)

Keep Your Hands Off My Baby (02:58)

There's A Guy Works Down The Chip Shop Swears He's Elvis (03:08)

See That Girl (02:57)

You Still Believe In Me (02:57)

Terry (03:56)

A New England (03:50)

He's On The Beach (03:29)

Fairytale Of New York (The Pogues Feat. Kirsty MacColl) (04:31)

Free World (Radio Version) (02:38)

Days (02:59)

Innocence (Remix) (04:02)

Don't Come The Cowboy With Me Sonny Jim! (03:47)

Walking Down Madison (7″ Mix) (04:40)

My Affair (Radio Edit) (03:34)

All I Ever Wanted (Single Mix) (03:31)

Angel (Single Edit) (03:40)

Caroline (02:57)

Perfect Day (Kirsty MacColl & Evan Dando) (03:50)

Mambo De La Luna (Single Edit) (03:31)

In These Shoes? (03:39)

CD 2: 1979 – 1983

Turn My Motor On (02:27)

I Don't Need You (02:56)

There's A Guy Works Down The Truck Stop Swears He's Elvis (03:08)

Nothing To Do (The Clock Goes Round Demo)* (02:19)

Falling For Faces (Demo)* (02:25)

The Real Ripper (Demo)* (04:13)

Teenager In Love (02:37)

Mexican Sofa (03:14)

Until The Night (03:50)

 Over You (02:35)

 Queen Of The High Teas (02:27)

 Bad Dreams* (04:48)

Time* (03:45)

Sticked and Stoned (03:46)

Annie (04:30)

Camel Crossing (05:21)

Berlin (03:34)

Man With No Name* (03:28)

Lullaby for Ezra* (03:50)

Up the Grey Stairs* (06:38)

Roman Gardens (04:58)

*Tracks marked * are previously unreleased recordings.

Tracks 12-21 are the 1983 Polydor album 'Real', presented here complete and sequenced for the first time.

CD 3: 1983-1989

Terry (Extended Version) (05:20)

Quietly Alone (02:39)

One Little Lie (Demo)* (04:08)

A New England (Extended Version) (07:57)

Patrick (03:09)

I'm Going Out With An Eighty Year Old Millionaire (02:55)

Trouble With People (Demo)* (03:03)

Man Of Steel (Demo)* (02:59)

He's On The Beach (Extended Version) (08:08)

Please, Go To Sleep (02:33)

You Just Haven't Earned It Yet, Baby (She's Having A Baby Version) (03:40)

Closer To God (03:53)

The End Of A Perfect Day (Original Demo Version) (03:23)

La Forêt De Mimosa (03:36)

Fifteen Minutes (03:12)

What Do Pretty Girls Do? (02:37)

Dancing In Limbo (02:51)

You And Me Baby (02:31)

Happy (02:33)

El Paso (03:46)

Still Life (02:57)    

*Tracks marked * are previously unreleased recordings.

CD 4:

Innocence (The Guilt Mix) (04:09)

No Victims (Guitar Heroes Mix) (04:23)

Clubland (04:04)

Other People's Hearts (03:37)

One Good Thing (03:37)

He Never Mentioned Love (03:50)

The Hardest Word (04:38)

My Way Home (04:30)

My Affair (Olive Groove Mix) (06:26)

All The Tears That I Cried (03:31)

A New England (Live At Glastonbury 26/06/92)* (03:55)

Innocence (Live At Glastonbury 26/06/92)* (04:10)

You Just Haven't Earned It Yet, Baby (Live At Glastonbury 26/06/92)* (03:28)

Fifteen Minutes / Don't Come The Cowboy With Me, Sonny Jim! (Live At Glastonbury 26/06/92)* (05:40)

Happy (Live At Glastonbury 26/06/92)* (02:40)

Tread Lightly (Live At Glastonbury 26/06/92)* (03:15)

Train In Vain / Walking Down Madison (Live At Glastonbury 26/06/92)* (07:15)

Free World (Live At Glastonbury 26/06/92)* (02:30)

There's A Guy Works Down The Chip Shop Swears He's Elvis (Live At Glastonbury 26/06/92)* (03:35)

*Tracks marked * are previously unreleased recordings.

CD 5: 1993-1996

Soho Square (04:25)

Last Day Of Summer (04:20)

Can't Stop Killing You (04:10)

Titanic Days (05:43)

Big Boy On A Saturday Night (03:56)

Angel (Stuart Crichton Piano Edit) (03:17)

King Kong (Demo) (03:56)

Dear John (Demo) (02:43)

Fabulous Garden (03:13)

Touch Me (03:36)

Free World (Live at Belly Up, Solana Beach, California 01/12/93) (02:43)

Miss Otis Regrets (Live at Belly Up, Solana Beach, California 01/12/93) (03:01)

Irish Cousin (04:49)

The Butcher Boy (03:57)

As Long As You Hold Me (Electric Version)* (04:39)

Eu So Quero Un Xodó* (03:15)

In These Shoes? (Demo)* (03:40)

Things Happen (Demo) (02:58)

Treachery (Demo) (a.k.a. Stalking A Fan)* (03:51)

Siempre Tu Rosa (Always Your Rose)* (02:35)

*Tracks marked * are previously unreleased recordings.

CD 6: 1999-2000

1. Mambo De La Luna (Mint Royale Mix) (05:36)

2. In These Shoes? (UR Crazy Remix) (06:04)

3. Good For Me (03:34)

4. Autumngirlsoup (03:54)

5. Us Amazonians (04:09)

6. Nao Esperando (04:04)

7. Wrong Again (04:20)

8. I Believe In Love* (02:47)

9. Sun On The Water (Demo) (04:07)

10. Here Comes That Man Again (Live at The Jazz Café, London, 12/10/99)* (05:10)

11. Head (Live at The Jazz Café, London, 12/10/99)* (03:50)

12. Celestine (Live at The Jazz Café, London, 12/10/99)* (03:45)

13. England 2 Colombia 0 (Live at The Jazz Café, London, 12/10/99)* (03:50)

14. Designer Life (Live at The Jazz Café, London, 12/10/99)* (02:40)

15. Days (Live at The Jazz Café, London, 12/10/99)* (03:10)

16. Walking Down Madison (Live at The Jazz Café, London, 12/10/99)* (06:25)

17. How Insensitive (Live at The Jazz Café, London, 12/10/99)* (03:25)

18. My Affair (Live at The Jazz Café, London, 12/10/99)* (08:30)

*Tracks marked * are previously unreleased recordings.

CD 7: BBC recordings 1981 – 2000

I Don't Wanna Play House (Something Else, BBC TV 23/10/81)* (03.35)
Queen Of The High Teas (Something Else, BBC TV 23/10/81)* (02.30)
You Can Have My Husband (Something Else, BBC TV 23/10/81)* (02.10)

Don't Come The Cowboy With Me Sonny Jim! (BBC Radio 1 session for Nicky Campbell, 08/11/89) (03.41)

What Do Pretty Girls Do? (BBC Radio 1 session for Nicky Campbell, 08/11/89) (02.36)

Don't Run Away From Me Now (BBC Radio 1 session for Nicky Campbell, 08/11/89 (02.56)

Still Life (BBC Radio 1 session for Nicky Campbell, 08/11/89 (03.05)

There's A Guy Works Down The Chip Shop Swears He's Elvis (BBC Radio 1 Session for Nicky Campbell, 26/06/91) (03:48)

Walk Right Back (BBC Radio 1 Session for Nicky Campbell, 26 June 1991) (03.37)

Darling, Let's Have Another Baby (with Billy Bragg) (BBC Radio 1 Session for Nicky Campbell, 26 June 1991) (02.39)

Angel (Later… BBC TV 19 November 1992)* (04.10)

Can't Stop Killing You (BBC Greater London Radio Session for Peter Curran, 07/03/94)* (03.54)

Soho Square (BBC Greater London Radio Session for Peter Curran, 07/03/94)* (04.13)

Bad (BBC Greater London Radio Session for Peter Curran, 07/03/94)* (01.56)

My Affair (BBC Radio 1 Session for Simon Mayo, 07/03/94) (03.44)

16. Miss Otis Regrets (with the 1st Battalion Irish Guards) (Later… BBC TV 31 December 1994)* (03.13)

Caroline (BBC Greater London Radio Session for Peter Curran, 16 February 1995)* (02.29)

Free World (BBC Greater London Radio Session for Peter Curran, 16 February 1995)* (02.46)

A New England (Acoustic) (BBC Radio 1 Session for Kevin Greening, 20/02/95) (03.29)

He's On The Beach (Acoustic) (BBC Radio 1 Session for Kevin Greening, 20/02/95) (03.27)

Tread Lightly (Live at The Fleadh, Finsbury Park 10/06/95) (04.18)

I Wanna Be Sedated (Live at The Fleadh, Finsbury Park 10 June 1995) (02.32)

In These Shoes? (Later… BBC TV 15/04/00)* (03.57)

*Tracks marked * are previously unreleased recordings.

CD 8: Other People's Songs (Guest Appearances & Collaborations)

Peggy Seeger – Darling Annie (4.09)

Jane Aire & The Belvederes – Breaking Down The Walls Of Heartache (2.54)

Jools Holland & Kirsty MacColl – Shutting The Doors (4.22)

Tracey Ullman – You Broke My Heart in 17 Places (2.49)

Billy Bragg With Johnny Marr & Kirsty MacColl – Greetings To The New Brunette (3.30)

David Byrne – Make Believe Mambo (Orisa) (5.23)

Ewan MacColl – The Manchester Rambler (4.42)

Happy Mondays – Hallelujah (MacColl Mix) (2.39)

Mary Coughlan – Invisible To You (4.28)

Alison Moyet – Wishing You Were Here (3.57)

Holly Johnson – Boyfriend '65 (3.08)

Kirsty MacColl & Billy Bragg – Darling Let's Have Another Baby (2.39)

The Wonder Stuff – Welcome To The Cheap Seats (Naked Mix) (2.41)

Engine Alley – Song For Someone (3.46)

Anthony Thistlethwaite – Red Jeans (2.36)

Sharon Shannon & Kirsty MacColl – Libertango (4.23)

Chucho Merchán, Kirsty MacColl and Phil Manzanera – People Uniting (5.05)

Ghostland & Kirsty MacColl – Sail Away (3.14