 News
Kraftwerk / Remixes
Streaming release goes physical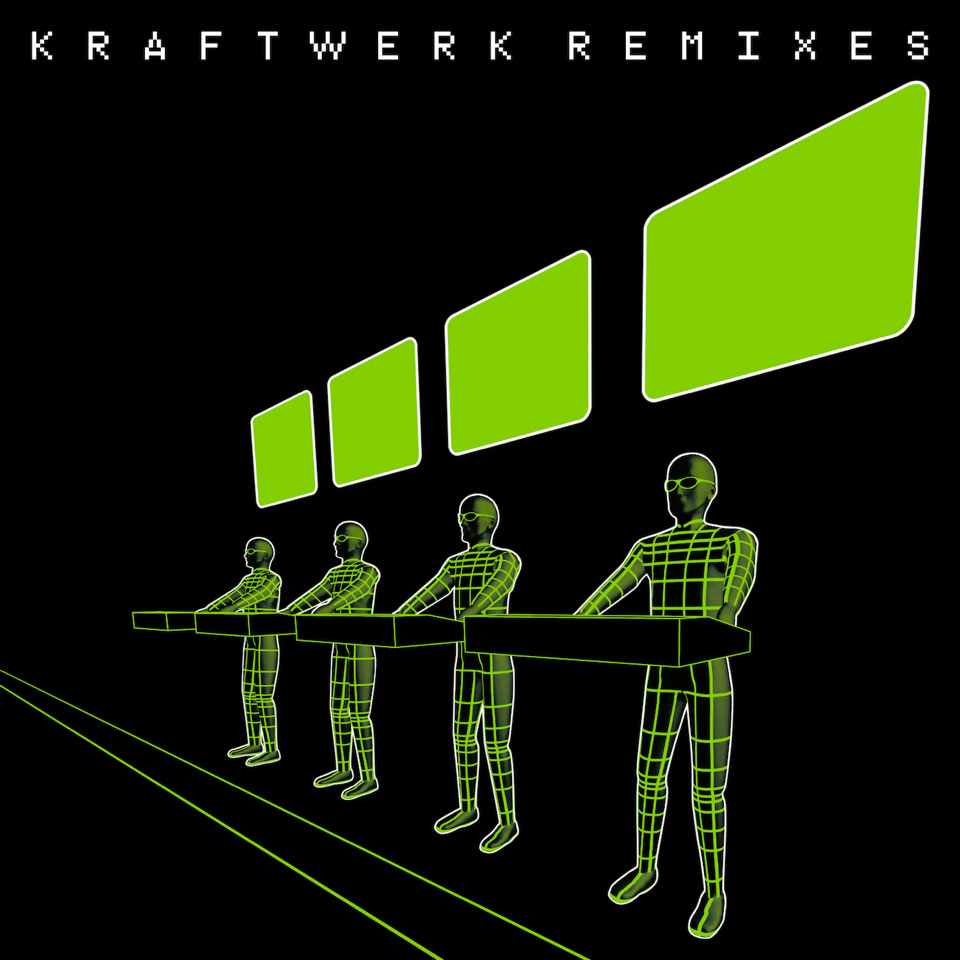 Back in 2020, Kraftwerk issued an album called Remixes which, sadly, was a streaming-only release. However, this changes next month when Remixes is finally issued as a physical product, offered as either a 2CD set or a triple vinyl package.
This is a collection of 19 remixes by DJs/producers/artists such as François Kervorkian, William Orbit, Étienne de Crécy, Orbital, Underground Resistance, DJ Rolando and Hot Chip. They are taken from various Kraftwerk 12-inch singles, CD singles and digital releases from the 1991-2021 era.
The album also plays host to Kraftwerk's very latest Kling Klang studio output with the inclusion of 'Non Stop' alongside newly updated mixes of 'Home Computer' and 'Tour De France (Etape 2)'. 'Non Stop' actually began life as a soundbite recorded for MTV in the 1980s, but in 2020, Kraftwerk took the original 30 second sound clip and then transformed it into a full 8 minute version on Remixes.
This set also includes the William Orbit Hardcore Mix of 'Radioactivity', which was previously only available on the 1991 US 12-inch, Kraftwerk's own remix of 'The Robots' ('Robotnik') and Hot Chip's extended
mix of 'La Forme'.
Kraftwerk take their multimedia 3-D show around the globe this year, including a 24-date North American tour and they co-headline with the Chemical Brothers at All Points East in London in August.
Remixes will be released on 25 March 2022.
Compare prices and pre-order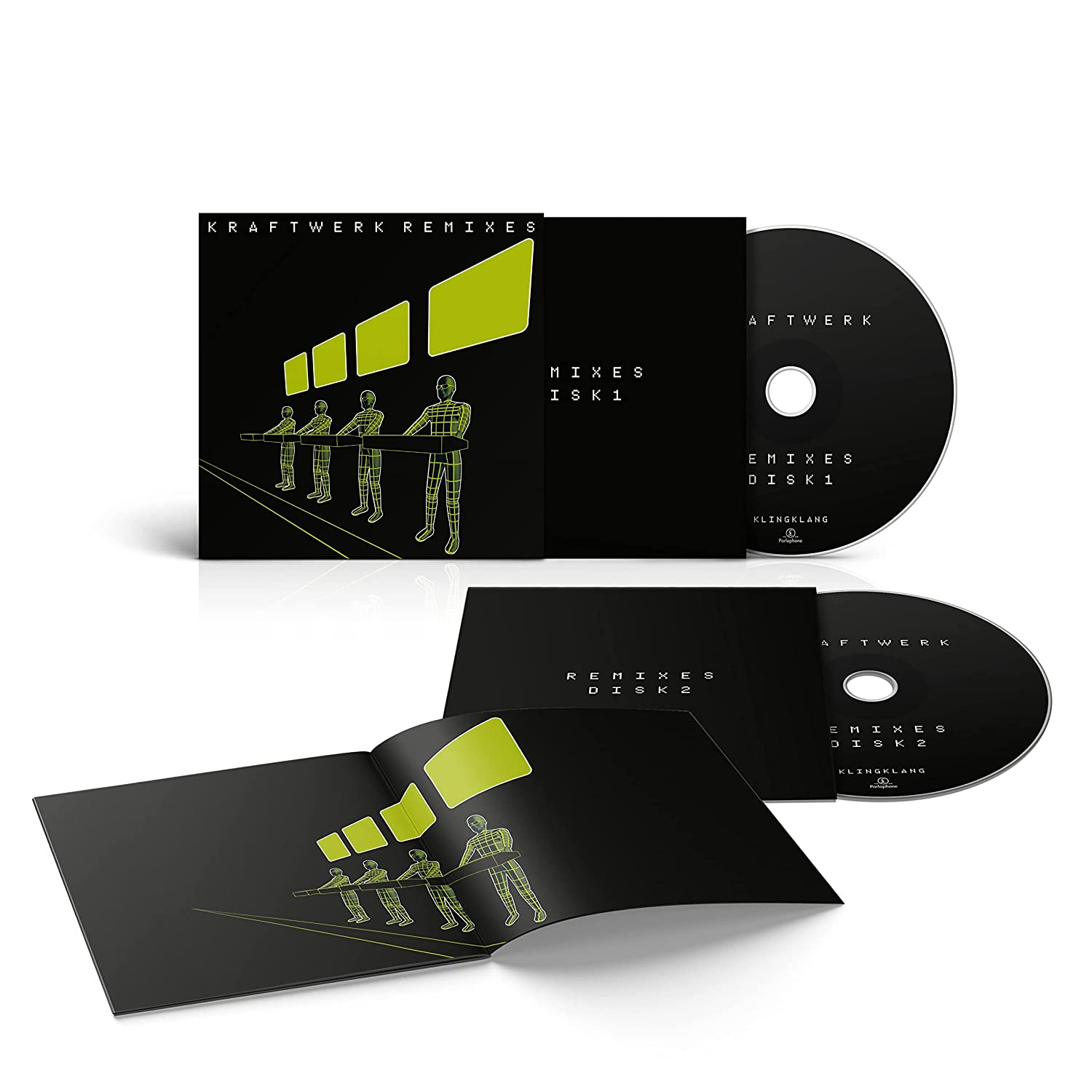 Kraftwerk
Remixes 2CD edition
Compare prices and pre-order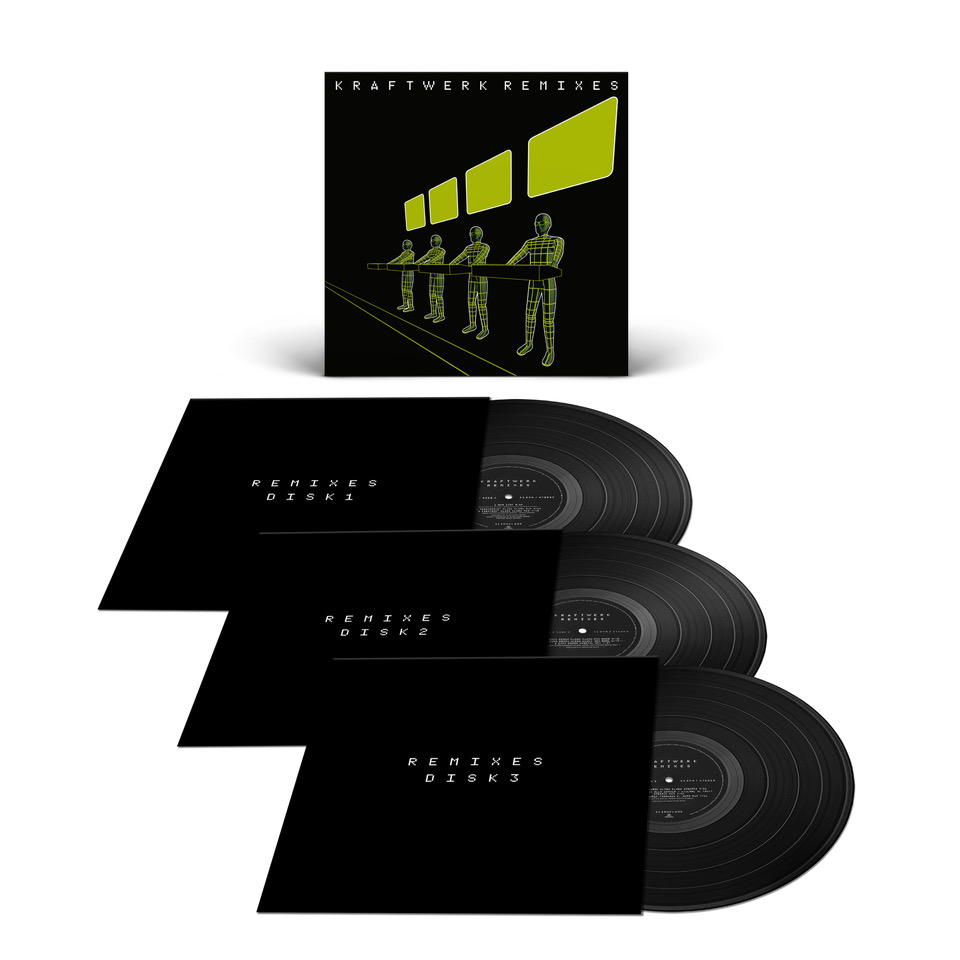 Kraftwerk
Remixes 3LP vinyl edition
Tracklisting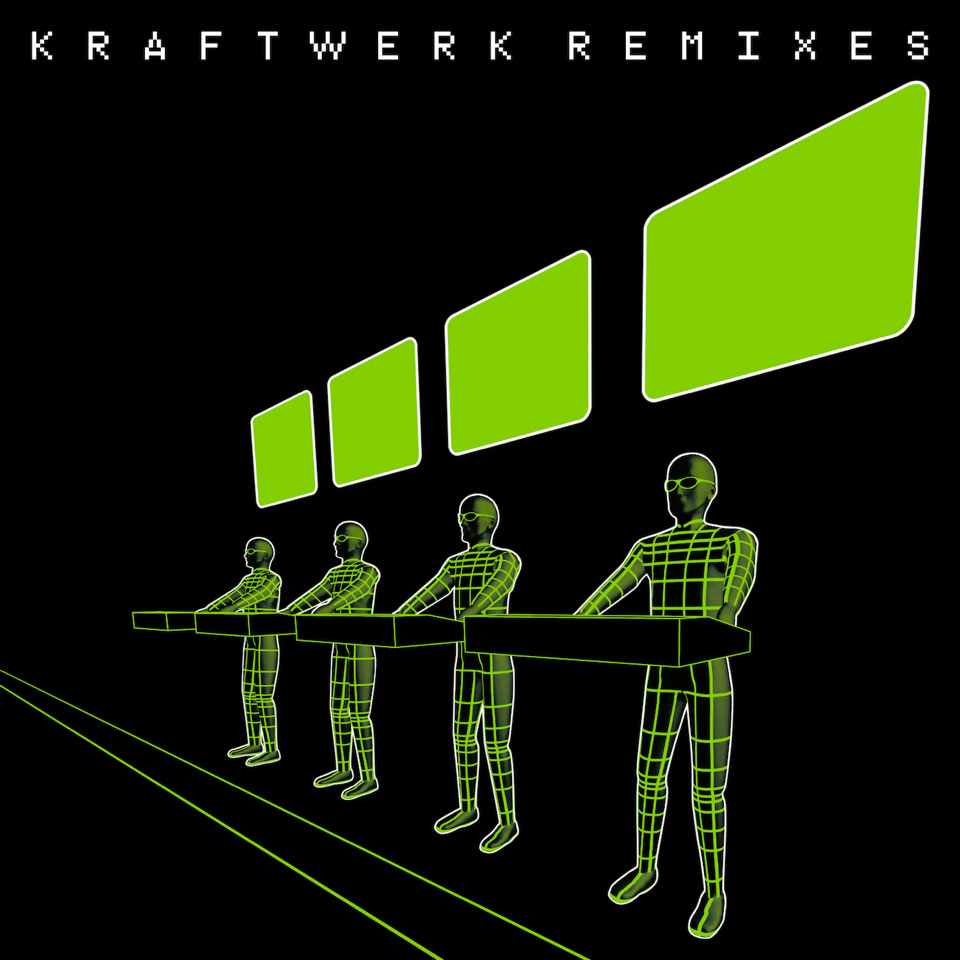 Remixes Kraftwerk
/
2CD
CD 1

Non Stop 08:32 (2020)
Robotnik (Kling Klang Mix) 07:43 (1991)
Robotronik (Kling Klang Mix) 04:54 (1991)
Radioactivity (William Orbit Hardcore Remix – Kling Klang Edit) 05:35 (1991)
Radioactivity (François Kervorkian 12" Remix) 07:27 (1991)
Expo Remix (Kling Klang Mix 2002) 05:40 (1999)
Expo Remix (Kling Klang Mix 2001) 06:49 (1999)
Expo Remix (Orbital Mix) 04:57 (2000)
Expo Remix (François K + Rob Rives Mix) 07:21 (2000)
Home Computer (2021 Single Edit) 04:45 (1981/2021)

CD 2

Expo Remix (DJ Rolando Mix) 07:29 (2000)
Expo Remix (Underground Resistance Mix) 03:58 (2000)
Expo Remix (UR Thought 3 Mix) 02:43 (2000)
Aéro Dynamik (Kling Klang Dynamix) 07:01 (2004)
Aéro Dynamik (Alex Gopher / Étienne de Crécy Dynamik Mix) 07:42 (2004)
Aéro Dynamik (François K. Aero Mix) 07:52 (2004)
Aéro Dynamik (Intelligent Design Mix by Hot Chip) 08:34 (2007)
La Forme (King Of The Mountains Mix by Hot Chip) 11:31 (2007)
Tour De France (Etape 2) 04:57 (2003/2021)
Tracklisting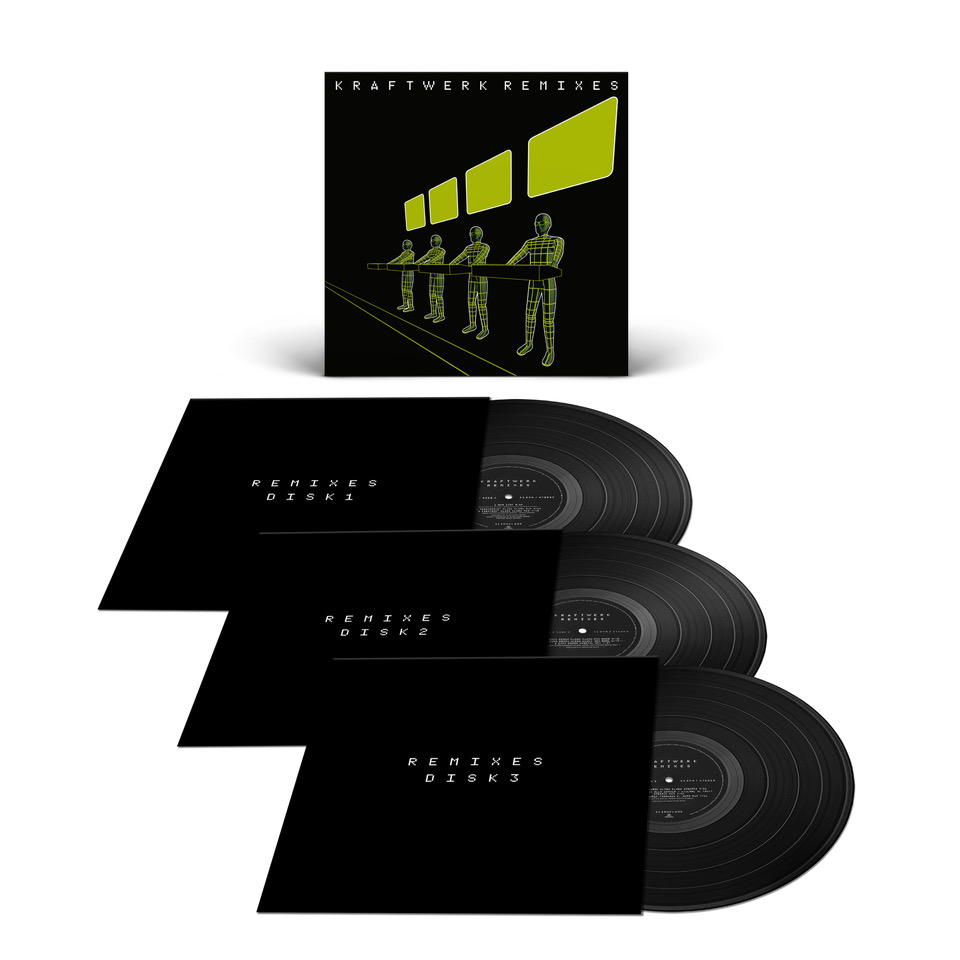 Remixes Kraftwerk
/
3LP vinyl
LP 1

Side A

Non Stop 08:32
Robotronik (Kling Klang Mix) 04:54
Robotnik (Kling Klang Mix) 07:43

Side B

Home Computer (2021 Single Edit) 04:45
Radioactivity (William Orbit Hardcore Remix – Kling Klang Edit) 05:35
Radioactivity (François Kervorkian 12″ Remix) 07:27

LP 2

Side C

Expo Remix (Kling Klang Mix 2002) 05:40
Expo Remix (Kling Klang Mix 2001) 06:49
Expo Remix (Orbital Mix) 04:57

Side D

Expo Remix (François K + Rob Rives Mix) 07:21
Expo Remix (DJ Rolando Mix) 07:29
Expo Remix (Underground Resistance Mix) 03:58
Expo Remix (UR Thought 3 Mix) 02:43

LP 3

Side E

Aéro Dynamik (Kling Klang Dynamix) 07:01
Aéro Dynamik (Alex Gopher / Étienne de Crécy Dynamik Mix) 07:42
Aéro Dynamik (François K. Aero Mix) 07:52

Side F

Tour De France (Etape 2) 04:57
Aéro Dynamik (Intelligent Design Mix by Hot Chip) 08:34
La Forme (King Of The Mountains Mix by Hot Chip) 06:33