 News
Last chance to secure the Concert For George blu-ray audio
Pre-orders are about to close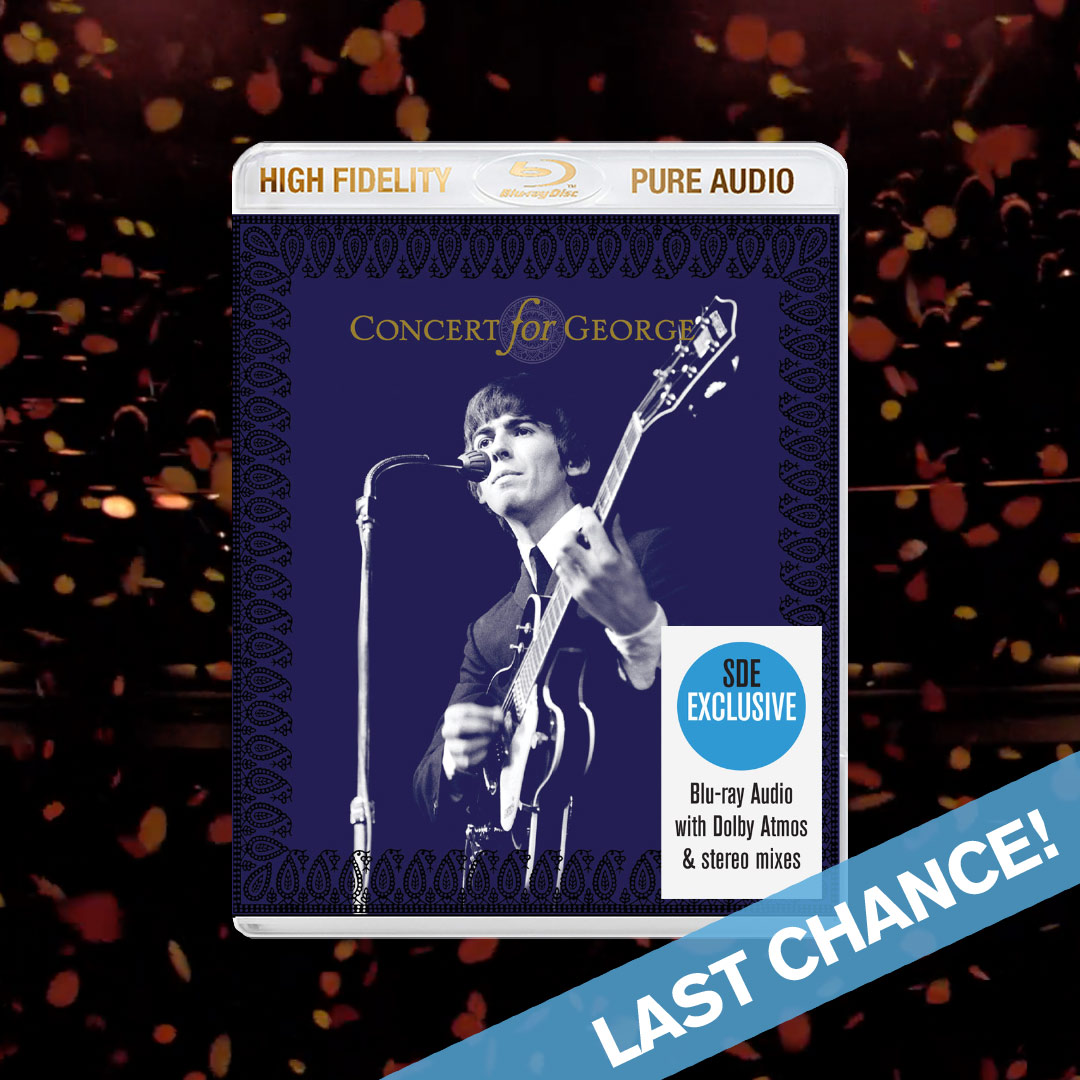 Thank you for all your enthusiasm for the recently announced Concert For George blu-ray audio, which is the next release SDE Surround Series.
The 2002 tribute to the life and music of George Harrison has been remixed in Dolby Atmos and is only available physically via this SDE-exclusive blu-ray (in addition to the stereo mix). This disc features the Complete Sound Recordings [no video content] which are unavailable on CD and in fact only issued previously as an audio product as a 4LP vinyl set.
Pre-orders for this limited edition are about to close, so don't miss out – secure your copy by either heading off to the SDE shop using this link, or alternatively use the 'buy button' below. Remember this product is exclusive to SDE and we ship worldwide.
This is released on 24 February 2023 and is an SDE collaboration with Craft Recordings. You can find more detail about Concert For George blu-ray on the original post.
TECHNICAL NOTES: This blu-ray audio contains no video. It requires a blu-ray player. Decoding the Dolby Atmos mix requires a Dolby Atmos-certified soundbar or a Dolby Atmos-compatible AV Receiver/Amp. The Dolby Atmos mix will 'fold down' to 5.1 or stereo if a Dolby Atmos decoder is not detected.
EU SHIPPING NOTES: If you are ordering from the EU please be aware that that goods may be subject to import VAT when they arrive from the UK. The prices the SDE shop charge you do not include VAT
Tracklisting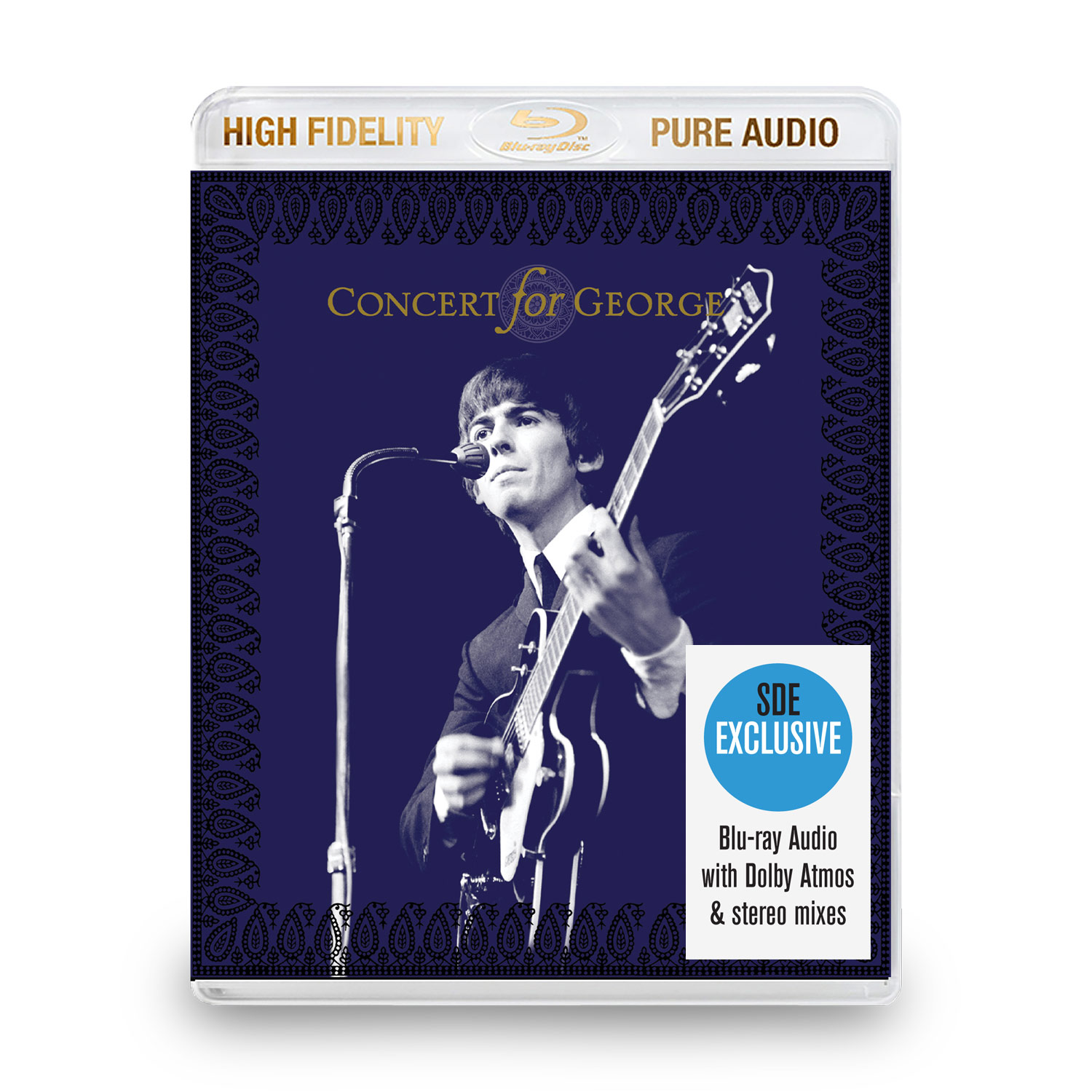 Concert For George Various Artists
/
Sarve Shaam
Your Eyes – Anoushka Shankar
The Inner Light – Jeff Lynne & Anoushka Shankar
Arpan – Conducted by Anoushka Shankar
The Lumberjack Song – Monty Python with Tom Hanks
Sit On My Face – Monty Python
I Want To Tell You – Jeff Lynne
If I Needed Someone – Eric Clapton
Old Brown Shoe – Gary Brooker
Give Me Love – Jeff Lynne
Beware Of Darkness – Eric Clapton
Here Comes The Sun – Joe Brown
That's The Way It Goes – Joe Brown
Horse To The Water – Sam Brown
Taxman – Tom Petty and the Heartbreakers
I Need You – Tom Petty and the Heartbreakers
Handle With Care – Tom Petty and the Heartbreakers with Jeff Lynne & Dhani Harrison
Isn't It A Pity – Billy Preston
Photograph – Ringo Starr
Honey Don't – Ringo Starr
For You Blue – Paul McCartney
Something – Paul McCartney & Eric Clapton
All Things Must Pass – Paul McCartney
While My Guitar Gently Weeps – Paul McCartney & Eric Clapton
My Sweet Lord – Billy Preston
Wah Wah – Eric Clapton & Band
I'll See You In My Dreams – Joe Brown