 News
'Concert For George' is the next release in the SDE Surround Series
The Dolby Atmos Mix of this legendary concert on SDE-exclusive blu-ray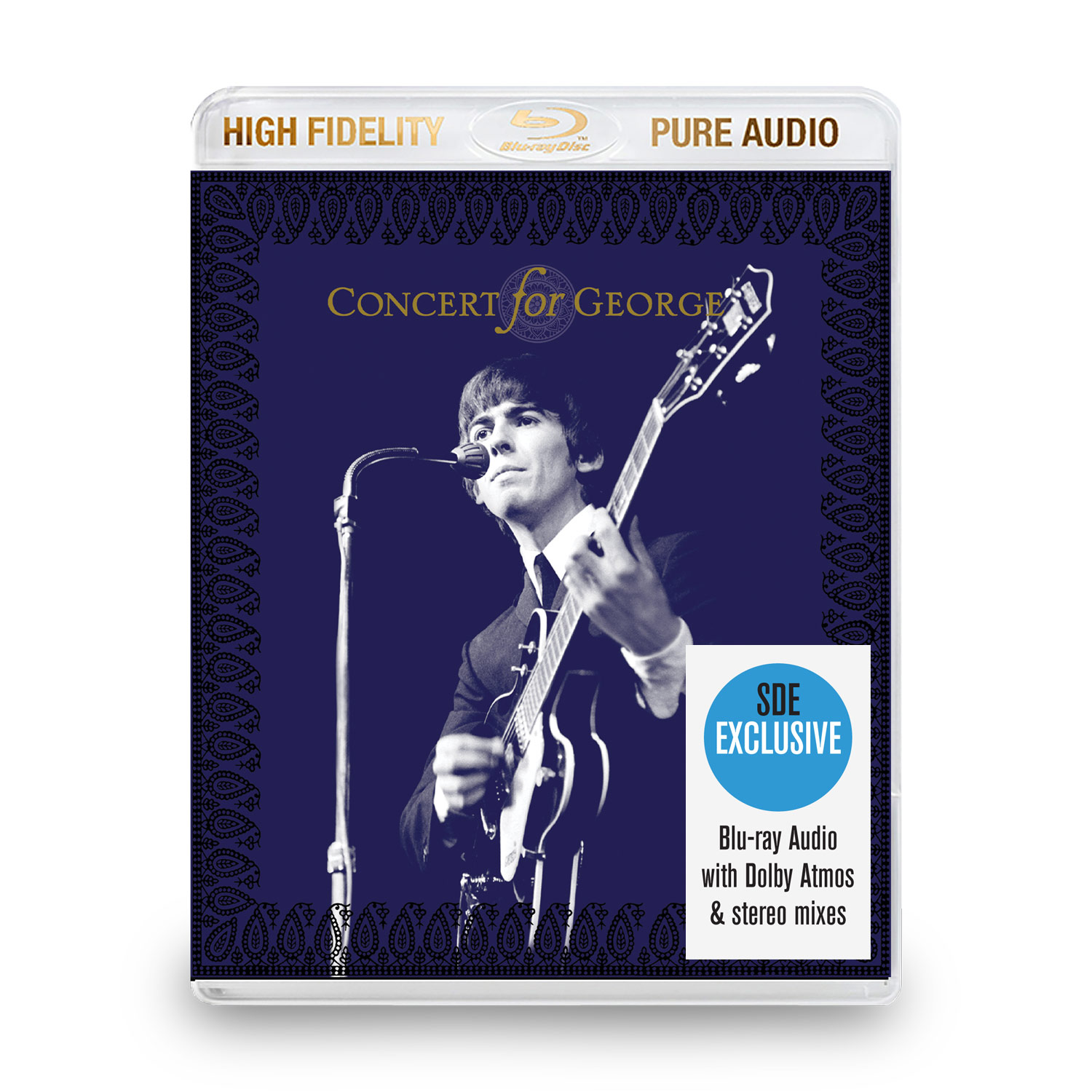 On the eve of the 20th anniversary of the 2002 concert, fans now have the opportunity to re-experience Concert For George in immersive Dolby Atmos Audio, via an SDE-exclusive blu-ray audio
On 29 November 2002, one year after his passing, Olivia Harrison and Eric Clapton organised a performance tribute to celebrate the life and music of George Harrison. Held at London's Royal Albert Hall, the momentous evening featured George's songs, and music he loved, performed by artists including Eric Clapton, Joe Brown, Dhani Harrison, Jools Holland, Jeff Lynne, Paul McCartney, Monty Python, Tom Petty, Billy Preston, Ravi & Anoushka Shankar, Ringo Starr and more.
Concert For George captures stunning renditions of some of the most significant music of the 20th century, including 'While My Guitar Gently Weeps' (featuring Clapton on guitar, McCartney on piano and Starr on drums), 'Taxman' (performed by Tom Petty and the Heartbreakers) and 'The Inner Light' (covered by Jeff Lynne and Anoushka Shankar). Lynne, Harrison's longtime friend and collaborator, produced the audio elements of the concert, while Clapton oversaw the entire proceedings as Musical Director.
In collaboration with Craft Recordings, SDE is proud to exclusively offer the brand new Dolby Atmos Mix of Concert For George on limited edition blu-ray audio.
Furthermore, the SDE-exclusive blu-ray will feature all the audio – the complete sound recordings from Concert For George – and therefore includes the beautiful Indian music performed/conducted early in the evening by Anoushka Shankar, the Monty Python numbers and Sam Brown's supreme rendition of Horse To The Water (with Jools Holland).The complete sound recordings have never been issued on CD and were only previously released as an audio product via the 4LP vinyl set (issued in 2018 and now re-available). With the physical blu-ray audio you can make yourself comfortable, sit back, and enjoy all two hours of the full 27-track configuration without flipping sides or changing records.
The Dolby Atmos Mix of Concert For George has been created by GRAMMY-winning engineer Paul Hicks, whose many credits include the 2009 Beatles remasters, the remixes for the 50th anniversary of George Harrison's 1970 album All Things Must Pass and the spatial and stereo audio mixes for the albums issued as part of the ongoing John Lennon reissue campaign (Imagine, Gimme Some Truth and Plastic Ono Band).
I thought we could go a little more daring with this Blu-ray Audio

Mix engineer Paul Hicks, 2022
With regards to this Concert For George Atmos Mix, Paul Hicks explained to SDE how he took a two-pronged approach to the spatial audio mix, treating the theatrical version and the blu-ray audio version differently, with the later more immersive and a lot bolder than the original 5.1 mix (the one on the previous DVD/blu-ray video releases).
He told us: "With the fact that Apple and [others] have embraced spatial technology, I feel that people are ready to go a bit bolder in it now. When we did the theatrical [Dolby Atmos mix], you know, that's meant for screenings, so was a little bit more traditional. But with how people are listening to Atmos today, I thought we could go a little bit more daring with this [Blu-ray Audio]… the format is [typically] where you're looking at the band, but for this Blu-ray you're standing where the singers are—so it's nice and immersive.
Having it on Blu-ray you get the advantage of the full-quality Atmos. It's a chance to hear [the concert] full-quality in all its glory". Paul Hicks, 2022
---
Concert For George 20th Anniversary one-night-only global theatrical event 29 November 2022 – Book Tickets
---
The Concert For George limited edition blu-ray audio is the only way to enjoy the new Atmos Mix via a physical product, and the disc also features a 48/24 stereo mix of the complete sound recordings (the highest resolution available). Please note, for the avoidance of any doubt, this blu-ray does not include any video, it's an audio-only product – a live album – that contains the remastered sound recordings of Concert For George newly mixed in Dolby Atmos, and in stereo.
Here's the now traditional reminder as to why this product is highly recommended:
It's the only way to enjoy the Dolby Atmos mix of the album via a physical product
You don't need to sign-up to a streaming service such as Tidal or Apple Music to hear the spatial audio mix
The Atmos Mix on the blu-ray is not compressed due to streaming bandwidth restrictions
You own the product, you are not renting it from a digital service provider
The blu-ray audio is an excellent format for music and you don't want to see it die off
Supporting SDE with these initiatives leads to similar collaborations with labels/artists and we are keen to bring your more in the near future
The Concert For George blu-ray audio will be available to pre-order for two weeks only. The pre-order window is now open and will close in early December 2022. Secure your pre-order in at the earliest opportunity, to avoid any disappointment (#6 in the series, Orbital's Optical Delusion, sold out earlier this month). The release date for this special edition of Concert For George is 24 February 2023, a day before what would have been George's 80th birthday. Your copy will ship a few days before that date.
The blu-ray audio is available exclusively via the SDE shop: To pre-order it, you can either visit the SDE shop directly, using this link, or place your SDE shop order from this page using the special Concert for George button, below. We ship worldwide and use tracked postage for a speedy and reliable service (we have kept international shipping prices as low as possible).
This special release in the ongoing SDE Surround Series will not be shipping with an SDE slipcase (and is #6.5 in the series).
---
Customer reviews for previous releases in the SDE Surround Series
"Quite amazing", "Hauntingly beautiful" – Brian Eno's FOREVERANDEVERNOMORE
"Absolutely sublime" – xPropaganda's The Heart Is Strange
"The best way to hear this album" – Shakespears Sister's Hormonally Yours
"Outstanding. Totally immersive" – Tears For Fears' The Tipping Point
TECHNICAL NOTES: This blu-ray audio contains no video. It requires a blu-ray player. Decoding the Dolby Atmos mix requires a Dolby Atmos-certified soundbar or a Dolby Atmos-compatible AV Receiver/Amp. The Dolby Atmos mix will 'fold down' to 5.1 or stereo if a Dolby Atmos decoder is not detected.
EU SHIPPING NOTES: If you are ordering from the EU please be aware that that goods may be subject to import VAT when they arrive from the UK. The prices the SDE shop charge you do not include VAT
Tracklisting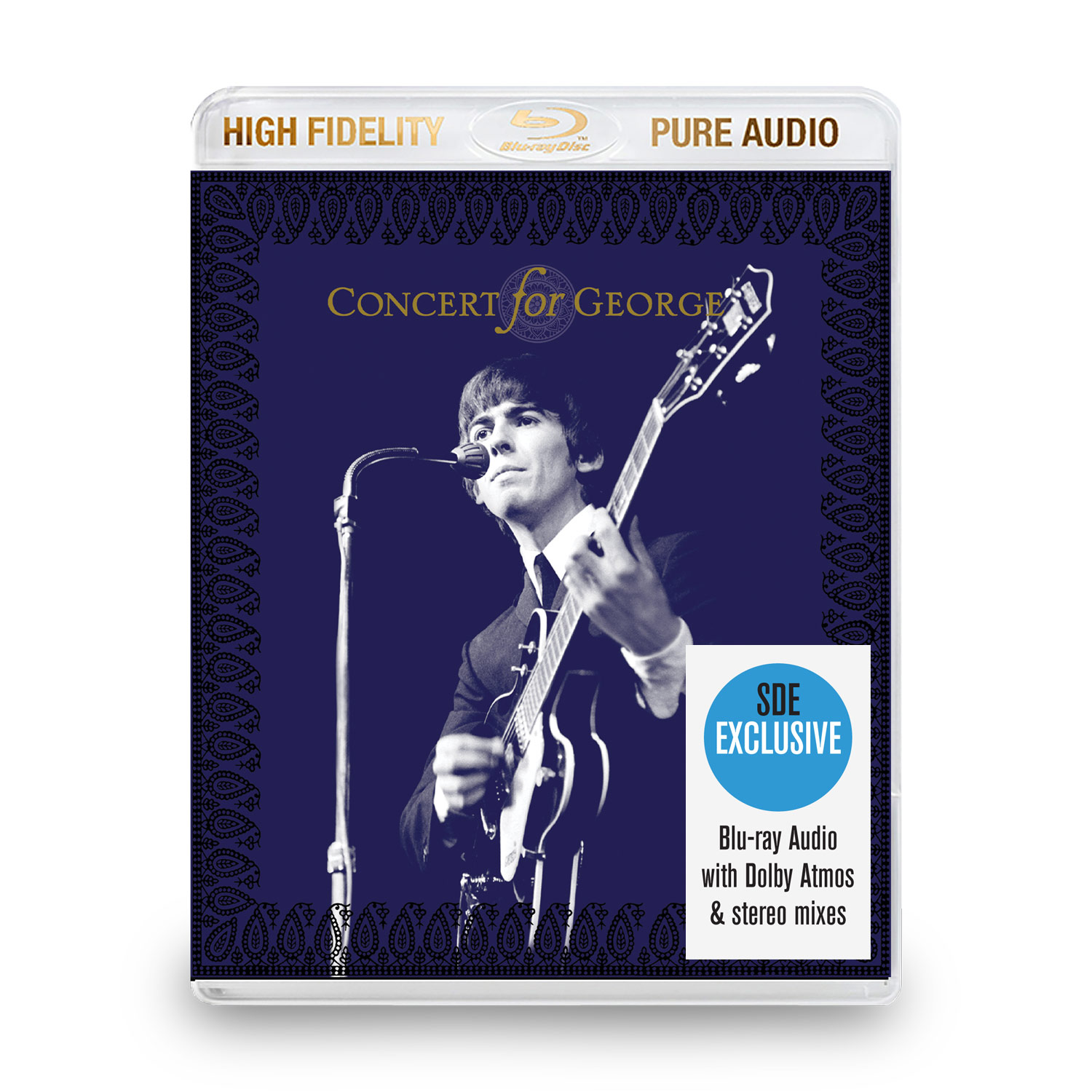 Concert For George Various Artists
/
Sarve Shaam
Your Eyes – Anoushka Shankar
The Inner Light – Jeff Lynne & Anoushka Shankar
Arpan – Conducted by Anoushka Shankar
The Lumberjack Song – Monty Python with Tom Hanks
Sit On My Face – Monty Python
I Want To Tell You – Jeff Lynne
If I Needed Someone – Eric Clapton
Old Brown Shoe – Gary Brooker
Give Me Love – Jeff Lynne
Beware Of Darkness – Eric Clapton
Here Comes The Sun – Joe Brown
That's The Way It Goes – Joe Brown
Horse To The Water – Sam Brown
Taxman – Tom Petty and the Heartbreakers
I Need You – Tom Petty and the Heartbreakers
Handle With Care – Tom Petty and the Heartbreakers with Jeff Lynne & Dhani Harrison
Isn't It A Pity – Billy Preston
Photograph – Ringo Starr
Honey Don't – Ringo Starr
For You Blue – Paul McCartney
Something – Paul McCartney & Eric Clapton
All Things Must Pass – Paul McCartney
While My Guitar Gently Weeps – Paul McCartney & Eric Clapton
My Sweet Lord – Billy Preston
Wah Wah – Eric Clapton & Band
I'll See You In My Dreams – Joe Brown