 News
Led Zeppelin / The Song Remains The Same reissued across many formats
9-disc super deluxe edition • Blu-ray audio • Full album 5.1 mix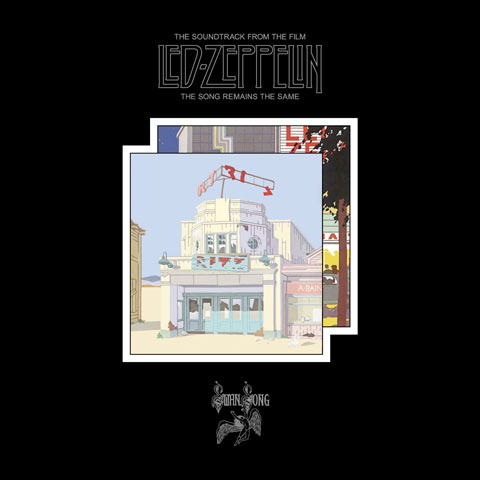 Led Zeppelin's soundtrack to their concert film The Song Remains The Same has been remastered and will be reissued across multiple formats in September.

The band's performances in July 1973, at New York's Madison Square Garden, were recorded for the concert film, The Song Remains The Same. The soundtrack to the film, produced by Jimmy Page, was originally released in 1976.

This reissue is similar to the recent reissue of their live album How The West Was Won, since the formats on offer include an expansive super deluxe edition box set that includes the remastered audio on two CDs and four vinyl LPs and a two-DVD set of The Song Remains The Same featuring the full theatrical version of the film plus bonus content including four performance outtakes that were not part of the original film:  Celebration Day, Over The Hills And Far Away, Misty Mountain Hop, and The Ocean. The box also includes a DVD of the entire album in Dolby Digital 5.1 Surround and PCM Stereo, a download card of all stereo audio content at 96kHz/24 bit, a 28-page book (with photos and an essay by Cameron Crowe), a replica of the Japanese program from 1977, and a print of the original album cover (as usual, the first 30,000 will be individually numbered).




As well as the big box, there's a 4LP vinyl set, a blu-ray audio with the 5.1 mix (96kHz/24 bit) and stereo mix and a humble remastered two-CD package.

It's worth noting that for the 4-LP set, Page made a change to the track sequence, allowing the 29-minute version of Dazed And Confused to be featured in its entirety on one side of vinyl for the first time.

The Song Remains The Same will be reissued on 7 September 2018.


CD
"Rock And Roll"
"Celebration Day"
"Black Dog"
"Over The Hills And Far Away"
"Misty Mountain Hop"
"Since I've Been Loving You"
"No Quarter"
"The Song Remains The Same"
"The Rain Song"
"The Ocean"
"Dazed And Confused"
"Stairway To Heaven"
"Moby Dick"
"Heartbreaker"
"Whole Lotta Love"
Vinyl LP
LP One
"Rock And Roll"
"Celebration Day"
"Black Dog"
"Over The Hills And Far Away"
"Misty Mountain Hop"
"Since I've Been Loving You"
'The Ocean"
LP Two
'The Song Remains The Same"
"The Rain Song"
"No Quarter"
LP Three
"Dazed And Confused"
"Moby Dick"
LP Four
"Stairway To Heaven"
"Heartbreaker"
"Whole Lotta Love"