 News
Leo Sayer / The Hollywood Years
3LP clear vinyl • Signed print • Curated by Leo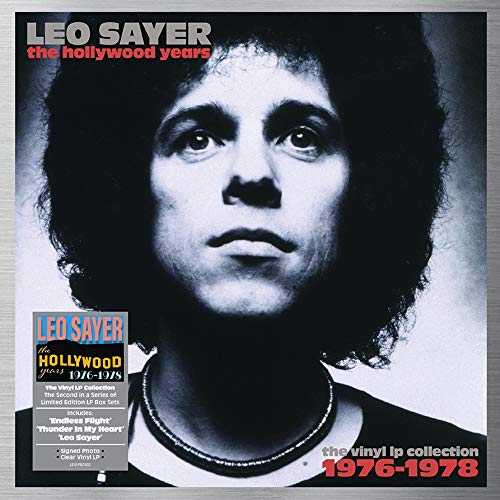 Demon Music's Leo Sayer vinyl box sets continue with the appropriately named The Hollywood Years, a 3LP vinyl collection that comprises Sayer's three Richard Perry produced albums from the mid-to-late seventies.

The albums in question are Endless Flight (1976), Thunder In My Heart (1977) and Leo Sayer (1978). This period saw Leo at his commercial peak and working with top musicians like Jeff Porcaro, Ray Parker Jnr, Waddy Wachtel and even a certain Lindsey Buckingham (who plays on 'Something Fine' on the Leo Sayer album). He scored consecutive US number one singles in 'You Make Me Feel Like Dancing' and 'When I Need You'.




The records in the set are pressed on CLEAR vinyl and it comes with a signed photo of Leo Sayer. The Hollywood Years will be released on 1 March 2019.


Compare prices and pre-order
Leo Sayer
The Fantasy Years 1979-1983
LP 1 – Endless Flight
1. Hold On To My Love
2. You Make Me Feel Like Dancing
3. Reflections
4. When I Need You
5. No Business Like Love Business
6. I Hear The Laughter
7. Magdalena
8. How Much Love
9. I Think We Fell In Love Too Fast
10. Endless Flight
LP 2 – Thunder In My Heart
1. Thunder In My Heart
2. Easy To Love
3. Leave Well Enough Alone
4. I Want You Back
5. It's Over
6. Fool For Your Love
7. World Keeps On Turning
8. There Isn't Anything I Wouldn't Do
9. Everything I've Got
10. We Can Start All Over Again
LP 3 – Leo Sayer
1. Stormy Weather
2. Dancing The Night Away
3. I Can't Stop Loving You (Though I Try)
4. La Booga Rooga
5. Raining In My Heart
6. Something Fine
7. Running To My Freedom
8. Frankie Lee
9. Don't Look Away
10. No Looking Back