 News
Madonna clear vinyl pressings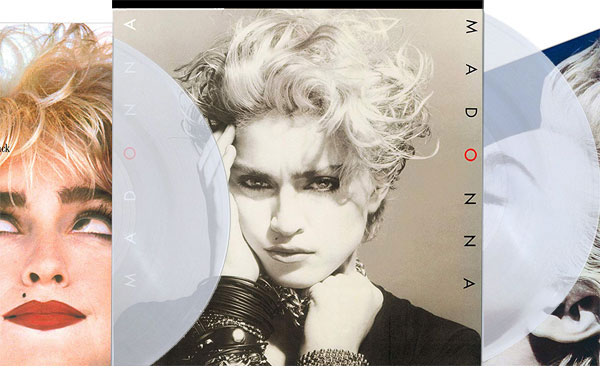 Rhino will issue four early Madonna album as limited clear vinyl pressings in November.

Madonna (the first album from 1983), Like A Virgin (1984), True Blue (1986) and the Who's That Girl soundtrack from 1987 will all be issued on 180g 'crystal clear' vinyl.
It's not quite clear why True Blue is a bit more expensive than the others. Perhaps it comes with the original poster, although that hasn't been confirmed. Like A Virgin stays true to the original track listing, so no 'Into The Groove'.
All four records are reissued on 8 November 2019.

Madonna
1 Lucky Star
2 Borderline
3 Burning Up
4 I Know It
5 Holiday
6 Think of Me
7 Physical Attraction
8 Everybody
Like A Virgin
1 Material Girl
2 Angel
3 Like a Virgin
4 Over and Over
5 Love Don't Live Here Anymore
6 Dress You Up
7 Shoo-Bee-Doo
8 Pretender
9 Stay
True Blue
1 Papa Don't Preach
2 Open Your Heart
3 White Heat
4 Live to Tell
5 Where's the Party
6 True Blue
7 La Isla Bonita
8 Jimmy Jimmy
9 Love Makes the World Go Round
Who's That Girl
1 Who's that Girl (Performed by Madonna)
2 Causing a Commotion (Performed by Madonna)
3 The Look of Love (Performed by Madonna)
4 24 Hours (Performed by Duncan Faure)
5 Step by Step (Performed by Club Nouveau)
6 Turn It Up (Performed by Michael Davidson)
7 Best Thing Ever (Performed by Scritti Politti)
8 Can't Stop (Performed by Madonna)
9 El Coco Lolo (So So Bad)(Performed by Madonna)