 News
Madonna / Finally Enough Love: The Rainbow Edition
Multi-coloured 6LP vinyl version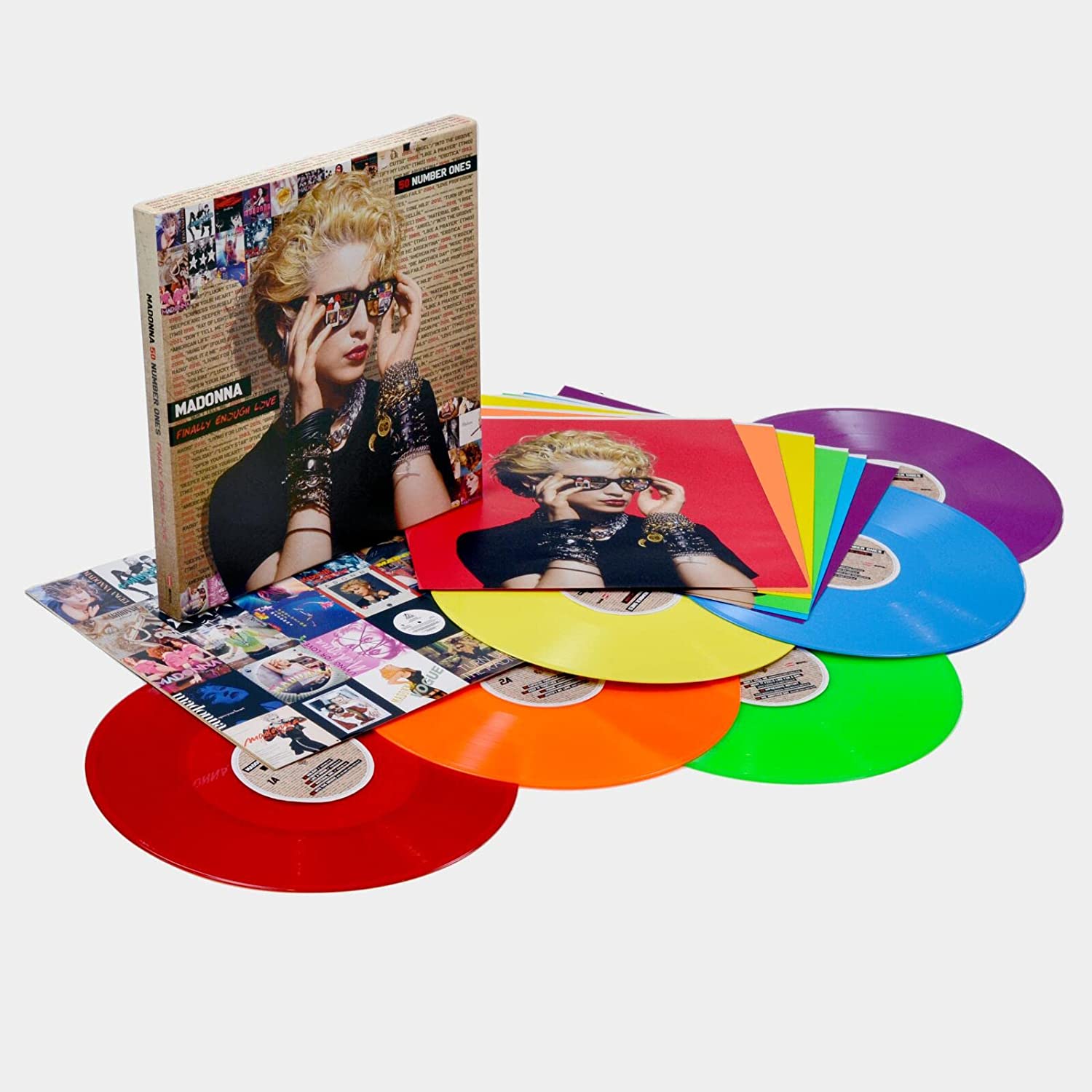 Madonna's Finally Enough Love: 50 Number Ones was issued on a number of formats last year, but it was the 6LP red & black vinyl edition that proved extremely popular; so much so that it went out of print in around three days!
It was a classic case of he (or she) who hesitates… However, fans have been given a second chance, since a second edition of the 6LP vinyl version will be released in June and this time it's it's subtitled 'The Rainbow Edition' because as you can see from the image above, it's pressed on multi-coloured vinyl.
As with the previous edition this features all 50 tracks – almost 220 minutes of remixes by top producers and DJs, including Shep Pettibone, William Orbit, Avicii and more.
If you think £130 is a little steep for this collection, it's certainly much cheaper than trying to source the original because the median price on Discogs for the 2022 edition is almost £300!
Finally Enough Love: The Rainbow Edition will be available as a 6LP set on 23 June 2023 via Rhino.
Compare prices and pre-order
Madonna
Finally Enough Love: Fifty Number Ones - Rainbow Edition [VINYL]
Tracklisting
LP 1

A1 Holiday (7″ Version) 4:20
A2 Like A Virgin (7″ Version) 3:39
A3 Material Girl (7″ Version) 4:01
A4 Into The Groove (You Can Dance Remix Edit) 4:47
B1 Open Your Heart (Video Version) 4:28
B2 Physical Attraction (You Can Dance Remix Edit) 3:45
B3 Everybody (You Can Dance Remix Edit) 4:34
B4 Like A Prayer (7″ Remix/Edit) 5:43
LP 2
C1 Express Yourself (Remix/Edit) 5:02
C2 Keep It Together (Alternate Single Remix) 4:55
C3 Vogue (Single Version) 4:21
C4 Justify My Love (Orbit Edit) 4:33

D1 Erotica (Underground Club Mix) 4:54
D2 Deeper And Deeper (David's Radio Edit) 4:04
D3 Fever (Radio Edit) 5:09
D4 Secret (Junior's Luscious Single Mix) 4:15
LP 3
E1 Bedtime Story (Junior's Single Mix) 4:55
E2 Don't Cry For Me Argentina (Miami Mix Edit) 4:30
E3 Frozen (Extended Club Mix Edit) 4:38
E4 Ray Of Light (Sasha Ultra Violet Mix Edit) 5:07
F1 Nothing Really Matters (Club 69 Radio Mix) 3:45
F2 Beautiful Stranger (Calderone Radio Mix) 4:05
F3 American Pie (Richard "Humpty" Vission Radio Mix) 4:27
F4 Music (Deep Dish Dot Com Radio Edit) 4:14

LP 4
G1 Don't Tell Me (Thunderpuss Video Remix) 3:44
G2 What It Feels Like For A Girl (Above & Beyond Club Radio Edit) 3.44
G3 Impressive Instant (Peter Rauhofer's Universal Radio Mixshow Mix) 5:33
G4 Die Another Day (Deepsky Radio Edit) 4:08

H1 American Life (Felix Da Housecat's Devin Dazzle Edit) 3:22
H2 Hollywood (Calderone & Quayle Edit) 4:02
H3 Me Against The Music (Peter Rauhofer Radio Mix) 3:44
H4 Nothing Fails (Tracy Young's Underground Radio Edit) 4:32
H5 Love Profusion (Ralphi Rosario House Vocal Edit) 3:58
LP 5

I1 Hung Up (SDP Extended Vocal Edit) 4:59
I2 Madonna– Sorry (PSB Maxi Mix Edit) 4:33
I3 Madonna– Get Together (Jacques Lu Cont Vocal Edit) 4:23
I4 Madonna– Jump (Axwell Remix Edit) 4:45

J1 4 Minutes (Bob Sinclar Space Funk Edit) 3:24
J2 Give It 2 Me (Eddie Amador Club 5 Edit) 4:56
J3 Celebration (Benny Benassi Remix Edit) 3:59
J4 Give Me All Your Luvin' (Party Rock Remix) 4:02
J5 Madonna– Girl Gone Wild (Avicii's UMF Mix) 5:15
LP 6

K1 Turn Up The Radio (Offer Nissim Remix Edit) 4:56
K2 Living For Love (Offer Nissim Promo Mix) 5:53
K3 Madonna– Ghosttown (Dirty Pop Intro Remix) 5:21
K4 Bitch I'm Madonna (Sander Kleinenberg Video Edit) 3:22

L1 Medellín (Offer Nissim Madame X In The Sphinx Mix) 5:29
L2 I Rise (Tracy Young's Pride Intro Radio Remix) 3:52
L3 Crave (Tracy Young Dangerous Remix) 4:47
L4 Madonna– I Don't Search I Find (Honey Dijon Radio Mix) 5:22