 News
Marvin Gaye / What's Going On live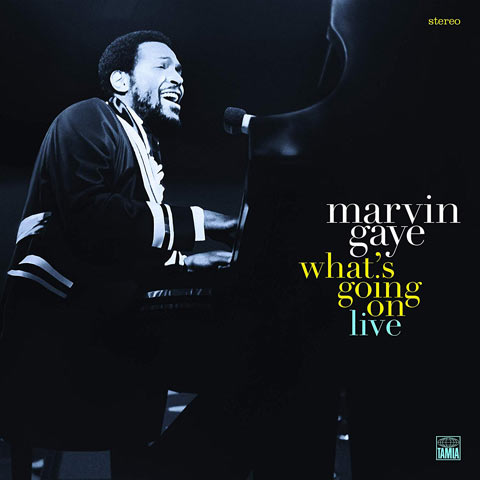 First time on vinyl as standalone product • Newly mixed • CD reissue
Universal Music and Motown are to issue What's Going On Live in October, a live recording of Marvin Gaye's classic 1971 album that sat on the shelf for decades.

The concert was recorded on 1 May 1972 in Washington D.C., just short of a year after the album's original release. Gaye delivers almost the entire record, after a 13 minute 'Sixities Medley,' although it's not performed in sequence and 'Mercy Mercy Me (The Ecology)' wasn't played at all, for some reason (update: it was played but there was an issue with the recording).
Collectors will recognise this live concert. It was included on the bonus CD in the 2001 deluxe edition of What's Going On (and subsequently ignored for the 2011 super deluxe), but be aware that this version has been 'newly mixed' from the multi-track tapes (by John Morales) and remastered. The old mix of this concert was actually included on the 4LP deluxe edition of What's Going On issued in 2016, despite label claims that this concert hasn't been issued on vinyl at all.
Marvin's biographer David Ritz, contributes new sleeve notes, and both CD and vinyl feature rare photos from the performance.
What's Going On Live will be issued on 18 October 2019.
Compare prices and pre-order
Marvin Gaye
What's Going On Live - 2LP vinyl
Compare prices and pre-order
Marvin Gaye
What's Going On live - CD edition
You might also like…
Compare prices and pre-order
Marvin Gaye
What's Going On - 4LP deluxe edition
What's Going On Live 2LP vinyl
LP 1
Side 1
1.  sixties medley / that's the way love is / you / I heard it through the grapevine / little darling (i need you) / you're all i need to get by / ain't nothing like the real thing / your precious love / pride and joy / stubborn kind of fellow
Side 2
1.  right on
2.  whole holy
3.  inner city blues (make me wanna holler)
LP 2
Side 1
1.  what's going on
2.  what's happening brother
3.  flyin' high (in the friendly sky)
4.  save the children
5.  god is love
Side 2
1.  stage dialogue
2.  inner city blue (make me wanna holler) (reprise)
3.  what's going on (reprise)
What's Going On Live – CD edition
1.  Sixties Medley / That's The Way Love Is / You / I Heard It Through The Grapevine / Little Darling (I Need You) / You're All I Need To Get By / Ain't Nothing Like The Real Thing / Your Precious Love / Pride And Joy / Stubborn Kind Of Fellow
2.  Right On
3.  Wholy Holy
4.  Inner City Blues (Make Me Wanna Holler)
5.  What's Going On
6.  What's Happening Brother
7.  Flyin' High (In The Friendly Sky)
8.  Save The Children
9.  God Is Love
10. Stage Dialogue
11. Inner City Blues (Make Me Wanna Holler) (Reprise)
12. What's Going On (Reprise)