 News
Michael Jackson / Bad 25 reissue: formats, date of release and prices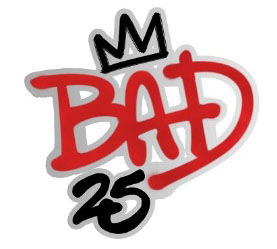 Bad 25 – the anniversary reissue of Michael Jackson's Bad album – will be reissued on 18 September 2012 (likely to be 17 September outside the US).
Formats are as follows:
• A standard 2CD edition containing the original Bad album remastered and a bonus CD containing previously unreleased material including early demo versions of songs from the album as well as demos for songs not included on the final album. The demo material is being released as it was recorded during the BAD sessions with no retrospective changes or 'improvements' to the originals.  In addition, this CD will also include new remixes. Priced at £9.99.
 PRE-ORDER
---
• A Deluxe 3 CD/1 DVD box set will include the two CDs from the standard version, plus an additional live CD from the sound truck recordings of the July 16th Wembley performance.  The first-ever live Michael Jackson CD to be released, this is the only concert from the Bad tour known to exist on multitracks. A DVD of the Wembley gig described as "sourced from Michael Jackson's personal VHS tape, the only copy known to exist" is also included. Visuals have been restored and sound enhanced. This Deluxe Edition also include two booklets with unseen photos from the recording sessions, video sets and the concert tour, the original Bad cover art, a two-sided poster and more. Priced at £27.99.
PRE-ORDER
---
• Standalone Live at Wembley DVD release. For those who are not interested in the Deluxe set, the Wembley gig will also be made available as a standalone DVD issue. There is no reference to a Blu-ray disc, which is probably due to the existing picture quality not being seen as good enough to justify a DVD release. This DVD is priced at £9.99.
---
• A Vinyl Picture Disc will also be available to purchase at a reasonable price of £13.99.
---
As reported on 21 May I Just Can't Stop Loving You will be reissued, first on 5 June (4 June outside US). It will feature the unreleased Bad track Don't Be Messin' 'Round (demo). In the US this will be a Wal-Mart exclusive CD and will not be available digitally. Since the track listing has not been revealed we do not know if this demo will feature on the bonus audio disc in the standard and deluxe sets.
Confusingly, another I Just Can't Stop Loving You single will be issued on 26 June (25 June outside the US), this time a replica edition of the original seven-inch vinyl of this single with the original B-side Baby Be Mine. This seven-inch will feature the 'rare' spoken intro version of the song. Priced at £9.99.
---
Available exclusively through Jackson's website, is a Collectors' Deluxe Edition. It contains a variety of rarities and memorabilia, enclosed in a unique Bad-themed case (complete with buckles). This limited-edition collection includes everything contained in the Deluxe 25th Anniversary Edition (3 CD / 1 DVD and all other components) plus an exclusive t-shirt design (not available anywhere else), a "Bad Tour souvenir package" (a concert ticket replica, a reproduction of the 1988 Bad Tour Program and an all-access backstage pass and lanyard) and more. Priced at £129.99.