 News
Michael Jackson / Thriller 40
2CD set with previously unreleased demos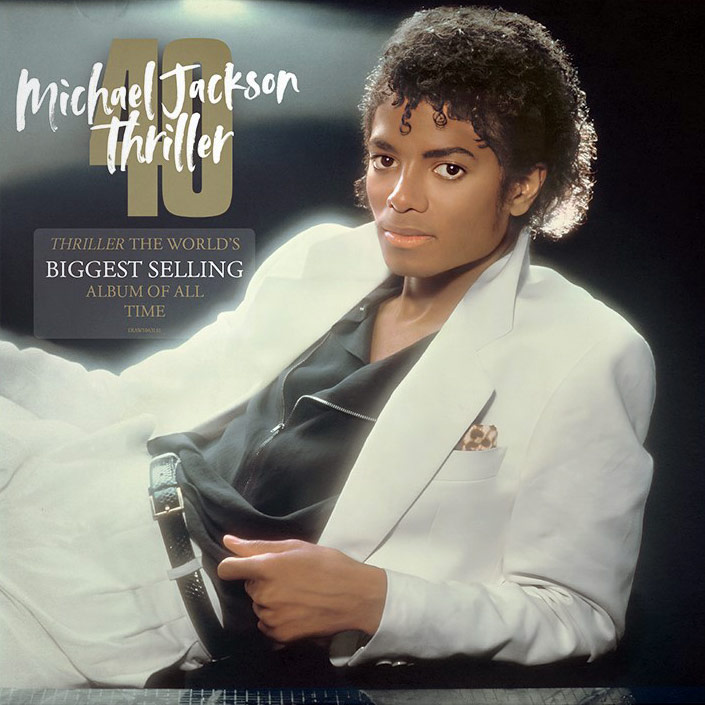 Michael Jackson's 1982 album Thriller (you may have heard of it) is to be reissued for its 40th anniversary later this year.
The world's biggest selling album of all time™ has revised cover art, with updated typography and will be issued on vinyl (album only) and as a two-CD set with "bonus material including previously unreleased demos". After a torturous 'reveal' process those 10 bonus tracks are now announced and can be seen in the track listing below,
Thriller reissue hiSTORY
A special edition of Thriller was issued in 2001 with a bonus CD of extra content that included the home demo of 'Billie Jean'; the songs 'Someone In The Dark' (originally recorded for the storybook album E.T. The Extra Terrestrial) and 'Carousel'; and various interviews and voiceovers. In 2006, US fans got a stereo-only SACD of the album and two years after that, 'Thriller 25' added some ill-advised Will.I.Am, Kanye West and Akon remixes of the classic singles and included yet another song from the Thriller sessions: 'For All Time'. The CD version of this anniversary release included a DVD with promo videos and the 'legendary' Billie Jean peformance from Motown 25. Four years ago Sony issued a picture disc version of Thriller along Jackson's other albums.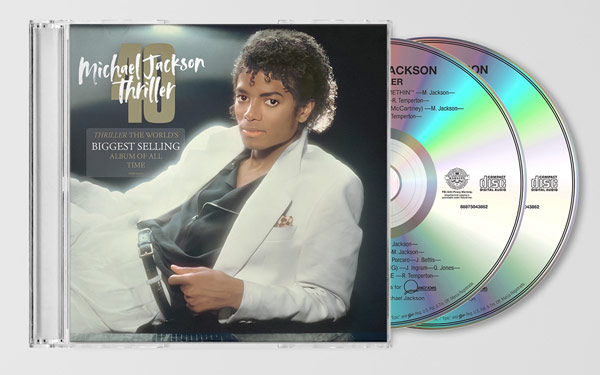 Why no big box?
Whatever your view of the bonus disc of Thriller 40, Sony and/or Jackson's estate clearly do not feel inclined to issue a full bells and whistles super deluxe edition box set. They perhaps do not wish to commit to such an investment when they may have good reason to feel uncertain about how Thriller 40 will be received in the marketplace.
Jackson's reissue campaigns over the years have been the very definition of 'missed opportunity', regularly embracing whomever the hot names are at that particular time (how's it going, Afrojack?) and not getting the basics right (none of those sought after 12-inch mixes from the Bad-era appeared on Bad 25, which was a slam-dunk dereliction of duty on the part of the compilers.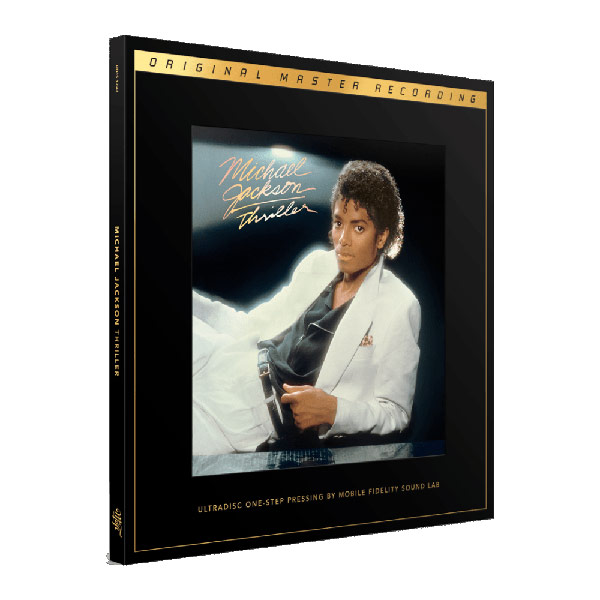 Audiophile Thriller
One very interesting element to this campaign is that Sony have authorised two audiophile editions of the album, licensing to Mobile Fidelity. There will be a new SACD edition, "mastered from the original analog master tapes and housed in mini-gatefold sleeve packaging" and also a MoFi UltraDisc One-Step vinyl box set ("strictly limited to 40,000 numbered copies"). If you are not familiar with the latter, instead of utilising the industry-standard three-step lacquer process, UltraDisc One-Step (UD1S) uses only one step, "bypassing two processes of generational loss and thereby revealing extra musical detail and dynamics otherwise lost due to the standard copying process". Mobile Fidelity claim that "every UD1S pressing serves as an immaculate replica of the lacquer sourced directly from the original master tape".
These 'One Step' vinyl sets are normally close to impossible to get hold of in the UK but you can pre-order the Thriller edition here. Believe it or not, £90 is actually a very good price for one of these releases! More info for and pre-order links for international fans, here. In the UK you can pre-order the SACD via this link.
Update Nov 2022: Mobile Fidelity's reputation was damaged by the revelations that despite claiming to always use the original analogue mastertapes for these 'One-Step' pressings, they've actually been using digital transfers of said master tapes. That doesn't mean Thriller won't sound good, but it is, of course, an important distinction.
This 40th anniversary reissue of Thriller will be released on 18 November 2022.

UK audiophile links:
USA audiophile links:
Compare prices and pre-order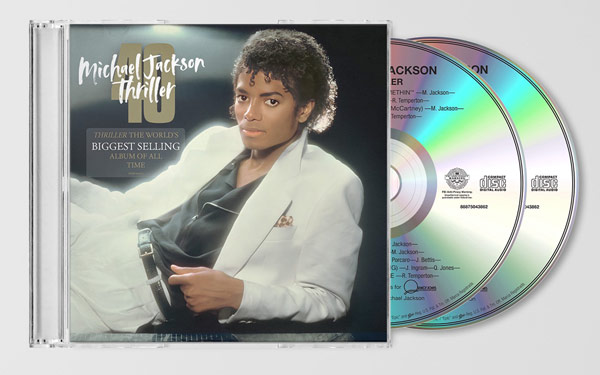 Jackson, Michael
Thriller 40 - 2CD set
Compare prices and pre-order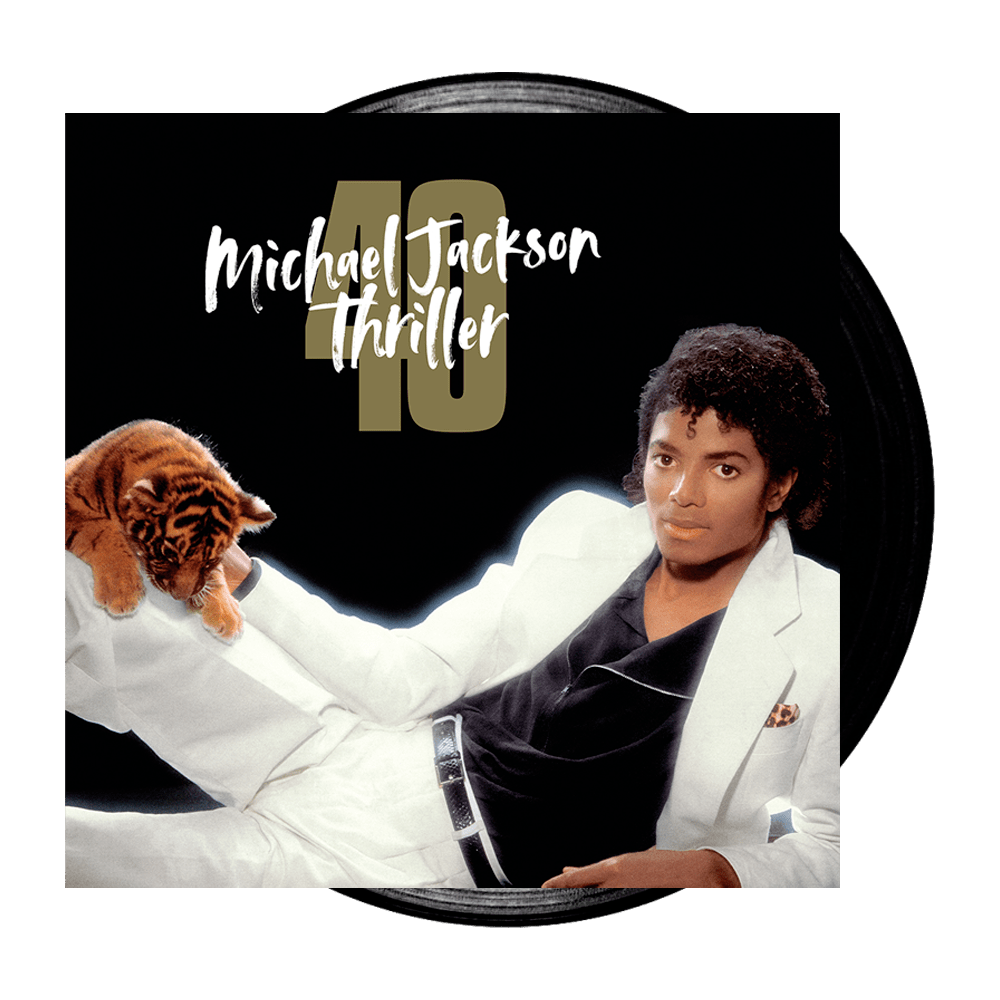 Jackson, Michael
Thriller 40 - vinyl LP
You might also like…
Compare prices and pre-order
Jackson Michael
Thriller vinyl picture disc
Tracklisting
Thriller 40 Michael Jackson
/
CD 1

Wanna Be Startin' Somethin'
Baby Be Mine
The Girl Is Mine – Michael Jackson with Paul McCartney
Thriller
Beat It
Billie Jean
Human Nature
P.Y.T. (Pretty Young Thing)
The Lady in My Life

CD 2

Starlight
Got the Hots
Who Do You Know
Carousel
Behind The Mask
Can't Get Outta The Rain
The Toy
Sunset Driver
What A Lovely Way To Go
She's Trouble