 News
Morrissey / I Am Not A Dog On A Chain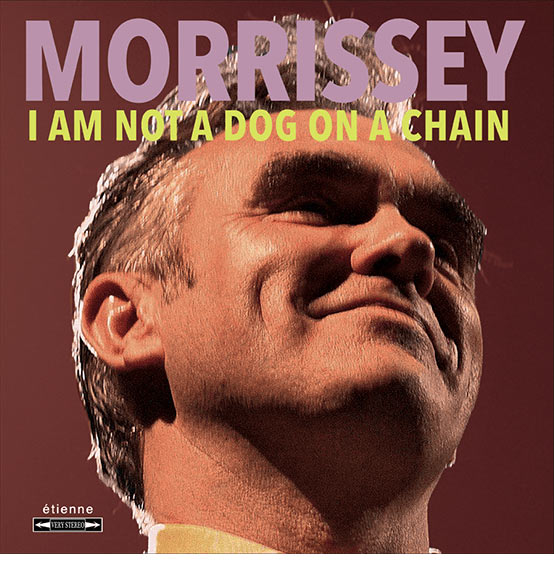 Morrissey will release a new album, I Am Not A Dog On A Chain, in March.

His 13th studio long-player follows last year's covers album California Son and like that record I Am Not A Dog On A Chain has been produced by Joe Chicarelli.
The producer describes the forthcoming album as "his boldest and most adventurous album yet. He has pushed the boundaries yet again – both musically and lyrically". Chicarelli has now produced the last four Morrissey albums, beating the three album run of Steve Lillywhite in the 1990s when he worked on Vauxhall and I, Southpaw Grammar and Maladjusted.
The album can be pre-ordered now via Morrissey's official store which has an exclusive clear vinyl and various bundles and there is also a coloured vinyl edition available from bricks-and-mortar indies (see below).
I Am Not A Dog On A Chain will be released on 20 March 2019 via BMG.
Compare prices and pre-order
Morrissey
I Am Not A Dog On A Chain - vinyl LP
Compare prices and pre-order
Morrissey
I Am Not A Dog On A Chain - CD edition
Vinyl LP
Side A
Jim Jim Falls
Love Is On Its Way Out
Bobby, Don't You Think They Know
I Am Not A Dog On A Chain
What Kind of People Live in These Houses?
Knockabout World
Side B
Darling, I Hug A Pillow
Once I Saw the River Clean
The Truth About Ruth
The Secret of Music
My Hurling Days Are Done
CD edition
1. Jim Jim Falls
2. Love Is On Its Way Out
3. Bobby, Don't You Think They Know
4. I Am Not A Dog On A Chain
5. What Kind of People Live in These Houses?
6. Knockabout World
7. Darling, I Hug A Pillow
8. Once I Saw the River Clean
9. The Truth About Ruth
10. The Secret of Music
11. My Hurling Days Are Done