 News
Nazareth 'Loud & Proud' box now available to those in the USA & Canada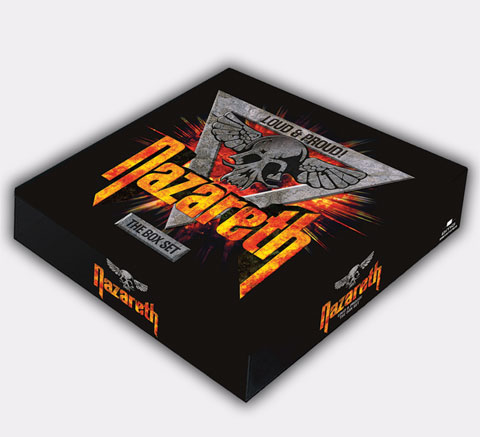 The immense Nazareth Loud & Proud box set – which contains 41-discs – was announced earlier this month but fans of the Scottish hard rockers in the US and Canada were dismayed that the official store were not able to ship to their part of the world (presumably due to licensing restrictions). However, there is now a workaround, since Amazon in the UK have listed the box set and they will ship anywhere!

As a reminder, the box set will contain all 23 original studio albums (+ two live albums) remastered on CD, two triple-CD sets (Singles, EPs, B-Sides & Bonus Tracks and Rare & Unreleased), four vinyl albums (including a picture disc), three bespoke AA-side seven-inch singles, a 52-page hardcover book, various items of facsimile memorabilia (programs, lyric sheets, posters etc.) and a metal pin badge.
I was struggling to make sense of the disc count last time around, but the 41 discs break down like this:
23 studio albums on CD + 2 live albums (one of which is a double) = 26
2 x triple-CD sets = 6
4 x vinyl albums (two of which are doubles) = 6
3 x seven-inch singles = 3
Total number of discs = 41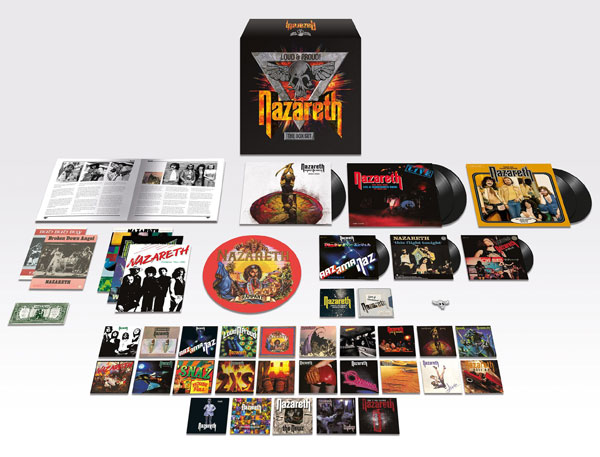 The only item you won't get via Amazon is the bonus signed photo, but those in America and Canada will get VAT deducted making this already well-priced package even better value – it should cost around $168 + shipping.
This box set is a limited edition of 5000 units. The concise 3CD and 2LP editions are also on Amazon now, too (the double vinyl is likely to be the coloured edition, but not confirmed).
Loud & Proud is released on 28 September 2018.
Compare prices and pre-order
Nazareth
Loud & Proud - 41-disc box
Compare prices and pre-order
Nazareth
Loud & Proud - 3CD set
Compare prices and pre-order
Nazareth
Loud & Proud - 2LP vinyl
---
Fans outside the USA/Canada can shop for all formats, including limited test pressings at the official Nazareth store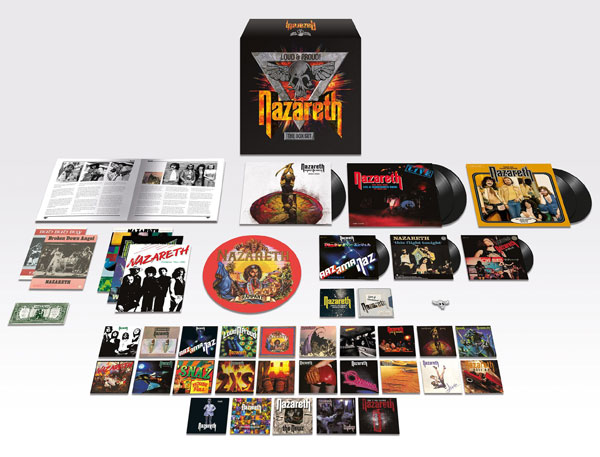 In the box set:
12-inch 180g HEAVYWEIGHT VINYL LPs
▪ Rampant (1974): Picture disc of original album (1LP)  ▪ Expect No Mercy (1977): Original version (1LP – previously unreleased on vinyl)  ▪ BBC Rock Hour – Live At Hammersmith Odeon, 16th March 1980: Complete gig (Gatefold 2LP – previously unreleased on vinyl)  ▪ Turn On Your Receiver – The BBC Bob Harris Sessions 1972-74 (Gatefold 2LP, previously unreleased on vinyl)
---
CDs (single disc unless stated), 1971-2014: The Remastered versions of 23 original studio albums and two original live albums
Nazareth (1971)  ▪ Exercises (1972)  ▪ Razamanaz (1973) ▪ Loud 'N' Proud (1973)  ▪ Rampant (1974) ▪ Hair Of The Dog (1975) ▪ Close Enough For Rock 'N' Roll (1976)  ▪ Play 'N' The Game (1976) ▪ Expect No Mercy (1977) ▪ No Mean City (1979) ▪ Malice In Wonderland (1980)  ▪ The Fool Circle (1981) ▪ 'Snaz (1981, Live, 2CD) ▪ 2XS (1982) ▪ Sound Elixir (1983) ▪ The Catch (1984)  ▪ Cinema (1986) ▪ Snakes 'N' Ladders (1989) ▪ No Jive (1991) ▪ Move Me (1994) ▪ Boogaloo (1998) ▪ Homecoming (2002, Live)  ▪ The Newz (2008) ▪ Big Dogz (2011) ▪ Rock 'N' Roll Telephone (2014)
---
CDs: BONUS MATERIAL
▪ Singles, EPs, B-Sides & Bonus Tracks (3CD)  ▪ Rare & Unreleased (3CD)
---
7" SINGLES: CUSTOM AA SIDES
▪ Broken Down Angel (Japanese cover) / Bad, Bad Boy (Yugoslavian cover)  ▪ This Flight Tonight (French cover) / Shanghai'd In Shanghai (Japanese cover)  ▪ Love Hurts (Japanese cover) / My White Bicycle Make this italic: (German cover)
---
HARDBACK BOOK
▪ 52 page, 12"square, hardback photobook. Extensive text written by Classic Rock's Dave Ling, with new band interviews. Includes previously unseen photos
---
REPRODUCED ORIGINAL MEMORABILIA
▪ 1974 tour programme  ▪ 1979 tour programme ▪ 1980 European tour poster  ▪ Bad, Bad Boy lyric Sheet ▪ Broken Down Angel lyric sheet  ▪ 1974 Rampant album $1 bill sticker
---
METAL PIN BADGE
▪ Custom-made, die-cast, Nazareth skull & wings
'LOUD & PROUD! ANTHOLOGY' 3CD TRACKLIST:
CD1
Dear John
Spinning Top
Hard Living
Called Her Name
Razamanaz
Alcatraz
Vigilante Man
Bad, Bad Boy
Broken Down Angel
This Flight Tonight
Not Faking It
Go Down Fighting
Shanghai'd in Shanghai
Silver Dollar Forger
Glad When You're Gone
Love Hurts
Hair Of The Dog
Beggars Day / Rose In The Heather
My White Bicycle
Holy Roller
CD2
Carry Out Feelings
Telegram Parts 1-4
I Want to Do Everything For You
I Don't Want To Go On Without You
Good Love
Expect No Mercy
Gone Dead Train
Place In Your Heart
May The Sunshine
Whatever You Want Babe
Just To Get Into It
Holiday
Heart's Grown Cold
Dressed To Kill
Moonlight Eyes
Cocaine (Live)
Crazy (A Suitable Case For Treatment)
Dream On
Love Leads To Madness
Mexico
CD3
Where Are You Now
Sweetheart Tree
Just Another Heartache
See You See Me
The Rowan Tree / Tell Me That You Love Me
Hire And Fire
Right Between The Eyes
Steamroller
Burning Down
When The Light Comes Down
Danger Danger
Enough Love
Road Trip
Big Dog's Gonna Howl
Lifeboat
Open Up Woman (Live & Unplugged 2001)
God Of The Mountain
Punch A Hole In The Sky
---
'LOUD & PROUD! ANTHOLOGY' 2LP TRACKLIST:
SIDE ONE
Witchdoctor Woman
Woke Up This Morning
Bad, Bad Boy
Broken Down Angel
This Flight Tonight
Shanghai'd in Shanghai
SIDE TWO
Love Hurts
Hair Of The Dog
Beggars Day / Rose In The Heather
My White Bicycle
Carry Out Feelings
I Want To Do Everything For You
SIDE THREE
Expect No Mercy
May The Sunshine
Talkin' To One Of The Boys
Boys In The Band
Rags To Riches
Other Side Of You
SIDE FOUR
Every Time It Rains
Let Me Be Your Dog
When The Light Comes Down
Road Trip
Big Dog's Gonna Howl
Boom Bang Bang