 News
Neil Young and Crazy Horse / Way Down in the Rust Bucket
New live album • 4LP • 2CD • Box set with DVD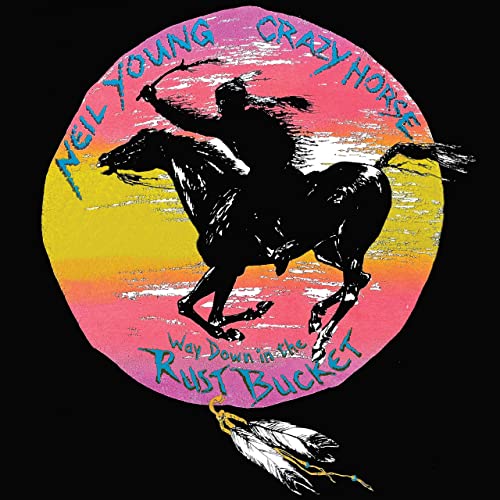 Way Down in the Rust Bucket is a new Neil Young and Crazy Horse live album issued under Young's long-running 'Performance Series' banner.

This album documents a 13 November 1990 show at The Catalyst, a small bar in Santa Cruz, California where Neil Young occasionally performed. The band played three sets, including tracks from the newly released Ragged Glory as well as the live debut of Zuma's 'Dangerbird'.
The show is being released as a 4LP package, a two-CD edition and a box set which includes both of those formats and a DVD of the show, which was filmed and recorded by Shakey Picture's LA Johnson. The DVD includes a bonus track, 'Cowgirl in the Sand'. It's believed there were technical issues with the original audio. The CD edition offers alternate cover art.
Way Down in The Rust Bucket is number 11.5 in Neil Young's Performance Series (it sits between Bluenote Cafe and Dreamin' Man Live '92). It will be released on 26 February 2021.
Compare prices and pre-order
Neil Young & Crazy Horse
Way Down in the Rust Bucket 4LP+2CD+DVD box
Compare prices and pre-order
Neil Young & Crazy Horse
Way Down in the Rust Bucket 2CD edition
Compare prices and pre-order
Neil Young & Crazy Horse
Way Down in the Rust Bucket - 4Lp vinyl
Way Down in the Rust Bucket 4LP vinyl and 2CD
1. Country Home – 9:13
2. Surfer Joe And Moe The Sleaze – 5:40
3. Love To Burn – 13:54
4. Days That Used To Be – 4:56
5. Bite The Bullet – 3:58
6. Cinnamon Girl – 4:04
7. Farmer John – 6:01
8. Over And Over – 10:20
9. Dangerbird – 10:26
10. Don't Cry No Tears – 4:22
11. Sedan Delivery – 5:44
12. Roll Another Number (For The Road) – 4:45
13. Fuckin' Up – 5:12
14. T-Bone – 6:44
15. Homegrown – 4:46
16. Mansion On The Hill – 5:58
17. Like A Hurricane – 12:56
18. Love And Only Love – 13:16
19. Cortez The Killer – 11:24
DVD
1. Country Home
2. Surfer Joe and Moe the Sleaze
3. Love to Burn
4. Days That Used to Be
5. Bite the Bullet
6. Cinnamon Girl
7. Farmer John
8. Cowgirl In The Sand (exclusive to the DVD ONLY)
9. Over and Over
10. Danger Bird
11. Don't Cry No Tears
12. Sedan Delivery
13. Roll Another Number (For the Road)
14. Fuckin' Up
15. T-Bone
16. Homegrown
17. Mansion on the Hill
18. Like a Hurricane
19. Love and Only Love
20. Cortez the Killer