 News
New David Bowie Record Store Day release announced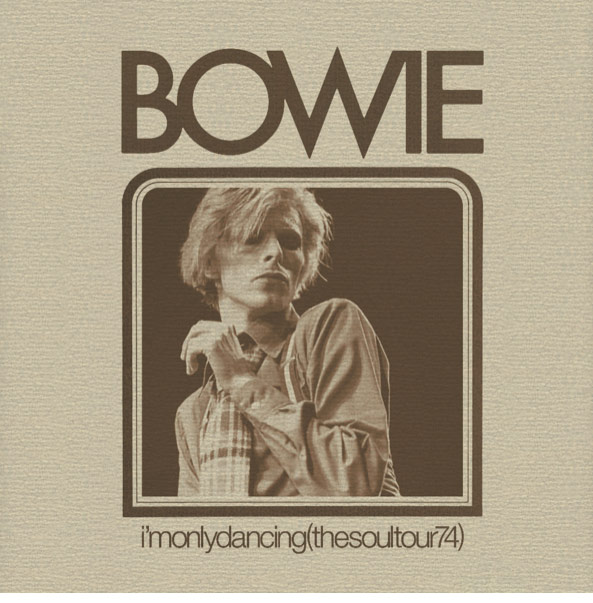 Never before heard 1974 live recordings
Parlophone have announced a second David Bowie release for this year's Record Store Day. It's an album of unheard recordings of Bowie in concert in late 1974 as he transformed his theatrical Diamond Dogs tour into a soul revue.

I'm Only Dancing (The Soul Tour 74) is a live album taken from "recently discovered sources" and was recorded mostly during David's performance at the Michigan Palace, Detroit on 20 October, 1974. The reason for the 'mostly' is that because Diamond Dogs is missing (the whole song wasn't captured). Because of this, the encores from the 30 November show which featured 'Diamond Dogs' are included. This also enables a fuller representation of the set from The Soul Tour including such numbers as 'Knock On Wood' and the 'Foot Stompin' / I Wish I Could Shimmy Like My Sister Kate' medley.
As is reasonably well documented, The Soul Tour was a radical mid-tour departure from Bowie's 1974 Diamond Dogs experience. During a three week break in late 1974, the Diamond Dogs Tour's elaborate six-ton Hunger City stage set was stripped back, and the tour's set list overhauled to include as-yet-unreleased tracks from the Young Americans sessions at Sigma Sound in Philadelphia. The Soul Tour also featured a revamped band, augmented to include musicians and vocalists from those sessions, and rechristened The Mike Garson Band.
I'm Only Dancing (The Soul Tour 74) will be released on 2LP, but also as two-CD set and it's really great to see the label put this out on CD simultaneously. The artwork is based on the (presumably hastily cobbled together) original design for the programmes available at venues for dates on The Soul Tour.
The previously announced CHANGESNOWBOWIE is the other Bowie Record Store Day release this year, although in related news it has recently been announced that the Is It Any Wonder? streaming EP will now be issued as a physical product. There is a slight tweak as 'Fun (Clownboy Mix)' replaces 'The Man Who Sold The World (ChangesNowBowie version)' on the 12-inch vinyl and CD. The only catch is that it won't be widely available. In fact, it's exclusive to Bowie's online store and other Warner controlled channels.
Is It Any Wonder? will be issued on 20 March 2020, while I'm Only Dancing (The Soul Tour 74) is available on Record Store Day which is 29 August 2020 (was 18 April 2020).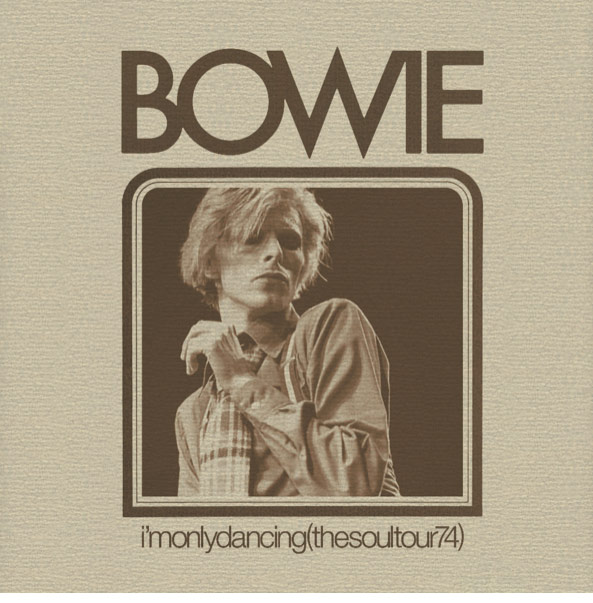 I'm Only Dancing (The Soul Tour 74)
CD 1
LP Side 1
1. Introduction – Memory Of A Free Festival
2. Rebel Rebel
3. John, I'm Only Dancing (Again)
4. Sorrow
5. Changes
6. 1984
LP Side 2
1. Moonage Daydream
2. Rock 'n' Roll With Me
3. Love Me Do / The Jean Genie
4. Young Americans
CD 2
LP Side 3
1. Can You Hear Me
2. It's Gonna Be Me
3. Somebody Up There Likes Me
4. Suffragette City
LP Side 4
1. Rock 'n' Roll Suicide
2. Panic In Detroit
3. Knock On Wood *
4. Foot Stompin' / I Wish I Could Shimmy Like My Sister Kate / Foot Stompin' *
5. Diamond Dogs / It's Only Rock 'n' Roll (But I like It) / Diamond Dogs *
Recorded at the Michigan Palace, Detroit on 20th October, 1974 and * at the Municipal Auditorium, Nashville on 30th November, 1974.
Musicians:
David Bowie – Vocals, 12 string acoustic guitar, harmonica
The Mike Garson Band:
Earl Slick – Guitar
Carlos Alomar – Guitar
Mike Garson – Piano, Mellotron
David Sanborn – Alto sax, flute
Pablo Rosario – Percussion
Emir Ksasan – Bass
Dennis Davis – Drums
Backing vocals – Warren Peace, Anthony Hinton, Luther Vandross, Ava Cherry, Robin Clark and Diane Sumler.
These recordings have been mastered from the only available sources to provide the best sound quality possible. Any flaws and distortion are inherent in the original sources and we hope the historical importance of the recordings outweighs any such imperfections and does not detract from the enjoyment of the performances.
Is It Any Wonder? EP
SIDE 1
Baby Universal '97
Fun (Clownboy Mix)
Stay '97
 
SIDE 2
I Can't Read '97
Nuts
The Man Who Sold The World (Live Eno Mix)