 News
New international retailers to feature on the SDE price comparison widget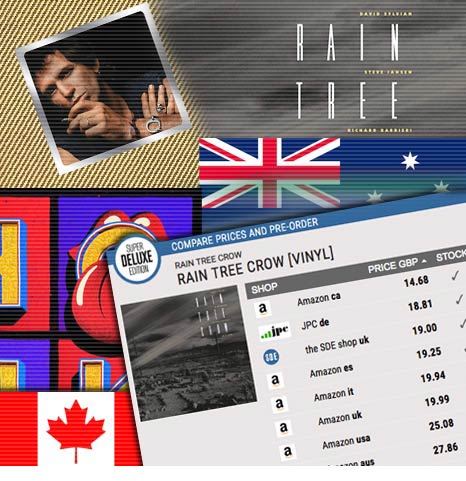 Three new retailers from across the globe
I'm pleased to announce that with immediate effect a few new retailers will be available on the SDE price comparison tool, commonly referred to as 'the widget'. We are looking to support our global readership and in this instance these retailers are from the UK, Canada and Australia.

First off, the SDE shop will now appear on the widget, where applicable. So while much of what we sell on the SDE shop is unique (e.g. signed) – or perhaps an indie retail exclusive – where the product is widely available (for example the new Rain Tree Crow vinyl reissue) you will see an SDE shop listing alongside Amazon, JPC etc. The SDE shop ships internationally. See below for a demonstration of this, 'in action'.
Compare prices and pre-order
Rain Tree Crow
Rain Tree Crow [VINYL]
Secondly, for our friends down under, Amazon Australia will now be listed too. I should stress that, at the moment, for this locale there is no international shipping outside Australia, so this is very much for the SDE-reading community in that country. Also, as has been reasonably well reported, the offering on the Australian site isn't as comprehensive as other sites, so don't expect every product to necessarily be available. If it is, you will see it on the widget. Australian Dollars (AUD) are now a currency option too, so if you look at the widget below, you'll see that the new Keith Richards box set (out tomorrow) is cheaper to buy from the Australia site than it is here in the UK (albeit available in Aus via the USA and Amazon's 'global stores' initiative).
Compare prices and pre-order
Keith Richards
talk is cheap - super deluxe edition
Finally, you will sometimes see offerings from the MusicVaultz site in Canada. This is Universal Music's D2C (direct-to-consumer) store which offers a fairly wide range of standard product as well as exclusives like coloured vinyl and box sets (for example you will find the 'Traveller's Edition' of Paul McCartney's Egypt Station for sale on this site). Sometimes, they will have an exclusive edition of a standard product, for example the Rolling Stones' recently announced Honk hits set is available as a 4LP coloured vinyl. While you are not comparing like with like in this instance, it still makes sense to highlight that product in the widget with some text to differentiate it (an example of this is below). MusicVaultz do ship internationally, although specific products can be restricted, sometimes.
Compare prices and pre-order
The Rolling Stones
Honk 3LP vinyl
I should add that these changes are not retrospective, so this will apply moving forward and with immediate effect. I hope this proves useful to SDE readers and if any other retailers out there (particularly with international reach) would like to appear on the widget, do get in touch.