 News
Not The Nine O'Clock News box set
4CD and 4LP boxes with all the original albums • LP box on coloured vinyl • Signed sets sold out.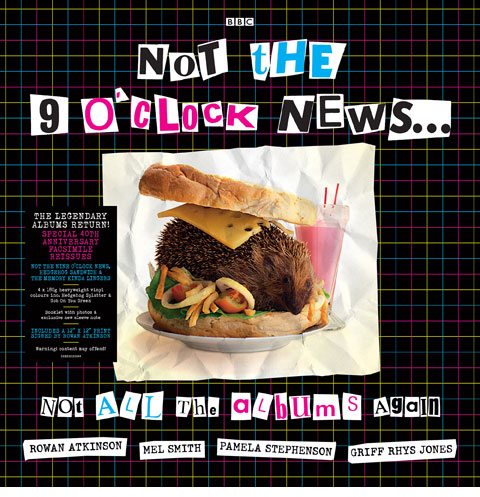 Classic BBC alternative comedy series Not The Nine O'Clock News introduced us to the talents of Rowan Atkinson, Mel Smith, Griff Rhys Jones and Pamela Stephenson. I was first broadcast 40 years ago in 1979 and during the relatively short run (the last programme was shown in 1982) three best selling comedy albums were issued and these are now collected in a new box set Not All The Albums Again, available on coloured vinyl and CD.

The box set is called Not All The Albums Again and three albums included are Not The Nine O'Clock News, Hedgehog Sandwich and Kinda Lingers (which was a double album paired with live show Not In Front Of The Audience).

The first two albums made the top ten in the UK album charts, to give you an idea of how popular these were and sketches like David Bloody Attenborough (aka Gerald the Gorilla), Points of View, General Synod's "Life of Python", Constable Savage, University Challenge, Hi-Fi Shop, Open Marriage, Question Time, Game For A Laugh will be well remembered by anyone who was old enough to stay up and not watch the nine o'clock news back in the early 1980s.

Not The Albums Again coloured vinyl box (click image to enlarge)
The audio has been remastered from the original tapes and and for the vinyl box set the LPs are pressed on four 180g heavyweight vinyl records in fetching shades of gob on you Green, Hedgehog Splatter, kind a lingers Red and alien emissions Green and orange. These are housed in a rigid slipcase and come with a booklet with brand new notes written by John Lloyd, and Tim Worthington, along with cast photos. The highly limited version of this which comes with a print signed by Rowan Atkinson, is now sold out.
The box is also available on CD with vinyl replica CD versions of the original albums included along with the booklet.

These will be released on 13 December 2019.


Compare prices and pre-order
Not The Nine O'Clock News
Not All The Albums Again - standard vinyl box
Compare prices and pre-order
Not The Nine O'Clock News
Not All The Albums Again - CD box
Compare prices and pre-order
Not The Nine O'Clock News
Not All The Albums Again -very limited signed vinyl box
Not The Nine O'Clock News (1980)
1.Death of A Princess (An Apology)
2.The Gorilla Interview
3.Confrontation Song
4.Airline Safety
5.National Wealth Beds
6.Simultaneous Translation
7.The General Synod's "Life of Python"
8.The Ayatollah Song
9.Closedown
10.Points Of View
11.Rowan's Rant
12.Stout Life
13.Gob On You
14.Gay Christian
15.Final Demands
16.I Like Bouncing
17. Oh! Bosanquet!
18. I Believe
Hedgehog Sandwich (1981)
1.Loyal Apology
2. News Summary
3. Constable Savage
4. Baronet Oswald Ernold Mosley
5. University Challenge
6. (I Like) Trucking
7. Sir Robert Mark
8. Hi-Fi Shop
9. England My Leotard
10. Divorce
11. Political Obit
12. The Main Points Again
13. Bad Language
14. Gift Shop
15. Hedgehog Apology
16. Supa Dupa
17. Soccer Violence
18. (Because I'm) Wet And Lonely (Barry Manilow Song)
19. That's Lies
20. Creed (The New Revised Version)
21. I Believe (The Reagan Song)
22. The Aide
23. The Main Points Again
24. Not The Parrot Sketch
25. Open Marriage
26. Lager
27. And Finally…
The Memory Kinda Lingers (1982)
1. The Spy Who Came In The Cold
2. The News
3. (Sig Tune)
4. Budget
5. Question Time
6. Headbangers
7. Rock Interview
8. Game For A Laugh
9. Typical, Bloody Typical
10. Well, Mr. Glossop
11. Financial Times
12. Hey Bob
13. (Sig Tune)
14. New Glea
15. Holiday Habits
16. Pizza Moment
17. Failed in Wales
18. Rumbley's Pies
19. Made From Whales
20. Brain Death
21. Swedish Chemists
22. Hey Wow
23. (Stop Whinging)
24. Nice Video, shame About The Song
25. Jackanory
26. Golf Trousers
27. The News
28. Roland Davies
29. Two Ninnies
30. Two Ninnies Song
31. Aussie Pilot
32. Does God Exist?
33. Re-Altered Images
34. McEnroe's Breakfast
35. Ah, Come In Rawlinson!
36. Ask The Family
37. Polish Show
38. Ode To Poland
39. Aleebee
40. The Main Points Again
41. (Sig Tune)
42. What A Load Of Willies!
43. (The Memory) Kinda Lingers
44. Grow Up You Bastards
Not In Front Of The Audience (1982)
1. Confrontation Song
2. American Improv
3. Duke of Kent
4. Alien
5. (Oh, Oh, Oh, Means) I Respect You
6. The Pope's Visit (Introduction By The Dean / A Word From The Sponsors / Tasty Wafer Time / Address By His Holiness / Papal Tee-Shirt Offer / Miracle)
7. Laker
8. Simon And Garfunkel
9. Awards
10. S.A.S
11. Interruptions (Insulting The Audience / Main Sketch)
12. Rant #4
13. Prompt
14. (Because I'm) Wet and Lonely
15. The Return Of Constable Savage