 News
Now Millennium 2002-2003
More post-millennium pop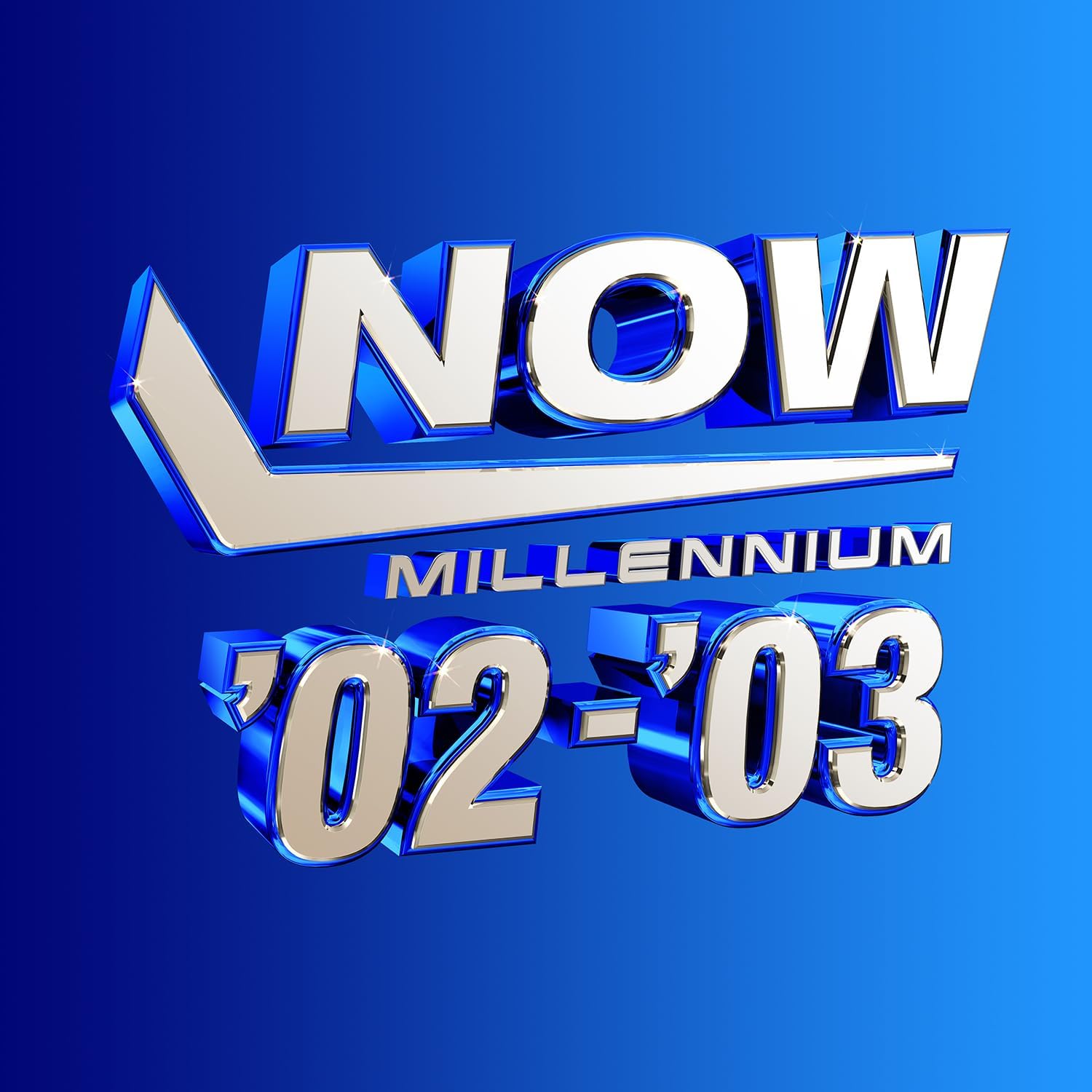 Now That's What I Call Music continue their post-millennium pop exploration with Now Millennium 2002-2003.
This compilation is available as an 84-track 4CD in both deluxe hardcover book and standard card sleeve guise (echoing the presentation of the Yearbooks). There's also a 2LP coloured vinyl edition (30-tracks) pressed on blue and white vinyl.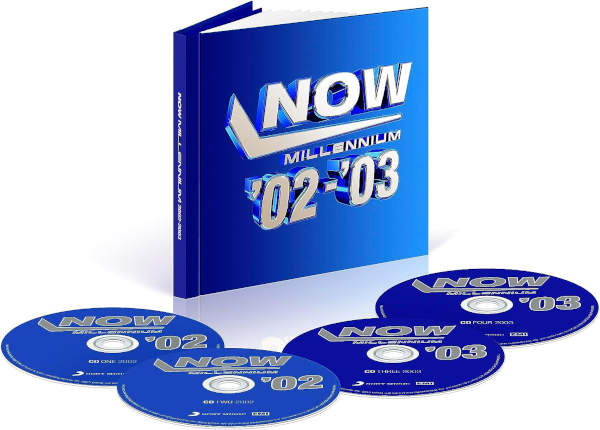 The selection includes George Michael, Robbie Williams, Coldplay, Oasis, Elton John, Christina Aguilera, Will Young, Dido, Kylie Minogue, R.E.M., Sophie Ellis-Bextor, Britney Spears, t.A.T.u., The Black Eyed Peas and many more.
Now Millenium 2002-2003 will be released on 29 September 2023.
Compare prices and pre-order
Various Artists
Now Millennium 2002-2003 - deluxe hardcover 4CD set
Compare prices and pre-order
Various Artists
Now millennium 2002-2003 - 2LP coloured vinyl
Compare prices and pre-order
Various Artists
Now Millennium 2002-2003 - standard card sleeve 4CD set
Tracklisting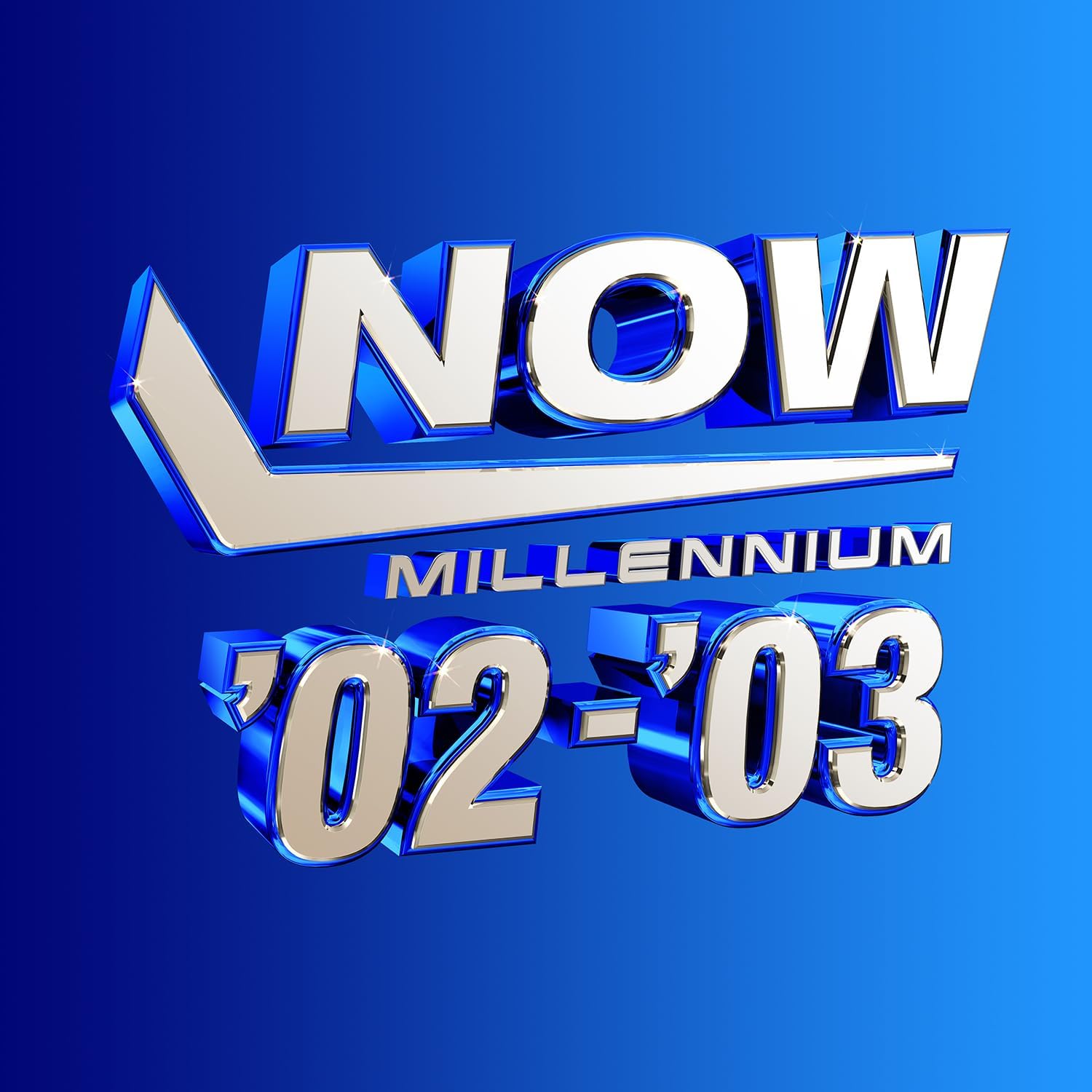 Now Millennium 2002-2003 Various Artists
/
4CD
CD 1

George Michael – Freeek! (Radio Edit)
Elvis Presley vs. JXL – A Little Less Conversation (JXL Radio Edit Remix)
Girls Aloud – Sound Of The Underground
Britney Spears – Overprotected (Radio Edit)
Kylie Minogue – In Your Eyes
Nelly & Kelly Rowland – Dilemma
Mary J. Blige – No More Drama (Radio Edit)
Missy Elliott – Work It
P!NK – Just Like A Pill
Appleton – Fantasy (Album Version)
Sugababes – Round Round
Holly Valance – Kiss Kiss
Las Ketchup – The Ketchup Song (Aserejé) (Spanglish Version)
Sophie Ellis-Bextor – Murder On The Dancefloor (Album Version)
Anastacia – One Day In Your Life (European Version)
Blazin' Squad – Crossroads (Radio Edit)
Atomic Kitten – The Last Goodbye
A1 – Caught In The Middle
Ronan Keating – If Tomorrow Never Comes (Album Version)
Daniel Bedingfield – If You're Not The One
Céline Dion – A New Day Has Come (Radio Remix)

CD 2

Robbie Williams – Feel
Coldplay – In My Place
Oasis – Stop Crying Your Heart Out
Doves – There Goes The Fear (Radio Edit)
X-Press 2 feat. David Byrne – Lazy
Liberty X – Just A Little
Brandy – What About Us?
Christina Milian – AM To PM (Radio Edit)
Puretone – Addicted To Bass
A Touch Of Class – Around The World (La La La La La) (Radio Version)
DJ Sammy & Yanou feat. Do – Heaven
Jamiroquai – Love Foolosophy (Radio Edit)
Vanessa Carlton – A Thousand Miles
The Calling – Wherever You Will Go
Avril Lavigne – Complicated
Busted – What I Go To School For
Westlife – World Of Our Own
Blue – One Love
Gareth Gates – Anyone Of Us (Stupid Mistake)
Will Young – Evergreen

CD 3

Elton John – Are You Ready For Love ('79 Version Radio Edit)
Room 5 featuring Oliver Cheatham – Make Luv (Radio Version)
Junior Senior – Move Your Feet
Dannii Minogue – I Begin To Wonder
Girls Aloud – Jump
Electric Six – Danger! High Voltage
t.A.T.u. – All The Things She Said
Christina Aguilera – Beautiful
Justin Timberlake – Cry Me A River
The Black Eyed Peas – Shut Up (Radio Edit)
Blazin' Squad – Flip Reverse (Radio Edit)
Lisa Maffia – All Over
Mis-Teeq – Scandalous (Stargate Radio Edit)
Emma – Free Me
Shania Twain – Forever And For Always (Pop Red Edit)
Delta Goodrem – Born To Try (Radio Edit)
Katie Melua – The Closest Thing To Crazy
Will Young – Leave Right Now
Westlife – Mandy
S Club 7 – Say Goodbye
Gareth Gates – Spirit In The Sky – With Special Guests 'The Kumars'

CD 4

Evanescence – Bring Me To Life
Avril Lavigne – Sk8er Boi
Good Charlotte – Lifestyles Of The Rich & Famous
The Darkness – I Believe In A Thing Called Love (Single Version)
Stacie Orrico – Stuck
Amy Studt – Misfit
Annie Lennox – Pavement Cracks (Radio Edit)
Dido – White Flag
Kylie Minogue – Slow
Sugababes – Hole In The Head (Radio Edit)
Rachel Stevens – Sweet Dreams My LA Ex (Original Radio Edit)
Tomcraft – Loneliness (UK Radio Edit)
Fatman Scoop & Crooklyn Clan – Be Faithful
50 Cent – In Da Club (Single Version)
Blu Cantrell feat. Sean Paul – Breathe (Rap Version)
Big Brovaz – Favourite Things (Radio Edit)
Lemar – Dance (With U) (Radio Edit)
John Mayer – No Such Thing
Stereophonics – Maybe Tomorrow
The Coral – Pass It On
R.E.M. – Bad Day
Radiohead – There, There

LP 1

Side A     

George Michael – Freeek! (Radio Edit)
Elvis Presley vs. JXL – A Little Less Conversation (JXL Radio Edit Remix)
Girls Aloud – Sound Of The Underground
Britney Spears – Overprotected (Radio Edit)
Holly Valance – Kiss Kiss
Sophie Ellis-Bextor – Murder On The Dancefloor (Album Version)
P!NK – Just Like A Pill
Avril Lavigne – Complicated

Side B 

Robbie Williams – Feel
Coldplay – In My Place
Oasis – Stop Crying Your Heart Out
X-Press 2 feat. David Byrne – Lazy
Nelly & Kelly Rowland – Dilemma
Mary J. Blige – No More Drama (Radio Edit)
Céline Dion – A New Day Has Come (Radio Remix)

LP 2

Side A 

Elton John – Are You Ready For Love ('79 Version Radio Edit)
Kylie Minogue – Slow
Junior Senior – Move Your Feet
The Black Eyed Peas – Shut Up (Radio Edit)
50 Cent – In Da Club (Single Version)
Justin Timberlake – Cry Me A River
Christina Aguilera – Beautiful
Will Young – Leave Right Now

Side B 

Evanescence – Bring Me To Life
t.A.T.u. – All The Things She Said
Electric Six – Danger! High Voltage
Radiohead – There, There
R.E.M. – Bad Day
Dido – White Flag
Katie Melua – The Closest Thing To Crazy