 News
NOW presents the 70s
Limited edition 5LP vinyl box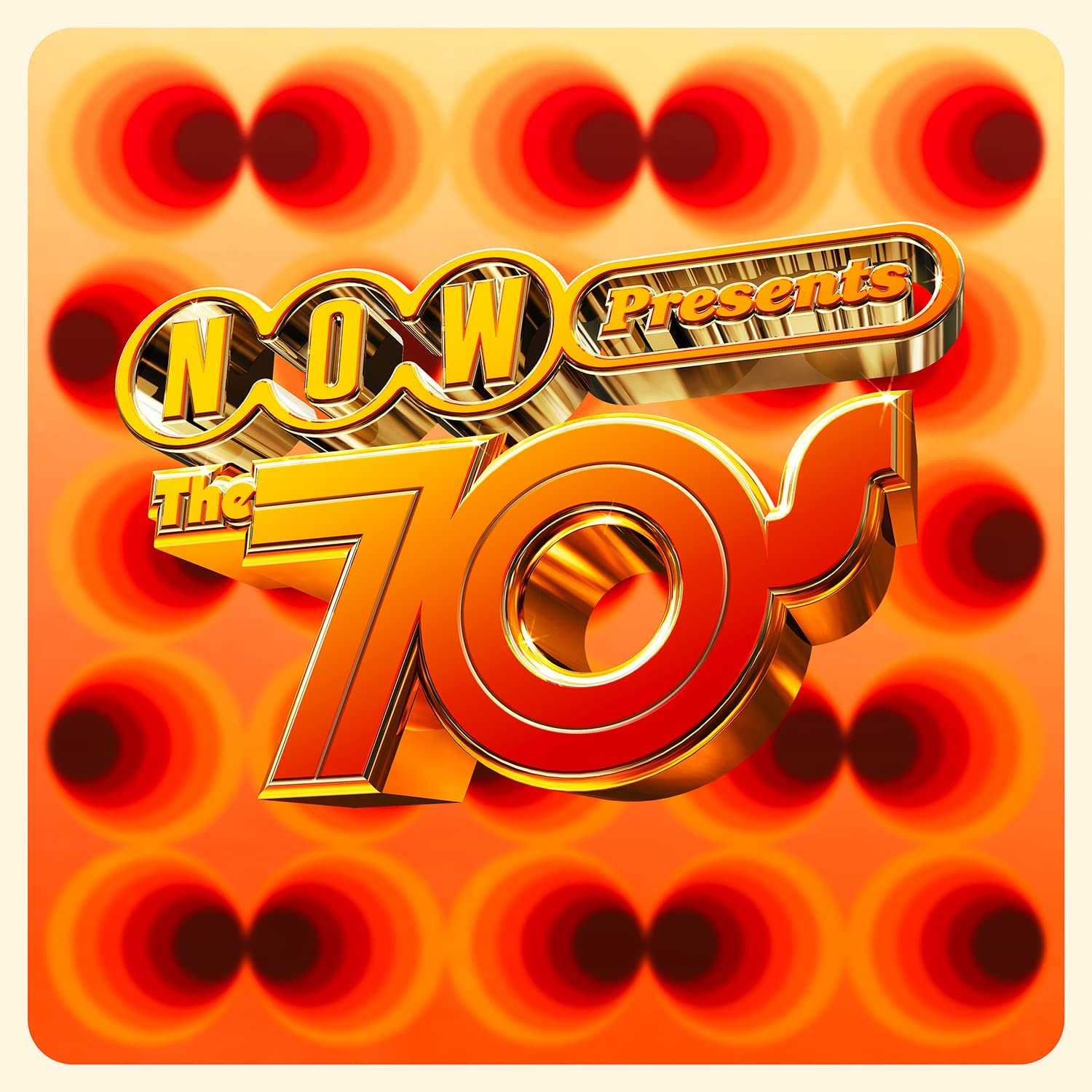 The Now That's What I Call Music team step back into the 1970s for a hit-packed 5LP vinyl box set which is limited to just 1000 units (each box is numbered).
Starting with 1970, each side of vinyl represents one year of the 1970s with Simon and Garfunkel's 'Bridge Over Troubled Water' kicking things off perfectly as it draws a close on the optimism of the 1960s and ushers in the new decade. Five records later, The Buggles' 'Video Killed The Radio Star' has a similar role, anticipating the 1980s.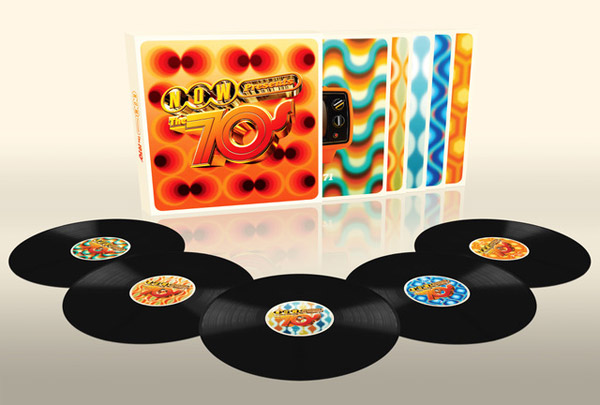 In between, this NOW presents the 70s box set unashamedly opts for the biggest acts and the biggest hits although there's a few omissions, the most notable being the hard-to-license David Bowie). These include Free ('All Right Now'), Elton John ('Your Song'), Rod Stewart ('Maggie May'), Marvin Gaye ('What's Going On'), Don McLean ('American Pie'), Roxy Music ('Virginia Plain'), Roberta Flack ('Killing Me Softly With His Song'), Bob Dylan ('Knocking On Heaven's Door'), Queen ('Killer Queen'), Paul McCartney & Wings ('Band on the Run'), John Lennon ('Imagine'), 10cc ('I'm Not In Love'), ABBA ('Dancing Queen'), ELO ('Livin' Thing'), Thin Lizzy ('The Boys Are Back in Town'), Fleetwood Mac ('Don't Stop'), Commodores ('Easy'), Kate Bush ('Wuthering Heights'), The Jam ('Down in the Tube Station at Midnight'), The Clash ('London Calling'), The Police ('Message in a Bottle') and Blondie ('Heart of Glass').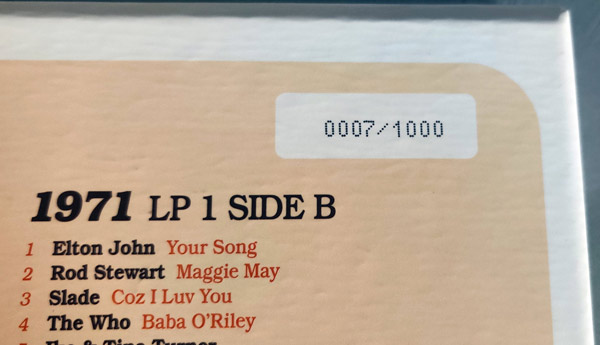 Each record has a sleeve with a front cover featuring different a kitsch design element of the era and has annotated track listings on the rear with bullet-pointed facts/info about each song. The five black vinyl records all come in poly-lined sleeves. The records are housed in a sturdy rigid board outer slipcase.
NOW presents the 1970s will be released on 10 December 2021.
Compare prices and pre-order
Various Artists
NOW presents the 1970s - limited 5LP box set
Tracklisting
NOW presents the 1970s Various Artists
/
5LP vinyl box
LP1 – SIDE A – 1970

Simon & Garfunkel – Bridge Over Troubled Water
Bread – Make It With You
Elvis Presley – Suspicious Minds
Deep Purple – Black Night
Free – All Right Now
Smokey Robinson & The Miracles – The Tears Of A Clown
The Jackson 5 – I Want You Back
Stevie Wonder – Signed, Sealed, Delivered (I'm Yours)

LP1 – SIDE B – 1971

Elton John – Your Song
Rod Stewart – Maggie May
Slade – Coz I Luv You
The Who – Baba O'Riley
Ike & Tina Turner – Proud Mary
Marvin Gaye – What's Going On
Diana Ross – I'm Still Waiting

LP2 – SIDE A – 1972

Don McLean – American Pie – Pt. 1
Sly & The Family Stone – Family Affair
Bill Withers – Lean On Me
Harry Nilsson – Without You
Roxy Music – Virginia Plain
Rex – Metal Guru
Mott The Hoople – All The Young Dudes
Lou Reed – Perfect Day

LP2 – SIDE B – 1973

Roberta Flack – Killing Me Softly With His Song
Harold Melvin & The Blue Notes – If You Don't Know Me By Now
Kiki Dee – Amoureuse
Sweet – Ballroom Blitz
Wizzard – See My Baby Jive
Billy Joel – Piano Man
Bob Dylan – Knockin' On Heaven's Door

LP3 – SIDE A – 1974

Queen – Killer Queen
Paul McCartney, Wings – Band On The Run
Mike Oldfield – Tubular Bells (Opening Theme / From "The Exorcist" / 1973)
Suzi Quatro – Devil Gate Drive
Mud – Tiger Feet
Sparks – This Town Ain't Big Enough For Both Of Us
Barry White – You're The First, The Last, My Everything
The Three Degrees – When Will I See You Again

LP3 – SIDE B – 1975

John Lennon – Imagine
10cc – I'm Not In Love
Barry Manilow – Mandy
Bay City Rollers – Bye Bye Baby
David Essex – Hold Me Close
Steve Harley & Cockney Rebel – Make Me Smile (Come up and See Me)
The Stylistics – Can't Give You Anything (But My Love)
Minnie Riperton – Lovin' You

LP4 – SIDE A – 197

ABBA – Dancing Queen
Frankie Valli & The Four Seasons – December, 1963 (Oh, What A Night)
Chicago – If You Leave Me Now
Joan Armatrading – Love And Affectio
Electric Light Orchestra – Livin' Thing
Thin Lizzy – The Boys Are Back In Town
John Miles – Music

LP4 – SIDE B – 1977

Fleetwood Mac – Don't Stop
Meat Loaf – Bat Out Of Hell
Status Quo – Rockin' All Over The World
Donna Summer – I Feel Love
Baccara – Yes Sir, I Can Boogie
David Soul – Don't Give Up On Us
Commodores – Easy

LP5 – SIDE A – 1978

Kate Bush – Wuthering Heights
Althea & Donna – Uptown Top Ranking
Chic – Le Freak
Boney M. – Rivers Of Babylon
The Jam – Down In The Tube Station At Midnight
The Boomtown Rats – Rat Trap
Siouxsie And The Banshees – Hong Kong Garden

LP5 – SIDE B – 1979

The Clash – London Calling
The Police – Message In A Bottle
Pretenders – Kid
Blondie – Heart Of Glass
Earth, Wind & Fire with The Emotions – Boogie Wonderland
Tubeway Army – Are 'Friends' Electric?
The Buggles – Video Killed The Radio Star