 News
Now That's What I Call 40 Years
CD sets and coloured vinyl mark four decades of NOW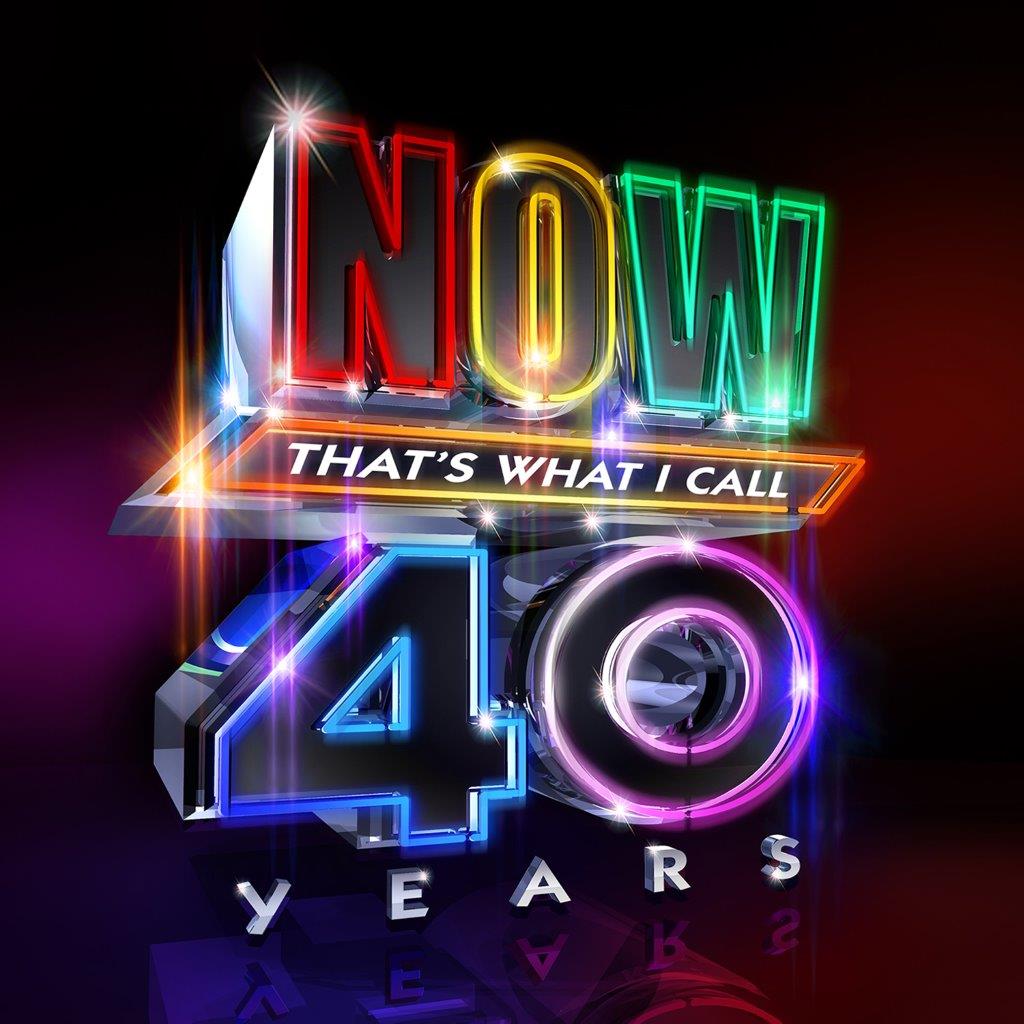 NOW That's What I Call Music celebrate a staggering 40 Years of compilations with some celebratory sets, some of which skim the surface of the last four decades with others digging deeper.
This is a 'suite' of physical releases under the banner NOW That's What I Call 40 Years and they are available on CD and coloured vinyl which, in total, features over 250 tracks!
First off, NOW 40 Years is a 5CD set that features 100 tracks and comes in a card sleeve. This spans the four decades and kicks off with Culture Club's 'Karma Chameleon' and is bang up to date, finishing with Kylie's 'Padam Padam'. A 3LP tri-coloured vinyl edition (43 tracks) of this set is also available.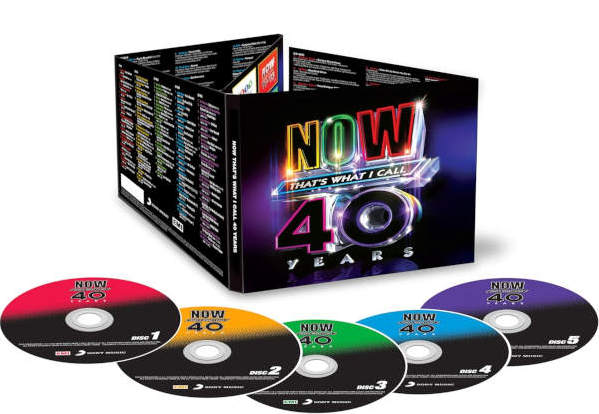 If you want to go deeper, then the NOW team have split the 40 year period into four decades, resulting in four volumes, with 3CD and 3LP sets devoted to each ten year period. The 3CD sets boast deluxe Yearbook-style hardcover book packaging with notes about the tracks, summary of the era and original NOW artwork. Volume 1 is 1983-1993, Volume 2 is 1993-2003, Volume 3 is 2003-2013 and the fourth volume is 2013-2023.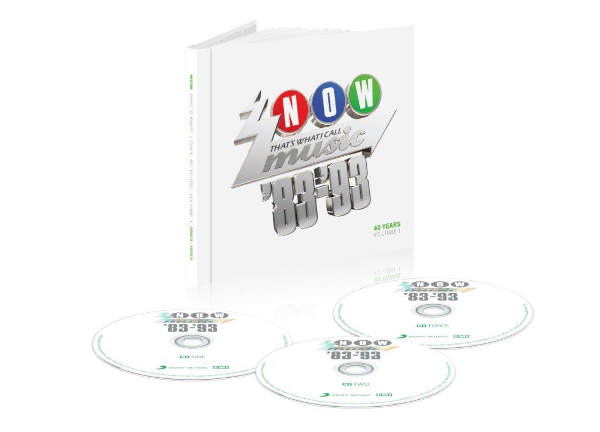 All of the individual 3CD sets feature at least 60 hits. The triple-vinyl packages for each decade are all pressed on limited edition coloured vinyl (white, red, blue and green respectively) and these come in tri-fold sleeves.

All 10 of the physical NOW That's What I Call 40 Years sets will be released on 24 November 2023, 40 years to the week of that very first album. Full tracklistings to all editions can be found below and the NOW shop is offering numbered prints with purchases (CD-sized with the CD sets and vinyl-sized with the LPs).

CD EDITIONS
Compare prices and pre-order
Various Artists
Now 40 years - 5CD set
Compare prices and pre-order
Various Artists
Now 40 Years Vol 1 1983-1993 - 3CD hardcover book set
Compare prices and pre-order
Various Artists
Now 40 Years Vol 2 1993-2003 - 3CD hardcover book set
Compare prices and pre-order
Various Artists
Now 40 Years Vol 3 2003-2013 - 3CD hardcover book set
Compare prices and pre-order
Various Artists
Now 40 Years Vol 4 2013-2023 - 3CD hardcover book set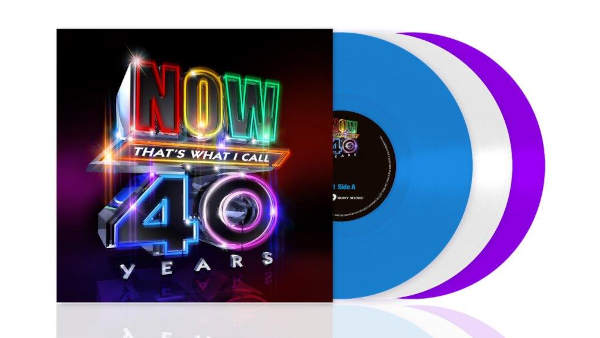 VINYL EDITIONS
Compare prices and pre-order
Various Artists
Now 40 years - 3LP coloured vinyl
Compare prices and pre-order
Various Artists
Now 40 Years Vol 1 1983-1993 - 3LP white vinyl
Compare prices and pre-order
Various Artists
Now 40 Years Vol 2 1993-2003 - 3LP red vinyl
Compare prices and pre-order
Various Artists
Now 40 Years Vol 3 2003-2013 - 3LP blue vinyl
Compare prices and pre-order
Various Artists
Now 40 Years Vol 4 2013-2023 - 3LP green vinyl
Tracklisting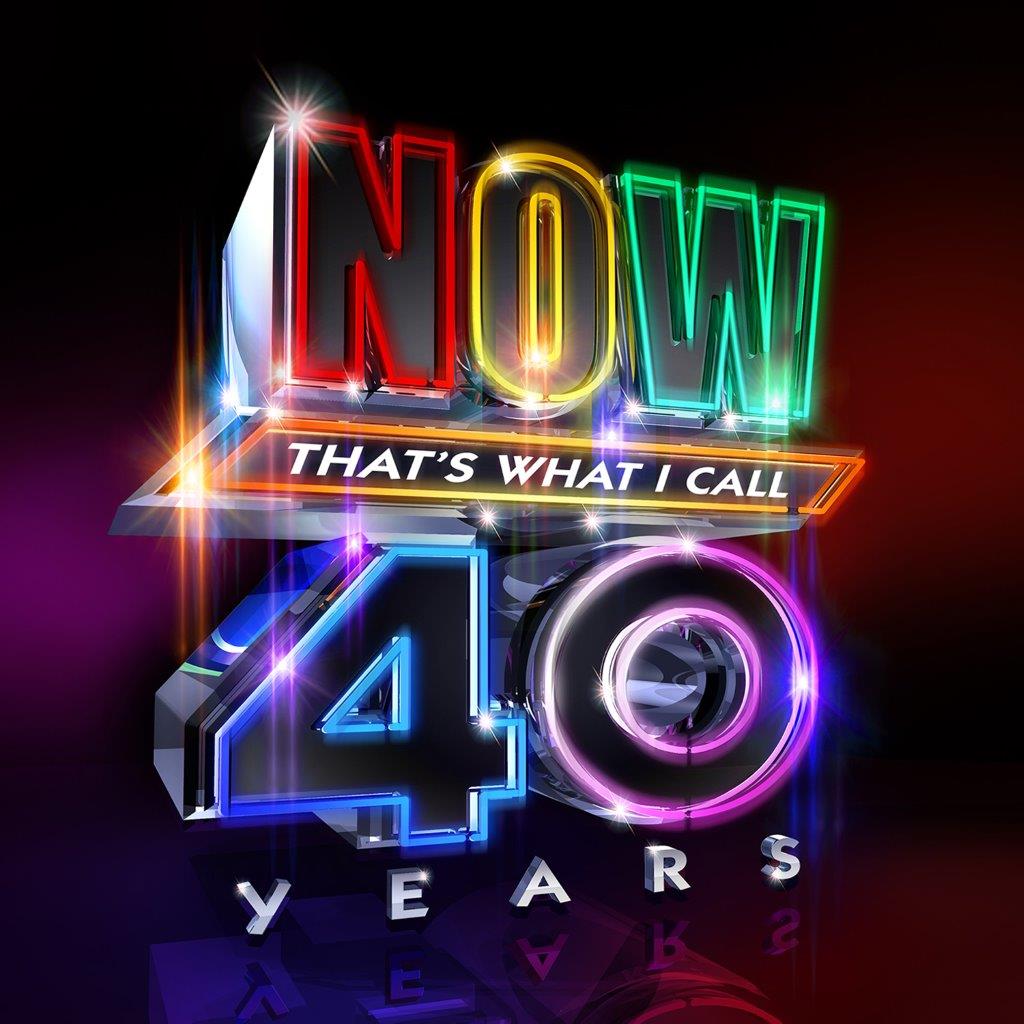 NOW That's What I Call 40 Years Various Artists
/
CD 1

Culture Club – Karma Chameleon (NOW 1, 1983)
UB40 – Red Red Wine (NOW 1, 1983)
Bonnie Tyler – Total Eclipse Of The Heart (NOW 1, 1983)
Queen – Radio Ga Ga (NOW 2, 1984)
Frankie Goes To Hollywood – Relax (NOW 2, 1984)
Paul McCartney – Pipes Of Peace (NOW 2, 1984)
Tina Turner – What's Love Got To Do With It (NOW 3, 1984)
Wham! – Wake Me Up Before You Go-Go (NOW 3, 1984)
Ray Parker Jr. – Ghostbusters (NOW 4, 1984)
Eurythmics, Annie Lennox, Dave Stewart – There Must Be An Angel (Playing With My
Heart) (NOW 6, 1985)
Peter Gabriel – Sledgehammer (NOW 7, 1986)
Billy Ocean – When the Going Gets Tough, The Tough Get Going (NOW 7, 1986)
Bananarama – Venus (NOW 7, 1986)
The Communards with Sarah Jane Morris – Don't Leave Me This Way (NOW 8, 1986)
RUN DMC feat. Aerosmith – Walk This Way (NOW 8, 1986)
Bon Jovi – Livin' On A Prayer (NOW 9, 1987)
T'Pau – China In Your Hand (NOW 10, 1987)
Pet Shop Boys – Always On My Mind (NOW 11, 1988)
S'Express – Theme From S-Express (NOW 12, 1988)

CD 2

Yazz & The Plastic Population – The Only Way Is Up (NOW 13, 1988)
Womack & Womack – Teardrops (NOW 13, 1988)
Kim Wilde – You Came (NOW 13, 1988)
Marc Almond & Gene Pitney – Something's Gotten Hold Of My Heart (NOW 14, 1989)
Soul II Soul & Caron Wheeler – Back To Life (However Do You Want Me) (NOW 15, 1989)
Sinéad O'Connor – Nothing Compares 2 U (NOW 18, 1990)
Elton John – Sacrifice (NOW 18, 1990)
Andrew Lloyd Webber & Jason Donovan – Any Dream Will Do (From 'Joseph And The Amazing Technicolor Dreamcoat') (NOW 20, 1991)
Shakespears Sister – Stay (NOW 21, 1992)
The KLF feat. Tammy Wynette – Justified And Ancient (NOW 21, 1992)
SNAP! – Rhythm Is A Dancer (NOW 22, 1992)
Duran Duran – Ordinary World (NOW 24, 1993)
Sade – No Ordinary Love (NOW 25, 1993)
Freddie Mercury – Living On My Own (NOW 25, 1993)
Meat Loaf – I'd Do Anything For Love (But I Won't Do That) (NOW 26, 1993)
Wet Wet Wet – Love Is All Around (From 'Four Weddings And A Funeral' Original Motion Picture Soundtrack) (NOW 28, 1994)
The Pretenders – I'll Stand By You (NOW 28, 1994)
Coolio, L.V. – Gangsta's Paradise (NOW 32, 1995)
Oasis – Don't Look Back In Anger (NOW 33, 1996)

CD 3

Spice Girls – Wannabe (NOW 34, 1996)
George Michael – Fastlove (NOW 35, 1996)
Eternal feat. Bebe Winans – I Wanna Be The Only One (NOW 37, 1997)
All Saints – Never Ever (NOW 39, 1998)
Aqua – Barbie Girl (NOW 39, 1998)
Natalie Imbruglia – Torn (NOW 39, 1998)
Robbie Williams – Angels (NOW 39, 1998)
Boyzone – No Matter What (NOW 41, 1998)
Cher – Believe (NOW 42, 1999)
Britney Spears – …Baby One More Time (NOW 44, 1999)
Steps – Tragedy (NOW 44, 1999
Gabrielle – Rise (NOW 45, 2000)
S Club – Don't Stop Movin' (NOW 49, 2001)
Kylie Minogue – Can't Get You Out Of My Head (NOW 50, 2001)
Mary J. Blige – Family Affair (NOW 50, 2001)
Sophie Ellis-Bextor – Murder On The Dancefloor (NOW 51, 2002)
Girls Aloud – Sound Of The Underground (NOW 54, 2003)
Justin Timberlake – Cry Me A River (NOW 55, 2003)
The Black Eyed Peas – Where Is The Love? (NOW 56, 2003)
Will Young – Leave Right Now (NOW 57, 2004)

CD 4

James Blunt – You're Beautiful (NOW 61, 2005)
Westlife – You Raise Me Up (NOW 62, 2005)
Gnarls Barkley – Crazy (NOW 64, 2006)
MIKA – Grace Kelly (NOW 66, 2007)
Amy Winehouse – Back To Black (NOW 67, 2007)
Leona Lewis – Bleeding Love (NOW 68, 2007)
Take That – Rule The World (NOW 68, 2007)
P!NK – So What (NOW 71, 2008)
Coldplay – Viva La Vida (NOW 71, 2008)
The Killers – Human (NOW 72, 2009)
Lady Gaga – Bad Romance (NOW 75, 2010)
Katy Perry – Firework (NOW 77, 2010)
Jennifer Lopez – On The Floor (NOW 79, 2011)
Lana Del Rey – Video Games (NOW 80, 2011)
One Direction – What Makes You Beautiful (NOW 80, 2011)
PSY – Gangnam Style (강남스타일) (NOW 83, 2012)
Bastille – Pompeii (NOW 84, 2013)
Pharrell Williams – Happy (From 'Despicable Me') (NOW 87, 2014)
Miley Cyrus – Wrecking Ball (NOW 87, 2014)
Sia – Chandelier (NOW 88, 2014)
Idina Menzel – Let It Go (From 'Frozen') (NOW 88, 2014)

CD 5

Ed Sheeran – Sing (NOW 88, 2014)
Mark Ronson feat. Bruno Mars – Uptown Funk (NOW 90, 2015)
Little Mix – Black Magic (NOW 91, 2015)
Shawn Mendes – Stitches (NOW 93, 2016)
Justin Bieber – Love Yourself (NOW 93, 2016)
Rag 'n' Bone Man – Human (NOW 96, 2017)
Dua Lipa – New Rules (NOW 98, 2017)
George Ezra – Shotgun (NOW 100, 2018)
Calvin Harris, Sam Smith – Promises (NOW 101, 2018)
Keala Settle & The Greatest Showman Ensemble – This Is Me (NOW 102, 2019)
Lewis Capaldi – Someone You Loved (NOW 102, 2019)
Billie Eilish – bad guy (NOW 103, 2019)
The Weeknd – Blinding Lights (NOW 105, 2020)
Glass Animals – Heat Waves (NOW 108, 2021)
Olivia Rodrigo – drivers license (NOW 108, 2021)
Lil Nas X – MONTERO (Call Me By Your Name) (NOW 109, 2021)
Elton John & Dua Lipa – Cold Heart (PNAU Remix) (NOW 110, 2021)
Sam Ryder – SPACE MAN (NOW 112, 2022)
David Guetta & Bebe Rexha – I'm Good (Blue) (NOW 113, 2022)
Loreen – Tattoo (NOW 115, 2023)
Kylie Minogue – Padam Padam (NOW 115, 2023)

LP 1

Side A

Culture Club – Karma Chameleon (NOW 1, 1983)
UB40 – Red Red Wine (NOW 1, 1983)
Bonnie Tyler – Total Eclipse Of The Heart (NOW 1, 1983)
Queen – Radio Ga Ga (NOW 2, 1984)
Paul McCartney – Pipes Of Peace (NOW 2, 1984)
Tina Turner – What's Love Got To Do With It (NOW 3, 1984)
Eurythmics, Annie Lennox, Dave Stewart – There Must Be An Angel (Playing With My Heart) (NOW 6, 1985)

Side B

Peter Gabriel – Sledgehammer (NOW 7, 1986)
RUN DMC feat. Aerosmith – Walk This Way (NOW 8, 1986)
The Communards with Sarah Jane Morris – Don't Leave Me This Way (NOW 8, 1986)
Pet Shop Boys – Always On My Mind (NOW 11, 1988)
Soul II Soul & Caron Wheeler – Back To Life (However Do You Want Me) (NOW 15,
1989)
The KLF feat. Tammy Wynette – Justified And Ancient (NOW 21, 1992)
Duran Duran – Ordinary World (NOW 24, 1993)

LP 2

Side A

Meat Loaf – I'd Do Anything For Love (But I Won't Do That) (NOW 26, 1993)
Coolio, L.V. – Gangsta's Paradise (NOW 32, 1995)
Oasis – Don't Look Back In Anger (NOW 33, 1996)
Spice Girls – Wannabe (NOW 34, 1996)
George Michael – Fastlove (NOW 35, 1996)
Robbie Williams – Angels (NOW 39, 1998)

Side B

Cher – Believe (NOW 42, 1999)
Britney Spears – …Baby One More Time (NOW 44, 1999)
S Club – Don't Stop Movin' (NOW 49, 2001)
Kylie Minogue – Can't Get You Out Of My Head (NOW 50, 2001)
Girls Aloud – Sound Of The Underground (NOW 54, 2003)
The Black Eyed Peas – Where Is The Love? (NOW 56, 2003)
Take That – Rule The World (NOW 68, 2007)

LP 3

Side A

Coldplay – Viva La Vida (NOW 71, 2008)
Lady Gaga – Bad Romance (NOW 75, 2010)
One Direction – What Makes You Beautiful (NOW 80, 2011)
Pharrell Williams – Happy (From 'Despicable Me 2') (NOW 87, 2014)
Ed Sheeran – Sing (NOW 88, 2014)
Mark Ronson feat. Bruno Mars – Uptown Funk (NOW 90, 2015)
Little Mix – Black Magic (NOW 91, 2015)

Side B

George Ezra – Shotgun (NOW 100, 2018)
Calvin Harris, Sam Smith – Promises (NOW 101, 2018)
Lewis Capaldi – Someone You Loved (NOW 102, 2019)
The Weeknd – Blinding Lights (NOW 105, 2020)
Glass Animals – Heat Waves (NOW 108, 2021)
Elton John & Dua Lipa – Cold Heart (PNAU Remix) (NOW 110, 2021)
David Guetta & Bebe Rexha – I'm Good (Blue) (NOW 113, 2022)
Loreen – Tattoo (NOW 115, 2023)
Kylie Minogue – Padam Padam (NOW 115, 2023)
Tracklisting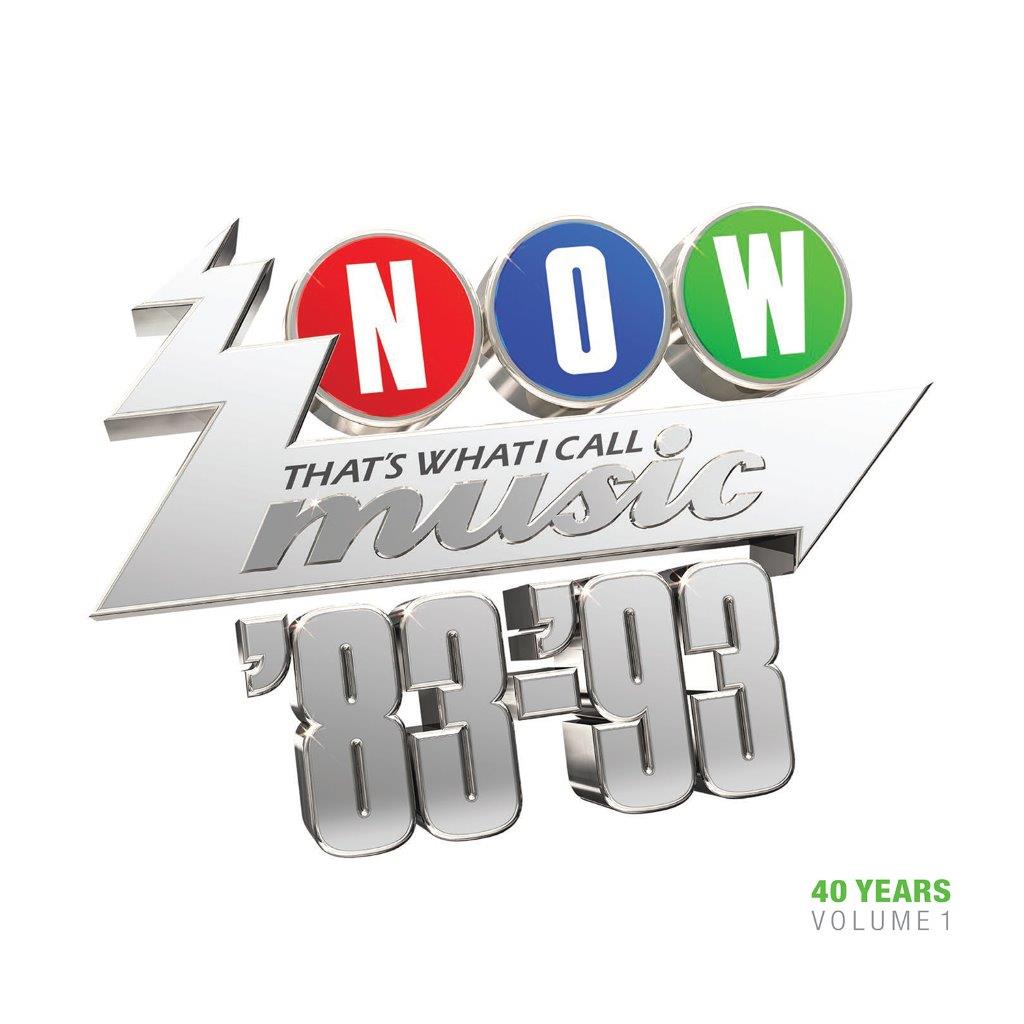 NOW That's What I Call 40 Years Various Artists
/
1983-1993: Vol 1
CD 1

Culture Club – Karma Chameleon (NOW 1, 1983)
UB40 – Red Red Wine (NOW 1, 1983)
Bonnie Tyler – Total Eclipse Of The Heart (NOW 1, 1983)
The Cure – The Lovecats (NOW 1, 1983)
Queen – Radio Ga Ga (NOW 2, 1984)
Frankie Goes To Hollywood – Relax (NOW 2, 1984)
Nena – 99 Red Balloons (NOW 2, 1984)
Paul McCartney – Pipes Of Peace (NOW 2, 1984)
Tina Turner – What's Love Got To Do With It (NOW 3, 1984)
Wham! – Wake Me Up Before You Go-Go (NOW 3, 1984)
Philip Oakey & Giorgio Moroder – Together In Electric Dreams (NOW 4, 1984)
Limahl – Never Ending Story (NOW 4, 1984)
Ray Parker Jr. – Ghostbusters (NOW 4, 1984)
Lionel Richie – Hello (NOW 4, 1984)
Sister Sledge – Frankie (NOW 5, 1985)
Simple Minds – Don't You (Forget About Me) (NOW 5, 1985)
Eurythmics, Annie Lennox, Dave Stewart – There Must Be an Angel (Playing With My
Heart) (NOW 6, 1985)
Level 42 – Something About You (NOW 6, 1985)
Bananarama – Venus (NOW 7, 1986)
Billy Ocean – When the Going Gets Tough, The Tough Get Going (NOW 7, 1986)

CD 2

Peter Gabriel – Sledgehammer (NOW 7, 1986)
The Communards with Sarah Jane Morris – Don't Leave Me This Way (NOW 8, 1986)
RUN DMC feat. Aerosmith – Walk This Way (NOW 8, 1986)
Bon Jovi – Livin' On A Prayer (NOW 9, 1987)
Europe – The Final Countdown (NOW 9, 1987)
T'Pau – China In Your Hand (NOW 10, 1987)
Pet Shop Boys – Always On My Mind (NOW 11, 1988)
Belinda Carlisle – Heaven Is A Place On Earth (NOW 11, 1988)
Tiffany – I Think We're Alone Now (NOW 12, 1988)
S'Express – Theme From S-Express (NOW 12, 1988)
Yazz & The Plastic Population – The Only Way Is Up (NOW 13, 1988)
Womack & Womack – Teardrops (NOW 13, 1988)
Kim Wilde – You Came (NOW 13, 1988)
Robin Beck – First Time (NOW 14, 1989)
Marc Almond & Gene Pitney – Something's Gotten Hold Of My Heart (NOW 14, 1989)
Inner City – Good Life (NOW 14, 1989)
Soul II Soul & Caron Wheeler – Back To Life (However Do You Want Me) (NOW 15, 1989)
Cliff Richard – I Just Don't Have The Heart (NOW 16, 1989)
Debbie Harry – I Want That Man (NOW 16, 1989)
Tears For Fears – Sowing The Seeds Of Love (NOW 16, 1989)

CD 3

Adamski & Seal – Killer (NOW 17, 1990)
Beats International – Dub Be Good To Me (NOW 17, 1990)
The Beautiful South – A Little Time (NOW 18, 1990)
Roxette – It Must Have Been Love (NOW 18, 1990)
Elton John – Sacrifice (NOW 18, 1990)
Sinéad O'Connor – Nothing Compares 2 U (NOW 18, 1990)
The Clash – Should I Stay Or Should I Go (NOW 19, 1991)
Scorpions – Wind Of Change (NOW 20, 1991)
Andrew Lloyd Webber & Jason Donovan – Any Dream Will Do (NOW 20, 1991)
Simply Red – Stars (NOW 21, 1992)
Shakespears Sister – Stay (NOW 21, 1992)
The KLF feat. Tammy Wynette – Justified And Ancient (NOW 21, 1992)
SNAP! – Rhythm Is A Dancer (NOW 22, 1992)
Charles & Eddie – Would I Lie To You? (NOW 23, 1992)
Tasmin Archer – Sleeping Satellite (NOW 23, 1992)
Duran Duran – Ordinary World (NOW 24, 1993)
West End feat. Sybil – The Love I Lost (NOW 24, 1993)
New Order – Regret (NOW 25, 1993)
Freddie Mercury – Living On My Own (NOW 25, 1993)
Sade – No Ordinary Love (NOW 25, 1993)

LP 1

Side A

Culture Club – Karma Chameleon (NOW 1, 1983)
UB40 – Red Red Wine (NOW 1, 1983)
Bonnie Tyler – Total Eclipse Of The Heart (NOW 1, 1983)
Queen – Radio Ga Ga (NOW 2, 1984)
Frankie Goes To Hollywood – Relax (NOW 2, 1984)
Nena – 99 Red Balloons (NOW 2, 1984)
Paul McCartney – Pipes Of Peace (NOW 2, 1984)

Side B

Tina Turner – What's Love Got To Do With It (NOW 3, 1984)
Wham! – Wake Me Up Before You Go-Go (NOW 3, 1984)
Philip Oakey & Giorgio Moroder – Together In Electric Dreams (NOW 4, 1984)
Limahl – Never Ending Story (NOW 4, 1984)
Ray Parker Jr. – Ghostbusters (NOW 4, 1984)
Lionel Richie – Hello (NOW 4, 1984)
Simple Minds – Don't You (Forget About Me) (NOW 5, 1985)

LP 2

Side A

Eurythmics, Annie Lennox, Dave Stewart – There Must Be An Angel (Playing With My
Heart) (NOW 6, 1985)
Bananarama – Venus (NOW 7, 1986)
Peter Gabriel – Sledgehammer (NOW 7, 1986)
The Communards with Sarah Jane Morris – Don't Leave Me This Way (NOW 8, 1986)
RUN DMC feat. Aerosmith – Walk This Way (NOW 8, 1986)
Bon Jovi – Livin' On A Prayer (NOW 9, 1987)
T'Pau – China In Your Hand (NOW 10, 1987)

Side B

Pet Shop Boys – Always On My Mind (NOW 11, 1988)
Belinda Carlisle – Heaven Is A Place On Earth (NOW 11, 1988)
S'Express – Theme From S-Express (NOW 12, 1988)
Yazz & The Plastic Population – The Only Way Is Up (NOW 13, 1988)
Kim Wilde – You Came (NOW 13, 1988)
Marc Almond & Gene Pitney – Something's Gotten Hold Of My Heart (NOW 14, 1989)
Soul II Soul & Caron Wheeler – Back To Life (However Do You Want Me) (NOW 15,

LP 3

Side A

Tears For Fears – Sowing The Seeds Of Love (NOW 16, 1989)
Debbie Harry – I Want That Man (NOW 16, 1989)
Beats International – Dub Be Good To Me (NOW 17, 1990)
Elton John – Sacrifice (NOW 18, 1990)
Sinéad O'Connor – Nothing Compares 2 U (NOW 18, 1990)
The Clash – Should I Stay Or Should I Go (NOW 19,

Side B

Tears For Fears – Sowing The Seeds Of Love (NOW 16, 1989)
Debbie Harry – I Want That Man (NOW 16, 1989)
Beats International – Dub Be Good To Me (NOW 17, 1990)
Elton John – Sacrifice (NOW 18, 1990)
Sinéad O'Connor – Nothing Compares 2 U (NOW 18, 1990)
The Clash – Should I Stay Or Should I Go (NOW 19,
Tracklisting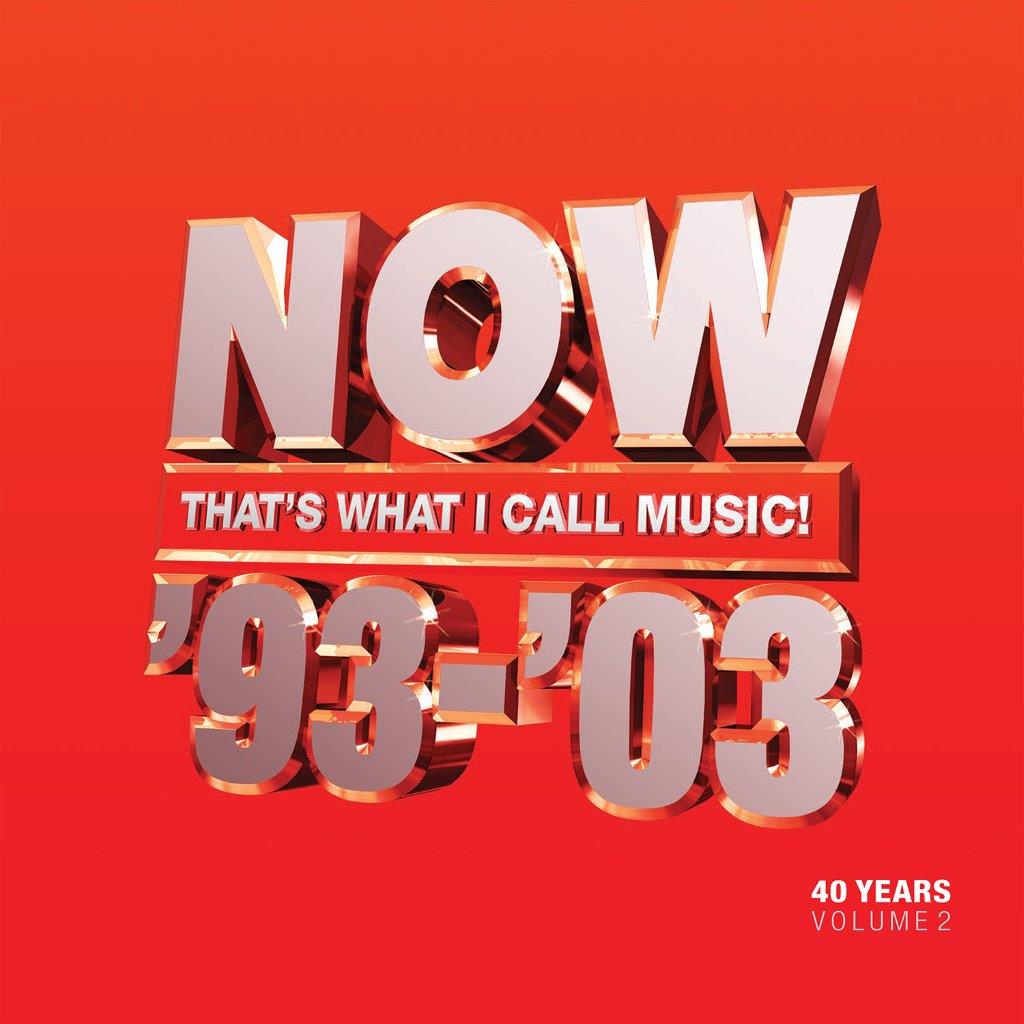 NOW That's What I Call 40 Years Various Artists
/
1993-2003: Vol 2
CD 1

1Meat Loaf – I'd Do Anything For Love (But I Won't Do That) (NOW 26, 1993)
D:Ream – Things Can Only Get Better (NOW 27, 1994)
M People – Moving On Up (NOW 27, 1994)
Dawn Penn – You Don't Love Me (No, No, No) (NOW 28, 1994)
Wet Wet Wet – Love Is All Around (From "Four Weddings And A Funeral" Original
Motion Picture Soundtrack) (NOW 28, 1994)
All-4-One – I Swear (NOW 28, 1994)
The Pretenders – I'll Stand By You (NOW 28, 1994)
Youssou N'Dour feat. Neneh Cherry – 7 Seconds (NOW 29, 1994)
Corona – The Rhythm Of The Night (NOW 29, 1994)
Whigfield – Saturday Night (NOW 29, 1994)
East 17 – Stay Another Day (NOW 30, 1995)
Supergrass – Alright (NOW 31, 1995)
Livin' Joy – Dreamer (NOW 31, 1995)
Coolio, L.V. – Gangsta's Paradise (NOW 32, 1995)
Babylon Zoo – Spaceman (NOW 33, 1996)
Radiohead – Street Spirit (Fade Out) (NOW 33, 1996)
Oasis – Don't Look Back In Anger (NOW 33, 1996)
Saint Etienne – He's On The Phone (NOW 33, 1996)
Mark Morrison – Return Of The Mack (NOW 34, 1996)
Spice Girls – Wannabe (NOW 34, 1996)

CD 2

George Michael – Fastlove (NOW 35, 1996)
Deep Blue Something – Breakfast At Tiffany's (NOW 35, 1996)
Texas – Say What You Want (NOW 36, 1997)
Jamiroquai – Virtual Insanity (NOW 36, 1997)
The Prodigy – Breathe (NOW 36, 1997)
The Source feat. Candi Staton – You Got The Love (NOW 36, 1997)
Eternal feat. Bebe Winans – I Wanna Be The Only One (NOW 37, 1997)
Hanson – MMMBop (NOW 37, 1997)
Chumbawamba – Tubthumping (NOW 38, 1997)
Aqua – Barbie Girl (NOW 39, 1998)
All Saints – Never Ever (NOW 39, 1998)
Natalie Imbruglia – Torn (NOW 39, 1998)
Robbie Williams – Angels (NOW 39, 1998)
The Tamperer Feat. Maya – Feel It (NOW 40, 1998)
The Corrs – Dreams (NOW 41, 1998)
Boyzone – No Matter What (NOW 41, 1998)
Fatboy Slim – Praise You (NOW 42, 1999)
Cher – Believe (NOW 42, 1999)
ATB – 9pm (Till I Come) (NOW 43, 1999)
Backstreet Boys – I Want It That Way (NOW 43, 1999)

CD 3

Britney Spears – …Baby One More Time (NOW 44, 1999)
Steps – Tragedy (NOW 44, 1999)
Eiffel 65 - Blue (Da Ba Dee) (NOW 44, 1999)
Gabrielle – Rise (NOW 45, 2000)
Sonique – It Feels So Good (NOW 46, 2000)
Black Legend – You See The Trouble With Me (NOW 46, 2000)
Craig David – 7 Days (NOW 47, 2000)
Atomic Kitten – Whole Again (NOW 48, 2001)
Hear'Say – Pure & Simple (NOW 48, 2001)
Blue – All Rise (NOW 49, 2001)
S Club – Don't Stop Movin' (NOW 49, 2001)
Kylie Minogue – Can't Get You Out Of My Head (NOW 50, 2001)
Mary J. Blige – Family Affair (NOW 50, 2001)
Sophie Ellis-Bextor – Murder On The Dancefloor (NOW 51, 2002)
Liberty X – Just A Little (NOW 52, 2002)
Las Ketchup – The Ketchup Song (Aserejé) (NOW 53, 2002)
t.A.T.u. – All The Things She Said (NOW 54, 2003)
Girls Aloud – Sound Of The Underground (NOW 54, 2003)
Nelly & Kelly Rowland – Dilemma (NOW 54, 2003)
Daniel Bedingfield – If You're Not The One (NOW 54, 2003)

LP 1

Side A

Meat Loaf – I'd Do Anything For Love (But I Won't Do That) (NOW 26, 1993)
D:Ream – Things Can Only Get Better (NOW 27, 1994)
Wet Wet Wet – Love Is All Around (From "Four Weddings And A Funeral" Original
Motion Picture Soundtrack) (NOW 28, 1994)
All-4-One – I Swear (NOW 28, 1994)
The Pretenders – I'll Stand by You (NOW 28, 1994)
Youssou N'Dour feat. Neneh Cherry – 7 Seconds (NOW 29, 1994)
East 17 – Stay Another Day (NOW 30, 1995)

Side B

Livin' Joy – Dreamer (NOW 31, 1995)
Coolio, L.V. – Gangsta's Paradise (NOW 32, 1995)
Radiohead – Street Spirit (Fade Out) (NOW 33, 1996)
Oasis – Don't Look Back In Anger (NOW 33, 1996)
Saint Etienne – He's On The Phone (NOW 33, 1996)
Mark Morrison – Return Of The Mack (NOW 34, 1996)
Spice Girls – Wannabe (NOW 34, 1996)

LP 2

Side A

George Michael – Fastlove (NOW 35, 1996)
Deep Blue Something – Breakfast At Tiffany's (NOW 35, 1996)
The Prodigy – Breathe (NOW 36, 1997)
Eternal feat. Bebe Winans – I Wanna Be the Only One (NOW 37, 1997)
Hanson – MMMBop (NOW 37, 1997)
Chumbawamba – Tubthumping (NOW 38, 1997)
All Saints – Never Ever (NOW 39, 1998)

Side B

Robbie Williams – Angels (NOW 39, 1998)
Natalie Imbruglia – Torn (NOW 39, 1998)
Aqua – Barbie Girl (NOW 39, 1998)
The Tamperer feat. Maya – Feel It (NOW 40, 1998)
Boyzone – No Matter What (NOW 41, 1998)
Cher – Believe (NOW 42, 1999)
ATB – 9pm (Till I Come) (NOW 43,1999)

LP 3

Side A

Britney Spears – …Baby One More Time (NOW 44, 1999)
Steps – Tragedy (NOW 44, 1999)
Gabrielle – Rise (NOW 45, 2000)
Sonique – It Feels So Good (NOW 46, 2000)
Craig David – 7 Days (Radio Edit) (NOW 47, 2000)
Atomic Kitten – Whole Again (NOW 48, 2001)
S Club – Don't Stop Movin' (NOW 49, 2001)

Side B

Kylie Minogue – Can't Get You Out Of My Head (NOW 50, 2001)
Mary J. Blige – Family Affair (NOW 50, 2001)
Sophie Ellis-Bextor – Murder On The Dancefloor (NOW 51, 2002)
Liberty X – Just A Little (NOW 52, 2002)
Las Ketchup – The Ketchup Song (Aserejé) (NOW 53, 2002)
Girls Aloud – Sound Of The Underground (NOW 54, 2003)
Nelly & Kelly Rowland – Dilemma (NOW 54, 2003)
Tracklisting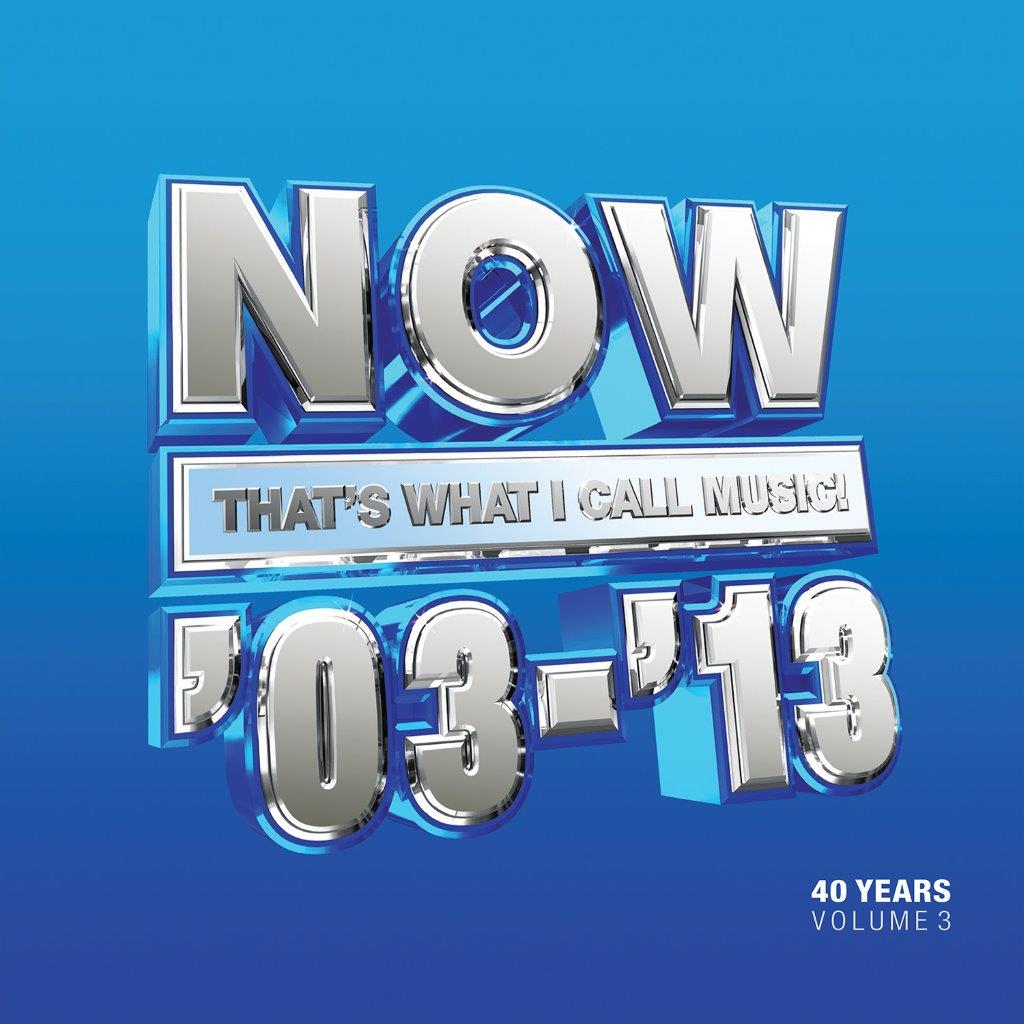 NOW That's What I Call 40 Years Various Artists
/
2003-2013: Vol 3
CD 1

50 Cent – In Da Club (NOW 55, 2003)
Justin Timberlake – Cry Me A River (NOW 55, 2003)
Sugababes – Hole In The Head (NOW 56, 2003)
Keane – Somewhere Only We Know (NOW 57, 2004)
Will Young – Leave Right Now (NOW 57, 2004)
Kelis – Milkshake (NOW 57, 2004)
Outkast – Hey Ya! (NOW 58, 2004)
Anastacia – Left Outside Alone (NOW 58, 2004)
Natasha Bedingfield – These Words (NOW 59, 2004)
Maroon 5 – She Will Be Loved (NOW 59, 2004)
Eric Prydz – Call On Me (NOW 59, 2004)
Tony Christie – (Is This The Way To) Amarillo (NOW 60, 2005)
Stereophonics – Dakota (NOW 60, 2005)
James Blunt – You're Beautiful (NOW 61, 2005)
Kelly Clarkson – Since U Been Gone (NOW 62, 2005)
The Pussycat Dolls, Busta Rhymes – Don't Cha (NOW 62, 2005)
Westlife – You Raise Me Up (NOW 62, 2005)
Shayne Ward – That's My Goal (NOW 63, 2006)
Corinne Bailey Rae – Put Your Records On (NOW 63, 2006)
Lily Allen – Smile (NOW 64, 2006)
McFly – Don't Stop Me Now (NOW 64, 2006)

CD 2

Gnarls Barkley – Crazy (NOW 64, 2006)
Nelly Furtado – Maneater (NOW 64, 2006)
Scissor Sisters – I Don't Feel Like Dancin' (NOW 65, 2006)
MIKA – Grace Kelly (NOW 66, 2007)
Kaiser Chiefs – Ruby (NOW 66, 2007)
Amy Winehouse – Back To Black (NOW 67, 2007)
Leona Lewis – Bleeding Love (NOW 68, 2007)
Take That – Rule The World (NOW 68, 2007)
Duffy – Mercy (NOW 69, 2008)
Sam Sparro – Black & Gold (NOW 70, 2008)
Usher feat. Young Jeezy – Love In This Club (NOW 70, 2008)
1
Jennifer Hudson – Spotlight (NOW 71, 2008)
P!NK – So What (NOW 71, 2008)
Coldplay – Viva La Vida (NOW 71, 2008)
The Killers – Human (NOW 72, 2009)
Alexandra Burke – Hallelujah (NOW 72, 2009)
Pixie Lott – Mama Do (Uh Oh, Uh Oh) (NOW 73, 2009)
Cheryl Cole – Fight For This Love (NOW 74, 2009)
La Roux – Bulletproof (NOW 74, 2009)
The Black Eyed Peas – I Gotta Feeling (NOW 74, 2009)
Lady Gaga – Bad Romance (NOW 75, 2010)

CD 3

B.o.B feat. Bruno Mars – Nothin' On You (NOW 76, 2010)
JLS – The Club Is Alive (NOW 76, 2010)
Flo Rida feat. David Guetta – Club Can't Handle Me (NOW 77, 2010)
Katy Perry – Firework (NOW 77, 2010)
CeeLo Green – Forget You (NOW 77, 2010)
Jessie J – Price Tag (NOW 78, 2011)
LMFAO, Lauren Bennett & GoonRock – Party Rock Anthem (NOW 79, 2011)
Jennifer Lopez – On The Floor (NOW 79, 2011)
Christina Perri – Jar Of Hearts (NOW 80, 2011)
Lana Del Rey – Video Games (NOW 80, 2011)
One Direction – What Makes You Beautiful (NOW 80, 2011)
Olly Murs – Dance With Me Tonight (NOW 81, 2012)
David Guetta feat. Sia – Titanium (NOW 81, 2012)
Fun. feat. Janelle Monáe – We Are Young (NOW 82, 2012)
Carly Rae Jepsen – Call Me Maybe (NOW 82, 2012)
PSY – Gangnam Style (강남스타일) (NOW 83, 2012)
Florence + The Machine – Spectrum (Say My Name) (Calvin Harris Remix) (NOW 83,
2012)
will.i.am & Britney Spears – Scream & Shout (NOW 84, 2013)
Bastille – Pompeii (NOW 84, 2013)
Icona Pop feat. Charli XCX – I Love It (NOW 85, 2013)
Tom Odell – Another Love (NOW 85, 2013)

LP 1

Side A

50 Cent – In Da Club (NOW 55, 2003)
Justin Timberlake – Cry Me A River (NOW 55, 2003)
Sugababes – Hole In The Head (NOW 56, 2003)
Will Young – Leave Right Now (NOW 57, 2004)
Outkast – Hey Ya! (NOW 58, 2004)
Maroon 5 – She Will Be Loved (NOW 59, 2004)
Stereophonics – Dakota (NOW 60, 2005)

Side B

James Blunt – You're Beautiful (NOW 61, 2005)
Kelly Clarkson – Since U Been Gone (NOW 62, 2005)
Corinne Bailey Rae – Put Your Records On (NOW 63, 2006)
Gnarls Barkley – Crazy (NOW 64, 2006)
Scissor Sisters – I Don't Feel Like Dancin' (Radio Edit) (NOW 65, 2006)
MIKA – Grace Kelly (NOW 66, 2007)
Amy Winehouse – Back To Black (NOW 67, 2007)
Leona Lewis – Bleeding Love (NOW 68, 2007)

LP 2

Side A

Take That – Rule The World (NOW 68, 2007)
Duffy – Mercy (NOW 69, 2008)
Sam Sparro – Black & Gold (NOW 70, 2008)
P!NK – So What (NOW 71, 2008)
Coldplay – Viva La Vida (NOW 71, 2008)
The Killers – Human (NOW 72, 2009)
Pixie Lott – Mama Do (Uh Oh, Uh Oh) (NOW 73, 2009)

Side B

The Black Eyed Peas – I Gotta Feeling (NOW 74, 2009)
La Roux – Bulletproof (NOW 74, 2009)
Lady Gaga – Bad Romance (NOW 75, 2010)
JLS – The Club Is Alive (NOW 76, 2010)
B.o.B feat. Bruno Mars – Nothin' On You (NOW 76, 2010)
CeeLo Green – Forget You (NOW 77, 2010)
Flo Rida feat. David Guetta – Club Can't Handle Me (NOW 77, 2010)

LP 3

Side A

Katy Perry – Firework (NOW 77, 2010)
Jessie J – Price Tag (NOW 78, 2011)
Jennifer Lopez – On The Floor (NOW 79, 2011)
Christina Perri – Jar Of Hearts (NOW 80, 2011)
Lana Del Rey – Video Games (NOW 80, 2011)
One Direction – What Makes You Beautiful (NOW 80, 2011)
David Guetta feat. Sia – Titanium (NOW 81, 2012)

Side B

Fun. feat. Janelle Monáe – We Are Young (NOW 82, 2012)
Carly Rae Jepsen – Call Me Maybe (NOW 82, 2012)
PSY – Gangnam Style (강남스타일) (NOW 83, 2012)
Florence + The Machine – Spectrum (Say My Name) (Calvin Harris Remix) (NOW 83,
2012)
will.i.am & Britney Spears – Scream & Shout (NOW 84, 2013)
Bastille – Pompeii (NOW 84, 2013)
Tom Odell – Another Love (NOW 85, 2013)
Tracklisting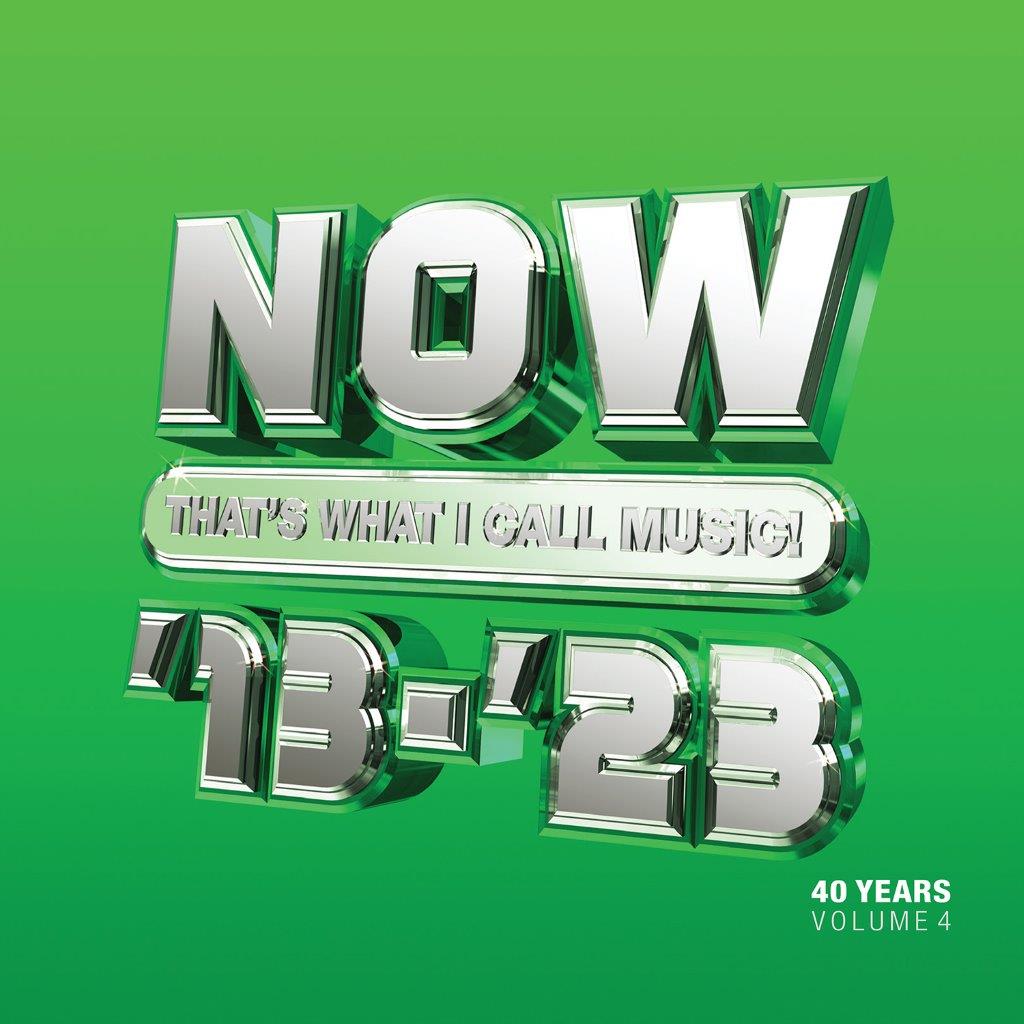 NOW That's What I Call 40 Years Various Artists
/
2013-2023: Vol 4
CD 1

Avicii – Wake Me Up (NOW 86, 2013)
Lorde – Royals (NOW 86, 2013)
Miley Cyrus – Wrecking Ball (NOW 87, 2014)
Pitbull feat. Ke$ha – Timber (NOW 87, 2014)
Pharrell Williams – Happy (From "Despicable Me 2") (NOW 87, 2014)
Ed Sheeran – Sing (NOW 88, 2014)
Idina Menzel – Let It Go (From "Frozen") (NOW 88, 2014)
Sia – Chandelier (NOW 88, 2014)
Ella Henderson – Ghost (NOW 88, 2014)
Paloma Faith – Only Love Can Hurt Like This (NOW 88, 2014)
Meghan Trainor – All About That Bass (NOW 89, 2014)
Hozier – Take Me To Church (NOW 89, 2014)
Labrinth – Jealous (NOW 90, 2015)
James Bay – Hold Back The River (NOW 90, 2015)
Years & Years – King (NOW 90, 2015)
Mark Ronson feat. Bruno Mars – Uptown Funk (NOW 90, 2015)
Little Mix – Black Magic (NOW 91, 2015)
Ellie Goulding – Love Me Like You Do (From "Fifty Shades Of Grey") (NOW 91, 2015)
Rachel Platten – Fight Song (NOW 92, 2015)
Sigala – Easy Love (NOW 92, 2015)
Jonas Blue & Dakota – Fast Car (NOW 93, 2016)

CD 2

Justin Bieber – Love Yourself (NOW 93, 2016)
Lukas Graham – 7 Years (NOW 93, 2016)
Shawn Mendes – Stitches (NOW 93, 2016)
DNCE – Cake By The Ocean (NOW 94, 2016)
James Arthur – Say You Won't Let Go (NOW 95, 2016)
Christine and the Queens – Tilted (NOW 95, 2016)
Rag'n'Bone Man – Human (NOW 96, 2017)
The Chainsmokers & Coldplay – Something Just Like This (NOW 97, 2017)
Clean Bandit feat. Zara Larsson – Symphony (NOW 97, 2017)
Dua Lipa – New Rules (NOW 98, 2017)
Rita Ora – Anywhere (NOW 98, 2017)
Tom Walker – Leave A Light On (NOW 99, 2018)
Portugal. The Man – Feel It Still (NOW 99, 2018)
George Ezra – Shotgun (NOW 100, 2018)
Anne-Marie – 2002 (NOW 100, 2018)
Calvin Harris, Sam Smith – Promises (NOW 101, 2018)
Ava Max – Sweet But Psycho (NOW 102, 2019)
Lewis Capaldi – Someone You Loved (NOW 102, 2019)
Billie Eilish – bad guy (NOW 103, 2019)
Post Malone – Circles (NOW 104, 2019)
Kygo & Whitney Houston – Higher Love (NOW 104, 2019)
Tones And I – Dance Monkey (NOW 104, 2019)

CD 3

The Weeknd – Blinding Lights (NOW 105, 2020)
Joel Corry feat. MNEK – Head & Heart (NOW 106, 2020)
Ariana Grande – positions (NOW 107, 2020)
Glass Animals – Heat Waves (NOW 108, 2021)
Olivia Rodrigo – drivers license (NOW 108, 2021)
The Kid LAROI – WITHOUT YOU (NOW 108, 2021)
Lil Nas X – MONTERO (Call Me By Your Name) (NOW 109, 2021)
Tom Grennan – Little Bit Of Love (NOW 109, 2021)
Sam Fender – Seventeen Going Under (NOW 110, 2021)
Elton John & Dua Lipa – Cold Heart (PNAU Remix) (NOW 110, 2021)
Lost Frequencies, Calum Scott – Where Are You Now (NOW 111, 2022)
Cat Burns – go (NOW 111, 2022)
GAYLE – abc (nicer) (NOW 111, 2022)
LF SYSTEM – Afraid To Feel (NOW 112, 2022)
Lizzo – About Damn Time (NOW 112, 2022)
Sam Ryder – SPACE MAN (NOW 112, 2022)
Rosa Linn – SNAP (NOW 113, 2022)
OneRepublic – I Ain't Worried (NOW 113, 2022)
David Guetta & Bebe Rexha – I'm Good (Blue) (NOW 113, 2022)
Sam Smith & Kim Petras – Unholy (NOW 113, 2022)
SZA – Kill Bill (NOW 114, 2023)
PinkPantheress – Boy's A Liar (NOW 114, 2023)
Loreen – Tattoo (NOW 115, 2023)
Kylie Minogue – Padam Padam (NOW 115, 2023positions (NOW 107, 2020)

LP 1

Side A

Avicii – Wake Me Up (NOW 86, 2013)
Lorde – Royals (NOW 86, 2013)
Miley Cyrus – Wrecking Ball (NOW 87, 2014)
Pitbull feat. Ke$ha – Timber (NOW 87, 2014)
Pharrell Williams – Happy (From "Despicable Me 2") (NOW 87, 2014)
Sia – Chandelier (NOW 88, 2014)
Paloma Faith – Only Love Can Hurt Like This (NOW 88, 2014)
Idina Menzel – Let It Go (From "Frozen") (NOW 88, 2014)

Side B

Ed Sheeran – Sing (NOW 88, 2014)
Hozier – Take Me To Church (NOW 89, 2014)
Labrinth – Jealous (NOW 90, 2015)
Mark Ronson feat. Bruno Mars – Uptown Funk (NOW 90, 2015)
Little Mix – Black Magic (NOW 91, 2015)
Rachel Platten – Fight Song (NOW 92, 2015)
Lukas Graham – 7 Years (NOW 93, 2016)

LP 2

Side A

Justin Bieber – Love Yourself (NOW 93, 2016)
Shawn Mendes – Stitches (NOW 93, 2016)
DNCE – Cake By The Ocean (NOW 94, 2016)
Christine And The Queens – Tilted (NOW 95, 2016)
Rag'n'Bone Man – Human (NOW 96, 2017)
The Chainsmokers & Coldplay – Something Just Like This (NOW 97, 2017)
Dua Lipa – New Rules (NOW 98, 2017)
Rita Ora – Anywhere (NOW 98, 2017)

Side B

Portugal. The Man – Feel It Still (NOW 99, 2018)
George Ezra – Shotgun (NOW 100, 2018)
Calvin Harris, Sam Smith – Promises (NOW 101, 2018)
Lewis Capaldi – Someone You Loved (NOW 102, 2019)
Billie Eilish – bad guy (NOW 103, 2019)
Tones And I – Dance Monkey (NOW 104, 2019)
Post Malone – Circles (NOW 104, 2019)
The Weeknd – Blinding Lights (NOW 105, 2020)

LP 3

Side A

Joel Corry feat. MNEK – Head & Heart (NOW 106, 2020)
Ariana Grande – positions (NOW 107, 2020)
Glass Animals – Heat Waves (NOW 108, 2021)
Olivia Rodrigo – drivers license (NOW 108, 2021)
Lil Nas X – MONTERO (Call Me By Your Name) (NOW 109, 2021)
Elton John & Dua Lipa – Cold Heart (PNAU Remix) (NOW 110, 2021)
Sam Fender – Seventeen Going Under (NOW 110, 2021)
Cat Burns – go (NOW 111, 2022)

Side B

Lost Frequencies, Calum Scott – Where Are You Now (NOW 111, 2022)
Sam Ryder – SPACE MAN (NOW 112, 2022)
Lizzo – About Damn Time (NOW 112, 2022)
OneRepublic – I Ain't Worried (NOW 113, 2022)
David Guetta & Bebe Rexha – I'm Good (Blue) (NOW 113, 2022)
Sam Smith & Kim Petras – Unholy (NOW 113, 2022)
SZA – Kill Bill (NOW 114, 2023)
Loreen – Tattoo (NOW 115, 2023)
Kylie Minogue – Padam Padam (NOW 115, 2023)