 News
Now That's What I Call Christmas
It's too early for this, etc.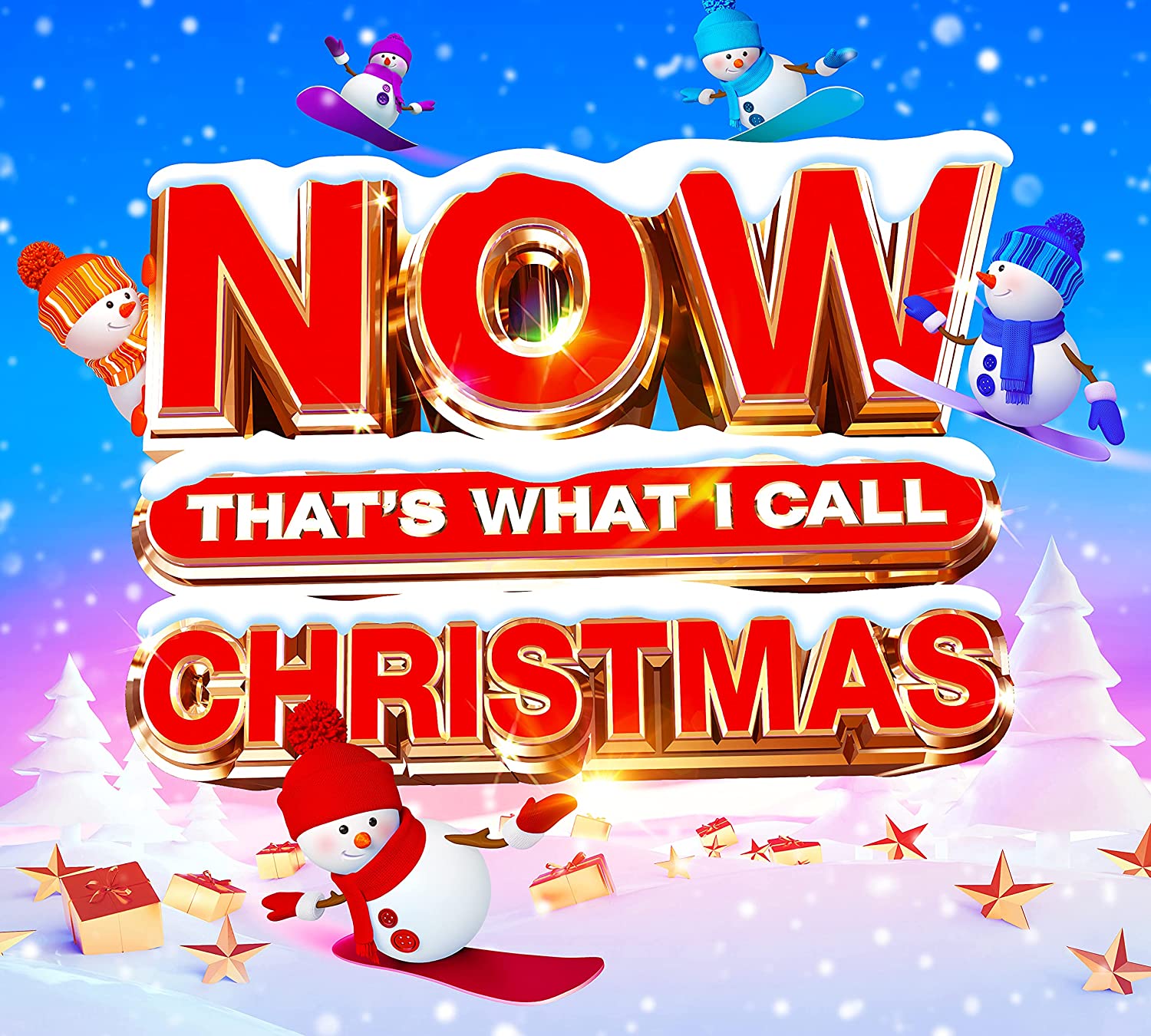 Perhaps in an attempt to make amends for the best forgotten Christmas Album reboot from 2016, the Now That's What I Call Music team have put together a new festive compilation for 2021 called simply Now That's What I Call Christmas.
This is a bit more like it, as the compilers offer 68 Christmas songs on the three-CD edition and a still creditable 47 on the triple LP edition, pressed on – you guessed it – white vinyl.
Virtually all the 'essentials' are present and correct ('Last Christmas', 'Merry Xmas Everybody', 'Wonderful Christmastime', Do They Know It's Christmas? etc.) and a whole lot more. In fact, by SDE's count everything from the very original Christmas Album from 1985 features on here, save Gary Glitter ('Another Rock and Roll Christmas') and Queen ('Thank God It's Christmas'). Admittedly, Shakin' Stevens' 'Blue Christmas' is replaced by his festive chart-topper 'Merry Christmas Everyone' but the song is still present and correct in the original Elvis version.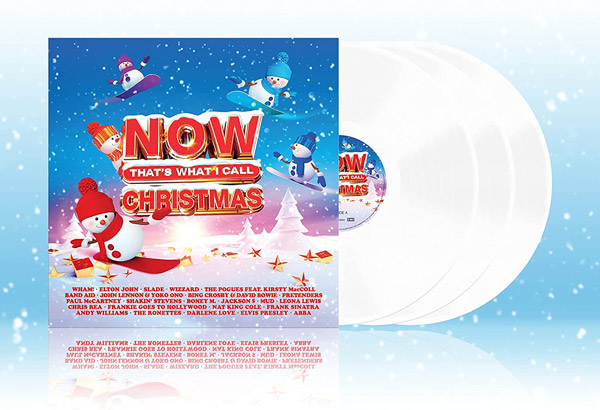 The running order mixes up the decades and there's not too much to complain about, but if you are looking for something then you might question the inclusion of Robbie Williams awful 'Can't Stop Christmas' and you could – should – rant about putting the words 'Jive Bunny' on anything. The bastard bunny's 'Let's Party 2008' is a Christmas song mash-up which heavily features Slade's 'Merry Christmas Everybody' and Wizzard's I Wish It Could Be Christmas Every Day'. This is somewhat redundant on a compilation which features both of those songs in full!
Personally, I'd like to have seen Kate Bush's 'December Will Be Magic Again', if only in the hope that they accidentally put the rare 'bongo' version on here.
The white vinyl is appealing, although in truth who wants to faff around with six sides of vinyl on Christmas Day when you want to stay put on the sofa with that tin of Quality Street while enjoying some festive classics.
Now That's What I Call Christmas will be released on CD on 29 October 2021 with the vinyl to follow on 12 November.
Compare prices and pre-order
Various Artists
Now That's What I Call Christmas - 3CD set
Compare prices and pre-order
Various Artists
Now Christmas - 3LP white vinyl
Tracklisting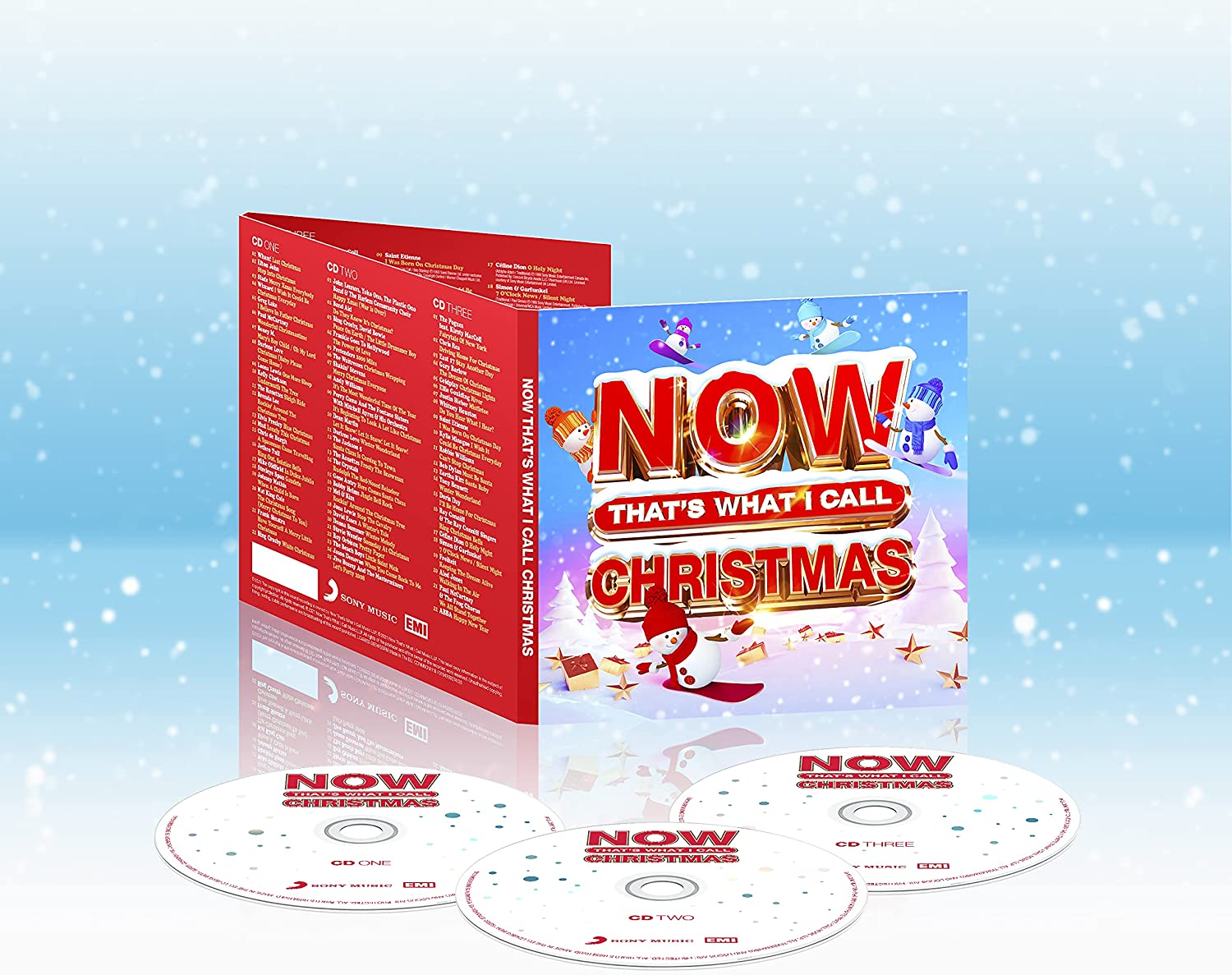 Now That's What I Call Christmas Various Artists
/
3CD set
CD 1

Wham! – Last Christmas
Elton John – Step Into Christmas
Slade – Merry Xmas Everybody
Wizzard – I Wish It Could Be Christmas Everyday
Greg Lake – I Believe In Father Christmas
Paul McCartney – Wonderful Christmastime
Boney M. – Mary's Boy Child / Oh My Lord
Darlene Love – Christmas (Baby Please Come Home)
Leona Lewis – One More Sleep
Kelly Clarkson – Underneath The Tree
The Ronettes – Sleigh Ride
Brenda Lee – Rockin' Around The Christmas Tree
Elvis Presley – Blue Christmas
Mud – Lonely This Christmas
Chris de Burgh – A Spaceman Came Travelling
Jethro Tull – Ring Out, Solstice Bells
Mike Oldfield – In Dulce Jubilo
Steeleye Span – Gaudete
Johnny Mathis – When A Child Is Born
Nat King Cole – The Christmas Song (Merry Christmas To You)
Frank Sinatra – Have Yourself A Merry Little Christmas
Bing Crosby – White Christmas

CD 2

John Lennon, Yoko Ono, The Plastic Ono Band & The Harlem Community Choir – Happy Xmas (War Is Over
Band Aid – Do They Know It's Christmas?
Bing Crosby, David Bowie – Peace On Earth / The Little Drummer Boy
Frankie Goes To Hollywood – The Power Of Love
Pretenders – 2000 Miles
The Waitresses – Christmas Wrapping
Shakin' Stevens – Merry Christmas Everyone
Andy Williams – It's The Most Wonderful Time Of The Year
Perry Como And The Fontane Sisters With Mitchell Ayres & His Orchestra – It's Beginning To Look A Lot Like Christmas
Dean Martin – Let It Snow! Let It Snow! Let It Snow!
Darlene Love – Winter Wonderland
The Jackson 5 – Santa Claus Is Coming To Town
The Ronettes – Frosty The Snowman
The Crystals – Rudolph The Red-Nosed Reindeer
Gene Autry – Here Comes Santa Claus
Bobby Helms – Jingle Bell Rock
Mel & Kim – Rockin' Around The Christmas Tree
Jona Lewie – Stop The Cavalry
David Essex – A Winter's Tale
Donna Summer – Winter Melody
Stevie Wonder – Someday At Christmas
Roy Orbison – Pretty Paper
The Beach Boys – Little Saint Nick
Jason Donovan – When You Come Back To Me
Jive Bunny And The Mastermixers – Let's Party 2008

CD 3

The Pogues feat. Kirsty MacColl – Fairytale Of New York
Chris Rea – Driving Home For Christmas
East 17 – Stay Another Day
Gary Barlow – The Dream Of Christmas
Coldplay – Christmas Lights
Ellie Goulding – River
Justin Bieber – Mistletoe
Whitney Houston – Do You Hear What I Hear?
Saint Etienne – I Was Born On Christmas Day
Kylie Minogue – I Wish It Could Be Christmas Everyday
Robbie Williams – Can't Stop Christmas
Bob Dylan – Must Be Santa
Eartha Kitt – Santa Baby
Tony Bennett – Winter Wonderland
Doris Day – I'll Be Home For Christmas
Ray Conniff & The Ray Conniff Singers – Ring Christmas Bells
Céline Dion – O Holy Night
Simon & Garfunkel – 7 O'Clock News / Silent Night
Münchener Freiheit – Keeping The Dream Alive
Aled Jones – Walking In The Air
ABBA – Happy New Year