 News
Now That's What I Call Eurovision Song Contest
Limited 5LP vinyl box • 4CD • 2LP set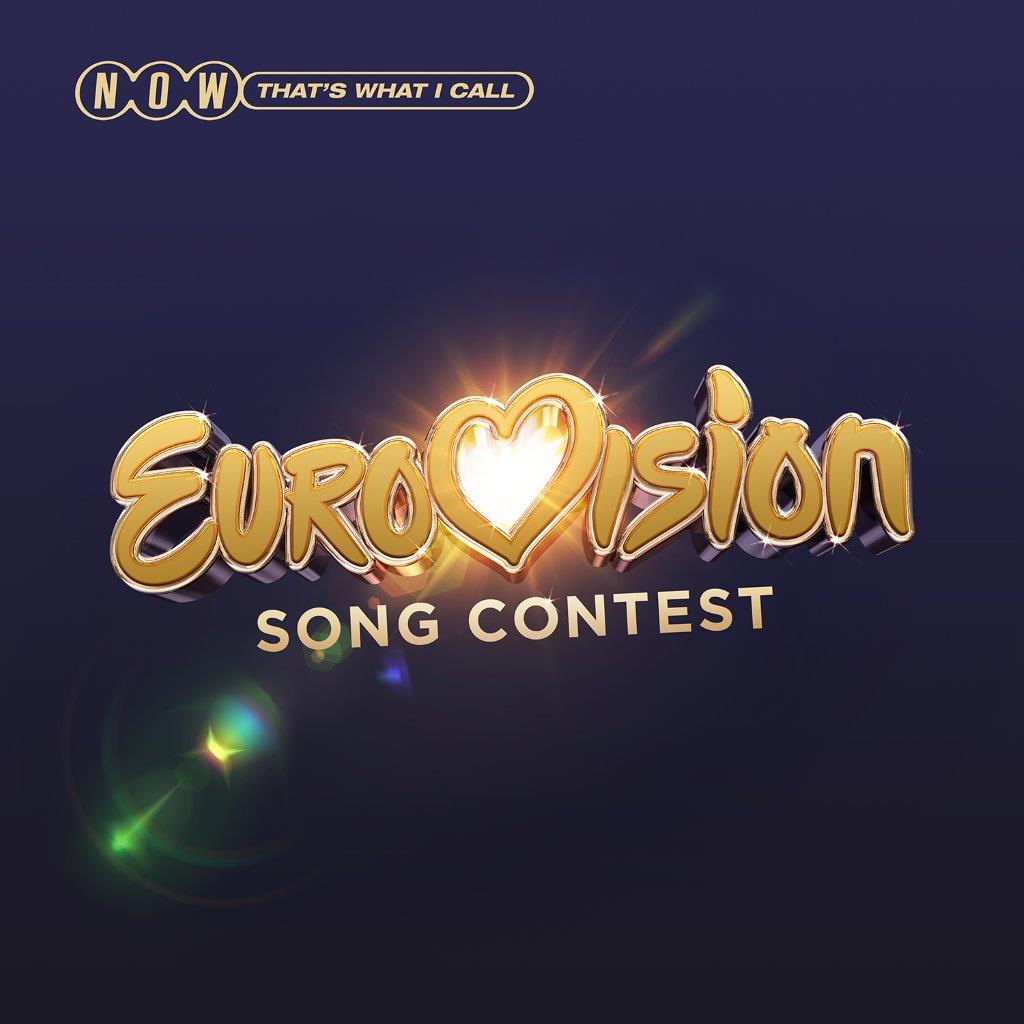 With the 67th contest taking place in the UK in May, NOW That's What I Call Eurovision Song Contest is a new collection available in three different variants – including very limited 5LP clear vinyl box set – featuring the ultimate collection of winners, memorable and enduring classics, and fan favourites from across the decades.
The vinyl box features 84 songs on five clear vinyl records and includes track-by-track annotations, including facts about the song, artist, and result at the contest! This box is presented and branded like the 'Electronic' and 'The '70s' NOW sets of recent times.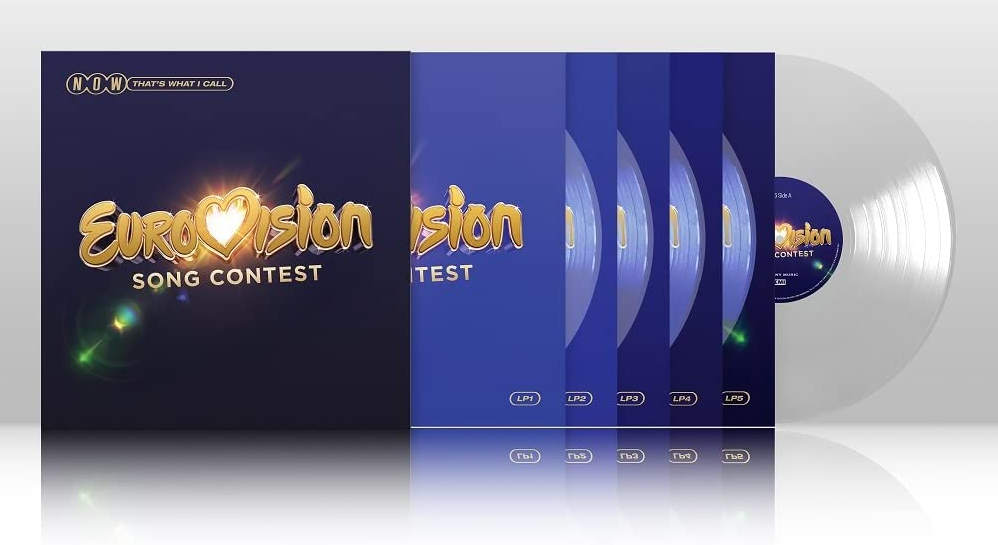 A 4CD edition offers the same 84 tracks and is packaged as an eight-panel card wallet, just like the non-deluxe Yearbooks and finally a 2LP set is pressed on red and blue vinyl and offers 36 tracks.
Full tracklistings for all editions are below and the big 84-track versions are a veritable A to Z of Eurovision, from 'Arcade' (Duncan Laurence's contest-winning Dutch entry from 2019) to 'Zitti e buoni' (Italian group Måneskin's winning song for 2021).
All formats of Now That's What I Call Eurovision Song Contest are released on 28 April 2023.
Compare prices and pre-order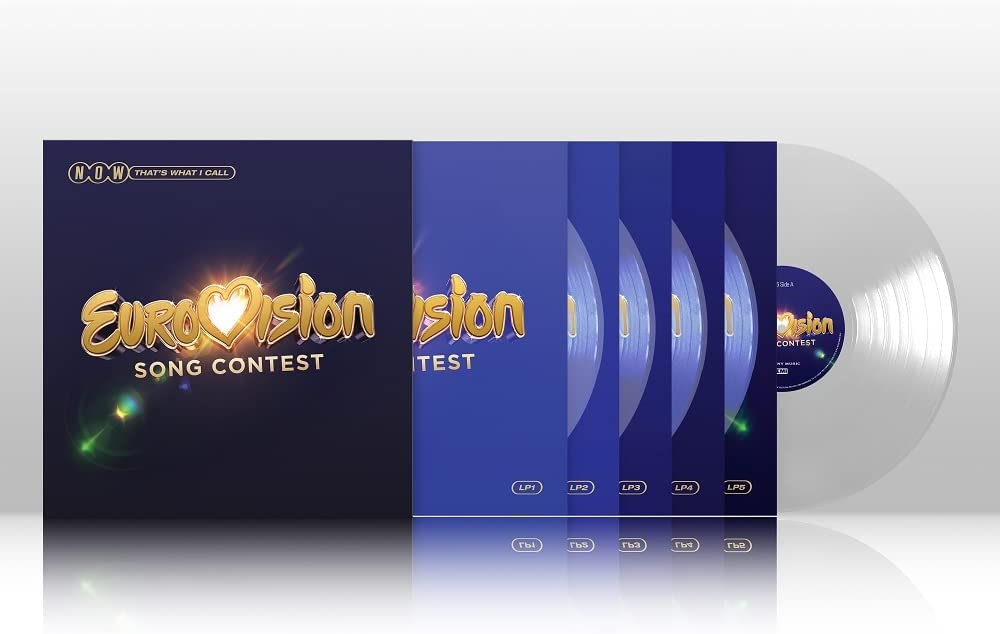 Various Artists
Now Thats What I Call Eurovision Song Contest - limited edition 5LP clear vinyl box set
Compare prices and pre-order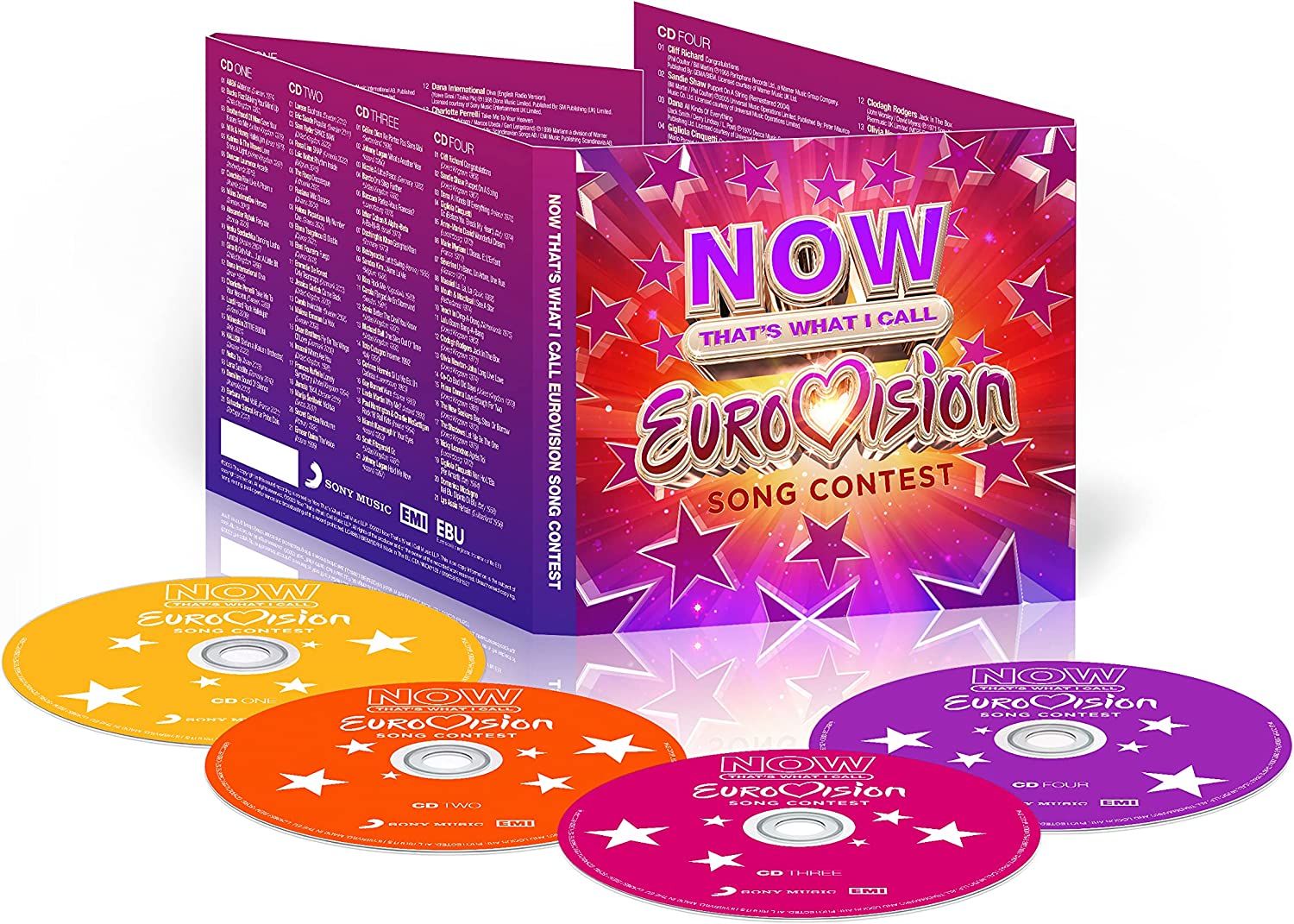 Various Artists
Now Thats What I Call Eurovision Song Contest - 4CD set
Compare prices and pre-order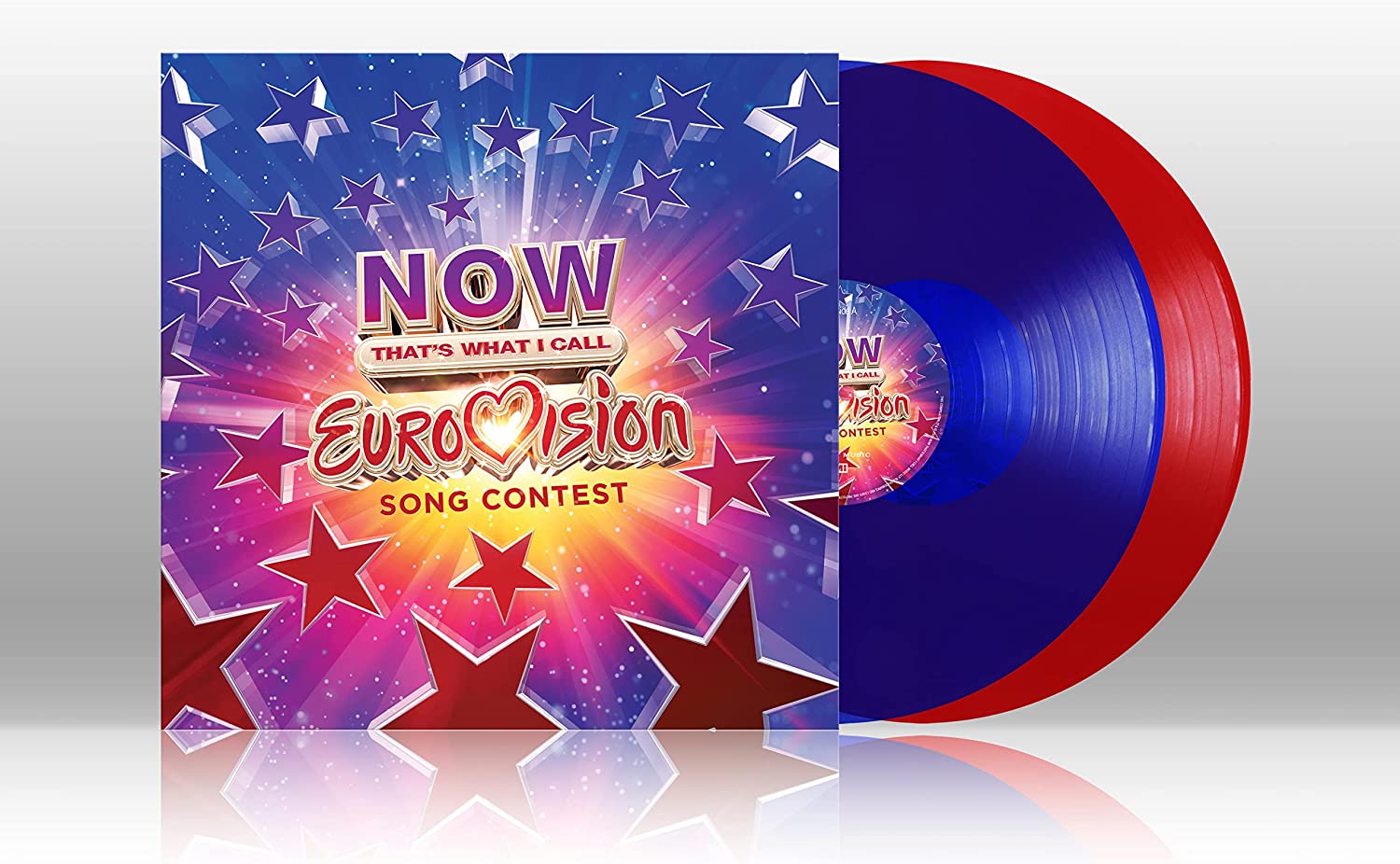 Various Artists
Now Thats What I Call Eurovision Song Contest - 2LP red and blue vinyl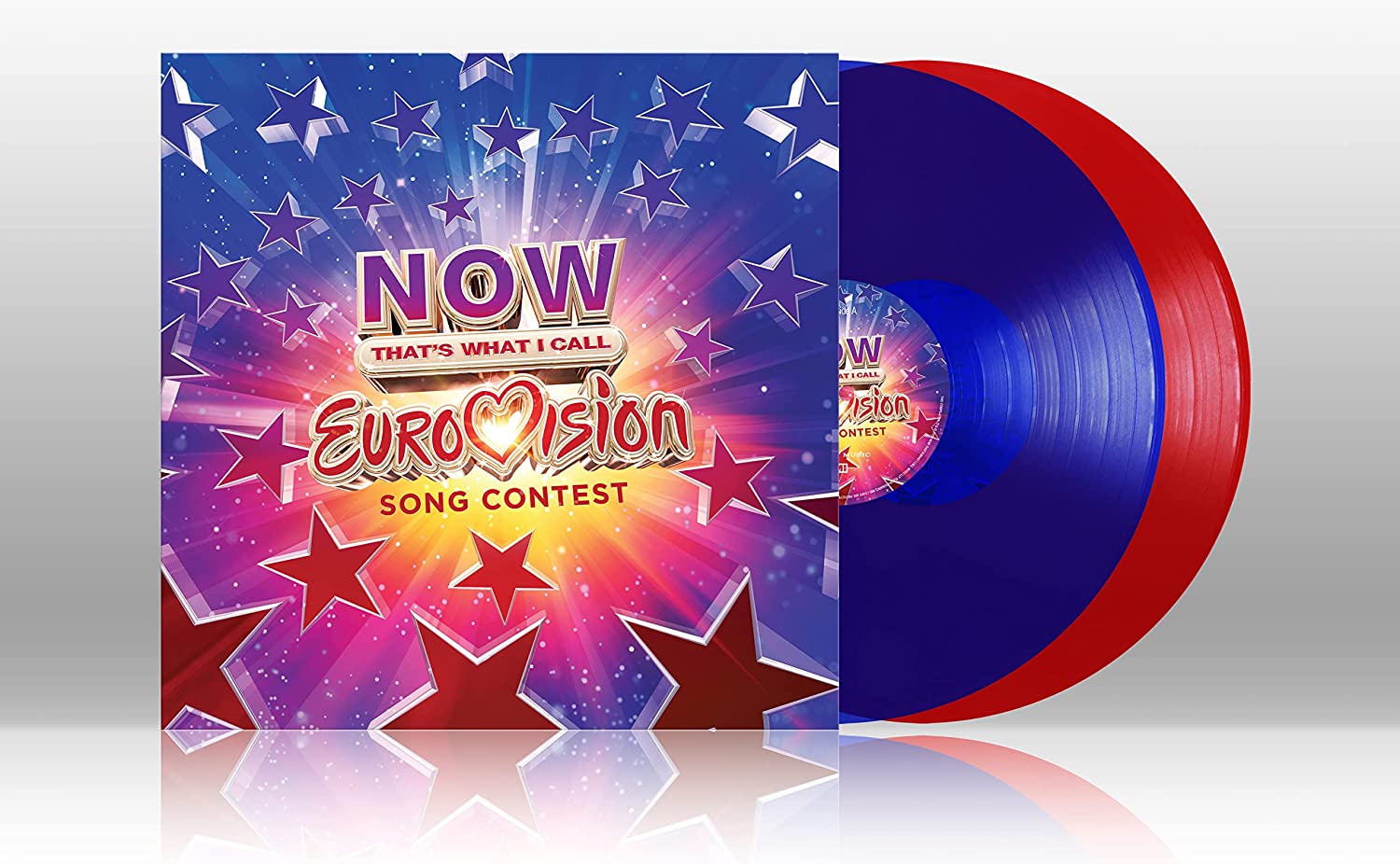 Tracklisting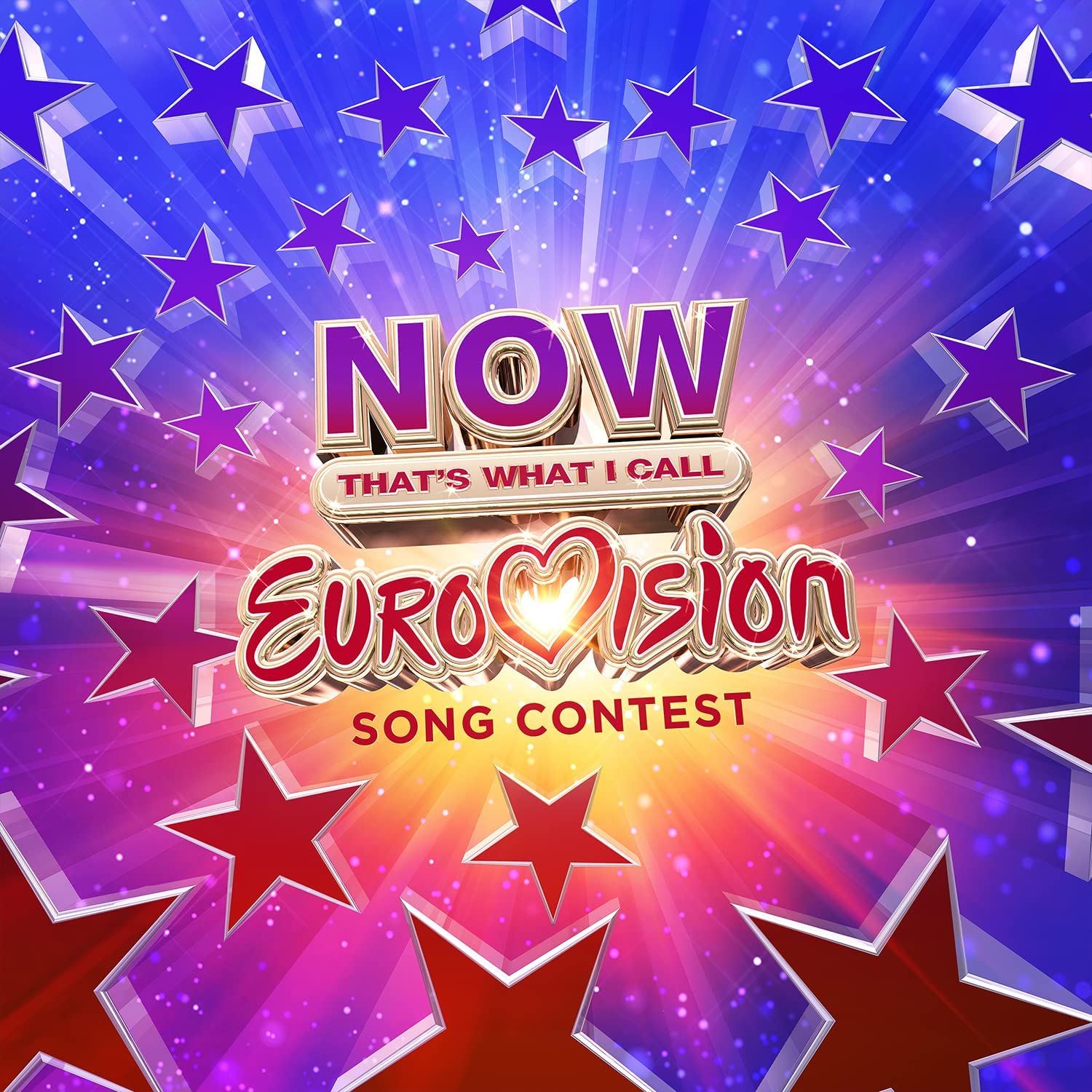 Now That's What I Call Eurovision Song Contest Various Artists
/
CD 1

ABBA – Waterloo
Bucks Fizz – Making Your Mind Up
Brotherhood Of Man – Save Your Kisses For Me
Milk & Honey – Hallelujah
Katrina & The Waves – Love Shine A Light
Duncan Laurence – Arcade
Conchita – Rise Like A Phoenix
Måns Zelmerlöw – Heroes
Alexander Rybak – Fairytale
Verka Serduchka – Dancing Lasha Tumbai
Gina G – Ooh Aah… Just A Little Bit
Dana International – Diva
Charlotte Perrelli – Take Me To Your Heaven
Lordi – Hard Rock Hallelujah
Måneskin – ZITTI E BUONI
KALUSH – Stefania (Kalush Orchestra)
Netta – Toy
Lena – Satellite
Dami Im – Sound Of Silence
Barbara Pravi – Voilà
Salvador Sobral – Amar Pelos Dois

CD 2

Loreen – Euphoria
Eric Saade – Popular
Sam Ryder – SPACE MAN
Rosa Linn – SNAP
Loïc Nottet – Rhythm Inside
The Roop – Discoteque
Ruslana – Wild Dances
Helena Paparizou – My Number One
Elena Tsagrinou – El Diablo
Eleni Foureira – Fuego
Emmelie De Forest – Only Teardrops
Jessica Garlick – Come Back
Carola – Invincible
Malena Ernman – La Voix
Olsen Brothers – Fly On The Wings Of Love
Imaani – Where Are You
Frances Ruffelle – Lonely Symphony
Jamala – 1944
Marija Šerifović – Molitva
Secret Garden – Nocturne
Eimear Quinn – The Voice

CD 3

Céline Dion – Ne Partez Pas Sans Moi
Johnny Logan – What's Another Year
Nicole – A Little Peace
Bardo – One Step Further
Baccara – Parlez-Vous Francais?
Izhar Cohen & Alpha-Beta – A-Ba-Ni-Bi
Dschinghis Khan – Genghis Khan
Bobbysocks – Let It Swing
Sandra Kim – J'Aime La Vie
Riva – Rock Me
Carola – Fångad Av En Stormvind
Sonia – Better The Devil You Know
Michael Ball – One Step Out Of Time
Toto Cutugno – Insieme: 1992
Corinne Hermès – Si La Vie Est Un Cadeau
Guy Bonnet – Vivre
Linda Martin – Why Me?
Paul Harrington & Charlie Mcgettigan – Rock 'N' Roll Kids
Niamh Kavanagh – In Your Eyes
Scott Fitzgerald – Go
Johnny Logan – Hold Me Now

CD 4

Cliff Richard – Congratulations
Sandie Shaw – Puppet On A String
Dana – All Kinds Of Everything
Gigliola Cinquetti – Go (Before You Break My Heart)
Anne-Marie David – Wonderful Dream
Marie Myriam – L'Oiseau Et L'Enfant
Séverine – Un Banc, Un Arbre, Une Rue
Massiel – La, La, La
Mouth & MacNeal – I See A Star
Teach In – Ding-A-Dong
Lulu – Boom Bang-A-Bang
Clodagh Rodgers – Jack In The Box
Olivia Newton-John – Long Live Love
Co-Co – Bad Old Days
Prima Donna – Love Enough For Two
The New Seekers – Beg, Steal Or Borrow
The Shadows – Let Me Be The One
Vicky Leandros – Après Toi
Gigliola Cinquetti – Non Ho L'Eta (Per Amarti)
Domenico Modugno – Nel Blu Dipinto Di Blu
Lys Assia – Refrain

LP 1

Side A

ABBA – Waterloo
Bucks Fizz – Making Your Mind Up
Brotherhood Of Man – Save Your Kisses For Me
Milk & Honey – Hallelujah
Katrina & The Waves – Love Shine A Light
Alexander Rybak – Fairytale
Charlotte Perrelli – Take Me To Your Heaven
Gina G – Ooh Aah… Just A Little Bit
Dana International – Diva

Side B

Conchita – Rise Like A Phoenix
Måns Zelmerlöw – Heroes
Verka Serduchka – Dancing Lasha Tumbai
Netta – Toy
Lena – Satellite
Lordi – Hard Rock Hallelujah
Måneskin – ZITTI E BUONI
KALUSH – Stefania (Kalush Orchestra)

LP 2

Side A

Duncan Laurence – Arcade
Barbara Pravi – Voilà
Dami Im – Sound Of Silence
Sam Ryder – SPACE MAN
Rosa Linn – SNAP
Loïc Nottet – Rhythm Inside
The Roop – Discoteque
Emmelie De Forest – Only Teardrops
Salvador Sobral – Amar Pelos Dois

Side B

Loreen – Euphoria
Eric Saade – Popular
Ruslana – Wild Dances
Helena Paparizou – My Number One
Elena Tsagrinou – El Diablo
Eleni Foureira – Fuego
Carola – Invincible
Malena Ernman – La Voix

LP 3

Side A

Céline Dion – Ne Partez Pas Sans Moi
Johnny Logan – Hold Me Now
Scott Fitzgerald – Go
Secret Garden – Nocturne
Eimear Quinn – The Voice
Jamala – 1944
Marija Šerifović – Molitva
Jessica Garlick – Come Back

Side B

Toto Cutugno – Insieme: 1992
Michael Ball – One Step Out Of Time
Sonia – Better The Devil You Know
Olsen Brothers – Fly On The Wings Of Love
Imaani – Where Are You
Frances Ruffelle – Lonely Symphony
Linda Martin – Why Me?
Paul Harrington & Charlie Mcgettigan – Rock 'N' Roll Kids
Niamh Kavanagh – In Your Eyes

LP 4

Side A

Johnny Logan – What's Another Year
Nicole – A Little Peace
Bardo – One Step Further
Bobbysocks – Let It Swing
Riva – Rock Me
Sandra Kim – J'Aime La Vie
Carola – Fångad Av En Stormvind
Corinne Hermès – Si La Vie Est Un Cadeau
Guy Bonnet – Vivre

Side B

Marie Myriam – L'Oiseau Et L'Enfant
Baccara – Parlez-Vous Francais?
Izhar Cohen & Alpha-Beta – A-Ba-Ni-Bi
Dschinghis Khan – Genghis Khan
Co-Co – Bad Old Days
Prima Donna – Love Enough For Two
The New Seekers – Beg, Steal Or Borrow
The Shadows – Let Me Be The One

LP 5

Side A

Cliff Richard – Congratulations
Sandie Shaw – Puppet On A String
Clodagh Rodgers – Jack In The Box
Anne-Marie David – Wonderful Dream
Gigliola Cinquetti – Go (Before You Break My Heart)
Teach In – Ding-A-Dong
Mouth & MacNeal – I See A Star
Olivia Newton-John – Long Live Love

Side B

Dana – All Kinds Of Everything
Séverine – Un Banc, Un Arbre, Une Rue
Massiel – La, La, La
Lulu – Boom Bang-A-Bang
Vicky Leandros – Après Toi
Gigliola Cinquetti – Non Ho L'Eta (Per Amarti)
Domenico Modugno – Nel Blu Dipinto Di Blu
Lys Assia – Refrain

LP 1

Side A

ABBA – Waterloo
Bucks Fizz – Making Your Mind Up
Brotherhood Of Man – Save Your Kisses For Me
Milk & Honey – Hallelujah
Katrina & The Waves – Love Shine A Light
Alexander Rybak – Fairytale
Charlotte Perrelli – Take Me To Your Heaven
Gina G – Ooh Aah… Just A Little Bit
Dana International – Diva

Side B

Måns Zelmerlöw – Heroes
Conchita – Rise Like A Phoenix
Sam Ryder – SPACE MAN
Duncan Laurence – Arcade
Rosa Linn – SNAP
Loïc Nottet – Rhythm Inside
Lordi – Hard Rock Hallelujah
Måneskin – ZITTI E BUONI
KALUSH – Stefania (Kalush Orchestra)

LP 2

Side A

Loreen – Euphoria
Eric Saade – Popular
Ruslana – Wild Dances
Helena Paparizou – My Number One
Verka Serduchka – Dancing Lasha Tumbai
Netta – Toy
Nicole – A Little Peace
Johnny Logan – What's Another Year
Céline Dion – Ne Partez Pas Sans Moi

Side B

Cliff Richard – Congratulations
Sandie Shaw – Puppet On A String
Teach In – Ding-A-Dong
Mouth & MacNeal – I See A Star
Baccara – Parlez-Vous Francais?
Marie Myriam – L'Oiseau Et L'Enfant
Anne-Marie David – Wonderful Dream
Gigliola Cinquetti – Go (Before You Break My Heart)
Dana – All Kinds Of Everything