 News
NOW Yearbook 1988
4CD sets and 3LP coloured vinyl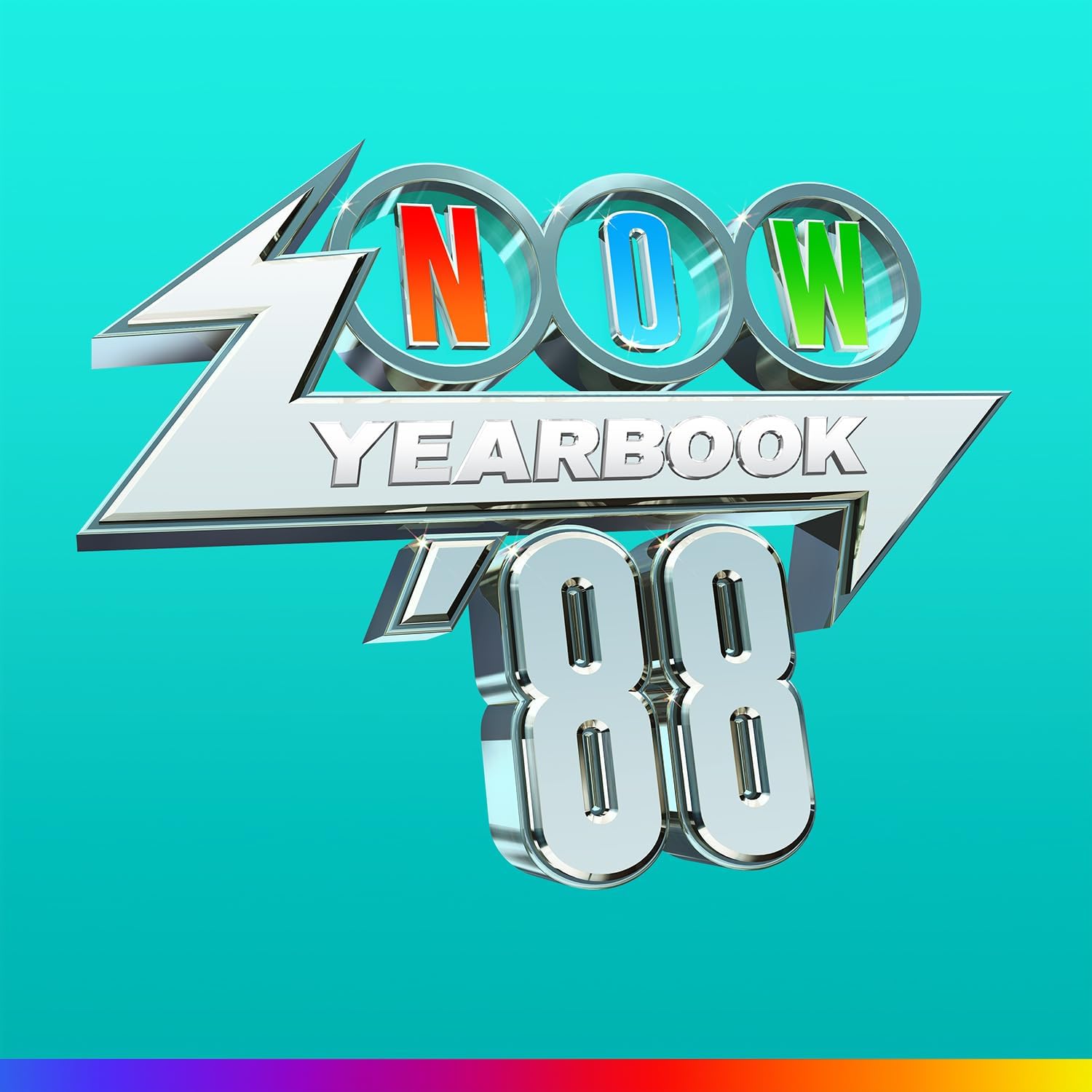 Now That's What I Call Music's next Yearbook will be focused on 1988.
NOW Yearbook '88 will be available as a deluxe 4CD set in hardcover book packaging and a standard 4CD offering with card sleeve. Both feature 82 tracks. The 3LP coloured vinyl edition cuts this down to 45 tracks.
The first disc of NOW Yearbook 88 opens with George Michael's 'Father Figure' and includes Duran Duran's I Don't Want Your Love, and 'You Have Placed A Chill In My Heart' by Eurythmics,' Heart' by Pet Shop Boys, New Order's 'Blue Monday '88', a-ha's 'Stay On These Roads', and Yello's biggest hit to date 'The Race'.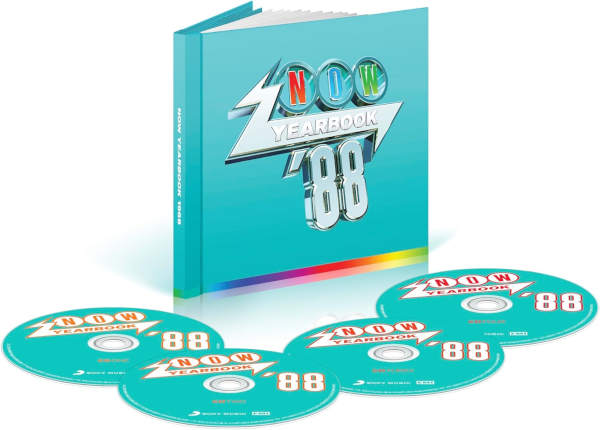 CD 2 has a PWL phase with Kylie, Bananarama, Jason etc. and follows with dance tunes from the likes of S'Express ('Theme From S-Express'), and Yazz & The Plastic Population with 'The Only Way Is Up',
Great to see Springsteen open disc three ('Tougher Than The Rest' from Tunnel of Love) and it all goes a bit 'rock' for a bit with Iron Maiden, Bon Jovi and Billy Idol.
The Pet Shop Boys return for CD 4 with a great 'one-two' of 'Left to My Own Devices' followed by Eighth Wonder's 'I'm Not Scared' which of course was written and produced by Neil Tennant and Chris Lowe. More late 80s pop follows from Dollar, Debbie Gibson, Tiffany, Bros, Taylor Dayne and more.
NOW Yearbook '88 will be issued on 3 November 2023.
Compare prices and pre-order
Various Artist
NOW Yearbook 88 - deluxe hardcover book 4CD set
Compare prices and pre-order
Various Artist
Now yearbook 88 - 3LP coloured vinyl
Compare prices and pre-order
Various Artist
NOW Yearbook 88 - standard 4CD in card sleeve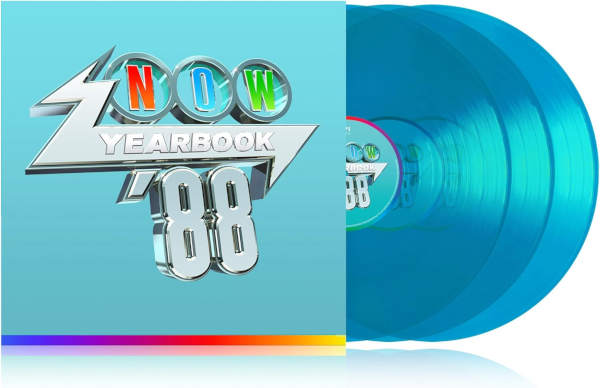 Tracklisting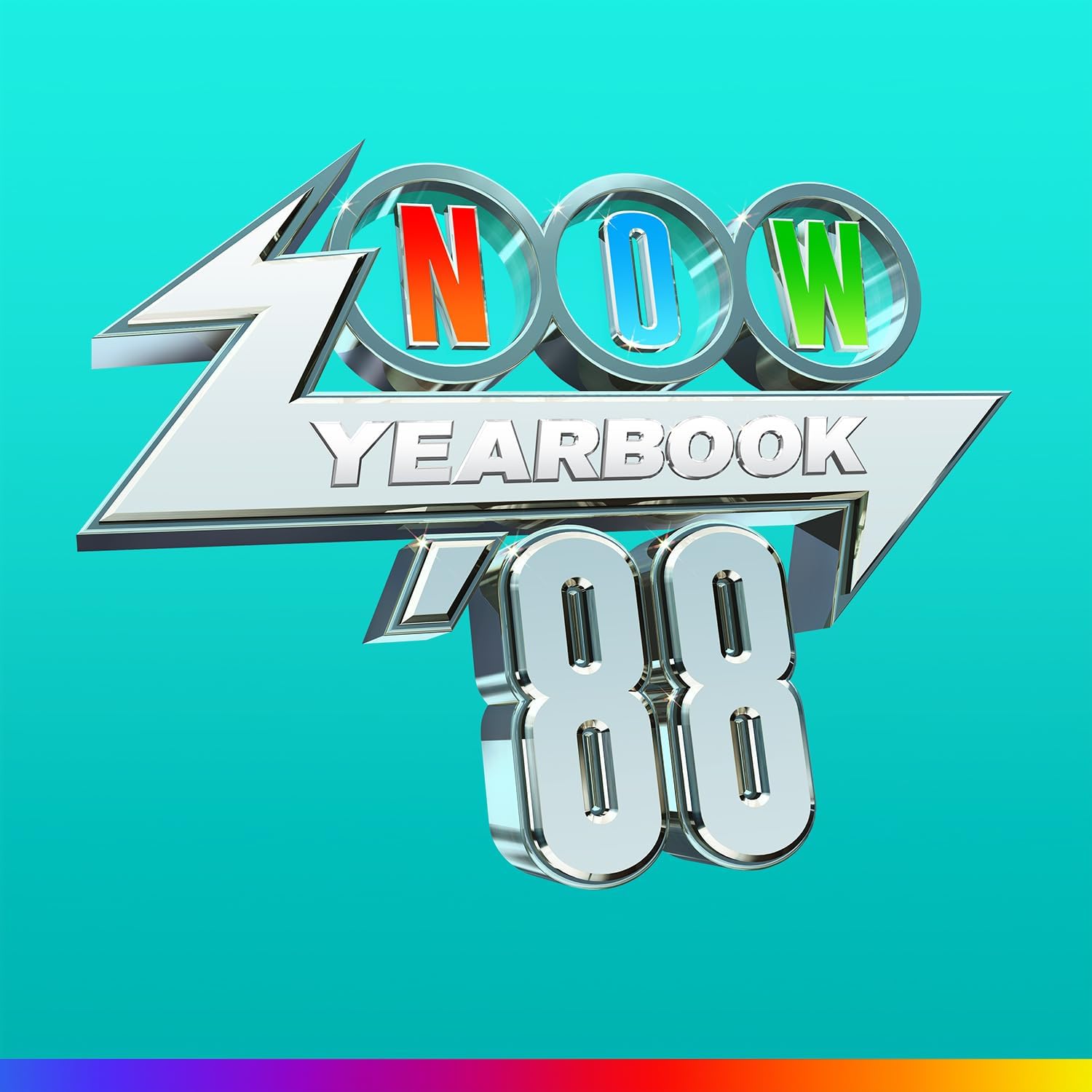 NOW Yearbook '88 Various Artists
/
CD 1

George Michael – Father Figure
Belinda Carlisle – Heaven Is A Place On Earth
Kim Wilde – You Came
Duran Duran – I Don't Want Your Love
Eurythmics, Annie Lennox, Dave Stewart – You Have Placed A Chill In My Heart
Pet Shop Boys – Heart
New Order – Blue Monday '88
Yello – The Race
a-ha – Stay On These Roads
The Adventures – Broken Land
Aztec Camera – Somewhere In My Heart
Tanita Tikaram – Good Tradition
Fairground Attraction – Perfect
Danny Wilson – Mary's Prayer
The Communards – There's More To Love (Than Boy Meets Girl)
Scritti Politti – Oh Patti (Don't Feel Sorry For Loverboy)
UB40 & Chrissie Hynde – Breakfast In Bed
Everything But The Girl – I Don't Want To Talk About It
Sade – Love Is Stronger Than Pride
Sting – Fragile

CD 2

Kylie Minogue – I Should Be So Lucky
Bananarama – I Want You Back
Rick Astley – Together Forever
Jason Donovan – Nothing Can Divide Us
Brother Beyond – The Harder I Try
Bros – I Owe You Nothing
The Timelords – Doctorin' The Tardis
Bomb The Bass – Beat Dis
Yazz & The Plastic Population – The Only Way Is Up
S'Express – Theme From S-Express
Inner City – Good Life
Womack & Womack – Teardrops
Climie Fisher – Love Changes (Everything)
Breathe – Hands To Heaven
Glenn Medeiros – Nothing's Gonna Change My Love For You
The Beach Boys – Kokomo
Belinda Carlisle – Circle In The Sand
Jane Wiedlin – Rush Hour
The Bangles – Hazy Shade Of Winter
Gloria Estefan / Miami Sound Machine – Anything For You
Elton John – Candle In The Wind (Live)

CD 3

Bruce Springsteen – Tougher Than The Rest
Deacon Blue – Real Gone Kid
Bon Jovi – Bad Medicine
Iron Maiden – Can I Play With Madness
Pat Benatar – All Fired Up
Billy Idol – Hot In The City
Sinéad O'Connor – Mandinka
Siouxsie And The Banshees – Peek-A-Boo
The Mission – Tower Of Strength
All About Eve – Martha's Harbour
Cher – I Found Someone
Heart – These Dreams
Robin Beck – First Time
Maxi Priest – Wild World
Aswad – Don't Turn Around
Will Downing – A Love Supreme
Mica Paris – My One Temptation
Sananda Maitreya – Sign Your Name
Brenda Russell – Piano In The Dark
Whitney Houston – One Moment In Time

CD 4

Pet Shop Boys – Left To My Own Devices
Eighth Wonder – I'm Not Scared
Dollar – O L'Amour
Desireless – Voyage Voyage
Sabrina – Boys (Summertime Love)
Hazell Dean – Who's Leaving Who
Kylie Minogue – The Loco-Motion
Debbie Gibson – Only In My Dreams
Tiffany – I Think We're Alone Now
Kim Wilde – Never Trust A Stranger
Transvision Vamp – I Want Your Love
Bros – When Will I Be Famous?
Wet Wet Wet – With A Little Help From My Friends
Wee Papa Girl Rappers – Wee Rule
Salt-N-Pepa – Push It
Pebbles – Girlfriend
Natalie Cole – Pink Cadillac
Taylor Dayne – Tell It To My Heart
Bananarama – Love, Truth & Honesty
Angry Anderson – Suddenly (7" Mix)
Cliff Richard – Mistletoe And Wine

LP 1

SIDE A

George Michael – Father Figure
a-ha – Stay On These Roads
Duran Duran – I Don't Want Your Love
Eurythmics, Annie Lennox, Dave Stewart – You Have Placed A Chill In My Heart
Pet Shop Boys – Heart
New Order – Blue Monday '88
Yello – The Race

SIDE B

S'Express – Theme From S-Express
Yazz & The Plastic Population – The Only Way Is Up
Kylie Minogue – I Should Be So Lucky
Bananarama – I Want You Back
Dollar – O L'Amour
Debbie Gibson – Only In My Dreams
Bros – When Will I Be Famous?
The Timelords – Doctorin' The Tardis

LP 2

SIDE A

Bon Jovi – Bad Medicine
Iron Maiden – Can I Play With Madness
Pat Benatar – All Fired Up
Siouxsie And The Banshees – Peek-A-Boo
Tanita Tikaram – Good Tradition
Fairground Attraction – Perfect
Everything But The Girl – I Don't Want To Talk About It
All About Eve – Martha's Harbour

 SIDE B

Bruce Springsteen – Tougher Than The Rest
Elton John – Candle In The Wind (Live)
Aztec Camera – Somewhere In My Heart
Deacon Blue – Real Gone Kid
The Adventures – Broken Land
Scritti Politti – Oh Patti (Don't Feel Sorry For Loverboy)
Sting – Fragile

LP 3

SIDE A 

Kim Wilde – You Came
Tiffany – I Think We're Alone Now
Belinda Carlisle – Heaven Is A Place On Earth
Cher – I Found Someone
Heart – These Dreams
Aswad – Don't Turn Around
Maxi Priest – Wild World
UB40 & Chrissie Hynde – Breakfast In Bed

SIDE B

Pet Shop Boys – Left To My Own Devices
Eighth Wonder – I'm Not Scared
Desireless – Voyage Voyage
Hazell Dean – Who's Leaving Who
Inner City – Good Life
Womack & Womack – Teardrops
Whitney Houston – One Moment In Time