 News
Paul McCartney / Flaming Pie reissue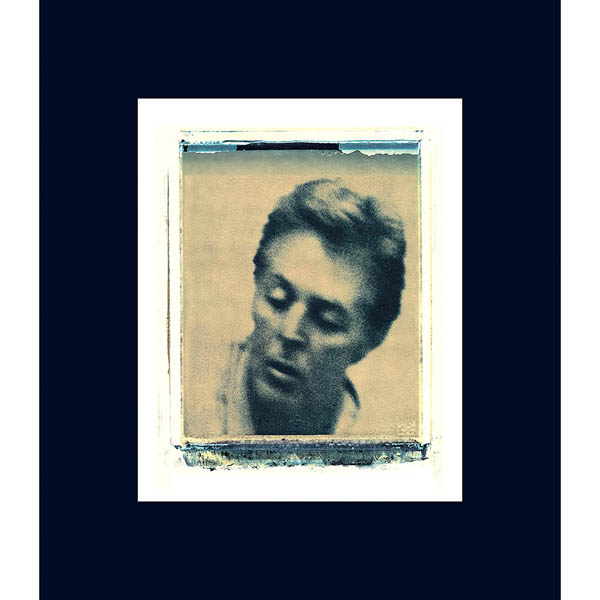 5CD+2DVD deluxe •  Flaming expensive • Half-speed mastered 2LP • Triple vinyl deluxe • Collector's edition exclusive to Macca-channels
Paul McCartney continues his long-running archive collection reissue campaign with the re-release of his 1997 album Flaming Pie.

The album title is a reference to John Lennon's anecdote about how The Fab Four got their name ("It came in a vision – a man appeared on a flaming pie and said unto them, 'from this day on you are Beatles with an A") and the record saw something of a revival of Paul's commercial fortunes, particularly in the US, where with the benefit of riding on the coattails of the three chart-topping Beatles Anthology albums, it peaked at number two on the Billboard Hot 200. Flaming Pie reached the same position in the UK and interestingly (or probably annoyingly, if you're Paul) the very same album – the Spice Girls' debut, Spice – was the record that held it off the top spot both sides of the Atlantic.
On a more sombre note, it would be Paul McCartney's last studio album before Linda died and his final album of original material of the millennium (although alter-ego 'The Fireman' would deliver the ambient masterpiece Rushes in 1998).
But while the album did well, its attendant singles struggled. By this point in the UK, it had been 10 years since Paul's last top ten hit ('Once Upon A Long Ago') and of the trio of 45s issued from Flaming Pie here in Britain, only jaunty first single 'Young Boy' could even crack the top 20. The other two 'The World Tonight' (the only American single) and 'Beautiful Night' were both minor hits, despite McCartney and EMI putting together two-CD sets for each release packed full of new B-sides and rarities, including sequences from Paul's 'Oobu Joobu' radio show. Conclusion? Paul's ability to reach beyond his own fanbase and cross over to the mainstream had been severely eroded.
If you are not familiar with 'Oobu Joobu', it was a radio show broadcast on American radio network Westwood One in 1995 which featured demos, rehearsals, live performances, unreleased recordings and chat from Paul McCartney. Six specially edited 'parts' of this show were created (between 5 and 10 minutes each) and these were spread across the six CD singles (two for each song). These tapestries of rarities remain the only official release of any 'Oobu Joobu' content.
Flaming Pie's recordings do not involve any of the band that Paul used for touring and recording between 1989 and 1993 – including musicians Hamish Stuart, Robbie McIntosh and Paul 'Wix' Wickens. Jeff Lynne (fresh from his sessions with 'The Threetles') produced the majority of the album and McCartney played most of the instruments himself, with significant contributions from Steve Miller ('If You Wanna', 'Young Boy', 'Used To Be Bad') and a certain Ringo Starr (who plays on and co-writes 'Really Love You'). Linda had been contributing to Paul's albums for 27 years, but now son James got in on the act and played guitar on 'Heaven On A Sunday'.

Flaming Pie 5CD+DVD deluxe edition (click image to enlarge)
So what of the reissue? Well first off, let's just point out that it has been another long wait. 2019 joins 2016 as another calendar year in which there was no Paul McCartney 'Archive Collection' reissue. Yes, we were offered various new editions of 2018's Egypt Station, including that 'Traveller's Edition' – packaged in a suitcase – and Black Friday brought two new songs on a picture disc seven-inch… but last year was relatively quiet by Paul's standards which makes it all the more surprising that MPL and Capitol didn't get the reissue machine in operation.
But back to Flaming Pie…  the super deluxe edition (what Macca's team continue to call the 'deluxe') is a 5CD+2DVD package which contains all the books, photo-books, inserts, lyric sheets and the like that we have become used to. It's also the most expensive reissue so far at over £200 retail price. That's an enormous sum, especially, when you consider just eight years ago the not-so-different RAM deluxe was around the £85 mark, and even the very lavish Flowers in the Dirt package from 2017 at £135 was £85 less than what they are asking here. It seems as if team-McCartney have decided that the only way to continue with these lavish packages is to charge a premium. Presumably, the thinking is that numbers who are buying this kind of stuff is getting smaller, so the price must get higher – if they wish to maintain high production values (to be fair, nothing since they started with Band on the Run in 2010 has ever felt like it was done on the cheap).

Flaming Pie 2CD edition (click image to enlarge)
The numbered, limited box set features the original album remastered at Abbey Road Studios, 32 bonus audio tracks including unheard home recordings and demos, alternative studio recordings, rough mixes and B-sides including selections from Oobu Joobu parts 1-6, Flaming Pie At The Mill CD (Paul's hour-long tour of his studio), video content including the In The World Tonight documentary, original music videos, EPKs, interviews, performances and behind-the-scenes material. This box comes with a download card for 24bit/96kHz  high-resolution audio.
In terms of printed matter, you get a 128-page book with unpublished images by Linda McCartney, expanded album artwork from the archives and the story behind the album written by Chris Heath – including track-by-track information, recipes and new interviews with Paul, Ringo Starr, Jeff Lynne, Steve Miller and key album personnel. Also included is a facsimile of John Hammel's studio notebook, a copy of Club Sandwich Magazine, Flaming Pie plectrum and envelope containing handwritten lyrics for 8 tracks and The Flame newspaper.
The album is pressed on 2LP vinyl for the first time, since the original was a single vinyl record. The new gatefold edition is also half-speed mastered by Miles Showell at Abbey Road Studios and comes with a lyric book.

3LP version of the Flaming Pie reissue (click image to enlarge)
A special 3LP deluxe edition adds a bonus record of demos and home recordings and all three records slot into a special bespoke slipcase.
There is no single CD edition, so the 'base model' is the 2CD edition which is surprisingly generous in terms of bonus content. The second disc here contains all of the home recordings/demos from CD 2 in the box set, six out of ten of the acoustic tracks/rough mixes on CD 3 from the box and all four 'proper' B-sides ('Looking For You', 'Broomstick, Love Come Tumbling Down', 'Same Love'). That's 21 bonus tracks and that's an exceptional price on Amazon UK (pretty sure that will increase soon).
Paul McCartney is also offering a special mega-box 'collector's edition' version which is limited to 3000 units worldwide. This combines the 5CD+2DVD deluxe with the 3LP package and adds an extra exclusive vinyl record –'The Ballad of the Skeletons' – Paul's 1996 collaboration with Allen Ginsberg, also featuring Philip Glass and Lenny Kaye – released for the first time on vinyl and cut at 45 RPM with vinyl etching and poster. This collector's edition also comes with a marbled art print portfolio of six silkscreened Linda McCartney art prints. The bad news is that this is £520 (!) which is a hefty premium for an extra record and some prints.
All formats of Flaming Pie are released on 31 July 2020. The deluxe set and the 3LP vinyl are very limited (I know because the SDE shop has been given a tiny allocation) and the collector's edition limit even more so, as detailed above. The later will only be available direct-to-consumer via Paul's sites and some associated UMC channels.
Collector's Edition: Canada pre-order • UK pre-order • US pre-order

To celebrate this impending reissue, SDE will be publishing a special keepsake booklet 'McCartney: 10 Years of Archive Reissues'. More on that here.
Flaming Pie 5CD+2DVD deluxe
CD 1 – Flaming Pie (2020 remaster)
The Song We Were Singing 3:55
The World Tonight 4:05
If You Wanna 4:37
Somedays 4:15
Young Boy 3:54
Calico Skies 2:32
Flaming Pie 2:30
Heaven On A Sunday 4:26
Used To Be Bad 4:12
Souvenir 3:41
Little Willow 2:58
Really Love You 5:18
Beautiful Night 5:08
Great Day 2:09
CD2 – Demos and Home Recordings
The Song We Were Singing  5:25
The World Tonight  2:26
If You Wanna  3:00
Somedays 4:15
Young Boy 2:22
Calico Skies 2:31
Flaming Pie  1:40
Souvenir 2:54
Little Willow  2:26
Beautiful Night 4:27
Great Day 3:30
CD3 – Studio tracks
Great Day [Acoustic] 2:17
Calico Skies [Acoustic] 2:06
C'mon Down C'mon Baby 1:23
If You Wanna [Demo] 1:54
Beautiful Night [Run Through] 4:09
The Song We Were Singing [Rough Mix] 3:50
The World Tonight [Rough Mix] 3:47
Little Willow [Rough Mix] 2:59
Whole Life [Rough Mix] 5:34
Heaven On A Sunday [Rude Cassette] 4:43
CD4 – B-sides
The Ballad of The Skeletons
Looking For You 4:41
Broomstick 5:10
Love Come Tumbling Down 4:23
Same Love 3:55
Oobu Joobu Part 1 (8:47)
Oobu Joobu Part 2 (8:27)
Oobu Joobu Part 3 (7:57)
Oobu Joobu Part 4 (5:31)
Oobu Joobu Part 5 (8:48)
Oobu Joobu Part 6 (9:16)
CD 5 – Flaming Pie at the Mill
Spoken word documentary
DVD 1
In The World Tonight (Documentary)
DVD 2
Beautiful Night
Making Of Beautiful Night
Little Willow
The World Tonight [directed by Alistair Donald)
The World Tonight [directed by Geoff Wonfor)
Young Boy [directed by Alistair Donald]
Young Boy [directed by Geoff Wonfor]
Flaming Pie EPK 1
Flaming Pie EPK 2
In The World Tonight EPK
Flaming Pie Album Artwork Meeting
TFI Friday Performances
David Frost Interview
Flaming Pie 3LP vinyl
LP 1
The Song We Were Singing
The World Tonight
If You Wanna
Somedays
Young Boy
Calico Skies
Flaming Pie
LP 2
Heaven On A Sunday
Used To Be Bad
Souvenir
Little Willow
Really Love You
Beautiful Night
Great Day
LP3 – Demos & Home Recordings
The Song We Were Singing [Demo]
The World Tonight [Demo]
If You Wanna [Demo]
Somedays [Demo]
Young Boy [Demo]
Calico Skies [Home Recording]
Flaming Pie [Demo]
Souvenir [Demo]
Little Willow [Demo]
Beautiful Night [Studio Demo]
Great Day [Home Recording]
Flaming Pie 2CD edition
CD 1 – Flaming Pie (2020 remaster)
The Song We Were Singing 3:55
The World Tonight 4:05
If You Wanna 4:37
Somedays 4:15
Young Boy 3:54
Calico Skies 2:32
Flaming Pie 2:30
Heaven On A Sunday 4:26
Used To Be Bad 4:12
Souvenir 3:41
Little Willow 2:58
Really Love You 5:18
Beautiful Night 5:08
Great Day 2:09
CD 2
1. The Song We Were Singing [Home Recording]
2. The World Tonight [Home Recording]
3. If You Wanna [Home Recording]
4. Somedays [Home Recording]
5. Young Boy [Home Recording]
6. Calico Skies [Home Recording]
7. Flaming Pie [Home Recording]
8. Souvenir [Home Recording]
9. Little Willow [Home Recording]
10. Beautiful Night [1995 Demo]
11. Great Day [Home Recording]
12. Beautiful Night [Run Through]
13. Whole Life [Rough Mix]
14. Heaven On A Sunday [Rude Cassette]
15. Great Day [Acoustic]
16. Calico Skies [Acoustic]
17. C'mon Down C'mon Baby
18. Looking For You
19. Broomstick
20. Love Come Tumbling Down
21. Same Love
Flaming Pie 2LP vinyl
LP 1
The Song We Were Singing
The World Tonight
If You Wanna
Somedays
Young Boy
Calico Skies
Flaming Pie
LP 2
Heaven On A Sunday
Used To Be Bad
Souvenir
Little Willow
Really Love You
Beautiful Night
Great Day