 News
Paul McCartney offers free download of the original 'Beautiful Night'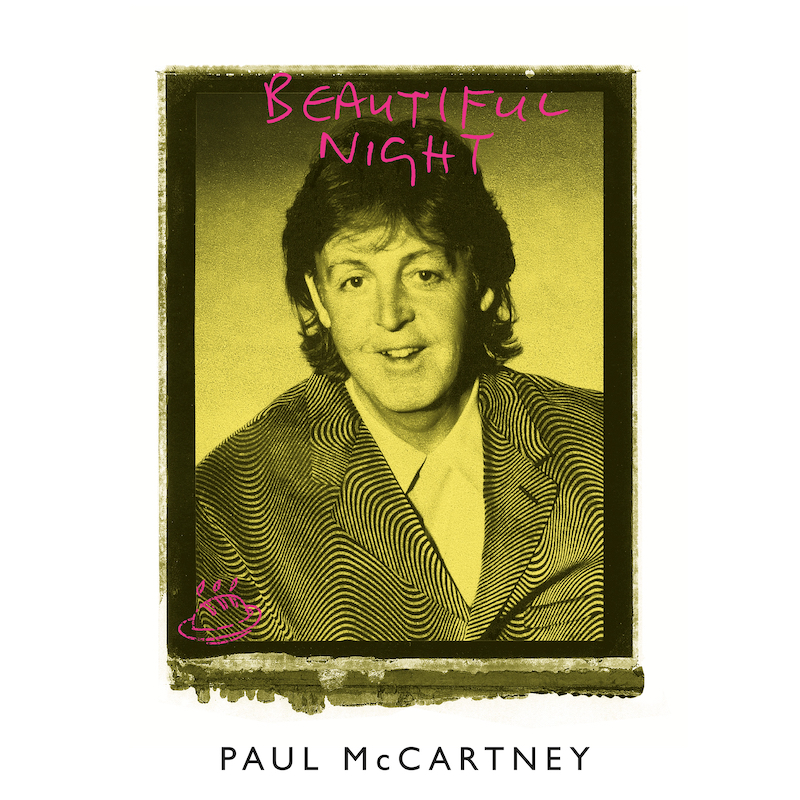 Paul McCartney has released a 'Beautiful Night EP' on streaming platforms and today also makes available an early version of his 1997 single as a free download.

'Beautiful Night' was the third and final single from 1997's Flaming Pie and features Ringo Starr on drums. All four tracks on the Beautiful Night EP are available on the forthcoming deluxe edition of Flaming Pie, and two of them – 'Beautiful Night' and Oobu Joobu Pt. 5 –were available on the original UK CD single (CD 1, to be precise). This is the track listing:
Beautiful Night (on CD 1 of the deluxe Flaming Pie)
Beautiful Night – 1995 demo (CD 2 of the deluxe Flaming Pie)
Beautiful Night – Run Through (on CD 3 of the deluxe Flaming Pie)
Oobu Joobu Pt. 5 (on CD 4 of the deluxe Flaming Pie)
Oobu Joobu Pt. 5 was a specially edited sequence of chatter, song snippets and songs inspired by Paul's radio show broadcast on American radio network Westwood One in 1995. On the original CD single this was a 10 minute sequence. On the digital EP (and on CD 4 of the Flaming Pie deluxe edition) it's over a minute shorter.
Anyway, towards the end of Oobu Joobu Pt. 5 we get around four minutes of the original 1986 version of 'Beautiful Night' that Paul recorded with Phil Ramone in New York. 'Loveliest Thing' (which featured on one of the 'Figure of Eight' UK CD singles and was DOWNLOAD ONLY on the Flowers in the Dirt deluxe edition) was recorded during these sessions. I think fans would agree that it was always a bit annoying that this was 'hidden' in the mix of 'Oobu Joobu'.
However, what McCartney is offering today as a free download from his website is the full six minute version of this 1986 original. This reason this is important – and maybe you can see where this is going – is that this version is NOT included on the forthcoming £200+ deluxe edition (sigh). Yes, you do get the truncated four-minute version within 'Oobu Joobu Pt. 5', but that's it!
In short, Paul is up to his old tricks. Demos, alternates, extended versions from albums such as Wild Life, Red Rose Speedway, Flowers in the Dirt, Tug of War, Pipes of Peace, and Venus and Mars have all ended up on Paul's website but NOT on the physical product. This is infuriating, but inexcusable when the retail price of the new deluxe edition is so high.
Flaming Pie is reissued on 31 July 2020.

At the end of the month, SDE will be publishing a special keepsake booklet 'McCartney: 10 Years of Archive Reissues'. More on that here.
Flaming Pie 5CD+2DVD deluxe
CD 1 – Flaming Pie (2020 remaster)
The Song We Were Singing 3:55
The World Tonight 4:05
If You Wanna 4:37
Somedays 4:15
Young Boy 3:54
Calico Skies 2:32
Flaming Pie 2:30
Heaven On A Sunday 4:26
Used To Be Bad 4:12
Souvenir 3:41
Little Willow 2:58
Really Love You 5:18
Beautiful Night 5:08
Great Day 2:09
CD2 – Demos and Home Recordings
The Song We Were Singing  5:25
The World Tonight  2:26
If You Wanna  3:00
Somedays 4:15
Young Boy 2:22
Calico Skies 2:31
Flaming Pie  1:40
Souvenir 2:54
Little Willow  2:26
Beautiful Night 4:27
Great Day 3:30
CD3 – Studio tracks
Great Day [Acoustic] 2:17
Calico Skies [Acoustic] 2:06
C'mon Down C'mon Baby 1:23
If You Wanna [Demo] 1:54
Beautiful Night [Run Through] 4:09
The Song We Were Singing [Rough Mix] 3:50
The World Tonight [Rough Mix] 3:47
Little Willow [Rough Mix] 2:59
Whole Life [Rough Mix] 5:34
Heaven On A Sunday [Rude Cassette] 4:43
CD4 – B-sides
The Ballad of The Skeletons
Looking For You 4:41
Broomstick 5:10
Love Come Tumbling Down 4:23
Same Love 3:55
Oobu Joobu Part 1 (8:47)
Oobu Joobu Part 2 (8:27)
Oobu Joobu Part 3 (7:57)
Oobu Joobu Part 4 (5:31)
Oobu Joobu Part 5 (8:48)
Oobu Joobu Part 6 (9:16)
CD 5 – Flaming Pie at the Mill
Spoken word documentary
DVD 1
In The World Tonight (Documentary)
DVD 2
Beautiful Night
Making Of Beautiful Night
Little Willow
The World Tonight [directed by Alistair Donald)
The World Tonight [directed by Geoff Wonfor)
Young Boy [directed by Alistair Donald]
Young Boy [directed by Geoff Wonfor]
Flaming Pie EPK 1
Flaming Pie EPK 2
In The World Tonight EPK
Flaming Pie Album Artwork Meeting
TFI Friday Performances
David Frost Interview
Flaming Pie 3LP vinyl
LP 1
The Song We Were Singing
The World Tonight
If You Wanna
Somedays
Young Boy
Calico Skies
Flaming Pie
LP 2
Heaven On A Sunday
Used To Be Bad
Souvenir
Little Willow
Really Love You
Beautiful Night
Great Day
LP3 – Demos & Home Recordings
The Song We Were Singing [Demo]
The World Tonight [Demo]
If You Wanna [Demo]
Somedays [Demo]
Young Boy [Demo]
Calico Skies [Home Recording]
Flaming Pie [Demo]
Souvenir [Demo]
Little Willow [Demo]
Beautiful Night [Studio Demo]
Great Day [Home Recording]
Flaming Pie 2CD edition
CD 1 – Flaming Pie (2020 remaster)
The Song We Were Singing 3:55
The World Tonight 4:05
If You Wanna 4:37
Somedays 4:15
Young Boy 3:54
Calico Skies 2:32
Flaming Pie 2:30
Heaven On A Sunday 4:26
Used To Be Bad 4:12
Souvenir 3:41
Little Willow 2:58
Really Love You 5:18
Beautiful Night 5:08
Great Day 2:09
CD 2
1. The Song We Were Singing [Home Recording]
2. The World Tonight [Home Recording]
3. If You Wanna [Home Recording]
4. Somedays [Home Recording]
5. Young Boy [Home Recording]
6. Calico Skies [Home Recording]
7. Flaming Pie [Home Recording]
8. Souvenir [Home Recording]
9. Little Willow [Home Recording]
10. Beautiful Night [1995 Demo]
11. Great Day [Home Recording]
12. Beautiful Night [Run Through]
13. Whole Life [Rough Mix]
14. Heaven On A Sunday [Rude Cassette]
15. Great Day [Acoustic]
16. Calico Skies [Acoustic]
17. C'mon Down C'mon Baby
18. Looking For You
19. Broomstick
20. Love Come Tumbling Down
21. Same Love
Flaming Pie 2LP vinyl
LP 1
The Song We Were Singing
The World Tonight
If You Wanna
Somedays
Young Boy
Calico Skies
Flaming Pie
LP 2
Heaven On A Sunday
Used To Be Bad
Souvenir
Little Willow
Really Love You
Beautiful Night
Great Day