 News
Paul Simon / In The Blue Light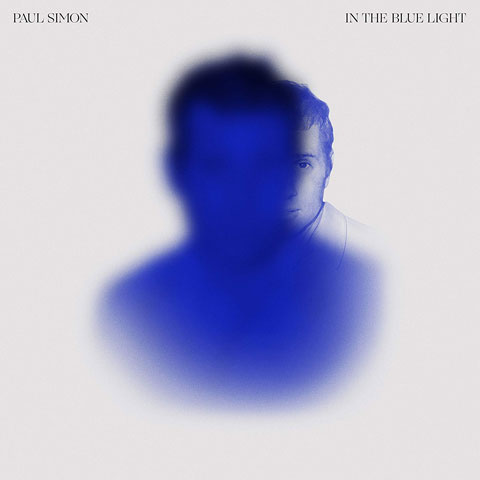 Paul Simon will release his 14th studio album, In The Blue Light, in September.
Produced by Simon and the legendary Roy Halee, the album sees the musician and songwriter revisit and rework personal favourites from his own back catalogue.

The songs aren't necessarily well known to the casual fan (some are from as recent as 2011's So Beautiful Or What and 2000's You're The One) but that's part of the point of the exercise. As Paul Simon says: "This album consists of songs that I thought were almost right, or were odd enough to be overlooked the first time around. Re-doing arrangements, harmonic structures, and lyrics that didn't make their meaning clear, gave me time to clarify in my own head what I wanted to say, or realise what I was thinking and make it more easily understood."
Unsurprisingly, Simon has secured the services of many talented musicians for this record, including trumpeter Wynton Marsalis, guitarist Bill Frisell, and drummers Jack DeJohnette and Steve Gadd.
Two songs are recorded with the New York-based chamber ensemble sextet yMusic including the beautiful Rene and Georgette Magritte with Their Dog After the War (originally on Hearts and Bones from '83 and included on the Negotiations and Love Songs compilation later that decade).
Simon writes in the sleeve notes that "It's an unusual occurrence for an artist to have the opportunity to revisit earlier works and re-think them; to modify, even completely change parts of the originals.
"Happily, this opportunity also gave me the gift of playing with an extraordinary group of musicians, most of whom I hadn't recorded with before. I hope the listener will find these new versions of old songs refreshed, like a new coat of paint on the walls of an old family home."
In The Blue Light will be released on 7 September 2018 on vinyl and CD and coincides with the final leg of Homeward Bound – Farewell Tour which reaches its conclusion on 22 September in Flushing Meadows Corona Park.
You might also like…
01 One Man's Ceiling Is Another Man's Floor
Paul Simon: Vocal, Percussion
Joel Wenhardt: Piano
Nate Smith: Drums
Jim Oblon: Guitar
John Patitucci: Bass
Edie Brickell: Finger Snaps
CJ Camerieri: Trumpet
Andy Snitzer: Saxophone
02 Love
Paul Simon: Vocal, Acoustic Guitar, Percussion, Harmonium
Bill Frisell: Electric Guitar
Steve Gadd: Drums
Renaud Garcia-Fons: Bass 
03 Can't Run But
Paul Simon: Vocal
With yMusic
Arrangement by Bryce Dessner based on the original arrangement from Rhythm of the Saints by Marco Antônio Guimarães 
04 How The Heart Approaches What It Yearns
Paul Simon: Vocal
Sullivan Fortner: Piano
Nate Smith: Drums
John Patitucci: Bass
Wynton Marsalis: Trumpet
05 Pigs, Sheep and Wolves
Paul Simon: Vocal, Percussion
Wynton Marsalis: Trumpet
Marcus Printup: Trumpet
Dan Block: Clarinet
Walter Blanding: Saxophone
Wycliffe Gordon: Tuba
Chris Crenshaw: Trombone
Marion Felder: Drums
Herlin Riley: Tambourine
Arrangement by Wynton Marsalis 
06 René and Georgette Magritte With Their Dog After the War
Paul Simon: Vocal, Electric Guitar
With yMusic
Arrangement by Robert Sirota 
07 The Teacher
Paul Simon: Vocal, Percussion
Odair Assad: Guitar
Sérgio Assad: Guitar
Renaud Garcia-Fons: Bass, Percussion
Walter Blanding: Saxophone
Jamey Haddad: Percussion
08 Darling Lorraine
Paul Simon: Vocal, Percussion
Bill Frisell: Electric Guitar
Vincent Nguini: Electric Guitar
Mark Stewart: Acoustic Guitar
Steve Gadd: Drums
John Patitucci: Bass
With yMusic
Arrangement by Rob Moose
09 Some Folks' Lives Roll Easy
Paul Simon: Vocal
Sullivan Fortner: Piano, Celeste
Jack DeJohnette: Drums
John Patitucci: Bass
Joe Lovano: Saxophone 
10 Questions For The Angels
Paul Simon: Vocal, Acoustic Guitar, Bass Harmonica, Percussion
Bill Frisell: Electric Guitar
Sullivan Fortner: Harmonium, Chromelodeon
John Patitucci: Bass
Skip LaPlante: Percussion
---
yMusic is
CJ Camerieri: trumpet, piccolo trumpet
Alex Sopp: flute, alto flute
Hideaki Aomori: clarinet, bass clarinet
Rob Moose: violin
Nadia Sirota: viola
Gabriel Cabezas: cello