 News
Perry Farrell / The Glitz; The Glamour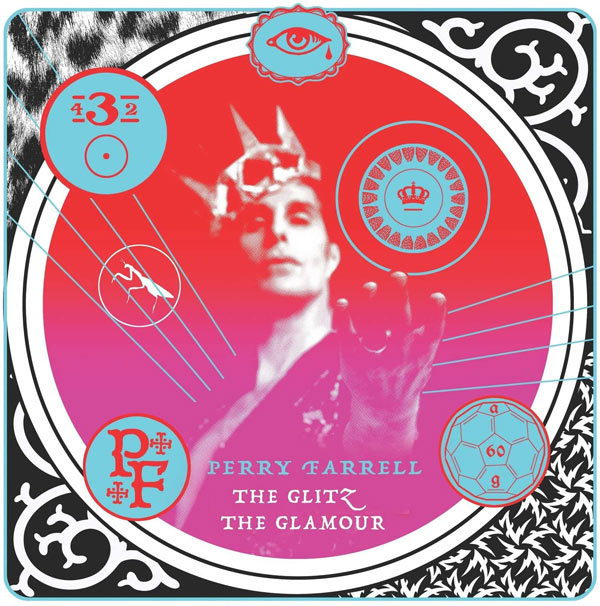 Solo work box sets from the Jane's Addiction frontman
The Glitz; The Glamour is a new box set – available on CD and on vinyl – featuring the solo work of Perry Farrell.

The American singer-songwriter and musician is best known as the frontman for the alternative rock band Jane's Addiction, but this new 68-track box set is not concerned with that and concentrates on extra-curricular activities such as Farrell's early years with post-punk collective Psi Com, 2001 debut solo album Songs Yet to be Sung; Ultra Payloaded, the one and only album from the short-lived band Satellite Party, the fairly recent Kind Heaven (a Farrell solo album from 2019) and a disc of remixes by UNKLE, Maceo Plex, Groove Armada, and more.
All that is covered by six CDs (or nine LPs in the coloured vinyl box) but The Glitz; The Glamour also comes with a blu-ray featuring a Dolby Atmos surround mix of the Kind Heaven record along with three new Atmos-mixed tracks from the remix record.
As well as the audio discs, the box set comes with a hardcover photographic book, two prints and more.
The 6CD+blu-ray edition of the box set is widely available, but – in theory – the 9LP+blu-ray version is more exclusive and is only available via independent record shops. All the vinyl in that box is half-speed mastered.
The Glitz; The Glamour will be released on 27 November 2020.
Compare prices and pre-order
Perry Farrell
The Glitz The Glamour - 6CD+blu-ray box set
Compare prices and pre-order
Perry Farrell
The Glitz The Glamour - 9LP vinyl +blu-ray box set
The Glitz; The Glamour 6CD + blu-ray box set
– Psi Com – Psi Com 5 Song EP – remastered CD
– Perry Farrell – Kind Heaven – remastered CD
– Satellite Party – Ultra Payloaded remastered CD
– Perry Farrell – Song Yet To Be Sung – CD
• The Remixes – CD featuring 11 tracks from each of Perry's different solo bands remixed by contemporary DJ's and Producers
– B-Sides, Rarities, New Music – CD
• 1 x Blu-ray featuring the Kind Heaven record mixed in Dolby Atmos with 3 x new Atmos tracks from the remix record
• Photographic Memoirs hardback book
• 2 x Limited edition Zoltar prints
The Glitz; The Glamour 9LP + blu-ray box set
– Psi Com – Psi Com – 1x 180g black vinyl
– Perry Farrell – Song Yet To Be Sung – 2x 180g yellow vinyl
– Satellite Party – Ultra Payloaded – 2x 180g teal vinyl
– Perry Farrell – Kind Heaven – 1x 180g pink vinyl
– Remixes and Collaborations – 2x 180g red vinyl
– B-Sides, Rarities, New Music – 1x 180g black vinyl
– Perry Farrell – Kind Heaven – 1x Blu-Ray Dolby ATMOS surround sound mixes
– 1x career retrospective photobook
– 2x ZOLTAR designed 12"x12" lithograph prints
– 1x ZOLTAR designed bandana/face covering